World Congress of Audiology 2016: 33rd Meeting of the International Society of Audiology
When asked to describe my experience as a first-time attendee at the World Congress of Audiology, one word comes to mind, WOW! The 33rd meeting of the International Society of Audiology was held from September 18–21, 2016 in Vancouver, Canada. This is the second time that Canada has hosted this meeting and it was organized in a joint effort by the Canadian Academy of Audiology and Speech-Language & Audiology Canada. In attendance were over 1200 delegates from 42 countries to soak in a jam-packed program that included 125 featured presenters, 72 podium papers, 164 posters, and 34 exhibitors.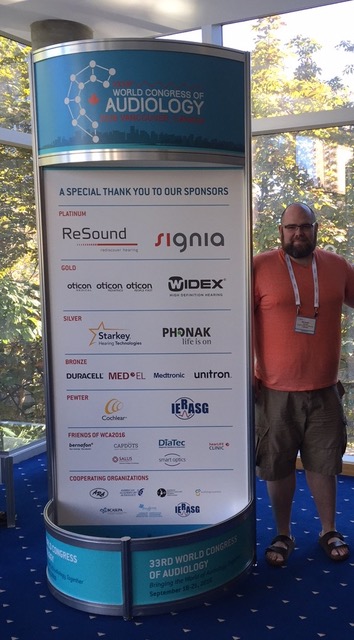 The four-day meeting kicked off with pre-conference workshops followed by a spectacular opening ceremony that brought greetings from Congress dignitaries, humour by hearing loss advocate Gael Hannan, and a stunning cultural performance by The Git Hayetsk Dancers. The remainder of the meeting was divided into three themes: auditory neuroscience – beyond the ear and audiogram, advancing best practices in audiology, and hearing health in a social context.
I was able to take in featured sessions on: tinnitus & hearing aids – and their impact on the peripheral and central auditory systems, internet-based rehabilitationbalance & falls – exploring falls risk and how it relates to hearing and balance, acoustics & communication – good practices for improved listening environments, and accessibility & assistive technologies – a review of assistive technology and clinical applications. As a vestibular audiologist, my personal favourite was the featured session on hearing, balance & falls, which included a virtual tour of the Toronto Rehabilitation Institute balance function laboratories.
If you have not had the chance to attend one of these international meetings, I highly recommend that you do. It is a chance to hear about leading research, network with colleagues from around the world, and mingle with our professions 'celebrities'; I learned that I was sitting next to one of the founders of Tinnitus Retraining Therapy in one session, and even got a selfie with Dr. Harvey Dillon after his Glorig Lecture on listening in noise.
The format of the sessions was more desirable than other local or national conferences – instead of one speaker presenting for 90-minutes, three to four speakers presented mini-lectures during a 90-minute session, helping keep attention focused during long and busy days. The other benefit of attending such an international meeting is to be able to network with hearing health professionals and researchers from around the world. The gala dinner saw some colleagues and I sitting with three ENT physicians from Stockholm, Sweden – allowing Canadian and Swedish professionals to ask questions and understand how hearing health care works in each country.
The next World Congress of Audiology takes place in 2018 when hosted by Cape Town, South Africa.
Article first appeared in ENT & Audiology News (November/December 2016). Reproduced with kind permission of Pinpoint Scotland Ltd.