Happenings
---
Susan Scollie Awarded 2018 AAA Marion Downs Award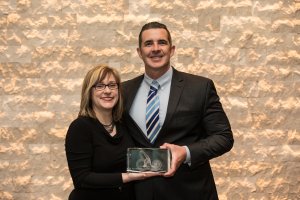 The American Academy of Audiology held its annual conference in Nashville this year, welcoming thousands to Music City for continuing education, exposition, and its annual Awards and Honors Banquet. Each year, the Academy honors individuals for their unique contributions to the profession in a range of categories including humanitarianism, education, research, and pediatrics. This year's ceremony awarded Susan Scollie, PhD the Marion Downs Award for her significant contributions to pediatric audiology.
Scollie was nominated by Dr. Jace Wolfe, Director of Audiology and Research at Hearts for Hearing in Oklahoma. His nomination focused on her contributions in hearing aid prescription, verification of hearing aids with advanced signal processing, bone conduction hearing aids, and protocols for the application of these through collaboration with clinicians, programs, and industry. Dr. Wolfe attests to the impacts of Scollie's work in his nomination letter: "I can personally attest that Oklahoma children with hearing loss have benefitted from the fact that Dr. Scollie's contributions and publications have shaped clinical care in our region. I can also say that I and other professionals around the world continually look to Dr. Scollie and her team for guidance in the provision of modern, evidence-based practice for infants and children with hearing loss."
Marion Downs was widely regarded as a founder of pediatric audiology, and also as an inspiring and active role model. The Academy initiated an award in her honour in 2016, with awards given to both Anne-Marie Tharpe (2016) and Jane Madell (2017). In her acceptance speech, Scollie highlighted a recently-produced biography that tells the story of Marion Downs' life, including her unexpected entry into the world of pediatric audiology (view the video here: http://www.cogreatwomen.org/project/marion-downs/). Reflecting on her own journey to pediatric audiology, Scollie thanked the pediatric audiology community for being a source of professional inspiration and ongoing collaboration: "These people were just amazing to me. Some of them were the great researchers, clinician-scientists, and friends. Many, many others were the hardworking, big-hearted pediatric audiologists that I met from all over the world – they would move mountains to provide better services for babies and kids who had hearing loss. To all of you: you amaze and inspire me and if anything I have done helps you in your work, then I am a happy audiologist."
Collaborations are essential in Scollie's work, as acknowledged by both Wolfe and Scollie. Naming her many collaborators, Scollie expressed her gratitude for widespread collaboration not only in research, but in efforts to make research innovations available for clinical use through program policies and in the hearing industry: "You have helped straighten and smooth the bumpy road of pediatric hearing aid fitting through your innovation and implementation."
The American Academy Awards and Honors banquet of 2018 saw six other awardees, including Laurie Eisenberg, who received the Jerger Career Award for Research in Audiology, and Ora Büerkli-Halvey, who received the Samuel F. Lybarger Industry Award. Past awardees from Canada include Bill Cole, who received the Industry Award in 2014, and Richard Seewald, who received the International Award in Hearing in 2007.
---
Industry Pioneer, Andy Rihs Dies at 75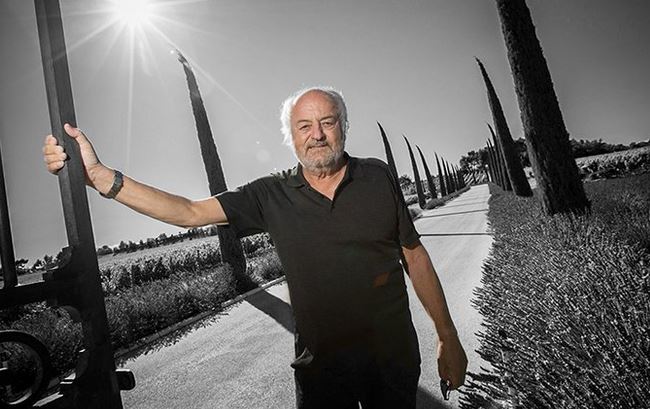 Andy Rihs, one of the founders of Phonak, died of complications from leukemia on April 18. He was 75 years old. Known for his tremendous foresight, creative spirit, and entrepreneurial passion, Rihs, along with Beda Diethelm and his brother "Jöggi" Rihs, joined AG für Elektroakustik. The three of them developed and shaped the company into Phonak, now part of Sonova.
A colorful figure in the industry, Rihs oversaw the development of Phonak into one of the world's most successful hearing aid manufacturers.
"We all knew Andy as a very approachable person with a great sense of humor, grand visions, and ambitious goals. He knew how to inspire and motivate his business partners and colleagues and offer them attractive prospects. He was never scared to take necessary risks in business if it meant moving up to the next level. He was never the kind to set his sights low. And if an idea failed to take off at the first attempt, this gave him precisely the incentive he needed to try again – and to successfully overcome any obstacles this time round."
–Sonova Board Chair, Robert Spoerry
During Rihs's tenure at Phonak, the company grew from a small, backwater hearing aid manufacturer to a global player that now boasts sales of more than CHF 2.5 billion and a global workforce of over 14,000 employees. In addition to his work at Phonak, Rihs was the owner of the BMC Racing Team, a professional bicycling team.
---
Intention to merge leading hearing aid companies Sivantos and Widex into a top-three contender globally with a comprehensive, multi-channel sales and distribution platform in more than 125 markets and combined revenues of approximately EUR 1.6 billion.
Combined businesses to become a global R&D powerhouse as well as an innovation leader with approximately 800 specialists and abundant resources to further accelerate innovation of hearing instruments and tailored solutions including by leveraging its leading digital platform.
Ambition to redefine the competitive landscape for hearing aids serving both existing users as well as improving the offering and access to the millions with hearing impairments.
Exciting career opportunities for the more than 10,000 employees in both organizations across the globe. Lynge, Denmark and Singapore May 16, 2018: EQT funds, owners of Sivantos Pte. Ltd. ("Sivantos"), and the Tøpholm and Westermann families, owners of Widex A/S ("Widex"), today announced that they have agreed terms to merge the two companies. The strategic merger of equals will create a global hearing aid leader generating combined revenues of approximately EUR 1.6 billion and employing more than 10,000 people worldwide. The transaction values the combined entity at an enterprise value of more than EUR 7 billion.
The merger aims at accelerating growth, strengthening market penetration and enhancing efficiencies to enable additional investments into R&D and supply chain. This will allow the merged company to expand access to hearing healthcare via its dedicated salesforce through even more innovative solutions across a wide range of hearing needs, increasing the quality of life of millions of people and allowing them to actively participate in social life.
Marcus Brennecke, Partner at EQT Partners and Investment Advisor to the EQT funds, says: "Sivantos has developed immensely during EQT funds' ownership and now the idea is to create a game changer for the future of hearing. Combining these two innovative companies will change the hearing experience for people with hearing loss across the world. In Widex, we have found an equally strong partner to Sivantos, sharing a passion for enriching the quality of life for people with hearing deficiencies. The combined company presents a unique opportunity for EQT to extend the investment horizon in Sivantos and take part of the next phase of transforming the hearing aid industry. With nearly 170 years of combined experience, Sivantos and Widex will take the lead in developing hearing aid technology for future generations."
Jan Tøpholm, Chairman of Widex, added: "We and Sivantos share a common vision of giving people unlimited access to a world of sound by providing unparalleled hearing aids and customer services. I am confident that our employees, partners and customers will benefit from this merger as it will allow us to accelerate our efforts to pioneer innovation, quality, manufacturing and customer satisfaction. Further we will expand our geographical footprint and provide exciting career opportunities for our employees across countries and functions. The merger fits with the families' values and long-term goals for Widex and that's why we have decided to substantially invest to become long-term owners."
Global R&D powerhouse and innovation leader
The intended merger will create one of the most innovative R&D teams in the industry backed by financial and strategic capabilities as well as strong digital skills to become a global powerhouse for innovative hearing aids and hearing care solutions. Combined R&D resources include approximately 800 specialists in R&D centers located in Singapore, Erlangen (Germany) and Lynge (Denmark) with more than EUR 100 million in annual R&D spending.
The R&D centers will continue to develop, and innovation will be accelerated to bring more products to markets faster, to regularly update and develop technology platforms and address more types of hearing disabilities with creative, high-tech and user-friendly solutions. Sivantos and Widex have a joint ambition to change the industry paradigm through digitization, customization and next generation services to transform end-user experience and expand access to hearing.
Both companies have a history of being "first movers". Building on Siemens' heritage, Sivantos' most recent accomplishments include Signia Nx™, a game changing hearing aid platform resolving the "own voice" issue by digitally filtering out any noise disturbances thus improving hearing comfort. Sivantos is also a pioneer in digitalization and remote hearing care with its TeleCare solution allowing audiologists to adjust hearing aids remotely in real time. Widex has recently launched the groundbreaking WIDEX EVOKE™ – the first hearing aid to feature advanced machine learning technology in real time, allowing the hearing aid to learn the user's preferences and share that learning.
Truly global footprint and strong brands
The combined entity will have a comprehensive, multi-channel sales platform spanning more than 125 markets. The current Sivantos and Widex sales teams will continue to serve and further develop both traditional retail channels and innovative online channels. The ambition is to create a truly global provider with a complementary offering and touchpoints reaching more people with hearing aid needs across the world and securing second to none service to customers. Around 700 million people worldwide suffer from different levels of hearing loss of which only around 10% currently use hearing aid devices.
Sivantos offers a diverse portfolio of technologically advanced products. Product brands include Signia, Siemens, Audio Service, Rexton and A&M, while retail and online brands include HearUSA, audibene and TruHearing. Sivantos has a strong presence in the online channel leveraging its digital capabilities through its strategic partnership with audibene and has recently strengthened its US footprint through a strategic partnership with TruHearing.
Widex offers sophisticated hearing aid technology focusing on high-end solutions. The key brand Widex is supplemented by the Coselgi brand and local brands in certain markets. Products are offered via wholesalers to governments, retail chains and independent retailers, while Widex has an established presence in the B2C market with sales via own retail and online channels directly to end-users.
Sivantos and Widex combined will become an even more global and growth-focused organization. By joining forces, the combined business will offer its employees even better prospects to develop professionally across geographies and functions.
The combined entity will be owned by EQT funds (EQT VI, EQT VII and EQT VIII), including co-investors, as well as the Tøpholm and Westermann families of Denmark. The Tøpholm and Westermann families, founders and owners of Widex, will be the largest individual shareholder in the combined entity reflecting their long-term commitment to the company. The merger will combine the strengths of EQT funds' value creation capabilities in building sustainable companies with the Widex owners' long-term ownership horizon. The new headquarters will be based in Lynge (Denmark) and Singapore. The Board of Directors and Management will have a balanced representation from both companies.
The transaction is subject to regulatory approvals and other customary closing conditions. The approval process starts today. Until closing, the merger will have no effect on employees, customers or suppliers.