Happenings
---
Seewald: Celebrate the continuum of life, accomplishments
http://news.westernu.ca/2017/10/seewald-celebrate-continuum-life-accomplishments/
OCTOBER 26, 2017 BY ADELA TALBOT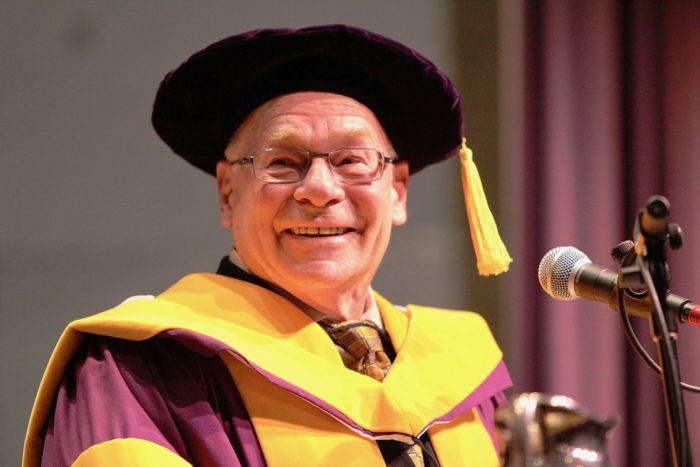 Recognized internationally for his pioneering work in the field of pediatric audiology, Richard Seewald, a professor emeritus in the School of Communication Sciences and Disorders, was awarded an honorary Doctor of Science, honoris causa (DSc) at the Thursday afternoon session of Western's 310th Convocation.
Seewald spoke to graduates from the School of Graduate and Postdoctoral Studies, the Faculty of Arts and Humanities, the Faculty of Health Sciences and the faculty of Information and Media Studies, asking them to take pride in the hard work and accomplishments that have brought them to this day. While some refer to graduation as 'commencement,' graduates are by no means at the start of promising and successful careers, he noted.
"Your accomplishments to this day are something to celebrate, without thinking about starting and finishing lines. Life is a beautiful continuum and from my experience, it is not without its significant losses and challenges, but it is beautiful, nonetheless," Seewald noted.
"All that you have done to be here today is truly remarkable. You have done this with the support of those who cared for you and who have been willing to make sacrifices for you."
Thanking those who helped him and supported him along the way, Seewald stressed the importance of gratitude and helping others.
"Listen to those who truly know and love you. Remember to thank those who helped you along the way and be kind to others. Help those in need."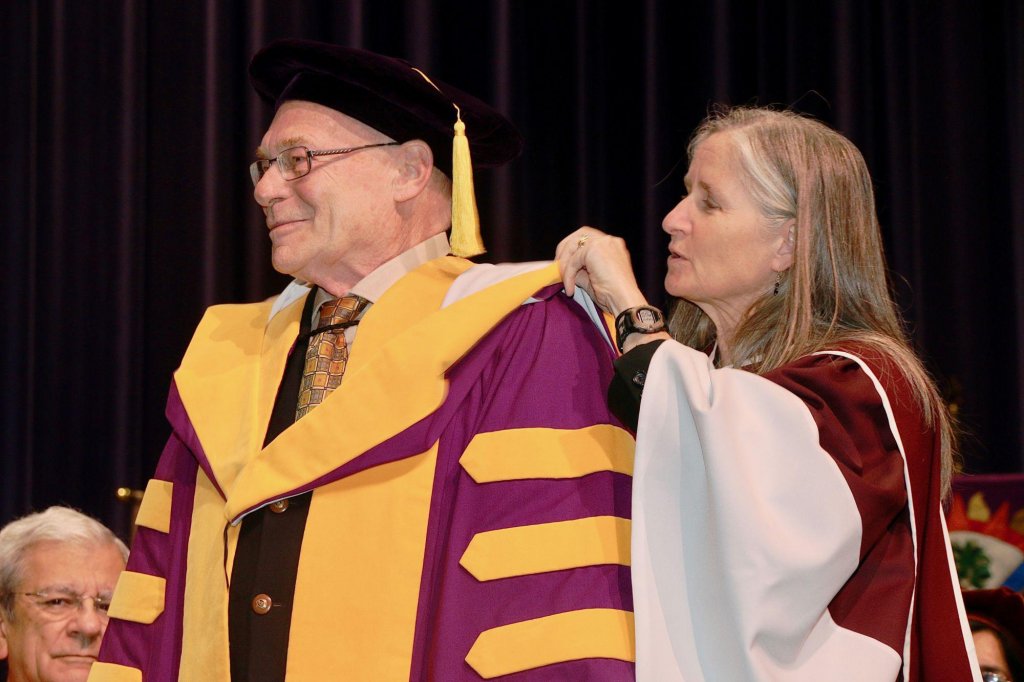 ---
From Canada to the US and Now to the NAL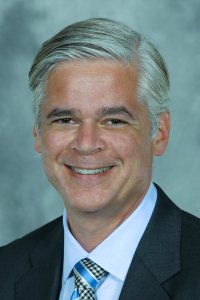 Bill Davidson, Managing Director of Australian Hearing, is pleased to announce that Dr. Brent Edwards has been appointed Director of the National Acoustic Laboratories (NAL), effective 2 October 2017. Dr. Edwards takes over from Dr. Harvey Dillon, who recently retired after serving as Director of NAL for 17 years.
Dr. Edwards joins NAL with a distinguished international reputation in the hearing industry, having spent 22 years in Silicon Valley heading research and innovation development at major hearing aid companies and hearing device startups. He has led teams of engineers, audiologists and hearing scientists to bring numerous technological innovations to clinicians and patients, including signal processing algorithms, diagnostics, fitting procedures, and outcome measures. Dr. Edwards is known for his far-reaching vision on hearing innovation and excels at developing strategic initiatives based on clinical needs and developing processes to bring solutions to market. He is perhaps best known for having been the founder and Director of the Starkey Hearing Research Center in Berkeley California, for his innovation in hearing aid signal processing and for his pioneering research linking hearing aid benefit to cognitive function. Most recently, he has been an active participant in advising on US hearing healthcare legislation.
Said Mr. Davidson, "Brent's strength in working within cross-functional teams, with a strong customer focus and developing strategic initiatives around those needs, will help NAL continue its high-impact mission, to lead the world in improving hearing assessment, hearing loss prevention, and hearing loss rehabilitation."
Dr. Edwards said, "NAL has an amazing history of influencing the world through its hearing research, and Harvey Dillon has been a giant in the audiology community. I am honored to be given the opportunity to follow in this great tradition and lead a truly outstanding group of researchers at NAL."
Brent is a Fellow of the Acoustical Society of America, a Fellow of the International Collegium of Rehabilitative Audiology, and an Honorary Associate Professor of Nottingham University's School of Medicine. He has a PhD in Electrical Engineering from the University of Michigan and conducted postdoctoral work in psychoacoustics at the University of Minnesota. He has over 30 peer-reviewed publications and 25 issued US patents with many more worldwide. He is a frequent invited speaker at international conferences.
---
Message from Rex Banks, Board Chair and President of OSLA
Mary Cook Retires as Executive Director of OSLA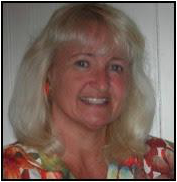 It is with a mix of sadness and gratitude that the Board of Directors announces Mary Cook's retirement from the positions of Executive Director of the Ontario Association of Speech-Language Pathologists and Audiologists (OSLA), effective October 31, 2017.
Since 2009, Mary has played a critical role in the development and success of the organization. We will miss her and her inspiring leadership, and wish her the best in her much deserved retirement.
We want to thank her for the 8 years of dedicated service which involved many significant accomplishments, including:
Growing membership by nearly 50%
Ensuring there is a voice for our professions at all levels of government
Implementing professional development events such as courses and conferences
Increasing networking opportunities and other benefits for our members
Expanding parternships and collaborations across the health care sectors
Leaving OSLA on its most solid financial footing since 2009

Kyle Johansen Becomes New Executive Director

Mary's retirement triggered an exhaustive search to find our next Executive Director. Kyle officially joins us on October 16th.

Kyle's experience, knowledge, and integrity are a great match for the role in leading our staff, supporting the Board of Directors and collaborating with our partners to continue to advance out goals and priorities province-wide.

A skilled senior administrator, Kyle understands the complexities of the broader public sector, LHINs and the provincial government. He has a demonstrated record of achievement implementing organizational change, building organizational accountability, improving operations management, developing and implementing strategy, and delivering projects on time.

Kyle is honored to be out next Executive Director and is eager to get up to speed on OSLA's programs and initiatives and to meet everyone who makes our work so meaningful. Please join the board of directors and the OSLA team in welcoming Kyle to our organization. We look forward to introducing him to each one of you over the coming months.

Again, we cannot thank Mary enough for the dedication, passion, enthusiasm and motivation she has given the OSLA over the past 8 years. She will be greatly missed.

If you have any questions about this announcement please email me at mail@osla.ca

- Rex Banks, Board Chair and President of OSLA

---

New Video Highlights the Tinnitus Risk Faced By Musicians - And What They Can Do About It

A new video has been launched to coincide with the start of Hearing Awareness Week 2017 to raise awareness of tinnitus among musicians and the music industry, and to offer advice for how to tackle it.
 
Anyone can experience tinnitus, but research has shown that musicians are four times more likely to experience the hearing condition. Tinnitus risk is also higher for those working in the music industry, as well as gig-goers who are regularly exposed to loud sound.
 
Typically, people with tinnitus report hearing buzzing or ringing sounds, even though the sound isn't actually present in the world around them.
 
This may not sound so severe, but over time can have a significant impact on the mental health and wellbeing of those who experience it. In addition, tinnitus can be an important early indicator of more serious hearing damage.
 
Internationally-acclaimed Australian House producer Dom Dolla has had his own recent personal encounter with tinnitus and hearing loss. "In January this year, I learnt a hard lesson when I was diagnosed with noise-induced hearing loss and tinnitus. That temporary deafness and loud ringing you hear when you wake up after a night out? For me it's now permanent," Dom explained.
 
He continued, "tinnitus is no rarity, particularly amongst people like me who work with sound, and I'm by no means the first in my industry to suffer from it. In the early days, I had to cancel some shows to give my ears a rest but I'm now back to it with good plugs and better management strategies."
 
Led by HEARsmart, a team from Australian Hearing, the National Acoustic Laboratories, The University of Melbourne's Audiology and Speech Pathology Clinic and Musicians 4 Hearing co-created the videotargeted at musicians with simple messages about what tinnitus is, ways to reduce the risk of developing it, and strategies for managing the symptoms.
 
Research carried out by the HEARsmart team has shown that tinnitus is becoming more common in young audience groups. Loud music, loud headphones, loud gym classes, loud anything – it's all the same to your ears – and all of these activities can add up to increase the risk of tinnitus.
 
Patrick Donovan, CEO of Music Victoria – the peak Victorian body for contemporary music, said: "Music Victoria takes hearing health very seriously and we are thrilled to partner with HEARsmart in promoting this important educational video.
 
"Music Victoria has done a lot of work with governments to enable venues to play live music within legal levels and not get shut down by complaining neighbours, but venue owners also have a responsibility to ensure that everyone in their venue – from musicians to staff and punters – have a positive experience and don't receive permanent hearing damage from live music,'' Patrick explained.
 
The team who created the video is quick to point out it's not about telling people to give up on things they love that happen to be loud. Rather, they hope that by encouraging people to be more aware of how LOUD, how LONG and how OFTEN they are listening, they will encourage people to protect against the damage that leads to tinnitus, and potentially hearing loss later in life.
 
HEARsmart is an initiative founded by the HEARing Cooperative Research Centre to look out for the hearing health of young people, and promote healthy listening behaviours to prevent noise-induced tinnitus and hearing loss. To find out more about HEARsmart go to: hearsmart.org

---

The Recipient of the 2017/18 Richard Seewald Award: Paige Stringer, GFCHL

Staefa, Switzerland, October 23, 2017
The recipient of the 2017/18 Richard Seewald Award is the Global Foundation For Children With Hearing Loss (GFCHL). The annual prize by Sonova's Hear the World Foundation honors outstanding projects benefiting people in need with hearing loss around the world. The GFCHL led by Paige Stringer is a Hear the World Foundation project partner since 2011 and helps medical and educational partners in low and middle-income countries to develop early identification services that young children with hearing loss need to reach their full potential.

Children with hearing loss in low to middle-income countries often have little to no access to audiological care and early intervention support thus reducing their opportunities and chances in life. The Global Foundation For Children With Hearing Loss sees its mission as helping to raise awareness for the potential of children with hearing loss when appropriate support is in place and to help develop sustainable and comprehensive audiological care and early intervention services in the countries where these children live. Since 2011, the GFCHL, with financial, technological and technical support from the Hear the World Foundation, has successfully built capacity in challenging environments such as Vietnam, Mongolia and Ecuador.

Outstanding Project Work
The Hear the World Foundation honors the professional and highly effective project work of the GFCHL lead by  Founder and Executive Director Paige Stringer. "Paige's work is exceptional. She has the great ability to identify locations where there is great need and to organize highly effective projects applying internationally accepted best practice procedures", says Prof. Dr. Richard Seewald, member of the Hear the World Foundation's Advisory Board. "I am grateful to receive this award on behalf of the GFCHL and our professional team and in-country partners who display incredible dedication and willingness to step up to the challenge of extending help to young children in need. It is such an honor to receive this recognition for our collaborative efforts to ensure that babies and young children with hearing loss have every opportunity to reach their full potential -- no matter where in the world they live", says Paige Stringer.

About the Richard Seewald Award
The Hear the World Foundation's prize is named after Professor Dr. Richard Seewald, who is well known for his tireless efforts in pediatric audiology over many decades. He spearheaded the development of an internationally recognized DSL method for fitting hearing systems to children. Prior to his retirement, Seewald held the Canada Research Chair in Childhood Hearing at that country's National Centre for Audiology, which he co-founded. He is a Distinguished University Professor Emeritus in the School of Communication Sciences and Disorders at the University of Western Ontario and a member of the Hear the World advisory board. The annual prize aims at honoring outstanding aid project work.

About The Global Foundation For Children With Hearing Loss
The Global Foundation For Children With Hearing Loss is an American 501c3 nonprofit organization established in 2009. It is one of the few organizations in the world that offers an integrated model across hearing health care and early intervention to help professionals and families living in low and middle-income countries establish essential early identification, hearing technology, and professional support services for their babies and children with hearing loss. The Global Foundation's team collaborates with in-country partners to identify gaps in their system of support and to develop and implement sustainable programs to address those gaps. The goal is to enable their young children who are deaf or hard of hearing to access local resources in the countries where they live that they need to achieve their full potential and grow up to become contributing members of their society.
www.childrenwithhearingloss.org