Happenings
Sivantos And Widex Merge to Create Global Hearing Aid Leader
Intention to merge leading hearing aid companies Sivantos and Widex into a top-three contender globally with a comprehensive, multi-channel sales and distribution platform in more than 125 markets and combined revenues of approximately EUR 1.6 billion.
Combined businesses to become a global R&D powerhouse as well as an innovation leader with approximately 800 specialists and abundant resources to further accelerate innovation of hearing instruments and tailored solutions including by leveraging its leading digital platform.
Ambition to redefine the competitive landscape for hearing aids serving both existing users as well as improving the offering and access to the millions with hearing impairments.
Exciting career opportunities for the more than 10,000 employees in both organizations across the globe. Lynge, Denmark and Singapore May 16, 2018: EQT funds, owners of Sivantos Pte. Ltd. ("Sivantos"), and the Tøpholm and Westermann families, owners of Widex A/S ("Widex"), today announced that they have agreed terms to merge the two companies. The strategic merger of equals will create a global hearing aid leader generating combined revenues of approximately EUR 1.6 billion and employing more than 10,000 people worldwide. The transaction values the combined entity at an enterprise value of more than EUR 7 billion.
The merger aims at accelerating growth, strengthening market penetration and enhancing efficiencies to enable additional investments into R&D and supply chain. This will allow the merged company to expand access to hearing healthcare via its dedicated salesforce through even more innovative solutions across a wide range of hearing needs, increasing the quality of life of millions of people and allowing them to actively participate in social life.
Marcus Brennecke, Partner at EQT Partners and Investment Advisor to the EQT funds, says: "Sivantos has developed immensely during EQT funds' ownership and now the idea is to create a game changer for the future of hearing.
Combining these two innovative companies will change the hearing experience for people with hearing loss across the world. In Widex, we have found an equally strong partner to Sivantos, sharing a passion for enriching the quality of life for people with hearing deficiencies. The combined company presents a unique opportunity for EQT to extend the investment horizon in Sivantos and take part of the next phase of transforming the hearing aid industry. With nearly 170 years of combined experience, Sivantos and Widex will take the lead in developing hearing aid technology for future generations."
Jan Tøpholm, Chairman of Widex, added: "We and Sivantos share a common vision of giving people unlimited access to a world of sound by providing unparalleled hearing aids and customer services. I am confident that our employees, partners and customers will benefit from this merger as it will allow us to accelerate our efforts to pioneer innovation, quality, manufacturing and customer satisfaction. Further we will expand our geographical footprint and provide exciting career opportunities for our employees across countries and functions. The merger fits with the families' values and long-term goals for Widex and that's why we have decided to substantially invest to become long-term owners."
Global R&D powerhouse and innovation leader
The intended merger will create one of the most innovative R&D teams in the industry backed by financial and strategic capabilities as well as strong digital skills to become a global powerhouse for innovative hearing aids and hearing care solutions. Combined R&D resources include approximately 800 specialists in R&D centers located in Singapore, Erlangen (Germany) and Lynge (Denmark) with more than EUR 100 million in annual R&D spending.
The R&D centers will continue to develop, and innovation will be accelerated to bring more products to markets faster, to regularly update and develop technology platforms and address more types of hearing disabilities with creative, high-tech and user-friendly solutions. Sivantos and Widex have a joint ambition to change the industry paradigm through digitization, customization and next generation services to transform end-user experience and expand access to hearing.
Both companies have a history of being "first movers". Building on Siemens' heritage, Sivantos' most recent accomplishments include Signia Nx™, a game changing hearing aid platform resolving the "own voice" issue by digitally filtering out any noise disturbances thus improving hearing comfort. Sivantos is also a pioneer in digitalization and remote hearing care with its TeleCare solution allowing audiologists to adjust hearing aids remotely in real time. Widex has recently launched the groundbreaking WIDEX EVOKE™ – the first hearing aid to feature advanced machine learning technology in real time, allowing the hearing aid to learn the user's preferences and share that learning.
Truly global footprint and strong brands
The combined entity will have a comprehensive, multi-channel sales platform spanning more than 125 markets. The current Sivantos and Widex sales teams will continue to serve and further develop both traditional retail channels and innovative online channels. The ambition is to create a truly global provider with a complementary offering and touchpoints reaching more people with hearing aid needs across the world and securing second to none service to customers. Around 700 million people worldwide suffer from different levels of hearing loss of which only around 10% currently use hearing aid devices.
Sivantos offers a diverse portfolio of technologically advanced products. Product brands include Signia, Siemens, Audio Service, Rexton and A&M, while retail and online brands include HearUSA, audibene and TruHearing. Sivantos has a strong presence in the online channel leveraging its digital capabilities through its strategic partnership with audibene and has recently strengthened its US footprint through a strategic partnership with TruHearing.
Widex offers sophisticated hearing aid technology focusing on high-end solutions. The key brand Widex is supplemented by the Coselgi brand and local brands in certain markets. Products are offered via wholesalers to governments, retail chains and independent retailers, while Widex has an established presence in the B2C market with sales via own retail and online channels directly to end-users.
Sivantos and Widex combined will become an even more global and growth-focused organization. By joining forces, the combined business will offer its employees even better prospects to develop professionally across geographies and functions.
The combined entity will be owned by EQT funds (EQT VI, EQT VII and EQT VIII), including co-investors, as well as the Tøpholm and Westermann families of Denmark. The Tøpholm and Westermann families, founders and owners of Widex, will be the largest individual shareholder in the combined entity reflecting their long-term commitment to the company. The merger will combine the strengths of EQT funds' value creation capabilities in building sustainable companies with the Widex owners' long-term ownership horizon. The new headquarters will be based in Lynge (Denmark) and Singapore. The Board of Directors and Management will have a balanced representation from both companies.
The transaction is subject to regulatory approvals and other customary closing conditions. The approval process starts today. Until closing, the merger will have no effect on employees, customers or suppliers.
---
Important Announcement from Oticon Canada

After much thought and reflection over a significant period of time, I am communicating today in this email that I have decided to transition out of the William Demant family as of June 30, 2018.
I informed Head Quarters of my personal decision in September 2017. My goal since then has been to work closely with Senior Management to ensure the transition is as seamless as possible. As a result, June 30th was decided as a date that would allow for the appropriate amount of time to support a professional transition which is extremely important to me.
This is 100% my decision and based on some personal goals and new challenges which I am very much looking forward to and excited about pursuing going forward. Many of these goals will be with my family at the forefront of my ambitions.
I have spent 17 years of my life working within this wonderful group with the best team in the industry and I am extremely proud of what we have been able to accomplish together here in the Canadian market over those 17 years – A Leading Hearing Healthcare Company in Canada. I have been very fortunate to have worked with a team locally here in Canada that I could not have asked more from in terms of loyalty, dedication and professionalism and I want to thank each and every one of them for that support over those 17 years.
I also want to thank all of our wonderful Oticon partners that have supported the company through my tenure. When I started 17 years ago, we were a very small company in the Canadian market. With your support, commitment and loyalty to Oticon Canada, you have been instrumental in the success we have enjoyed over the last several years. I sincerely want to thank all of you for that support and for contributing to our success. I consider many of you personal friends and the collaboration we have enjoyed has allowed me to have the best possible job I could ever hope for over those 17 years – thank you sincerely for that friendship!
There will be time over the next 5+ months to say proper goodbyes and one of my primary goals over the next months will be to visit our key partners to do just that and to give the proper thank you's for your partnership.
The last thing I want is for this to be a distraction for the organization moving towards the end of June '18 and therefore as of today nothing will change in terms of the organization and reporting structure – we continue to push forward to achieve our goals and support you, our partners.
As of July 01, 2018 Sean Reily will take over all of my Demant responsibilities as President of Oticon Canada. Sean has been with the organization for 15 years, starting with Front Row and then moving to Oticon Canada as a Business Development Manager. Sean has spent the last 2+ years as the National Director of Sales for Oticon Canada and has been instrumental to the success of Oticon Canada over that period of time. I look forward to working closely with Sean over the next 5+ months to support him in his preparation for this new chapter in his career. Congratulations to Sean in his new upcoming responsibilities.
As of July 01, 2018 Adam Fitzsimmons who has been with Demant for just over 2 years as Vice President of Channel Development will take on the new responsibility of Vice President of Sales and Marketing for Oticon Canada reporting into Sean Reily. Adam will continue to manage the EDGE program while taking on these additional responsibilities of leading the Oticon Sales and Marketing teams. Congratulations to Adam in his new upcoming responsibilities.
As of July 01, 2018 Kate Yakimow, who has also been with Oticon for just over 2+ years as the National Key Account Manager will take on the new responsibility of Director of Sales for Oticon Canada while maintaining her Key Account responsibilities and reporting to Adam Fitzsimmons. Congratulations to Kate on her new upcoming responsibilities.
I am extremely confident that we have the winning team in the industry now and I believe that will continue to be the case going forward with Sean and the amazing team in place to support him.
I look forward to finding time to meet with you between now and my departure at the end of June and again, thank you very much for your support through my tenure with Oticon Canada. As they say, time flies when you are having fun and the past 17 years have flown by…
Sincerely,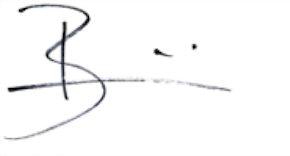 Brock Neuman
President, Oticon Canada
---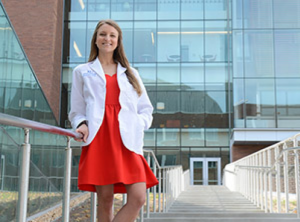 When Bonnie McKee Crume heads to Massachusetts after graduation to start her residency at U.S. News & World Report's No.1-ranked children's hospital, she does so with a heart filled with confidence and the satisfaction of having proven her doubters wrong.
Born with bilateral severe to profound sensorineural hearing loss, Crume has overcome her physical disability, moments of self-doubt and the nagging words of naysayers to finish tied for the top spot in her class with a 4.0 GPA and then landing a prestigious pediatrics residency at Boston Children's Hospital.
"Reflecting back on my time in medical school, I always think to myself, 'what was I thinking, and how did I manage to get through that? I must be pretty crazy,'" she said. "I guess the benefit of being born with hearing loss is that I have had no choice but to adapt to it. I know my own limitations and would never put myself in a situation where I thought I would harm others."
Crume was born and raised in Abilene, Kansas, and is a proud Abilene High School Cowboy. She and her brother both have the same hearing loss condition, so they took part in several research studies while growing up to determine a cause. Unfortunately, each study lost its funding, so they were left with no answers. They have a sister who did not inherit the trait and has no hearing loss.
After high school, Crume earned a Bachelor of Science in biology from Washburn University. Then it was on to the KU School of Medicine. And while the rigors of four years of intense study in medical school can be daunting on their own, Crume had her own special set of challenges to get past, not the least of which was doubt.
"Trying to figure out where I belonged was absolutely the most difficult for me," she said. "Sure, the coursework can be tough and can get to you, but adding a personal obstacle that no one else around you can relate to was soul crushing. I distinctly remember a time between my first and second years of medical school where I spent every day in tears. I felt so all alone and isolated because there was no one who quite understood what I was going through.
"There was plenty of trial and error as we figured out accommodations, and although the faculty and staff at KU were supportive, I couldn't help but question if I really belonged here because I was trying so hard to fit in."
Perhaps the greatest challenges would come in rotations such as surgery and obstetrics, where Crume had to work in the operating room, a place where decisions are made quickly, being able to communicate imperative and masks cover everyone's face, making lip-reading impossible. To help accommodate Crume, the University of Kansas Medical Center and The University of Kansas Health System were able to cobble together a computer-based communication system based on a similar setup at another institution. Cyn Ukoko, senior coordinator for academic accommodations, spent the better part of a year working out the details. The system allowed what was being said in the operating room to be transcribed in real time onto a computer monitor so Crume could converse with her colleagues.
"We called it 'the rig,'" she said. "KU put together an awesome team to assemble this machine, and Dr. Peter DiPasco (director of the Surgery Medical Student Clerkship) let us test it out in his operating room before starting the actual rotation, so that things would flow smoothly when it was time to start. It wasn't perfect by any means, but it was incredibly cool."
Basically the rig required the surgeon, resident and scrub tech to wear wireless microphones under their surgical masks. The mics were connected via a sound mixer to a PC, and their voice data were sent to transcribers via a secured connection on Adobe Connect. The transcribers would type the speech into a network where it would be displayed on a desktop monitor in the operating room. Each speaker's voice was transcribed in a different color on the computer screen in the operating room, so Crume could tell who was talking.
"It was awesome, but any sort of technical disruption would throw a wrench into it," she said. "And there's a natural delay since things are happening in real time, so my answers would be off. Focusing on the surgical field in front of me and trying to read the captioning was challenging."
Crume notes that since her surgical clerkship, clear masks with lip-reading capabilities have returned to the marketplace. "It would have made my surgical and OB/GYN clerkships a million times easier. But it's the challenges that make you stronger. Plus, I wouldn't have gotten to know the team and masterminds behind the rig."
Crume says she would have laughed if someone had suggested before she started medical school that pediatrics would be her calling. But, as she explains, taking care of kids is a rewarding field that is filled with many of the challenges she is looking for in her career, including constant opportunities for education, plus working with pathology and physiology. As a pediatrician, she will be caring for patients from birth to early adulthood, so she'll be able to see everything from common illnesses to complex medical cases.
"One thing that really topped it off for me is that my personality fit best with the pediatricians I had the opportunity to work with," Crume said. "I look forward to going to work every day because of my colleagues."
In addition to the rig, Crume says simple awareness by faculty and peers was perhaps the most instrumental accommodation to her success in medical school. She believes courtesies such as having only one person talk at a time when working in groups, repeating questions from the audience during lectures, and engaging in eye contact among speakers and listeners, can be beneficial for everyone.
While accommodations might have played a role in her success, it was Crume's own grit and determination that got her through the challenges of medical school and landed her a residency in the field of her choice at an esteemed hospital.
"The most rewarding aspect is the results," Crume says of her time at KU Medical Center. "Hard work truly does pay off, and now I can continue my dream without limitations. I have the privilege of taking care of kids, and there is no better reward."