Michael Valente has Accomplished the "Hat Trick"
Mike Valente is one of the rare audiologists to accomplish a "hat trick" (defined as three successes of the same kind and very familiar to hockey fans). Same in that his accomplishments all focused on improving hearing and communication for people with hearing loss. Impressive because Mike managed to excel in teaching, research, and clinical service throughout his career. Every PhD advisor tells a student that you cannot excel in teaching, research, and providing clinical care; you have to pick two. Not Mike, he was driven to perfect all three and audiologists and patients are all better for his dedication to these three important facets of audiology.
I first met Mike as an attendee in one of his continuing education courses offered through a conference. I was spell bound – he became my model of how to teach at any level. His message was clear, organized, accessible, but not minimized. This was my first real taste of evidence-based practice as an achievable goal. Mike does nothing without evidence and when there is no evidence, he designs the clinical study to uncover the evidence. His teaching was even more compelling because he was the producer of much of the evidence. His teaching was exceedingly relevant because the cases he presented were the patients he took care of on a daily basis. Very few speakers can bring these three areas of expertise to a talk. Here was someone who didn't just talk the talk, but walked the walk.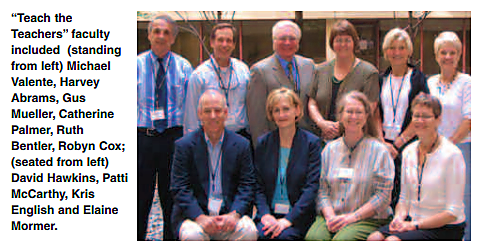 I was hooked and attended every presentation Mike did at any conference. Years later, I had the opportunity to continue doing research and teaching while becoming a clinic director who would be providing clinical services. The first thing I did was call Mike Valente. "Mike, it's Catherine." "Catherine, how are the boys?" (I told him how the boys were, asked about his family and then continued). "Mike, I need to fly to St. Louis and I need you to teach me how to be a clinic director." "My pleasure, when do you want to come?" "Thursday." Before I tell you about this life changing visit, let me back up to "How are the boys?" Although Mike taught me how to be a clinic director in exactly two days; sharing not only his wisdom but his spreadsheets, systems of management and monitoring productivity, revenue, etc. as well as how to balance teaching, research, and clinic, the most important thing I learned that week was Mike's view on family. He emphasized that no matter what I did and how I did it and how important it might seem, nothing would ever be as important as my family.
I've included a photo of Mike at the 2005 University of Pittsburgh Teaching Conference – Teaching Amplification. Typical of Mike's generosity, he shared all of his amplification teaching materials with the attendees at this conference. I've had the pleasure of working on research projects with Mike over the years and have benefited from his attention to detail and unwavering objectivity as he designs, implements, and analyzes research projects. I am very grateful for Mike's participation on the board of Seminars in Hearing for more than a decade. Mike is a problem solver, always ready with a suggestion of an important topic in audiology and who can contribute in a meaningful way. Once again, Mike's dedication to teaching and particularly continuing education for practicing professionals is always paramount. But before our editorial board meetings start, Mike always asks about the boys and I get to hear about his wonderful family. Mike's dedication to his family is inspiring, and it turns out we all lucked out because he counted audiologists as family as well and we have all benefited from his loving yet strict approach to education, research, and clinical excellence. I hope Mike continues to hold us accountable as a profession for implementing evidence-based practice and I look forward to learning from him for years to come.