Mike: The Marathon Mentor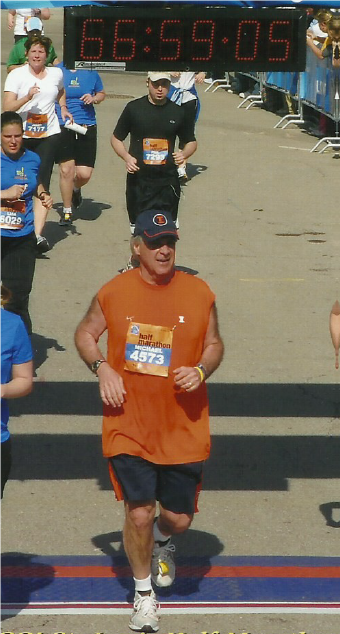 What makes Mike a great mentor?
Selfless Giving of Time and Knowledge
Mike always makes time for students, even with being director of audiology, teaching, research, and travelling. He holds at minimum weekly, on time, meetings. Research progress is discussed, but also testing features of hearing aids not learned in class or demonstration of how to solder a broken wire on a pair of headphones while whistling and saying "delicious!" when the project is complete. Students even came to the clinic at 7 a.m. to learn how to calibrate equipment with Mike. He has a passion for audiology and passing on skills and knowledge to students.
Honest Feedback
Mike is a New Yorker and tells it like it is. As a midwesterner, this style was surprising (especially for a Minnesotan). You know, however, where Mike stands and his intentions are sincere, always wanting you to do your best. It is true he likes to use red pen and my first draft was a sea of red, but his editing skills taught me and others how to be better writers and how to critically analyze research. Mike is a tough mentor, but it's because he expects the best from every student. When Mike gives a compliment, you know he means it.
Preparing a Student for Success
I remember Mike listening to my first presentation eight times (20 minutes each time). He somehow stayed awake and gave constructive advice. He wants you to be prepared so you can be your best. Mike also provides countless opportunities for students to grow, such as an offer to write a book chapter or review a journal article. While he would say that it is not him, but the student taking advantage of these opportunities that matters, those opportunities wouldn't be possible without an enthusiastic mentor to share them.
Do It Right
Mike is a leader of utilizing evidence-based practice and providing the best patient care. In clinic, it was paramount everyone lived by these guidelines. Mike emphasized treating patients like family and what kind of care would you want your family to receive? In research, it was important to have a meticulous and thorough protocol to complete meaningful research. His passion and drive are evident and his research has improved hearing aid technology, which in turn has improved patient lives. This stuck with me and is why in moments of uncertainty in my career I think what would Mike do?
Have a Good Catchphrase
Okay, this may not be a requirement, but Mike has some good ones. Such as "can you dig it?", "kidneys!" while pointing to his temple, and the exclamation of "delicious" or "beautiful" that could be heard down the hallway when an electroacoustic analysis or real-ear outcome was perfect.
Moral Support
Being a graduate student is tough. Imposter syndrome is real and impacts a student's self-esteem. I struggled with this and I am forever grateful to Mike for showing me what I could accomplish and I just needed to believe in myself. He is a cheerleader of his students and he gets a proud parent look in his eyes when his students succeed and realize that they can do anything they set their minds to.
Mike and his wife Maureen also impact people's lives outside of work. I can't talk about Mike without mentioning his partner in crime and the love of his life, Maureen. When I finally left the dorm, Mike and Maureen took me furniture shopping because I didn't have a car and went apartment hunting with me to make sure where I lived was safe. How many professors would do this? When they walk around their neighborhood everyone knows who they are. Despite their success, they are two of the most down-to-earth, humble, and kind people you could meet. It is not surprising, therefore, how many students' lives he has touched:
"I honestly cannot say enough about Mike Valente. He is so very kind and welcoming. He is incredibly thorough, meticulous, and aptly explains everything with an unmatched enthusiasm! He is an outstanding individual, lecturer, clinician, and mentor and the students at PACS are lucky to learn from him!!" – Lauren English
"As a mentor, Dr. Valente strikes a balance by allowing the mentee to work independently to gain experience while also being present every step of the way. This balance permits the mentee to work through processes while knowing guidance is only a question away. Additionally, the professional experience Dr. Valente brings to the mentorship partnership allows him to be a tremendous role model for those beginning their journey into clinical research. Dr. Valente's enthusiasm provides motivation throughout the mentorship process and helps the mentee identify successes even amidst setbacks. This approach to mentorship allows the mentee to explore possibilities and take ownership of outcomes to create confidence and instill critical thinking skills which lasts even after the mentorship experience ends." – Kimberly Ledda
"Many people claim that you should never meet your mentors or your heroes. That doing so would likely result in disappointment as it is impossible for the man to measure up to the myth. In the case of Mike Valente, however, the stories are mostly true, and I appreciate him all the more for it. He is the director of adult audiology and a professor at Washington University School of Medicine – positions in which he has served for over 30 years while simultaneously advocating for and exemplifying the need to incorporate best practices in audiology. He is a highly regarded researcher and expert having given over 300 presentations, written over 75 articles, and (co)authored or edited over 14 textbooks. He is an admirer of John Jay Osborn Jr.'s The Paper Chase, and he uses Socratic questioning to encourage his students to be lifelong learners while preparing for – not a job – but a career. More to the point, Mike Valente is a man with great expectations. He is a mentor who inspires and who leads by example, and I am a better clinician and person for having known him. Thank you, Mike, for displaying excellence in all that you do and for instilling in us the desire to expect more from ourselves." – Laura Street
Mike, thank you for teaching us to be better researchers, clinicians, and mentors. I can only hope to be half as good of a mentor to students as you were to me.