Other People's Ideas
Other People's Ideas
Calvin Staples, MSc, will be selecting some of the more interesting blogs from HearingHealthMatters.org which now has almost a half a million hits each month. This blog is the most well read and best respected in the hearing health care industry and Calvin will make a regular selection of some of the best entries for his column, Other People's Ideas.
By the time you read this submission I am hopeful winter will long be over. The start of spring in my household means tear down the outdoor rink, tune in to see if the Jays are for real, take in a conference or two and see how far the Habs go in the Stanley Cup playoffs. This month's blog submissions relate to the size of our little industry. The audiology industry is fascinating and much larger than I give it credit; see below. I think each blog submission is incredibly interesting and impressive. I think these entries have something for everyone. Happy Reading!
Patent activity in the hearing aid industry continues to grow and grow more interesting.  We're not Google or Apple, which ranked #11 and #13 for number of US patents in 2013 and are projected to rank higher in 2014.  But, our industry is hanging in there even as the competition heats up for Smart wearables and augmented reality (AR).
Besides the usual two-month list of recent patents issued, today's post tallies total patent applications and patents issued.  Size-wise, Cochlear and Siemens have the most in both categories, but Starkey has a lot of applications in the mill.  Although there is not time or space to delve into the many applications currently under review, suffice it to say that some of them are potential game changers for our industry.  A future post will peek at a few.
Hearing Device Patent Ownership
It's interesting to compare patent portfolios among the big players in our industry and track other players entering the arena.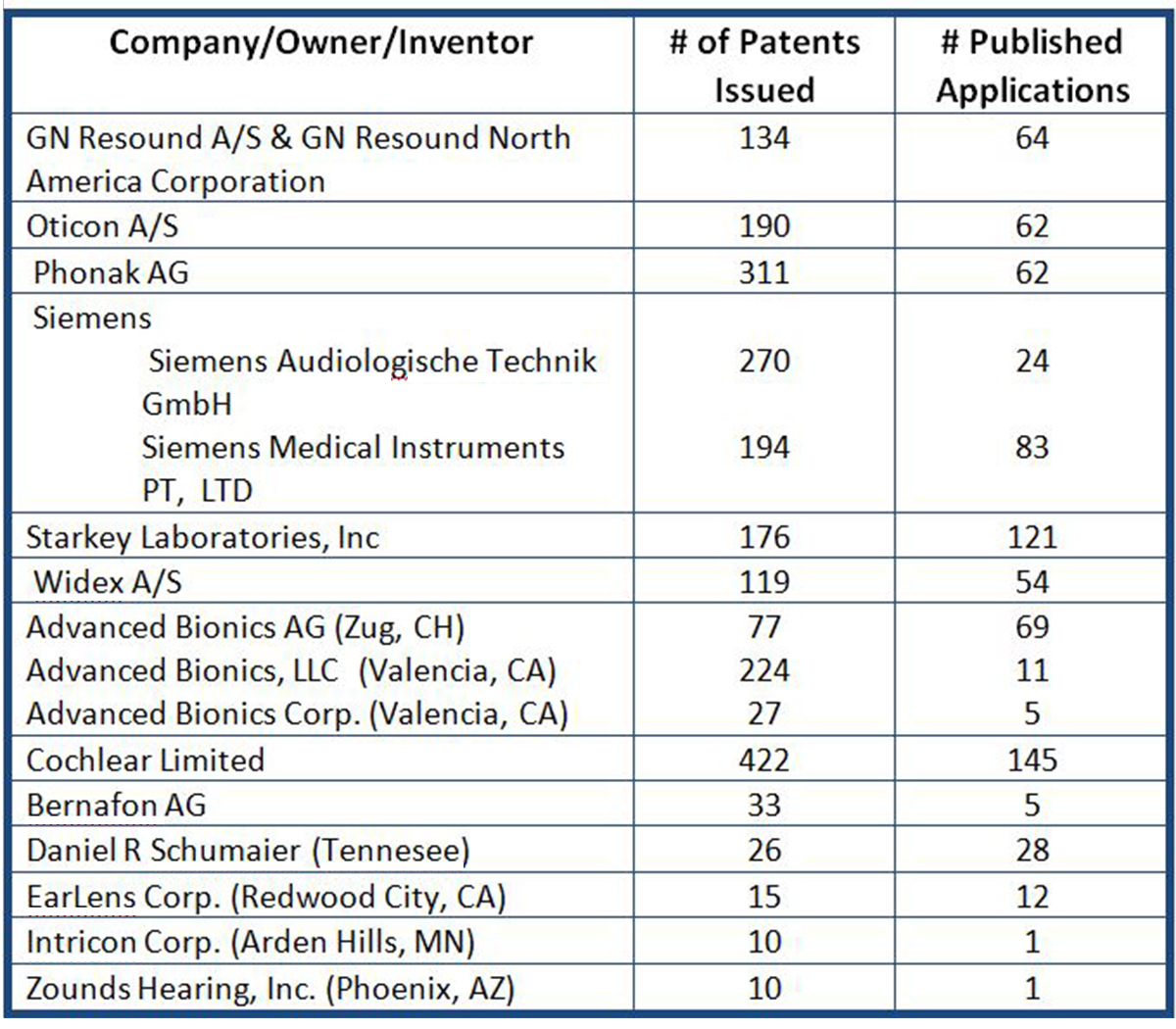 The Bimonthly List of USPTO Patents
| | | | |
| --- | --- | --- | --- |
| Description | Patent Number | Assignee | Issued |
| Hearing Aid Device for Frequency Compression | 8855342 | Siemens Medical Instruments Pte. Ltd. (Singapore) | 10/24/2014 |
| Hearing aid with a casing element | 8873784 | Oticon A/S (Smorum, Denmark) | 10/28/2014 |
| Hearing system and method for operating the same | 8873780 | Phonak AG (Stafa, Switzerland) | 10/28/2014 |
| Hearing Aid with a Casing Element | 8873784 | Oticon A/S (Smorum, Denmark) | 10/28/2014 |
| Hearing apparatus with own speaker activity detection and method for operating a hearing apparatus | 8873779 | Siemens Medical Instruments Pte. Ltd. (Singapore) | 10/28/2014 |
| Method for operating a hearing device having reduced comb filter perception and hearing device having reduced comb filter perception | 8873781 | Siemens Medical Instruments Pte. Ltd. (Singapore) | 10/28/2014 |
| Separate inner and outer hair cell loss compensation | 8873782 | Starkey Laboratories Inc. (Eden Prairie, Minn.) | 10/28/2014 |
| Audio processing pipeline for auditory prosthesis having a common, and two or more stimulator-specific, frequency-analysis stages | 8873770 | Cochlear Limited (Macquarie University, NSW, AU) | 10/28/2014 |
| Systems, methods, and articles of manufacture for configuring hearing prostheses | 8874226 | Cochlear Limited (Macquarie University, NSW, AU) | 10/28/2014 |
| Conformal electrode pad for a stimulating medical device | 8874238 | Cochlear Limited (Macquarie University, NSW, AU) | 10/28/2014 |
| Cochlear implant electrode lead having a cross-section with variable height | 8874240 | Cochlear Limited (Macquarie University, NSW, AU) | 10/28/2014 |
| Configurable FM receiver for hearing device | 8879764 | Oticon A/S (Smorum, Denmark) | 11/04/2014 |
| Configurable FM receiver for hearing device | 8879764 | Oticon A/S (Smorum, Denmark) | 11/04/2014 |
| At least partially implantable sound pick-up device with ultrasound emitter | 8879755 | Advanced Bionics AG (Staefa, CH) | 11/04/2014 |
| Method of Deriving Individualized Gain Compensation Curves for Hearing Aid Fitting | 8879745 | Dean Robert Gary Anderson as Trustee of the D/L Anderson Family Trust | 11/04/2014 |
| Hearing Aid Microactuator | 8876689 | OtoKinetics Inc. (Salt Lake City) | 11/04/2014 |
| Method and Apparatus for Detecting User Activities from within a Hearing Assistance Device Using a Vibration Sensor | 8879763 | Starkey Laboratories Inc. (Eden Prairie, Minn.) | 11/04/2014 |
| Antenna system for a wearable computing device | 8878735 | GN Resound A/S (Ballerup, Denmark) | 11/04/2014 |
| Assessing Neural Survival | 8880180 | Cochlear Limited (Macquarie University, NSW, AU) | 11/04/2014 |
| Implantable electrical connector having unitary contacts | 8880181 | Cochlear Limited (Macquarie University, NSW, AU) | 11/04/2014 |
| Fitting a cochlear implant | 8880181 | Cochlear Limited (Macquarie University, NSW, AU) | 11/04/2014 |
| Hearing aid with integrated flexible display and touch sensor | 8885856 | Starkey Laboratories Inc. (Eden Prairie, Minn.) | 11/11/2014 |
| Method and apparatus for alerting a person carrying an EEG assembly | 8884767 | Widex A/S (Lynge, Denmark) | 11/11/2014 |
| System for Establishing a Conversation Group among a Number of Hearing Aids | 8885857 | Widex A/S (Lynge, Denmark) | 11/11/2014 |
| Method of Processing a Signal in a Hearing Aid, a Method of Fitting a Hearing Aid and a Hearing Aid | 8885838 | Widex A/S (Lynge, Denmark) | 11/11/2014 |
| Hearing Aid with Mechanical Sound Generating Means for Function Selection | 8885864 | Widex A/S (Lynge, Denmark) | 11/11/2014 |
| Semi-Permanent Hearing Aid | 8885859 | Sonion Nederland BV (Amsterdam) | 11/11/2014 |
| Methods and Systems for Content Processing | 8886206 | Digimarc Corp. (Beaverton, Ore.) | 11/11/2014 |
| Implantable medical device | 8885837 | Cochlear Limited (Macquarie University, NSW, AU) | 11/11/2014 |
| Transcutaneous bone conduction device vibrator having movable magnetic mass | 8891795 | Cochlear Limited (Macquarie University, NSW, AU) | 11/18/2014 |
| Modular Hearing instrument | 8885858 | GN Resound A/S (Ballerup, Denmark) | 11/18/2014 |
| Pharmaceutical agent delivery in a stimulating medical device | 8892201 | Cochlear Limited (Macquarie University, NSW, AU) | 11/18/2014 |
| Remote control for a hearing assistance device | 8891793 | Starkey Laboratories Inc. (Eden Prairie, Minn.) | 11/18/2014 |
| Hearing Aid with Signal Enhancement | 8891777 | GN Resound A/S (Ballerup, Denmark) | 11/18/2014 |
| Smoothing method for suppressing fluctuating artifacts during noise reduction | 8892431 | Siemens Audiologische Technik GmbH (Erlangen, Germany) | 11/18/2014 |
| Cochlear implant systems including magnetic flux redirection means | 8897883 | Advanced Bionics AG (Staefa, CH) | 11/25/2014 |
| Optical Scanning Device | 8900126 | United Sciences LLC (Atlanta) | 12/02/2014 |
| Antenna Diversity for Magnetic Induction Radio | 8902772 | NXP B.V. (Eindhoven, Netherlands) | 12/02/2014 |
| Inflatable Ear Mold with Protected Inflation Air Inlet | 8903113 | Siemens Medical Instruments Pte. Ltd. (Singapore) | 12/02/2014 |
| In-Ear Device with Selectable Frequency Response | 8903114 | Sonomax Technologies Inc. (Montreal, QC, Canada) | 12/02/2014 |
| Battery Door and Hearing Device | 8903112 | GN Resound A/S (Ballerup, Denmark) | 12/02/2014 |
| Method and Device for Frequency Compression in a Hearing Aid | 8908892 | Siemens Medical Instruments Pte. Ltd. (Singapore) | 12/09/2014 |
| Circuit Arrangement for Adjusting the Output Power And/or the Frequency Response of a Power Amplifier for a Hearing Aid Device | 8908890 | Siemens Audiologische Technik GmbH (Erlangen, Germany) | 12/09/2014 |
| Hearing Aid Apparatus and Method | 8908891 | Audiodontics LLC (Bethesda, Md.) | 12/09/2014 |
| Method and device for frequency compression in a hearing aid | 8908892 | Siemens Medical Instruments Pte. Ltd. (Singapore) | 12/09/2014 |
| Method and Acoustic Signal Processing System for Interference and Noise Suppression in Binaural Microphone Configurations | 8909523 | Siemens Medical Instruments Pte. Ltd. (Singapore) | 12/09/2014 |
| Hearing Apparatus with an Equalization Filter in the Filter Bank System | 8908893 | Siemens Medical Instruments Pte. Ltd. (Singapore) | 12/09/2014 |
| Ear Canal Device Retention Means | 8908895 | Oticon A/S (Smorum, Denmark) | 12/09/2014 |
| Cartridge for an electrode array insertion device | 8909349 | Cochlear Limited (Macquarie University, NSW, AU) | 12/09/2014 |
| Hearing Aid with Improved Compression | 8913768 | GN Resound A/S (Ballerup, Denmark) | 12/16/2014 |
| Methods and systems for representing different spectral components of an audio signal presented to a cochlear implant patient | 8914126 | Advanced Bionics AG (Staefa, CH) | 12/16/2014 |
| Sound processor apparatus with sound processing integrated circuit that includes an integrated power supply module | 8914127 | Advanced Bionics AG (Staefa, CH) | 12/16/2014 |
| Methods and systems for minimizing an effect of channel interaction in a cochlear implant system | 8914125 | Advanced Bionics AG (Staefa, CH) | 12/16/2014 |
| Tonality-based optimization of sound sensation for a cochlear implant patient | 8914124 | Advanced Bionics AG (Staefa, CH) | 12/16/2014 |
| Transcutaneous bone conduction system | 8913770 | Cochlear Limited (Macquarie University, NSW, AU) | 12/16/2014 |
| Hearing system and method for operating a hearing system | 8913769 | Phonak AG (Stafa, Switzerland) | 12/16/2014 |
| Pre-curved electrode array loading tools | 8915926 | Advanced Bionics AG (Staefa, CH) | 12/23/2014 |
| Methods and systems for automatically determining an implant side associated with a cochlear implant | 8918182 | Advanced Bionics AG (Staefa, CH) | 12/23/2014 |
| Methods and apparatus for allocating feedback cancellation resources for hearing assistance devices | 8917891 | Starkey Laboratories Inc. (Eden Prairie, Minn.) | 12/23/2014 |
| Hearing Aid | 8917893 | ExSilent Research B.V. (Amsterdam) | 12/23/2014 |
| Two Part Hearing Aid with Databus and Method of Communicating between the Parts | 8923542 | Widex A/S (Lynge, Denmark) | 12/30/2014 |
| Hearing Aid-Compatible Apparatus for Wireless Communication Devices | 8923528 | Microsoft Corp. (Redmond, Wash) | 12/30/2014 |
| Integrated Automatic Telephone Switch | 8923539 | Starkey Laboratories Inc. (Eden Prairie, Minn.) | 12/30/2014 |
| Method and Device for Frequency Compression | 8923538 | Siemens Medical Instruments Pte. Ltd. (Singapore) | 12/30/2014 |
Dr. Metz has been a practicing audiologist for over 45 years, having taught in several university settings and, in partnership with Dr. Bob Sandlin, providing continuing education for audiology and dispensing in California for over two decades. Mike owned and operated a private practice in Southern California for over 30 years. He has been professionally active in such areas as electric response testing, hearing conservation, hearing aid dispensing, and legal/ethical issues. He continues to practice in a limited manner in Irvine, California.
Hearing Aid and Audiology Future
Data always speaks louder than words and is generally more concise than opinion – sometimes in spite of the nature of the data and no matter who offers the opinion. So, if any in the audiology community wishes to know why there is a "storm" involving hearing aids in their profession, here are some suggestions for beginning to form reasonable opinions that are at least somewhat reasonably derived from data.
The Audiology Storm
First, let us consider the "Audiology storm" idea that was discussed by Dr. Jerry Northern in his recent blogs in the Hearing Health and Technology Matters Internet site.
Just what is the wholesale pricing that the "big box" stores get from manufacturers?

How much difference is there between what they get and what any individual dispenser could get?
What would they have to do to get comparable pricing?
Are there any legal or ethical problems involved in what these clinicians would have to do?

Are there examples of other professional groups establishing similar wholesale pricing structures?  Additionally, did any of these groups run into any legal, ethical, licensing, or other "consumer-oriented" problems?
If audiologists get pricing that is almost as close to that of the "big box" stores, what would they have to do to attract and keep patients/customers from those "big box" places?
For years, the industry argument from all who sampled and published their survey results (and opinions) was that pricing was not a very big motivator for purchasing hearing devices. Were these "experts" wrong? Did they sample correctly? Was there perhaps another agenda that their numbers served?
Are there any other factors, tests, methods, services, etc., other than pricing that comes into play?  Can audiology deliver these "whatevers" adequately, exclusively, cost-effectively for consumers, and profitably for itself?
If there are those who think that a big, cooperative audiology buying group would solve the "storm" problems, it might prove illustrative to find data such as that related to the following:
The associated costs of running a buying group.
The number of people who are delinquent in paying for goods, both in and out of buying groups.
Is there any data suggesting that smaller offices are generally worse or better at paying their bills?
Would this audiology buying group not sell to ENT or other physicians' offices? (Recall that the American Academy of Audiology data shows that a substantial number of audiologists work in these offices.)
The alternative and competitive methods of distribution that might reasonably spring up from other groups, other than audiology, who sell these products—manufacturers, hearing aid dealers, physicians, etc.?
Which of the present buying groups would "give up" their place in favor of the big, "united" group model?
Someone might want to seek a true, unbiased legal opinion about such a buying group. That is better than relying on the opinion of an attorney in the employ of a person, group, or organization.
If Medicare allows patients to seek audiologists without first seeing a personal physician, does this change in procedure put pressure on the methods used by audiologists? Would this be in support of or in opposition to such a large buying group?
Hearing Aid Obituary
With respect to a series of posts by Dr. Wayne Staab on the same HearingHealthMatters.org website starting in November of 2014, his comments and data seem to reflect the same types of conflicts as those expressed by Northern. That is, hearing aids as we have known them—those devices that since the 1970s or so have given life (money) to many in the field of audiology—may be on the way out, or at least partially replaced and/or expanded with devices having other names.
For all the opinion about why a hard-of-hearing adult does not use amplification, has anyone ever looked closely at those patients/clients who have failed in their use of these devices? Is there any evidence of a major complaint among these folks? Would it help us to really know why they did not succeed?
Is there any hard evidence of any factor(s) that contribute to the success of patients? Or, are there clinicians who have a demonstrably (not anecdotally) better success rate.
Have there been any unbiased, scientifically-correct studies showing benefits from amplifying devices that are not called hearing aids? Or, just to make it clearer, is there any data that would support audiology and hearing aids in preference to PSAPs and big-box stores?
Caveats
Caveats are in order. There are likely some more interesting questions that could go towards accumulating some illustrative data. But, equally important, there are some questions that probably should not be asked, as there would seem to be a high likelihood of finding data that would not support the assertions of many dispensing audiologists.
If all the suggested fitting protocols are necessary and/or recommended by most all professional organizations, why aren't these methods used universally by all audiologists or anyone else seeking to satisfy patient needs? This indirectly speaks to the "unbundling" of services that has been advocated by a few for many years.
How long does it take for annual "new and better" hearing aids to reach the ears of the hearing impaired customer? Contrast this to the research that would support recommending and using these higher-priced, "revolutionary" products.
What is the comparative rate of dissatisfaction (or return for credit, "in-the-drawer", or whatever) for audiologists, sales offices, "big box" suppliers, OTC (PSAPs), and other methods of distribution? (All available data, minimal as it is, would seem to indicate that looking at such numbers has a limited chance of casting a "good" light on differentiating between distribution methods or groups.)
Finally, for those who think that we are in times of, "the sinking of audiology in this perfect storm", or the "death of hearing aids as we know them," we should recall that when one door closes, many times another door opens. If audiology really does provide worthwhile, cost-effective, exclusive services to hearing impaired patients, the field will somehow find a way to prevail and weather this "storm." If, on the other hand, we have outlived our usefulness to the hearing impaired with respect to the sale of hearing aids, perhaps we should use this storm to "find a better boat," or "swim to another island," or "seek a safer harbor."
Ear-level electronic devices are on shifting ground. FDA aside, what defines a "hearing aid" these days? They are sophisticated, computer-based, ear-level, binaural, Bluetooth-enabled devices with storage and automatic programming capability. They're poised for far more than amplification, noise reduction, and feedback control.
If you accept that functional definition of today's hearing aids, what's left to define a Hearable? Is it every ear-level gadget except a hearing aid, or are hearing aids the high end of the Hearable armamentarium?  If the latter, does that turn hearing aids into gadgets?  Where do PSAPs fit in?
To bring definitions full circle, whatis.com defines Hearables in a way that sounds like a hearing aid to this reader:
Hearables are wireless wearable computing earpieces that enable voice input and return results audibly to the user's ear.
What, Exactly, Are We Talking About?
We're talking about a lot more than a PSAP, which itself has been hard enough to define. Hearables have the potential to be whatever you want them to be, in which case one can make the argument that if it sits at, on, in, hangs on, or maybe even hovers by your ear, it's a Hearable.  What consumers want will depend on the state of their hearing ability, changing acoustic environments, physical state, real-time goals, real-world activities and location, and cost of content.
Besides solving hearing problems or enhancing normal hearing, Hearables are poised for eventual seamless connectivity with the fabled Internet of Things (e.g., phones, people, dogs, your keys,  computers, your stove), enabling wearers to define their own personal area networks.  They will stream content of your choice (e.g., books, courses, music, movies, events); manipulate noise and perform voice identification.  Some will connect wirelessly to body monitors; others will function as their own body monitors by virtue of embedded electronics (e.g., accelerometers, micro-thermistors).
Here's a sampling of  Hearable-related endeavors currently on the drawing board or in the works, in addition to 2014 devices  (e.g., Soundhawk Smart Listening System) that were covered in previous posts.  They come from developers/manufacturers with varied backgrounds, intentions, funding, and experience with the hearing aid industry.
ReSound's "Smart hearing solutions," LiNX, LiNX TS, and ENZO, were showcased at 2015 CES  2015 with new Android platform capabilities.  Siemens' Smart Hearing Aid received special notice as a "cool new" wearable at the show.
Adnan Shennib's iHear Medical device is not a PSAP, but a "web enabled hearing aid" that is still in the investigational stage but is already getting awarded patents.[1] It will use online test and fitting protocols, all wirelessly via a kidney-bean sized  in-canal instrument.  Whether it's a hearing aid or a merging hearing aid Hearable is up to the user, I'd guess.  iHear Medical started as a crowd-sourced device on indiegogo, but recently got a $5M cash infusion from venture capital financing to continue its development.  No word on when it will come to market.
Plantronics, Inc.'s patent #US8503689 B2 describes a control box that functions as both a radio transmitter and receiver, able to send signals to and from the ear.
Sony's next-generation Ultra-miniature Bluetooth modules, currently under development, will fit into small, inexpensive, user-controlled headsets "without the need for any other processor."
Patent application #789531 (no assignee) describes an earphone controller in the form of "a cellular telephone [embodied in]… a unitary housing having a speaker engaging the user's ear canal. …  A boom extends from the housing, and has a distal end extending toward the user's mouth."
Bragi's Dash earbuds, are another crowd-sourced invention, which the developers have proclaimed the "World's First Hearable."  Currently available for pre-order ($299) and set to launch in April 2015,  the website claims are impressive: "the world's first wireless smart ear headphone: Wireless in ear headphones. 4GB MP3 Player Microphone Bluetooth headset Fitness Tracker Heartrate Monitor Waterproof. No cables. Standalone & phone. Wearing comfort & secure fit.  Touch sensitive control at the tip of your finger. Charge anywhere in less than 1 hour."Bragi's claims keep growing as new concept applications crop up.  At the 2015 CES show, the Dash was touted as responsive to directional head nods to check the weather, move things, etc. It's going to be waterproof.  All this with just $3M raised by crowd funding.  Whether it actually launches in April and whether it lives up to expectations and claims remains to be seen, but it surely gives an idea of what's in store for ears in the future.  It also moves Hearables away from smartphone control and toward ear-level autonomy.
Intel's body-monitoring earbuds made Wired's list of 10 Best Gadgets at CES 2015.  They're not wireless and they won't be sold by Intel, which has yet to announce its partner for this endeavor.  Wired like them because:[the] "tracker inside that syncs to both iOS and Android phones. It collects calorie, pace, distance, and time data. But more importantly, it tracks your heartbeat in real time and offers a visible history graph on your phone's screen. Plus, if you're falling below or going above your target heart rate, the system automatically plays a song to pump you up or calm you down."
BioSensive Technologies' Ear-O-Smart is a crowd-funded, wireless Bluetooth fitness earring due out in May 2015.  As a wearable, ear-level processor, Ear-O-Smart pushes the definition of Hearables because nothing is heard.  If it comes to market and finds a market, it could morph into a Hearable.  Nevertheless, it is one of the few ear-level fashion Wearables.

FreeWavz Smart Earphones are wireless, content-streaming, audio-enhancing, fitness-monitoring, app-driven gadgets that look a lot like retro BTEs attached to earpods (Figure 1).  Furthermore, even though they're not called hearing aids, they act like hearing aids or PSAPs:  according to a CES review.  They will sync binaurally,  "compensate" for hearing deficits, allow customization for "environmental audio pass-through," and use multiple mics for noise reduction.  FreeWavz, too, are a crowd-funded idea with a projected March, 2015, fullfillment date.

Nanoplug is another crowd-sourced device that does call itself a hearing aid.  It distinguishes itself with a "nano-battery" that recharges "almost instantaneously" and makes the device very small. The website describes it as The World's First Invisible Hearing Aid and the most recent production update says it may be available for sale in March as a self-programmable device.   It does not appear to have gone through FDA approval, despite calling itself a hearing aid.  Of interest is a review on a website called 800whistleblower, which suggests crowd sourcing as a possible work-around to FDA requirements:
Accessing hearing aids via social funding platforms may be the best approach for those who simply can't afford the average Food and Drug Administration-approved hearing aids that cost upwards of $2,000 apiece.
Who's In Charge?
FDA Rules and Regulations make it unlikely that Nanoplug can sell hearing aids stateside by simply offering them over the Internet, regardless of what 800Whistleblower opines.  On the other hand, PSAPs made their way around the FDA and sell with little hindrance or scrutiny, leaving plenty of room for hearing aids that call themselves earphones to sell direct to consumers.
What with shifting, merging sands of hearing aids and Hearables, who's to say what groups get to decide what devices belong to which camps: the FDA,  CEA, Google and Apple, audiologists, consumers? Who gets final say on who sells them and how they are sold?  Ultimately, will hearing aids morph into consumer electronic gadgets?  More on that in upcoming posts.
This is the 3rd post in the Hearable series.  Click here for post 1 or post 2.
Figure 1 courtesy of FreeWavz.
References
WIPO publication Numbers WO/2015/009561, WO/2015/009559, and WO/2015/009569 were awarded on Jan. 22 to iHear Medical Inc. (US) for  inventions entitled  "HEARING AID FITTING SYSTEMS AND METHODS USING SOUND SEGMENTS REPRESENTING RELEVANT SOUNDSCAPE," "HEARING PROFILE TEST SYSTEM AND METHOD," and "INTERACTIVE HEARING AID FITTING SYSTEM AND METHODS." Inventor is Adnan Shennib.
I was reading a professional magazine this morning while I was drinking my coffee.  I have to admit that I generally do not read professional magazines.  I see all the research articles with the wonderful graphs and statistics and my eyes glaze over.  I may read the intro and the conclusion.  But, reading the actual study does nothing for me.  I just don't see the relevance for my daily practical life as an audiologist.  I want to know how this study impacts my life selling and fitting hearing aids.  I am glad that some people like to do research.  I am not one of them.
As I was reading, I recognized the names of the authors of the articles. I read several of the articles. They were enlightening.  Some of the articles I found confusing. It would have been nice to have the author's email address so I could send a message to them asking for clarification. A number of the articles were by leaders in the professional organization. I get it. It is the beginning of the year. Goals are articulated.  New members are introduced.  New people are running for national positions. Their biographical information and their philosophies were being shared. I am happy that some people have the time and interest for national professional unpaid positions. They take a lot of time, energy, thought, and emotion.
Professional Organizations
Over the years I have been involved in State professional organizations. When I lived in New Jersey I was the Audiologist on the Association Board.  I met some wonderful people. When we moved to Massachusetts, I agreed to be Secretary for the Massachusetts Hearing Aid Society.  I was co-chair of the New England Hearing Health Convention for three years.  My husband, Steve, and I have been involved in National Presbyterian Marriage Encounter as the National Clergy Couple. That too was rewarding, but very time consuming.
In 1997 I was appointed by Massachusetts Governor Cellucci to be the Audiologist on the newly formed Hearing Instrument Specialists Board. I am still there.
Having been a leader of several organizations as well as a member of organizations, I understand that sometimes the goals clash. Or, maybe I should say they are on different trajectories.  Sometimes we members do not take the time to talk to the leaders about our needs or goals. Sometimes we just don't see the bigger picture. And, sometimes we are not given the opportunity to voice our opinions.
Last year one of our professional organizations (I admit I do not remember which one!) sent me a survey, which  I dutifully completed. The organization said it was trying to "hear" from its members. But, the way the questions were asked, and the multiple choices offered had little to do with my interests or concerns.
The questions were selected by people who work in a university setting, hospital setting or ear, nose and throat setting. The questions had little to do with private practice.
To me the survey had more to say about the people who wrote the questions than about those of us who answered the survey.
Academia Often Clueless About Realities of Independent Practice
I am in private practice. I test hearing and sell hearing aids for a living. I do billing for my testing. I am a provider for most, if not all, insurance companies in my area.  I do my own marketing, I train staff. I have a business to run. There are many skills I have needed over the years to make my business successful. The one main skill I needed from day one was being able to sell hearing aids.
One author I read this morning stated that many audiologists will enter the workforce either as independent practitioners or as clinic administrators in hospital settings. But, in the goals he listed there was no mention of selling hearing aids. Hmmm, I thought.  I must be missing something. To be in private practice means selling hearing aids.  To be a hospital administrator means having some business sense that includes marketing and selling.
No student I have supervised over the last 35 years has ever taken a class on selling hearing aids or marketing.  If students are expected to enter the workforce as private practitioners, doesn't this seem like a major oversight in the university curriculum?  I talked to the director of the program about this very issue.  She told me that there was "no room" in the curriculum for a class like that. I don't know the professors at the local university except by name.  I do not know if they have ever depended on their selling ability to earn a living.
Students Need Clinical (and Business) Skills
This year I have taken a stand. I am insisting that every student who does a practicum in my office read books on selling and marketing.  I have a number of books and podcasts that have influenced me. I purchased used books that I will loan to the students. I am determined to make the students develop a style that fits them so they can sell hearing aids by the end of the semester. If they are to make a living selling hearing aids, they need to learn this skill while they are in their doctoral program.
Over the years I have hired AuD students who were completing their externship.  I had to teach them how to sell hearing aids too.  Doing hearing tests, relating to patients, explaining test results, selling hearing aids, writing a contract, asking for thousands of dollars, fitting the hearing aids, explaining the care of the aids, and doing follow-ups need to be part of the university curriculum.  By the time students are ready for their externship, they should be able to accomplish these tasks with ease.  However, sadly, this is often not true.
That's why many audiologists in private practice will not hire someone on their externship year.
My friends who own private practices often say, "The extern students cannot sell. And, they want too much money while they are learning to sell. It is too expensive."
Students will begin looking for jobs soon. My advice is to learn to sell hearing aids in the next few months if you want to earn a living.   Some books that have shaped my sales life have been "Top Performer" by Stephen Ludin.  This book talks about creating a persona, which I find very helpful. "Guerrilla Marketing" by Jay Conrad Levinson was super helpful in finding inexpensive marketing methods.  Recently I found "Seven Reasons why you suck at sales and what to do about it" by William Wyatt.  It is pretty straightforward and blunt.
This morning I also read "Never Be Closing" by Tim Hurson and Tim Dunne.  This book summed up that sales is about relationships and the process of getting things done.  A podcast by Jeb Blount from Sales Gravy are five-minute talks about selling.  I like to search the iTunes store for any sales podcasts.  Sales are sales and I can learn from other professions.
These are some of the books on my list for the next student.  I hope I can make a difference for the students passing my way.  I want to help equip them for life after school.
Nina Kraus and Samira Anderson have demonstrated the value of music for improving auditory skills. Their research has indicated that music training enhances the neural coding of speech. They suggest that community-based music programs can improve auditory learning and facilitate sound to meaning resulting in improved academic performance and auditory based communication skills.
Student Studies in Los Angeles
Students in the Los Angeles and Chicago school districts were studied. Students in LA were given musical instruments to take home and use as their own. Students participated from age 6-9 years through high school. They had music lessons and participated in performance groups. Kraus and her group tested children from the group who had music lessons and those who were on the waiting list for the program. They recorded brainstem responses to the speech syllables /ba/ and /ga/ both prior to beginning the training and then after years one and two of training. Differentiation of these consonants was measured by neural timing (phase) differences. Results after two years indicated changes in brainstem performance. In the LA program, 93% of students went to college. The average drop out rate in the community was 50%.
Chicago Students
A group of high school students in Chicago participating in either music or physical training were evaluated annually starting the summer before their freshman year in high school and continuing until the summer after graduation. The students who participated in music training had faster neural timing after two years of music training, and neural responses were more stable (less disrupted by noise). No changes were noted in the physical training group.
Conclusions
This research confirms that music training is an effective strategy for improving auditory development. The findings  in both the LA and Chicago groups demonstrated that it took 2 years for the benefit to be demonstrated. How can we use this information for working with children with hearing loss?
Many people assume that hearing loss precludes learning to play a musical instrument. That is not true. Many children with significant hearing loss learn to play musical instruments very successfully. Music training should be encouraged, and children with all degrees of hearing loss should be exposed to music. They can and should learn musical instruments. Some will have good musical abilities, and others will not. Just the same as typically hearing children. It does not mean they should not be given the opportunity.