Overview of Smartphone Control of Hearing Aids
The following has been coordinated by Marshall Chasin, Editor-in-Chief
I recall that one of the first things I ever learned in kindergarten was that the antenna length is inversely proportional to the RF transmission frequency. Higher frequency RF only required a relatively small antenna to receive the signal.
With the recent change from the 700 MHz RF range to the new 2.4 GHz RF range, the antenna can be very small indeed. And it can be so small that even CIC hearing aids can have direct Blue Tooth and other RF transmission without the need for an external streamer. With the 2.4 GHz RF standard, streamers can be a thing of the past- now the transmission can go directly to the hearing aid, or from one side of the wearer to the other side hearing aid.
And with the higher 2.4 GHz RF transmission we can now control the hearing aids with any number of external devices that need not be proprietary. Apple iOS and Android smartphones can now be used to communicate with the hearing aids using company specific apps that range from simple volume controls to equalizers that can alter the frequency response and to programs that can be implemented for noisy environments and in most cases, musical ones as well.
Increasing the RF to the 2.4 GHz region does not have any implications for frequency response, or speed of the processing algorithms. Nor does it optimize the hearing aid for listening to high level signals such as music and the hard of hearing user's own voice. It does however allow the user to have as little or as much control over their hearing aids as they desire, or are capable of.
In this issue of Canadian Audiologist we have invited all of the hearing aid manufacturers to submit short overviews of their products and how they can be controlled with smartphone and app use. Several manufacturers have declined to submit overviews and it is suggested that the interested reader contact the hearing aid manufacturers directly for more information.
---
Wireless Connectivity Options
With the release of the new DECS platform, Bernafon is happy to offer a number of new wireless connectivity options to end users. In particular the Zerena family will be made for iPhoneR hearing aids.
2.4 GHz direct to ear streaming will not only allow hearing aid users to stream phone calls and music directly from their iPhones to their hearing aids with no intermediary device, they will be able to use their smartphones to control various hearing aid features. Using a smartphone as a control can be achieved in 2 ways with Bernafon hearing aids, through iPhone iOS settings or by downloading the EasyControl-A app from either the Apple App Store or Google Play.
With iPhones, the Zerena hearing instruments can be controlled without installation of the EasyControl-A app. The hearing instruments can be paired directly to the phone in the Hearing Devices tab of the General Settings. The hearing aid user will have the options of streaming monaurally or binaurally and can control the volume of each hearing instrument independently or simultaneously. Program changes to the preassigned programs in the hearing instruments can be made and preferences for both call and audio routing can be set. In addition to controlling the hearing instruments, the iPhone can be converted into a remote microphone, ideal for such situations as noisy car travel.
Download of the EasyControl-A app will allow for program and volume changes in Android phones. For iPhone applications, all functions described above will be accessible. In addition, personalized names can be assigned to the preset programs and volume can be easily controlled for any program by swiping up or down anywhere on the iPhone screen. Hearing aid microphones can be muted and unmuted either binaurally or for each ear individually. Tinnitus SoundSupport (if assigned in the software) can be accessed with the EasyControl -A App and volume changes to the tinnitus sound can be made.
Connecting the Bernafon hearing aids to the Internet through the phone and EasyControl-A App will allow connection to IF This Then That. This is an internet service separate from Bernafon and will allow Zerena hearing instruments to potentially interact with more than 300 internet-connected devices and services. Although Bernafon has provided the opportunity to access IFTTT, use of this service is entirely the responsibility of the end user.
In addition to using the smartphone for control of the hearing aids, EasyControl-A App offers a number of other functions:
A visual battery status is provided to assist hearing aid users in knowing the status of their battery prior to low battery and end of life auditory battery indicators.
Automatic download of the IFU for the specific detected hearing instruments.
Verbal voice prompts for battery level and program changes can be set.
Find my Hearing Aids setting will provide a map that shows where the aids were last in connection with the phone.
End users will experience seamless and boundless hearing, anytime, anywhere with the Zerena family and the flexible wireless connectivity options offered with these hearing instruments.
---
HANSATON remoteHD App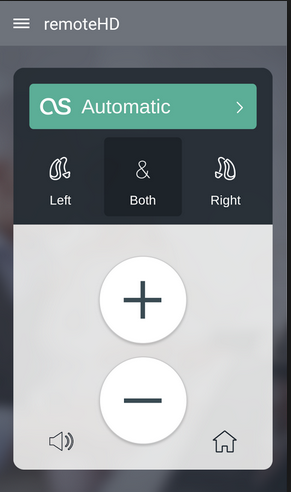 Hearing aids are modern day high-tech miracles and HANSATON's free remoteHD app (available as a free download on Google Play and the App Store) allows hearing aid wearers to easily manage their HANSATON hearing systems from the comfort of their smartphone. The app combines the abilities of an intelligent remote control and multimedia hub for all HD and SHD hearing systems including RIC/BTE and rechargeable. For hearing aid wearers, this means more comfort, flexibility and freedom, along with the ability to operate their HANSATON hearing system discreetly and unobtrusively in public.
The remoteHD app allows wearers to change volume settings or programs on their HANSATON hearing system quickly and discreetly, including separate adjustments of left and right systems. They can select audio sources connected via cable, transmitter, or Bluetooth® using the uStream or uDirect3 systems, and stream them directly into their hearing systems. This allows their hearing system to function as a headset or wireless receiver that connects to virtually any Bluetooth-enabled smartphone, giving near-perfect sound.
With the remoteHD App, hearing system wearers can make easy, discreet volume adjustments and manage system programming using their smartphones. This is all done in combination with the uDirect3 or uStream remote controls.
uDirect3
The remoteHD app allows users to control the uDirect3 remote, which ensures particularly clear, interference-free hearing experiences in a variety of activities. The uDirect3 can create either wired or wireless connections between HANSATON hearing systems and a cell phone, television, FM radio, or MP3 player, ensuring clear, interference-free listening enjoyment. The app also provides a convenient way of regulating uDirect3 users' volume easily and discreetly.  Wearers can simply hang the uDirect3 around their neck with the specially designed neck loop and use the remoteHD app to control the device.
uStream
The HANSATON uStream can also be discreetly adjusted via the remoteHD app. The tiny uStream is completely wireless and can be clipped to one's clothing easily and discreetly. Using the remoteHD app, hearing aid wearers who use the uTV3 streamer in conjunction with the uStream device can also adjust their TV volume quickly and easily.
In addition to acting as a smartphone remote for the uDirect3 and uStream devices, the HANSATON remoteHD app brings general remote control functions for HANSATON hearing system wearers including personal preferences and customizations. It gives wearers a personalized hearing experience that they can enjoy directly from their Apple iPhone, iPad, iPod touch or Android smartphone.
Compatibility
To use the remoteHD app, wearers must have a HANSATON streamer, either uDirect3 or uStream, in combination with the HANSATON easeHD generation hearing aids and newer. The app is compatible with iPod touch and iPhone 4s and later models with IOS 7 or higher, as well as for smartphones with Android 4.0 (Ice Cream Sandwich) or higher.
Functionality
HANSATON's remoteHD App provides the following functionality:
Individual left and right volume control
Ability to change configured hearing aid programs
Select between different audio sources already connected to the streaming device
Ability to test the connection between HANSATON hearing device and the hearing aids
Simple Bluetooth pairing
The remoteHD app also features an easy-to-use app interface that allows various options and controls, including:
Settings
Help
Current program/Program selection option
Left/Right channel controls
Pause current stream
Increase volume
Decrease volume
Mute microphones on hearing aid
Reset to default settings
---
Oticon's Approach for Creating Solutions for People with Hearing Loss
The launch of the OpnTM product line has introduced a new way of thinking of hearing aid technology. BrainHearingTM is Oticon's approach for creating solutions for people with hearing loss. As part of the new Velox platform, TwinLinkTM connectivity was introduced. TwinLinkTM is a dedicated communication system, providing 2 types of communication. One is Near Field Magnetic Induction (NFMI), allowing binaural communication and processing between 2 hearing aids. This is an energy efficient system, using very low battery consumption and that travels easily around the head. The other system is 2.4 GHz, which utilizes Oticon's dedicated form of Bluetooth (Oticon Bluetooth Low Energy or OBLE) allowing transmission of data and sound to hearing aids. which is used for wireless connectivity. Streamer-free connectivity turns Opn hearing aids into stereo headphones, streaming sound and music from your smartphone.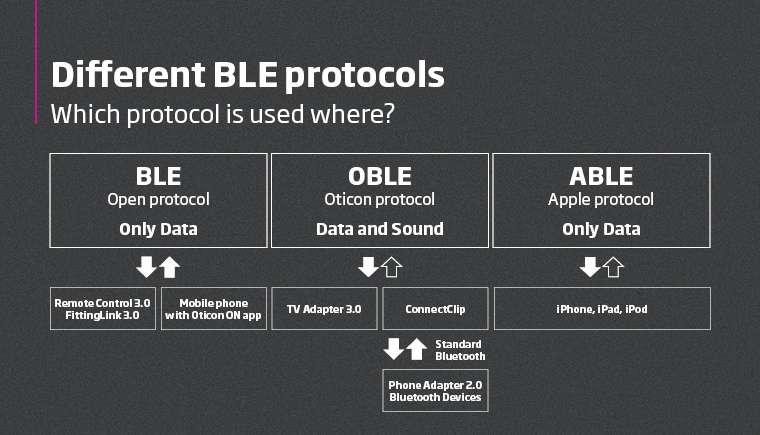 Oticon Opn is a Made for iPhone® hearing solution that connects directly to iPhone, iPad®, and iPod touch® to help users enjoy clearer phone conversations, music, FaceTime® calls, and more. Audio is streamed from paired devices directly to Opn hearing aids. For users with binaural amplification, streaming of calls and media is sent into both aids, providing a fuller sound.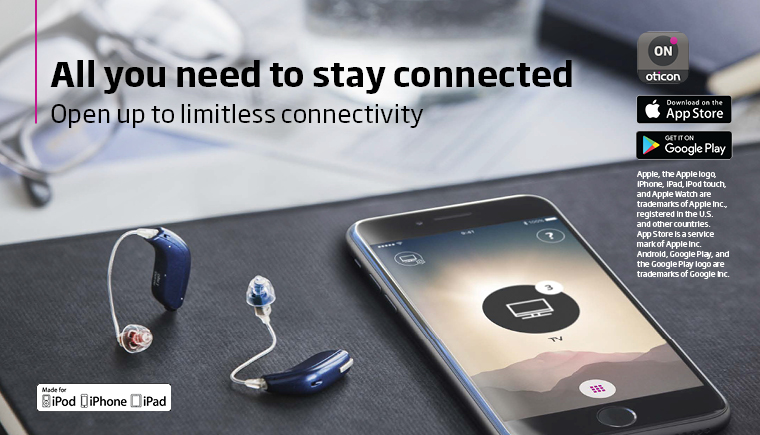 There is an also application available through the App Store called the Oticon ON App. The app allows users to adjust volume and change programs, offers a convenient "find my hearing aid" search feature, counselling advice, links to user instructions and low battery notifications. The ON App is available for free on iPhone, iPad and iPod touch. Users with Android phones are also able to download and run the same app, allowing for this cellphone control of devices. The app is available for free through the Google Play Store on Android version 6.0 or later.
Oticon OpnTM is also the world's first hearing aid that can connect to the internet, using the If This Then That (IFTTT) network. By downloading the Oticon ON App, end users can control their Opn hearing aids from their cell phones and connect to other internet-enabled devices and services. Users set up "applets" using the IFTTT.com service to interact with smart technologies such as smart doorbells that alert them when someone is at the door or to schedule a range of notifications. For example, a user could set up an applet to automatically send a text message to a caregiver when the battery in the hearing aid is running low. IFTTT continually increases functionality over time as more channels and products are added to the network. It helps provide limitless connections between the Opn hearing aids and the world around us.
Opn's presence in smart devices and full connectivity underscores Oticon's commitment to develop hearing solutions that make a real difference to people's lives. We are embracing the technology of the future with Opn, and the range of possibilities to develop this even further is very promising.
---
Phonak Smartphone Apps Enhance the Wearing Experience
Phonak has developed a number of free smartphone apps that help complement the hearing aid wearing experience. Among these is the Phonak RemoteControl App. The Phonak RemoteControl App turns virtually any smartphone into an advanced remote control for Phonak hearing aids. In combination with Phonak ComPilot II or ComPilot Air II, the app allows wearers to discreetly access and control various features from the comfort of their phone.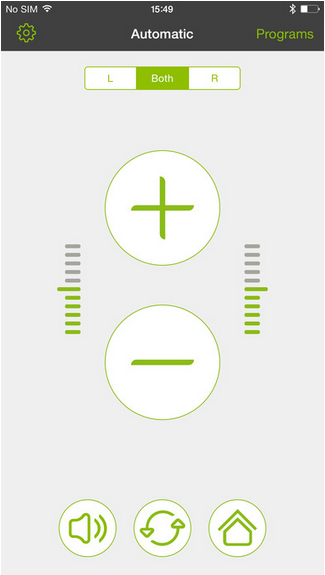 The RemoteControl App is available as a free download for both iOS and Android devices and is compatible with the Phonak Venture and Belong family of hearing aids. Once installed, the easy-to-follow pairing wizard helps connect the app directly to the streamer. A demonstration mode is also available to assist wearers with getting started.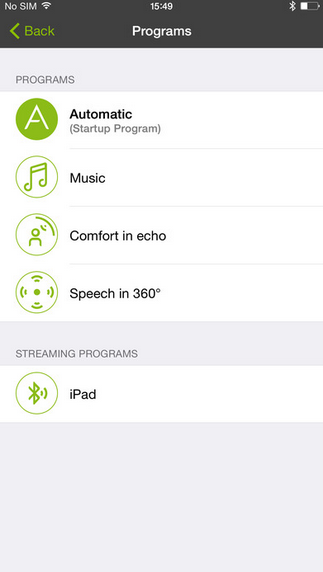 Phonak Copilot II
The RemoteControl App extends the proven benefits of the ComPilot II to the hearing aid wearer's smartphone. These include:
Ability to automatically select the direction of speech and stream this to the other ear, improving speech intelligibility without the need to face the speaker.
All available hearing aid programs and connected audio sources are shown in a list on the app. Users can select any listening program or start streaming from an audio source easily by direct selection on the screen.
The usage of a Phonak streamer offers multiple configuration possibilities, e.g., during a call or enabling caller ID, which users can customize on their own when using the RemoteControl App.
Available on Google Play and the Apple iTunes store and for use with Apple iOS 7 or higher and Android 4.0 or higher).
Phonak ComPilot Air II
The RemoteControl App is also capable of controlling the popular Phonak ComPilot Air II. The ComPilot Air II offers excellent stereo sound quality while connecting Phonak hearing aids via Bluetooth to cell phones, MP3 players, tablets, laptops and computers.
The integrated antenna makes ComPIlot Air II even smaller in size from its predecessor, so it's easy to handle, especially on the move. For more convenience, it can simply be clipped onto users' clothing for phone calls or streaming music.
Phonak ComPilot Air II has buttons that remotely adjust main hearing aid settings such as volume and program. Additional functionality allows a user to reduce surrounding sounds with a long press of a button, helpful during phone streaming.
The ComPilot Air II uses spoken messages to tell users the name of a caller. It also Informs users about the different operation modes and status of the ComPilot, which can be configured to different languages or speech levels.
In addition to the RemoteControl App, Phonak has also developed a number of other free smartphone apps including the Tinnitus Balance app for managing tinnitus. With this app (also available via the App Store or Google Play), tinnitus sufferers can select a list of preinstalled sounds, or they can select from sounds from their smartphone's music library. They can also rate the effectiveness of each sound in achieving its desired effect (soothing, background or interesting) and the overall ratings can be reviewed with the hearing care professional to reach an optimal sound plan. There is also a timer for use when falling asleep. Users who wear Phonak hearing aids can stream sounds via Phonak ComPilot directly to their ears.
---
ReSound Smart 3D App
Clinical demonstrations of how hearing aids will sound in simulated environments can be helpful, but often it is only when wearing the hearing instruments in actual daily activities that many questions, concerns and fine-tuning needs emerge. Today, ReSound uses secure cloud-based communication along with the ReSound Smart 3D app to provide a new tool that can enhance the fitting experience. A user can send a secure message to their audiologist describing an experience or issue with the hearing aids at their own convenience – even in the situation where it occurs, and the audiologist can resolve the issue at their convenience as well without the user having to return the clinic for a follow-up visit.
Along with ReSound LiNX 3D, ReSound SmartFit fitting software with ReSound Assist is part of the comprehensive ecosystem that seamlessly connects hearing aids, all wireless accessories and smartphone apps. ReSound Assist is a remote service for communication, fine-tuning and hearing aid updates enabled by the proprietary and secure cloud solution. It is an asynchronous model of teleaudiology. By asynchronous, it is meant that the audiologist and the user do not need to be present simultaneously to interact in real time, but can instead both carry out the communication and actions when it best suits each of them. After an initial fit in the clinic, the user can ask a question, voice a concern or request assistance for any fine-tuning of their settings wherever they are via the ReSound Smart 3D app on their compatible smartphone or tablet.1 The audiologist can respond with a message or fine-tuned settings for the hearing aid remotely.
ReSound SmartFit introduces highly-secure cloud-based services to the hearing instrument industry. This technology does not significantly change existing procedures and processes in the interactions between audiologists and hearing aid users; instead it provides an optional method to allow both parties to share information or hearing aid settings remotely. This offers efficiencies for both the audiologist and the user that can enrich the hearing aid fitting experience.
The figure illustrates how ReSound Assist works: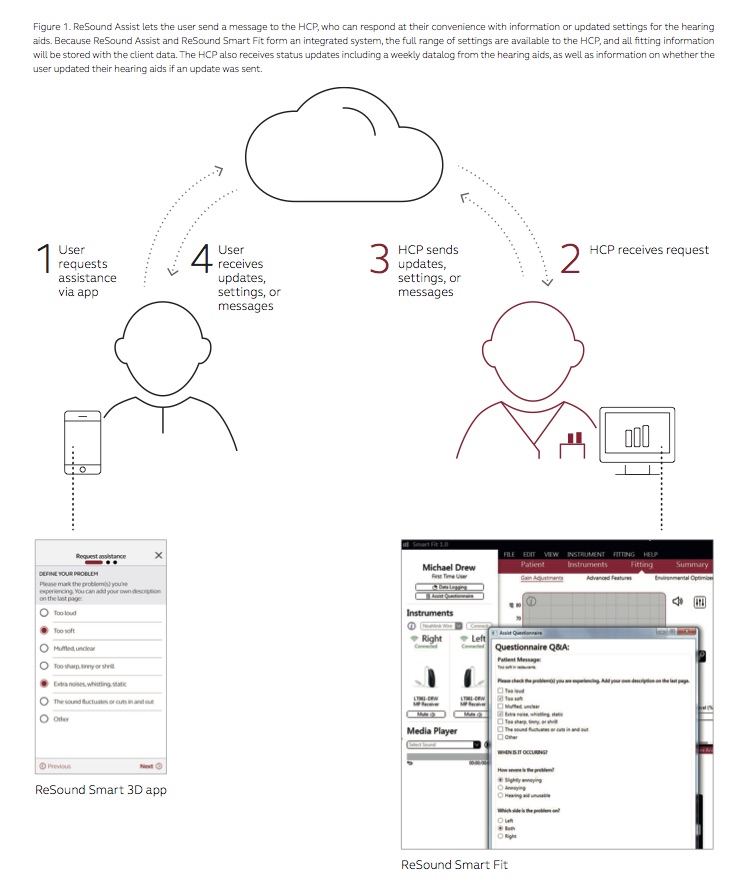 The user is fitted with ReSound LiNX3D hearing instruments and ReSound SmartFit wireless fitting software. The fitting can include whatever procedures and processes that are followed at the individual practice.
Once home and using the hearing aids, the user may notice issues in certain listening environments. She may be uncertain as to whether they might be solved by an adjustment or some other means. She may look for a solution in the ReSound Smart 3D app, but ultimately she may want to consult her audiologist. She sends a request to the audiologist via the secure cloud. Her request includes a questionnaire that helps her formulate the issues she may be having. Furthermore, the audiologist receives a weekly update of the datalogging in the hearing aids, so that information on usage patterns and environments can inform clinical decisions.
The audiologist receives the request, and can decide on the best course of action. Perhaps the issue is resolved with a return message that answers or reassures the user. Or perhaps a face-to-face visit seems in order, as might be the case with a physical comfort issue. It is also possible that the issue is one that can be resolved remotely, as would be the case with a fine-tuning of settings, or even the addition of a program. The audiologist can make the programming change and send it back via the cloud to the user.
The user will receive a message that an update to her hearing aids is available. At her convenience, she can download the update to her mobile device and apply the changes wirelessly to the hearing instruments via the ReSound Smart 3D app.
1Refer to www.ReSound.com for a list of compatible devices.
---
Sivantos – Constantly Innovating for Ease of Listening and Ease of Use!
We believe that hearing should be as natural as possible for wearers of hearing instruments. That's why we continue to develop and improve our hearing aid technology to deliver outstanding sound quality and the best possible hearing experience. For people with hearing difficulties, something as simple as conducting a conversation demands concentration and can be a strain.
We've made some tremendous breakthroughs in high quality binaural hearing over the years. Now, with primax™, we're taking another major step forward in effortless hearing. With primax comes a wide range of hearing aid styles and accessories, including two new smartphone applications which can be downloaded at no cost.
TeleCare and myHearing App, Your Personal Connection To Success
Signia TeleCare and myHearing app are game-changers! The new application designed and built by Hearing Care Professionals will help you establish an unprecedented standard of care that will change the way your clients experience their initial hearing aid trial.
The first big impact of TeleCare technology is to address a current "blind spot" in hearing care: During the most crucial moment of hearing care when, despite your best efforts, your clients are on their own for the critical first weeks of acclimatization.
Using an intuitive smartphone app for clients, the myHearing app, and an easy-to-use professional portal, TeleCare delivers the future of hearing health care to you and your client. Your client will benefit from step-by-step listening exercises, guided assistance, a user guide, CareChat communication with you, and remote control function; all built in to the smartphone application, and at their fingertips, promoting faster acclimatization and higher acceptance.
Pure 13 BT Hearing Aids and Mycontrol App. World-Class Hearing with Direct Connectivity to iPhone and TV
The new Pure 13 BT primax is the world's first hearing aid with both High Definition binaural processing AND direct-to-hearing-aid streaming, and the world's first hearing aid to offer audiological benefit through Bluetooth! Equipped with our primax platform and e2e 3.0, Pure 13 BT revolutionises precise hearing. It features Notch therapy for tinnitus treatment and compatibility with teleCare and the new myControl application.
The new myControl App from Signia made specifically for Pure 13 BT hearing aids offers a range of advantages beyond direct streaming. It acts as a relay-less remote control for quick and easy changes to the likes of volume and programs and delivers advanced adjustment options for unprecedented personalization. Similar to a fitness tracker, the myControl App helps wearers to look after their hearing health by identifying regular noise exposure in their lives. Using Motion Reader technology, the hearing aids adjust their settings based on the myControl App's motion data to deliver optimal hearing even when moving. For example, when the wearer is walking in a noisy environment, the hearing aids focus not just on the speech of the conversation partner but also provide access to unobtrusive ambient sounds. This way, the new Pure 13 BT primax enables the best possible hearing experience while wearers are on the move.
The world-leading Signia experience just got even better with a new era in Bluetooth-driven hearing. The new Pure 13 BT delivers effortless hearing for your individual lifestyle. Stay connected to everything that matters whether you are taking it easy or on the move.
With innovations like Signia teleCare and myControl app, the best hearing experience just got even better. It's the optimal personalized experience, so the wearer can focus on what's important, effortlessly.
---
TruLink™ Hearing Control App by Starkey Hearing Technologies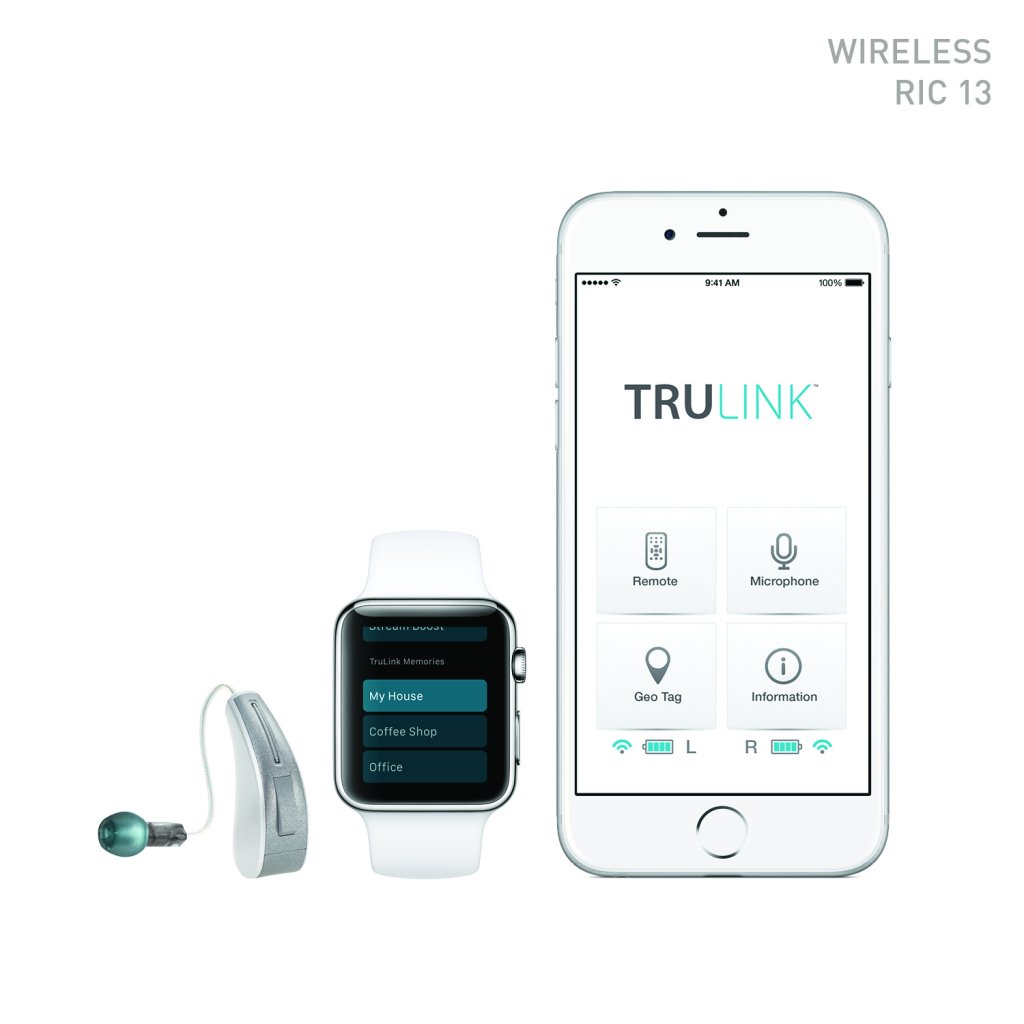 Latest edition: TruLink 4.0
The TruLink Hearing Control App 4.0 is an easy-to-use hearing control app that offers users with compatible Apple® and Android™ devices to personalize their listening experience in any environment without touching their hearing aids. The newest version of TruLink was launched in January 2017 alongside Starkey Hearing Technologies updated operating system, Acuity® OS 2. The app works with both the new Synergy® technology Halo™ 2 hearing aids and the original Halo hearing aids. However, only the Halo 2 hearing aids are capable of using the newest in-app features, Tinnitus Treatment and Real-Time Notifications.
TruLink 4.0 offers hearing aid users the following features and capabilities. Some helpful video links and graphics are also provided.
(1) Ultimate Personalization (NEW to TruLink 4.0): Located under the new Personalized Control section of TruLink, Ultimate Personalization lets patients control and personalize noise management on-demand and helps them create custom memories. This ensures that noisy crowds or windy days never get in the way of a conversation.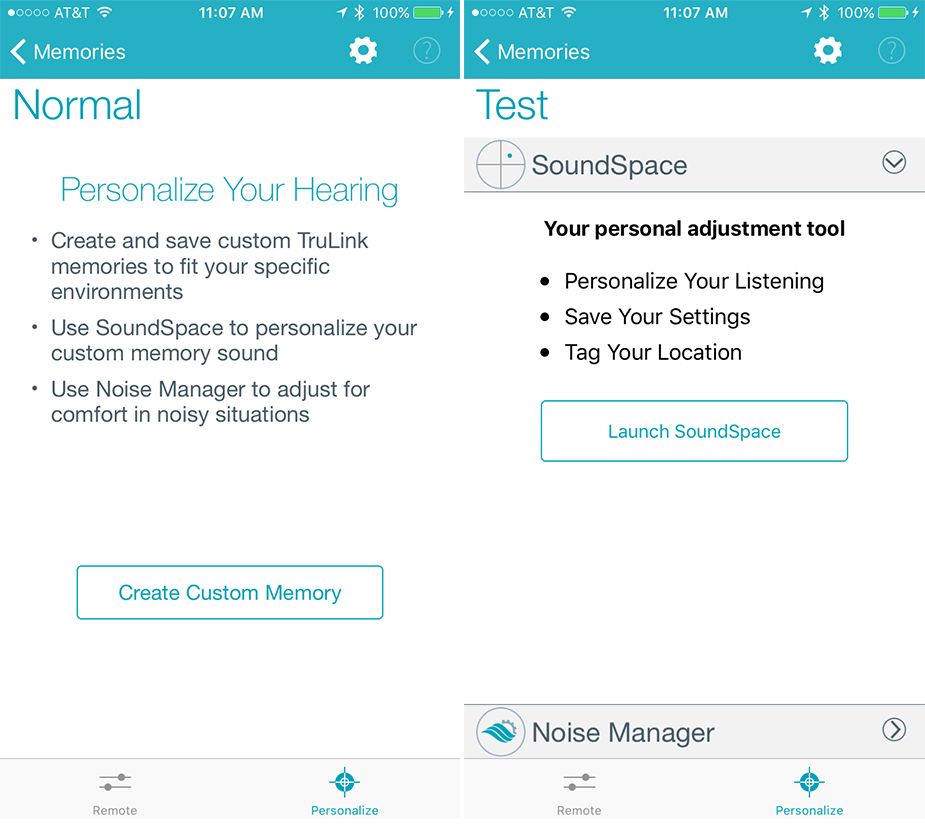 (2) SoundSpace: SoundSpace enables patients to do a few things. First, it enables them to adjust and control sound quality and volume in any environment. Second, it allows patients to create and save up to 20 customized memories for different situations.
These same memories can be geotagged so they automatically activate at an assigned location. For example, if a patient loves a local café for coffee each morning, and creates a custom "Coffee" memory, once he is within range of the geotagged location, his hearing aids will automatically change to "Coffee."
(3) Remote Control: TruLink removes the need for patients to touch their hearing aids to adjust memories and volume levels. Memories can be quickly adjusted with two taps. Volume levels are adjusted using a visual indicator bar for better control. Users can adjust both hearing aids together or the right and left individually. In addition, users can use the "quick commands" option on their phone to quickly adjust memories and volume with a simple tap or swipe respectively.
(4) Streaming Phone Calls, Music and Media: Apple's technology enables iPhone users to directly stream phone calls, music and media from their iPhone or other supported Apple device (ex. iPad, Apple Watch) to their hearing aids.
Phone Calls: Users can stream calls with the touch of a finger and then enjoy a high-quality, hands-free conversation directly through their hearing aids. FaceTime™ calls can also be streamed as well.
Music and Media: Both Halo and Halo 2 hearing aids can stream music and media. With Halo hearing aids, users can use Stream Boost, which their hearing professional can set up, or they can create their own custom memory to use when enjoying music and media. (See how here). Halo 2 devices also feature new Synergy® technology that enables them to process speech and music independently to improve the quality of music.
Live TV: For users with iPhones, a new app works with the Halo and Halo 2 hearing aids to provide real-time streaming of live TV. The Tunity App, lets users scan any supported TV channel, on any TV, any place, anytime, and stream audio directly to their Halo or Halo 2 hearing aids. See how it works with our hearing aids.
(5) Tinnitus Treatment: For users with Halo 2 hearing aids, integrated controls help patients control the volume and modulation rate of our patent-pending Multiflex Tinnitus Technology to provide relief from tinnitus symptoms. See how to access and personalize the Tinnitus setting.
(6) Remote Microphone: The Remote Microphone feature lets users hear conversations easier when in groups by acting as a volume enhance. Users simply turn on the Remote Microphone feature and place the iPhone nearby the speaker they want to enhance to stream the audio directly to their hearing aids. This feature also lets users record and save audio conversations and share the recordings via email. Here's how to use the Remote Microphone feature.
(7) Find My Hearing Aids: Lost hearing devices are easily located with this feature. Using both a location and timestamp, the "Search" option uses a signal detector which sends a stronger or weaker signal based on how close a user is to their misplaced devices. (See how to use Find My Hearing Aids with the signal detector).
A "Map" option also shows users the last known location of their devices. See below.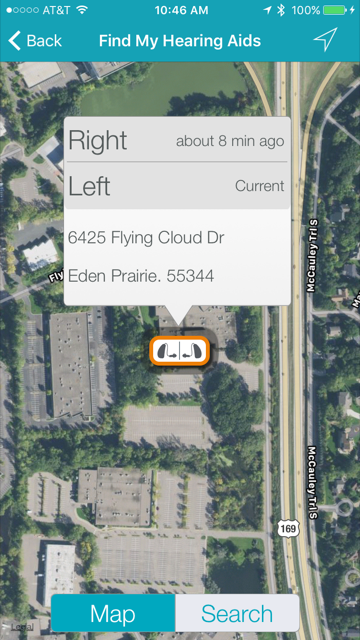 (8) Real-Time Notifications: Users with Halo 2 hearing aids, can hear notification alerts for applications like Email, Calendar and social apps like Messages, Facebook and directly through their hearing aids. Here's how to turn on notification triggers.
(9) Siri Integration®: With iPhone users, Siri® can read texts and emails directly to the Halo 2 devices.
(10) Accessibility for the visually impaired with VoiceOver: Expanded VoiceOver audio provides greater support of TruLink application for the visually impaired and offers a faster way to quickly access TruLink features. See how here.
(11) Force Touch: Users with iPhone devices can use Force Touch to mute/unmute their hearing aids quickly. See how here.
(11) Compatibility with Apple and Android devices: The TruLink app and Halo and Halo 2 hearing aids are compatible with various Apple and Android devices. Currently, Android devices do not allow for direct streaming of calls, media or music to a users' hearing aids.
Current Apple and Android compatibly is available online here.
View the complete Starkey Hearing Technologies TruLink Hearing Control App Instructional Videos playlist on YouTube.
For further information or questions about TruLink, visit www.trulinkhearing.com.
---
Smartphone Control and Unitron Hearing Aids
Using Evidence-Based Wearer Data to Transform the Hearing Healthcare Experience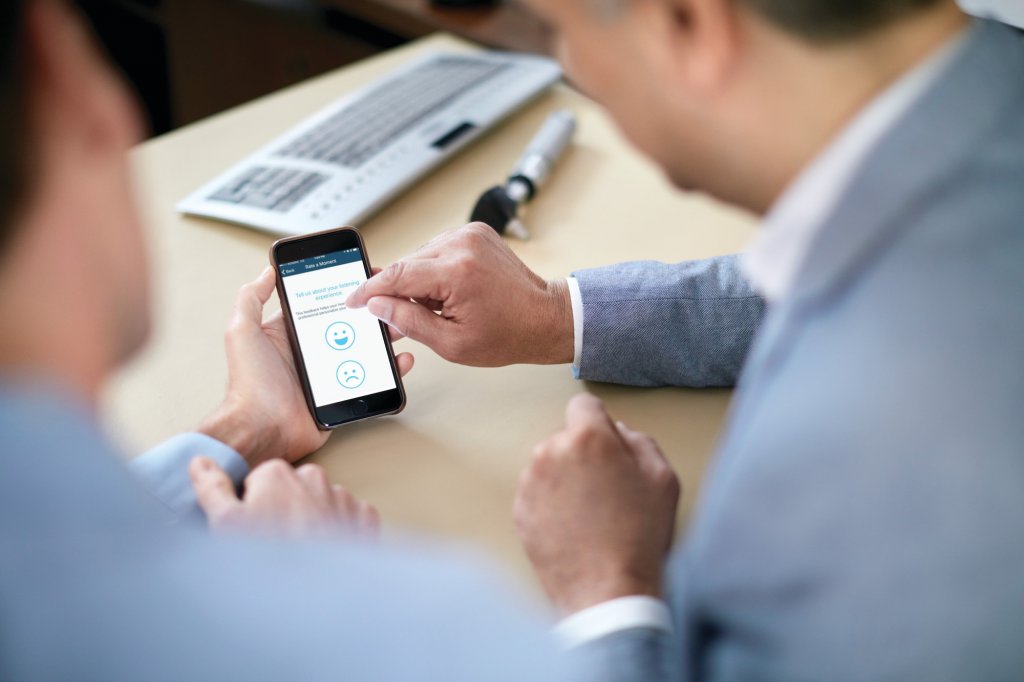 There is a new patient coming in your door, and their expectations and needs are changing. They are more informed and they want to play an active role in their in healthcare decisions, and to be more in control of the solution. They are also more technically savvy. According to a recent survey, 68% of North American adults now own a smartphone, up from 35% in 2011. The older demographic—and currently the highest number of healthcare users—is also actively engaged with smart technology, with 58% of 50-64 year olds and 30% of 65+ year olds owning a smartphone.2
With technology in hand, people have become accustomed to the idea of accessing information at anytime and from any place. When it comes to healthcare, they are looking to access to their own data and expect digital interactions with their healthcare provider. They want a healthcare solution that fits into their everyday lifestyle. A 2014 FICO survey3 revealed that 80% of people would like the option to use their smartphones to interact with healthcare providers3.
So how do hearing healthcare providers better support the needs of this changing patient/consumer? The key is in providing a more personalized healthcare experience. And the first step in that journey begins with a better understanding of a patient's everyday life and listening lifestyle.
Practitioners across many health care fields are demonstrating that evidence-based patient data gathered from smart devices and other technologies enriches clinician/patient conversations and improves patient outcomes through more effective care pathways.
Technological advancements are made every day by hearing instrument manufacturers. Most practitioners and patients are using smartphone-based tools such as apps to control their hearing aids or assess their hearing. Using Unitron's Ucontrol app, for instance, Patients can use their smartphones to as a remote to adjust hearing instruments for precision control over volumes and programs, and learn more about the workings of their hearing aids via videos. Patients can also use their phones with accessories such as a discreet streamer to wirelessly connect to mobile phones and enjoy clear conversations without significant battery drain.
The real opportunity however, lies in leverage our core technology -- the hearing instruments themselves -- in conjunction with the smart device to gather patient-related data in a more meaningful way. Data passively logged within the hearing instrument itself recording the patient's interactions with various listening environments, combined with direct patient feedback recording how they are feeling about their listening experience, provides a big picture view that can help to reshape our industry, achieve a new level of patient understanding, and improve patient outcomes.
The data logged within the hearing instrument combined with the patient's real-world feelings about their listening experience flows back to the hearing healthcare provider though the fitting software. The intelligence it provides to the HHCP cannot be underestimated. It is a conversation game-changer, and solves two significant and well understood challenges with the current fitting process.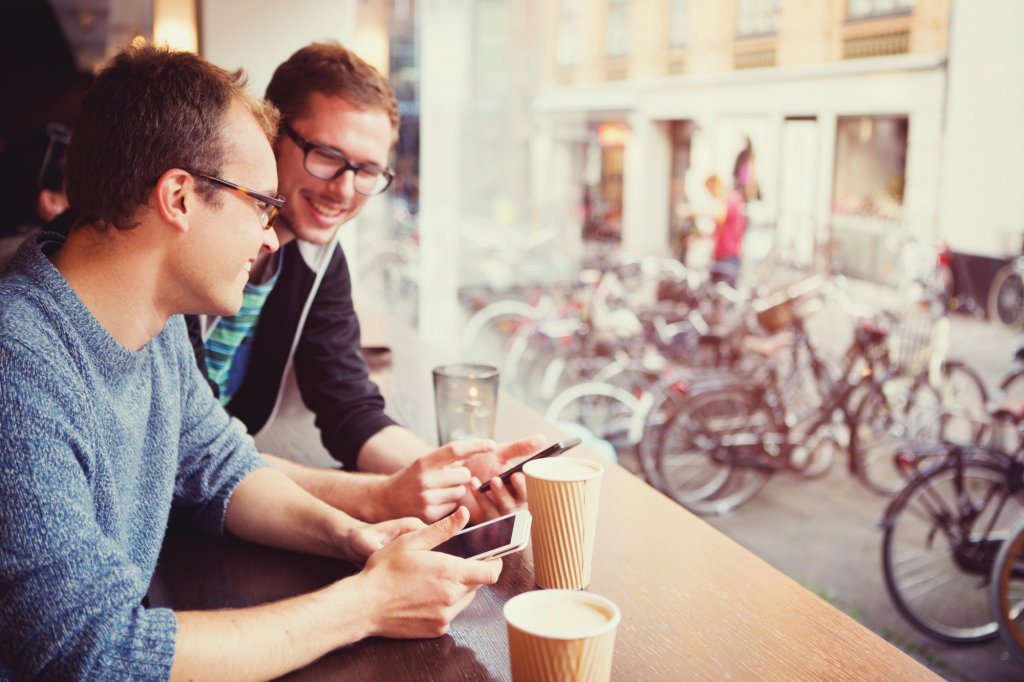 First, as clinicians, we are not immune to making our own assumptions and judgements. The choice of technology level and initial fitting adjustments are based on clinical judgement and the patients' definition of their lifestyle. This is often based on an unintentionally biased self-appraisal or what they think the hearing care professional (HCP) wants to hear. The clinician then forms an opinion from that appraisal and perhaps from the person's age or demeanor. However, such assumptions are frequently flawed.
The second challenge seems to be that patients, in general, are lousy "acoustic historians." Most people just have a poor recollection of where they go and what they hear. Furthermore, they have no good way to report sound levels; they don't have the background of an HCP to understand how the instruments behave under particular circumstances. Thus, relying on a patient's memory is an imperfect approach. Memories are fuzzy, imprecise, and often just wrong.
Access to empirical data about the patient's true listening experiences, coupled with their own emotional reactions completely alters the nature clinician/patient conversation. It provides fodder for discussion, which engages the patient in new ways, builds confidence and trust, ultimately providing a more personalized healthcare experience.
So what lies next in this exciting new smartphone enabled world? These technologies are central to people's lives and central to the technologies Unitron is developing for the future. We see a future where smartphones are only more fully integrated into the total hearing solution. In the not too distant future, expect to see hearing aids that continually learn and adapt to a patient's lifestyle and needs and that can be remotely updated or adjusted by the HHCP from afar. We can also see a day when a person's hearing aids serve as the patient's virtual personal assistant, working in conjunction with a smartphone device to provide appointment reminders, offer home safety and security alerts, or react to voice commands.
The future of hearing health care is evolving at a tremendous pace. And one thing is very certain, in both today and tomorrow's scenarios, the emerging healthcare consumer will have more opportunities to be actively involved in their hearing solutions using their smartphone. This will create new opportunities for the hearing healthcare professional to provide a higher level of care, which will result in more satisfied consumers.
References
2Anderson M. Technology device ownership: 2015. Pew Research Center, October 29, 2015. Available at: http://www.pewinternet.org/2015/10/29/technology-device-ownership-2015
3FICO. FICO global survey: 80% of smartphone users interested in health care alerts. June 18, 2014. Available at: http://www.fico.com/en/newsroom/fico-global-survey-80-of–smartphone-users-interested-in-health-care-alerts-06-18-2014
About the Author
Andre is Director, Product Management for Unitron, with leadership responsibility for Unitron's product roadmap. André has enjoyed an extensive career with Unitron, holding various roles in product management, operations and sales. Prior to his current role, André de Goeij was General Manager for Unitron in The Netherlands.
---
Widex Smartphone Apps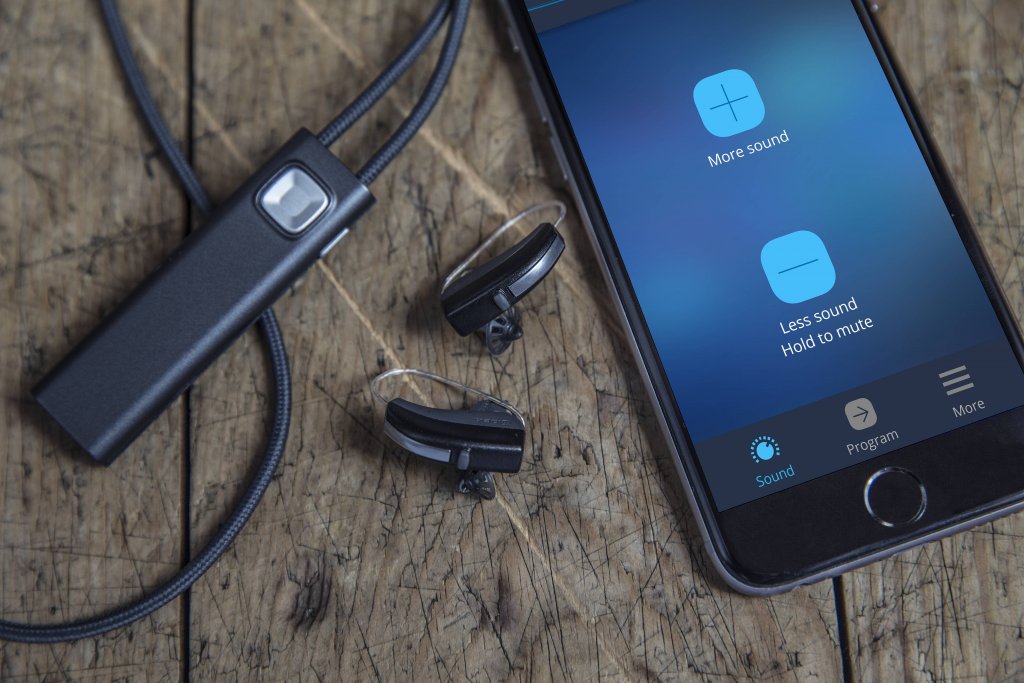 The WIDEX BEYOND app provides patients with exceptional control over their WIDEX BEYOND hearing aids. The BEYOND app is easy-to-use, utilizing the familiar swipe functionality for navigation so users can easily access a range of intuitive commands and features. Simple adjustments such as volume adjustments and program changes can be made with just one swipe or tap. Wearers can quickly and easily make more advanced adjustments, including using the Equalizer to adjust the gain in low, mid and high frequency bands, using the Sound Mixer to adjust the mix of the hearing aid and streaming levels (available for Bluetooth 2.4GHz, WidexLink via DEX device and telecoil streaming) and choosing the directionality of the microphones using the Sound Direction function.
With the BEYOND app users can personalize their hearing experience by saving their customized settings in a personalized program, choosing the name of their program and adding a customized photo. These custom programs can be easily modified by the patient or Hearing Healthcare Professional, and they can be deleted at any time – without affecting the programs created by the HHCP.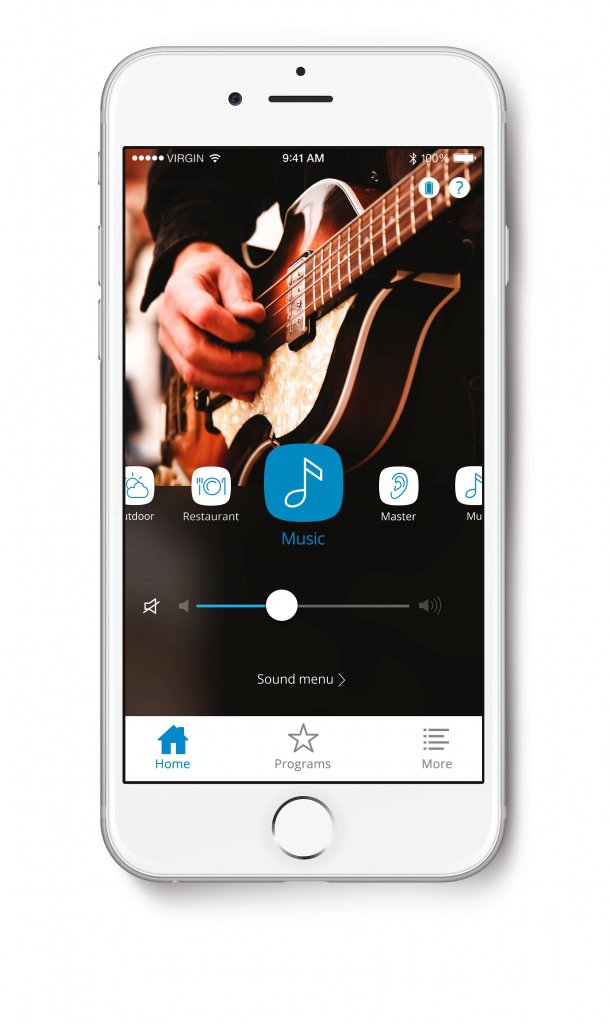 Patients frequently losing their hearing aids? Don't worry, there's an app (function) for that. With Find My Hearing Aids, BEYOND hearing aids are never missing for long. The BEYOND App shows patients where their hearing aids were last connected on a map using GPS. When the patient is close their hearing aids the app guides them right to the aids.
BEYOND is the first hearing aid to automatically and wirelessly update the software in the hearing aids via the app. This revolutionary features means patients always have access to the latest firmware, without having to spend time travelling to an appointment. Hearing Healthcare Professionals can spend their time adding value to their patients, instead of updating firmware.
For patients wearing wireless Widex hearing aids without direct streaming, including UNIQUE, DREAM and earlier Widex hearing aids, they can also benefit from smartphone control of their hearing aids using a COM-DEX and the COM-DEX App. The COM-DEX App gives users the ability to adjust the volume of their hearing aids, change programs and choose the sound direction. Patients using the COM-DEX Remote Mic can adjust their Remote Mic settings from the app. The volume of the Remote Mic can be easily adjusted, the 'Room Off' functionality can be activated, and streaming can be stopped or started all from the app, with no need to interrupt the speaker to make manual adjustments to the COM-DEX Remote Mic.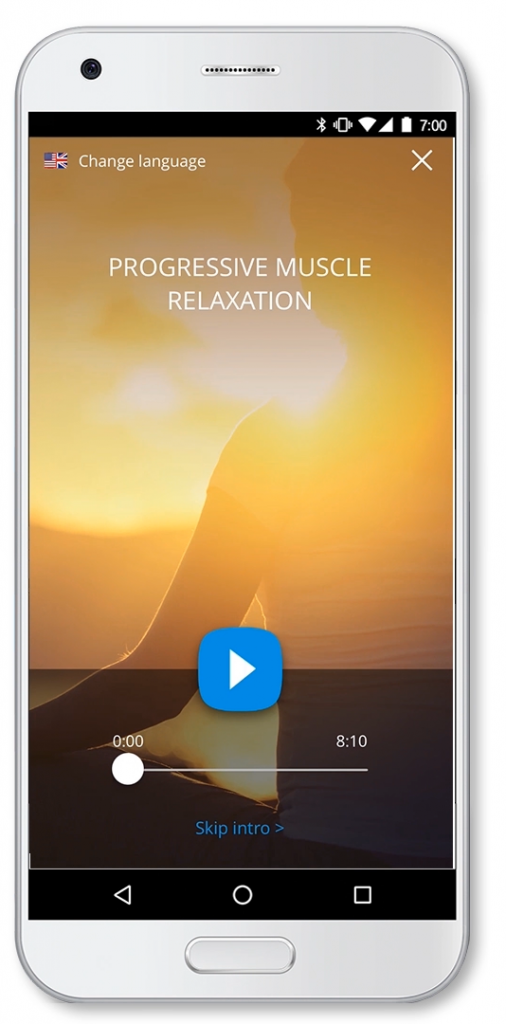 The newest app from Widex is the Widex Zen App for tinnitus relief. The Zen app contains a variety of Zen and nature sounds that can be streamed to the patient's Widex hearing aids, or listened to using a speaker or headphones. The user can adjust the sound balance and volume of the sounds, and can use an optional sleep timer.
The Widex Zen app also contains guided relaxation exercises including Deep Breathing, Progressive Muscle Relaxation and Guided Imagery and a Sleep Exercise, narrated in English by Dr. Robert Sweetow. Frequently asked questions, including "What is tinnitus?", "How can relaxation help tinnitus?", "How does tinnitus affect me?" and more. The app can be used on its own, in conjunction with Widex Zen fractal tones, available in all current Widex hearing aids, and as a tool to support Widex Zen Therapy, Widex's proven comprehensive tinnitus management program.
All Widex apps are available for iOS and Android and have comprehensive support sections. Both the BEYOND and COM-DEX apps include a connection guide and a series of instructional videos to help guide the patient through the process of changing their hearing aid battery and wax guard, and turning the hearing aid on and off.