Message from the Editor-in-Chief
We are a field of people and not just technologies.
I have been in this field for well over 35 years now and the most important things that I fondly remember are the people and the relationships that were built. Yes, I remember the technological advances even though the 1980s only saw the development of the filtered earhook, wide dynamic range compression, and the insert earphone. Although interesting, these pale in comparison to my memories of the people in the field, whether they be colleagues, visitors from other fields, or sales reps.
You can't really be around for 35 years without realizing the important fact that we are a field of people and not just technologies.
Some of these people were on your Rolodex (after all, this was the 1980s) and their role was to answer technology questions, some were colleagues (and classmates) who might be able to provide insight into some clinical conundrum, and others you just wanted to chat with to see how their dog was coming along after the paw surgery.
When I look back, I recall names in our field like Debbie Frye who knew everyone in North America but was always happy to have a beer with you. (Debbie was one of the first audiologists to work with a manufacturer), and of course, I remember Alan Moore; some called him Uncle Al.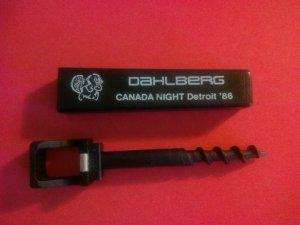 Alan passed away several months ago and his memorial service that was supposed to go only until 8 PM, was still packed at 9:30. He was the guy that solved everyone's problems, whether it was technical or personal. Alan started with Unitron as a sales representative in the late 1970s, and by the time I entered the field, he was the president of Dahlberg Hearing Instruments, later to become Bernafon Canada. He was the guy that would host "Canada Night" at large American conventions such as ASHA and AAA, where the Canadians could go and take a break from the large-convention-chaos. And, oh yes, he met us at the door wearing a beaver hat and gave everyone a Canada Night tee shirt or corkscrew.
It is people like Alan and Debbie that make this field fun.
Sometimes we get so busy with our various clinics and loose ends that need tying down that we forget that we are a group of people who entered this field for a variety of reasons. We wouldn't be clinicians without being "people" people.
Without trying to risk sounding paternalistic, leave the technology in the clinic, and go out and talk to your friends.
Hope you had a pleasant summer. We'll see you at the Canadian Academy of Audiology's annual convention in Ottawa.