CHS Global Partnerships for Research & Innovation
Accelerating the Future!
With over 80 years of history supporting Deaf and hard-of-hearing individuals, on February 1, 2022, Canadian Hearing Services launched CHS Global Partnerships for Research & Innovation! As a non-profit organization, its purpose will be to advance research and innovation that improves the quality of life for Deaf and hard-of-hearing individuals. This will be accomplished by providing much-needed research grants aligned with specific research and innovation themes to address the multifaceted issues related to hearing loss and facilitate innovative solutions for the sector.
As CHS Global Partnerships for Research & Innovation is focused on both research and innovation for the benefit of Deaf and hard of hearing people, we have established Areas of Focus for each of these.
Our Research Areas of Focus include:
HEARING HEALTH: Prevention, identification, assessment, treatment, and (re)habilitation of auditory and balance difficulties.
HEARING SCIENCE: Research activities in acoustics, neuroscience, and psychology concerning the perception of sound.
DEAF STUDIES: Research activities in sociology, language, and inclusivity of Deaf individuals.
QUALITY OF LIFE: Research related to the impacts of being Deaf or hard of hearing related to an individual's ability to participate and enjoy life activities.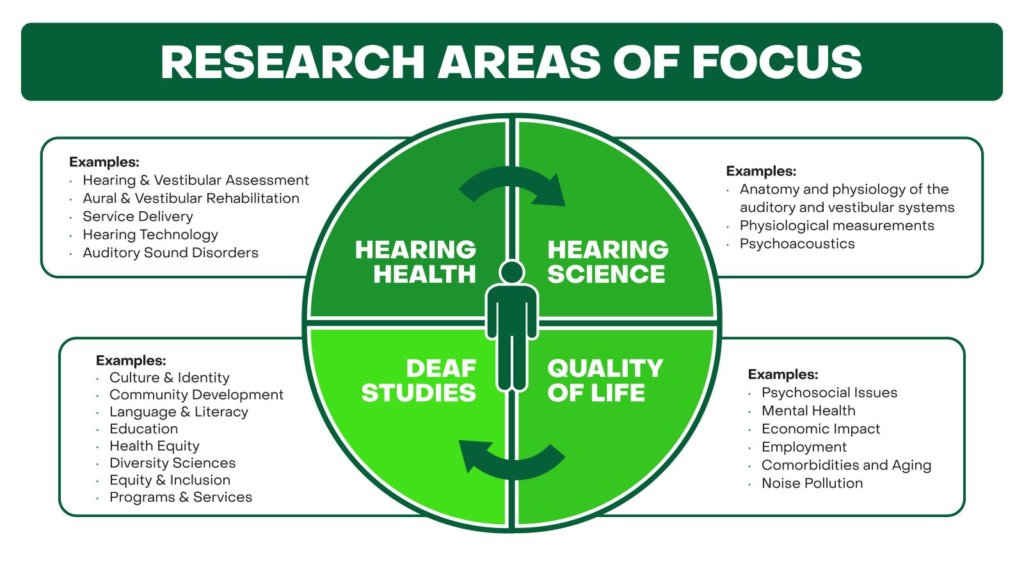 Our Innovation Areas of Focus include:
PRODUCTS: Completely new products, a new feature in an existing product, or an existing product feature enhancement.
TECHNOLOGY: Activities that contribute to the research, development, and design of new products, services, or techniques, improving existing products, and generating new technological knowledge.
PROCESSES: How a product or service is produced or delivered to the client.
COMMERCIAL ENTERPRISE: The development of new, unique concepts supporting an organization's financial viability, including its mission and the processes for bringing those concepts to fruition.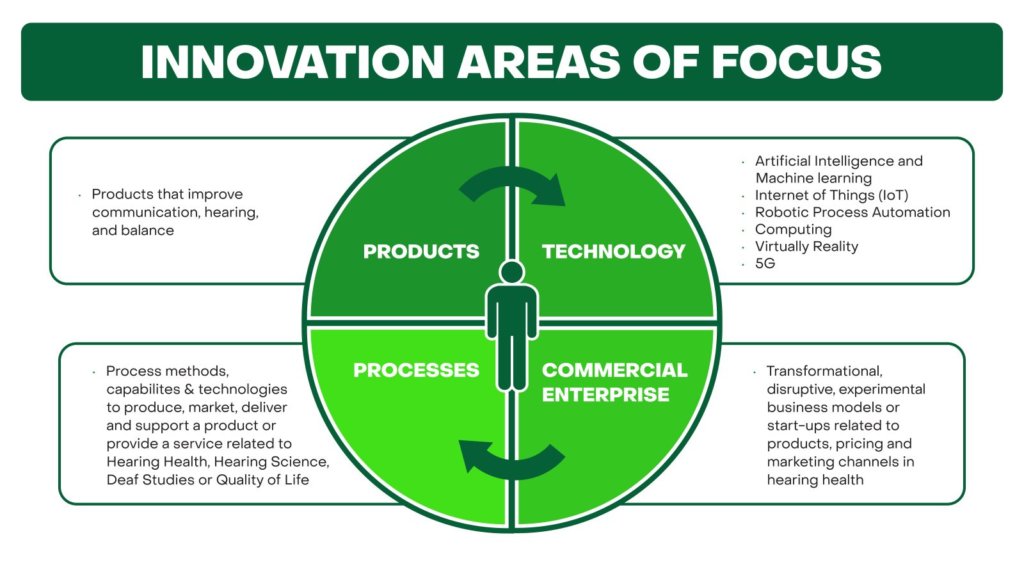 CHS Global Partnerships for Research & Innovation seeks to fund relevant and significantly impactful projects in breaking down barriers to participation for Deaf and hard-of-hearing individuals and their families. Research will be the priority for 2022-23, with proposals related to Innovation opening in 2023-24.
Applicants will be required to submit a Letter of Intent (LOI) to assess their research proposal for alignment and impact according to our Research Areas of Focus. If deemed a good fit, applicants are invited to submit a full research grant proposal. Successful research proposals will be rated through a Grant Review Panel of experts against specific criteria common to the scholarly endeavor. Invitations to join our Grant Review Panel will soon be extended to recognized experts in our Areas of Focus.
To provide advice, guidance, and strategic input on research and innovation opportunities related to our Areas of Focus, we are delighted to announce the inaugural members of our Research and Innovation Advisory Council! They include:
Steve Aiken, PhD (Dalhousie University);
Donna Bain, PhD, (University of Toronto);
Lynn McQuarrie, PhD, (University of Alberta); and
Susan Scollie, PhD (Western University).
We could not be more thrilled to have such distinguished senior researchers to be part of our launch!
CHS Global Partnerships for Research & Innovation will be inviting initial submissions for two-year research grants in April 2022 and will announce the successful recipients in December 2022!
For more information and to apply for funding, please visit www.chsglobalpartnerships.com