Book Review
Adult Audiology Casebook, edited by Michael Valente and L. Maureen Valente, Thieme Medical Publishers, Inc., 2015, ISBN 978-1-60406-850-4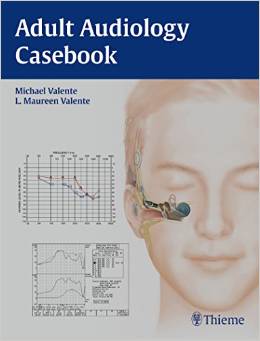 The Adult Audiology Casebook edited by Michael Valente and L. Maureen Valente (2015) is an exceptional text book. The editors gathered 68 experts from around the world to share case reports, resulting in 71 chapters. Each chapter provides consistent sections with well-written and detailed case information on a wide variety of clinical cases. The chapters range in length from 2 to 6 pages and each gives the reader the pertinent facts in easy to read tables, MRI images, CT scans, pre- and post-operative figures, and tables to compare products. In addition, with the use of newly developed software, there are consistent audiogram formats across all of the chapters.
The text is organized into 8 main parts: (1) Hearing Disorders, (2) Diagnostic Information-Auditory Function, (3) Diagnostic Information-Vestibular Function, (4) Amplification-Hearing Devices, (5) Cochlear Implants, (6) Hearing Assistive Technology, (7) Tinnitus Management and (8) Other Rehabilitative Strategies.
Each chapter contains the following sections: a two-to-four sentence introduction, Clinical History and Description, Audiological Testing, Questions to the Reader, Discussion of Questions to the Reader, Additional Testing, Diagnosis and Recommendation Treatment, Outcome, Key Points and Suggested Reading. The reader will find each section to be concise in presenting the information in each section.
The cases are a combination of routine clinical cases seen daily and some unique cases. For instance, if you have not had the experience in assisting a hard of hearing medical professional who is seeking an amplified stethoscope, then you are in luck to have such a case to refer to (chapter 43), musical hallucinations (chapter 14), unexpected otosclerosis (chapter 9), post-traumatic stress disorder that mimics auditory processing (chapter 1), a case of mistaken identity concerning Meniere disease but is actually superior semicircular canal dehiscence (SSCD) (chapter 38), facial nerve monitoring with electroneuronography (chapter 27), and a case of a hearing aid battery left in the ear canal for a few weeks that caused hydrolytic necrosis (chapter 49).
Special consideration to questions that many of us have often pondered is offered such as when is a difference in word recognition scores significant enough to refer or to analyze the outcome measures of pre- and post-therapy? Revisiting acoustic reflexes the reader is shown how a potential VII cranial nerve site of lesion was detected due to the audiologist's persistence to map the audiological results on the acoustic reflex pathways and with meticulous history taking.
Another case illustrates how we should consider the possibility of misusing insert earphones during pure-tone audiometry. This case shows how a client with either a tympanic membrane perforation or a pressure equalization tube can have exaggerated low-frequency air conduction thresholds with the use of insert ear phones. And how do we properly assist a client with longstanding otosclerosis and a sudden sensorineural hearing loss in the same ear?
These examples provide a peek of the many chapters offered in this fine text. There are several unique and routine cases illustrating best practice in amplification, vestibular, tinnitus and assistive technology. The entire text is an important classroom resource, but four sections in particular assist the reader's learning: key point, suggested reading, questions to the reader, and discussion of questions to the reader. These sections illustrate the challenge of the case in just a few well-chosen sentences or a few paragraphs depending on the complexity and the uniqueness of the case. The sections serve to summarize audiological data and to provide an easy way for the clinician or students to learn the important particulars of the case. The authors were successful to present cases that show that while there may be no easy answer, critical thinking is necessary to determine each individual's case with the greatest quality care. This text is a must-have for all clinicians, professors teaching audiology and otolaryngology students and our colleagues in otolaryngology.
Book Chapters
Introduction
Clinical History and Description
Audiological Testing
Questions to the Reader
Discussion of Questions to the Reader
Additional Testing
Diagnosis and Recommendation Treatment
Outcome
Key Points
Suggested Reading