Is mHealth the Solution to the Global Audiology Shortage?
The first prerequisite in order to effect change is to recognize that there is a problem. In 2011 the World Health Organization reported that 360,000,000 people worldwide have disabling hearing loss.1
This is especially distressing because 32 million of those affected are children and 80% live in low and middle-income countries without adequate access to hearing health care. Lack of equipment, absence of trained personnel and limited health care infrastructure all compound to create circumstances where easily treatable hearing loss is ignored and the full impact of disability is felt.
In 2014 our group visited Uganda to provide hearing and otologic services as part of CanHEAR Uganda with the support of Grand Challenges Canada. We witnessed firsthand the scale of the problem as we visited hundreds of children at 6 primary schools in Mbarara. The problem is clear. Our challenge is now to develop technology, services, and infrastructure that are deployable, scalable and sustainable in low-resource environments. Uganda certainly qualifies as a low-resource environment but so do rural and northern communities within Canada, so might school boards where hearing screening has been eliminated due to budget cuts. In the second Global Report on eHealth the WHO stated that mHealth has the potential to change the face of health service delivery across the globe. I believe that within the realm of audiology and otolaryngology the time has come to deliver on this promise.
mHealth is coming of age for several reasons. Firstly, with the advent of powerful mobile devices we are now more able than ever to bring our tools with us. Secondly, the spread of WiFi and Internet access have enabled remote follow-up and tele-services on a global level. Thirdly, consumer demand has been driving the startling proliferation of health care apps that now are more than 97,000 in number.2 It is important to note that this growth in connected devices and Internet access is actually not a North American-based phenomenon, but one concentrated in the Middle East and Africa. In 2014, there was 78% penetration of cellular devices in Africa and 108% in the Middle East according to the Ericsson Mobility Report.3 In fact, Zimbabwe, Peru, Mongolia, Iran, and Guatemala and 44 other countries have more connections per person than the USA or Canada.4 The world is ready to take the next step: to develop a democratic solution to hearing health care.
Our group, and many others, have attempted to alleviate the problem of lack of services by teaching audiometric skills to local health care providers, by teaching them to fish, so to speak. On the whole however, we did not address the fishing rod, in this case the audiometer. By teaching someone living in the Third World to use a device designed for the First World we were setting ourselves, and them, up for failure. These devices are expensive, not terribly portable, complicated to use and service, and prone to rust. The tragedy of donated medical equipment is that without adequate understanding, support or infrastructure, it falls into disuse, if it ever was used at all. We attempted to design an mHealth solution that uses available, consumer-grade technology but that delivers tertiary health care value. In building ShoeBOX audiometry (Clearwater Clinical Limited) we developed a new form of audiometry which we call "Interactive Audiometry."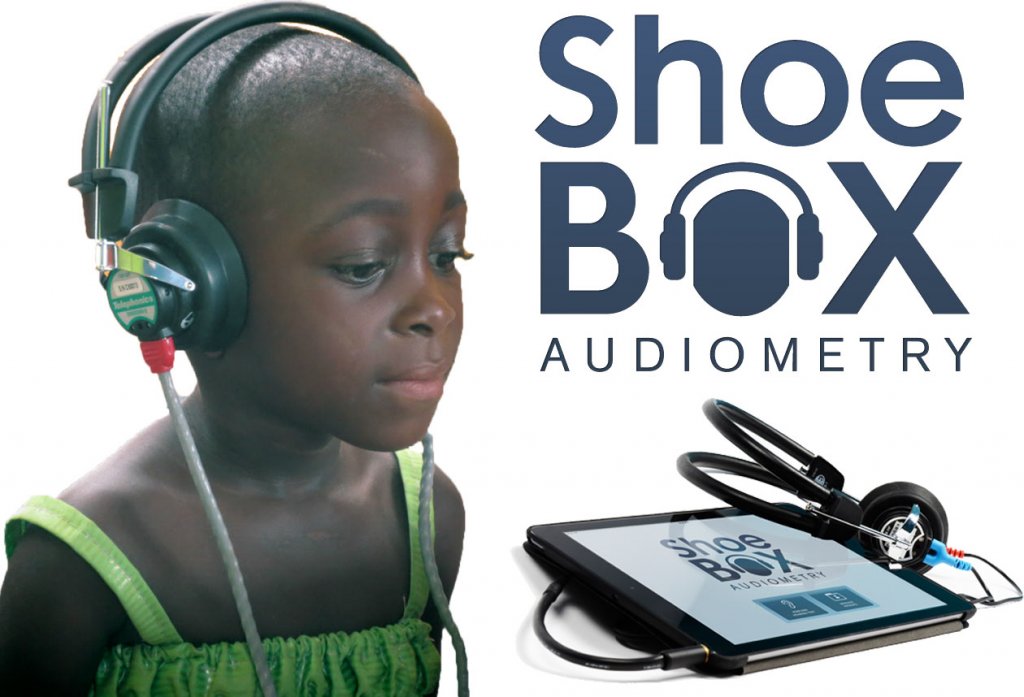 Whist performing interactive testing the patient is in the driver's seat. The test can be automated, or manual from the audiologist's perspective, but it is the patient who seeks out the sounds within a game interface and in doing so completes a modified Hughson-Westlake bracketing procedure which produces a standard audiogram. A child as young as three and a half can conduct testing that has been proven as reliable as more traditional play audiometry.5 Furthermore, we found that audiologists themselves can perform the test to scale their capacity, increase engagement and improve the patient experience.6
In 2011 we took this new iPad audiometer to Iqaluit for a school screening project. Over the course of several days, using 2 iPad audiometers, we screened 209 children. Among these children, aged 5–7, we discovered a 15.3% prevalence of hearing loss. This high incidence of conductive hearing loss has been demonstrated previously, but not in the last 15 years.7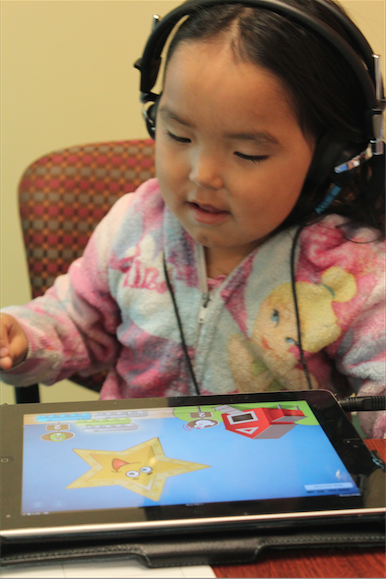 In 2014 we took the iPad audiometer to Uganda and in a period of 6 days tested 639 children discovering 109 abnormal results where 23 were significant. We were able to refer just these few children to the limited centralized resources and achieve intelligent triage. Currently the iPad audiometer is the only functional audiometer in Mbarara, Uganda and continues to provide sustainable and accurate hearing testing. Since its first use over a year ago, the software has been updated remotely over WiFi to ensure ongoing performance improvement.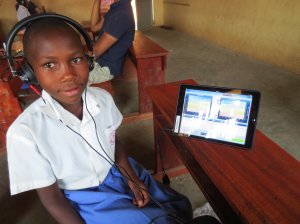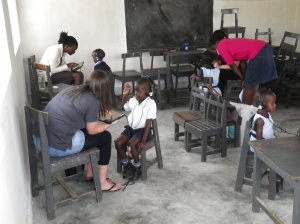 There are many challenges to deploying health care in Africa including a search for sustainable funding, regular power outages, a lack of medical records and training, moisture, dust, and theft. The iPad audiometer appears to help address many of these issues; however, technology is not the sole solution to the service shortfall. Government buy-in, a dedicated health care team and a hospital infrastructure capable of providing aural rehabilitation and surgical services are essential.
Although the intent of this project was to take technology to the Second and Third World, we ended up taking home many lessons about screening and hearing testing in low-resource environments. These low-resource environments may be remote Canadian communities, schools, or simply outreach ENT and audiology clinics.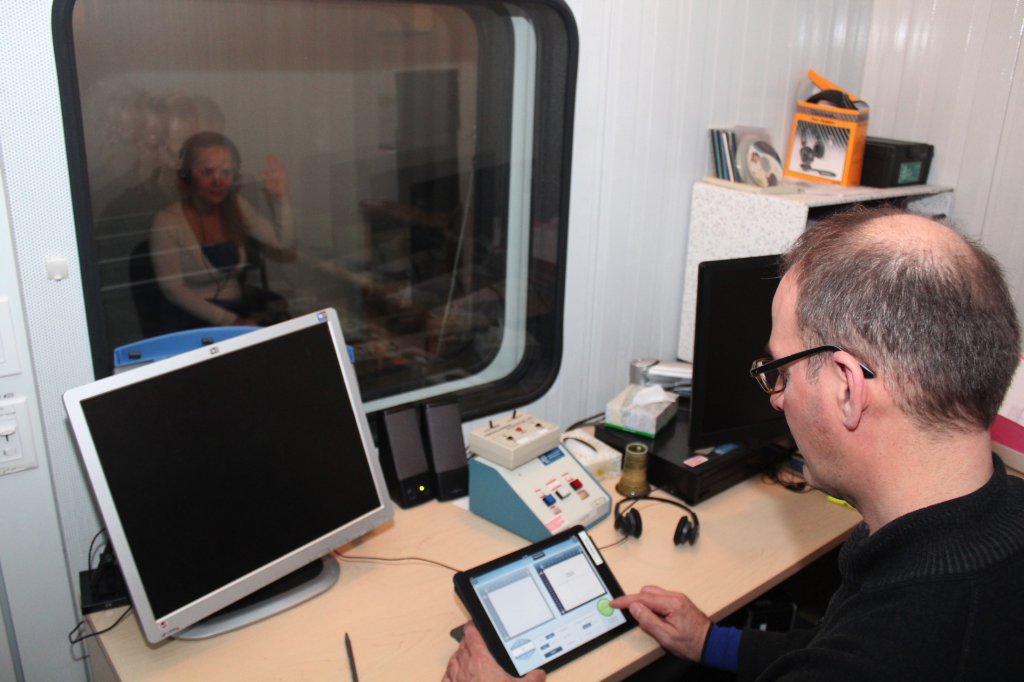 We found that the use of low-cost consumer devices to provide basic and advanced hearing testing was both cost- and time-efficient. Previous results have demonstrated diagnostic accuracy as well as good positive and negative predictive values.5 Although low frequency noise remains an ongoing confounding factor, we are developing further strategies to enable reliable testing in almost any environment. Finally, when faced with the massive global shortfall of audiometric services, it is important to conduct intelligent triage to streamline access to services for those who need them. As does the WHO, we believe that mHealth has the potential to transform the face of heath service delivery across the globe.8
References
World Health Organization. World report on disability. Geneva: Author; ISBN 978 92 4 156418 2. 2011
Research to Guidance. Global mobile health market report. Berlin: Author; 2012.
Ericsson. Ericsson mobility report. Stockholm; Author: Available at: http://www.ericsson.com/res/docs/2015/ericsson-mobility-report-feb-2015-interim.pdf.
Wikipedia. List of countries by number of mobile phones in use. Available at: http://en.wikipedia.org/wiki/List_of_countries_by_number_of_mobile_phones_in_use.
Yeung J, Javidnia H, Heley S, et al. The new age of play audiometry: prospective validation testing of an iPad-based play audiometer. J Otolaryngol Head Neck Surg. 2013;11(42)21.
Foulad A1, Bui P, Djalilian H. Automated audiometry using apple iOS-based application technology. Otolaryngol Head Neck Surg 2013;149(5):700–6.
Baxter JD. Otitis media in Inuit children in the Eastern Canadian Arctic – an overview – 1968 to date. Int J Pediatr Otorhinolaryngol 1999;49:S165–68.
World Health Organization – Second global survey on e-health. Geneva: Author; 2011.