Book Review
Wired for Sound: A Journey into Hearing By Beverly Biderman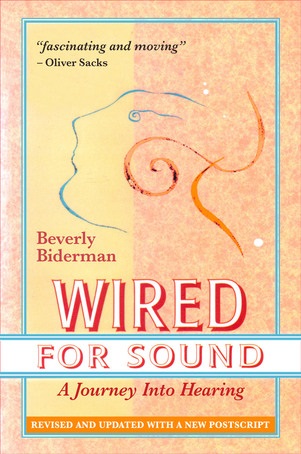 Canadian Bev Biderman's book Wired for Sound: A Journey into Hearing chronicles the story of the author's progression from hard-of-hearing to deafness and back into the hearing world after she received her cochlear implant in 1993. The book was first published in 1998 and is standard reading for anyone interested in cochlear implants. A second edition of Wired for Sound has been released this year, coinciding with the premiere of an opera based on Biderman's story and written by Carlos Alberto August, "TMIE, On the Threshold of the Outside World," which opens in Lisbon, Portugal on September 8, 2016.
Most would consider Biderman a very successful cochlear implant user: she is no longer deaf although she is still and will always be hard-of-hearing. Her initial experience with a cochlear implant was not the metamorphic moment that one might hope for at "switch-on." With time, practice and great determination, the erratic jumble of beeps and buzzes that she hears gradually transforms into meaningful sound.
Biderman's story illustrates how the journey into hearing extends far beyond switch-on. Biderman presents a balanced perspective of what can and might not be possible with a cochlear implant, and reminds the reader that a cochlear implant does not promise "normal" hearing function. As those in aural (habilitation and rehabilitation know well, understanding the limitations of hearing technology is essential for setting realistic expectations with clients and their communication partners. Clients and partners are satisfied with cochlear implantation when the outcome meets or exceeds their expectations, and disappointed if the outcome is less than what they had anticipated. Biderman also reminds us that optimal performance with a cochlear implant requires patience, practice and perseverance.
In clinic, we have limited opportunity to convey these points effectively to clients and their families, or they may not be ready to absorb this information when we present it. This is where Wired for Sound can be a useful tool for audiologists and CI programs in general, perhaps as "required reading" after candidacy is determined or around the time of switch-on, or as "recommended reading" for those considering the prospect of cochlear implantation.
Wired for Sound also provides tremendous insight into the psychosocial aspects of hearing loss and cochlear implantation. Biderman devotes a chapter to the impact of deafness on family relationships and dynamics, illustrating just how profoundly hearing loss can affect even the most supportive and intimate relationships. This chapter may be the most invaluable section of the book for some readers, especially those struggling with the emotional strain of communicating with hearing loss. Hard of hearing and deaf clients have limited access to counselling resources knowledgeable about communication disorders, and there is little time during audiology, ENT or even social work appointments to adequately address the psychosocial impact of hearing loss. Wired for Sound provides audiologists with one more resource that we can add to our clients' toolbox.
Recipients of cochlear implants may be unaware that cochlear implants are not universally accepted. Biderman dedicates a chapter to the perspectives of the Deaf on cochlear implantation and the debate around implantation of deaf children. Although the issue may be tangential to the experience of some, the Deaf perspective is an important part of the cochlear implant story. Biderman provides a carefully considered summary of the contentious side of implantation.
The bulk of Wired for Sound has not been updated to include findings from research in cochlear implants or hearing science since its initial publication, and readers – especially families considering a cochlear implant for an infant or toddler – will need to be mindful that cochlear implant technology, outcomes and candidacy criteria have changed since the book was first published. Of course any book written about a technology will become outdated as the technology advances, although much of the book's overview of hearing loss and cochlear implants is general enough to still be relevant today. The postscript for the 2016 edition provides an excellent overview of the current state of cochlear implant technology and trends in aural habilitation and rehabilitation. The updated "Resources" section of the book includes a well-curated list of support networks, research institutions, educational and rehabilitation resources, and an annotated list of books on cochlear implants and hearing loss.
I regularly loan out copies of Wired for Sound to clients and their friends and family to read during or between visits to our cochlear implant program. Their feedback is overwhelmingly positive. Eighteen years after its initial publication, Wired for Sound still appears to be a relevant and useful guidebook at any point along the cochlear implant journey. The second edition is a welcome update of this classic text in the aural rehabilitation literature.
Wired for Sound: A Journey into Hearing is available as a Kindle e-book and in print through online book sellers.