In Search of the Perfect Otoscope: Questions and Answers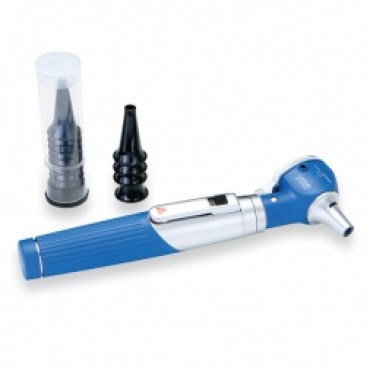 An otoscope is a tool routinely used by audiologists in the clinical environment and represents a standard investment many clinicians personally pursue. While every otoscope is designed to provide illuminated magnification of the ear canal and tympanic membrane, the quality level produced by a particular otoscope and associated functionality is influenced by the technology one chooses. At the end of the day, the specific type or model of otoscope is a matter of personal preference although the purchase decision is too often biased by how much an individual wants (or is not willing) to pay. In the same spirit of the mechanic who tells customers to spend the money and invest in good tires, the message with otoscopes is the same: spend whatever money is necessary to invest in the one (or two) otoscope(s) needed to accurately perform otoscopy.
With so many different options available, narrow down the product search by asking yourself three basic questions. This approach eliminates wasting time researching products that do not meet personal preferences and/or functional criteria. The following assumes the primary function of the otoscope is to perform otoscopy, leaving secondary applications (i.e. cerumen management, pneumatic otoscopy) out of the equation.
Question One: To Document or Not to Document? To Project or Not to Project?
First, ask yourself whether there is a need or desire to capture images/video and/or project images/video on a larger screen. Technically, this is a two-part question but both are so similar it qualifies as one question. The image/video capture feature offers objective documentation of ear canal and tympanic membrane integrity in real time and useful in qualifying status prior to and immediately following clinical procedures such as cerumen removal or earmold impression techniques. It also enables image/video sharing for educational or consulting purposes. Projecting images on a bigger screen (e.g., computer monitor, TV) offers the advantage of observing structures on a larger scale, offering a more detailed view of subtle structures. If these features are deemed unnecessary, the scope of your search should shift towards full-size head and handle otoscope combinations and pocket otoscopes. Conversely, if image capture and/or larger image projection functionality represent necessary features, video otoscopes should be the focus of your search.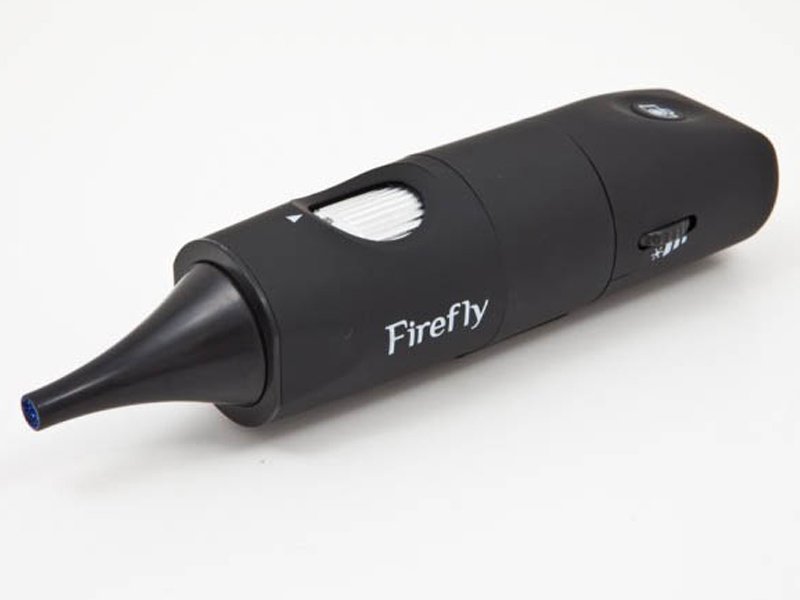 Question Two: What Power Option Is Needed?
Otoscopes may be hardwired or battery operated. Hardwired otoscopes access power from a secondary source via a cord (e.g., wall-mounted diagnostic sets, wired video otoscopes). Battery operated otoscopes rely on alkaline or rechargeable batteries as the power source with some otoscopes capable of converting to the use of one or the other. Evaluating power options further narrows down viable otoscope options, particularly when specific preferences are identified or there is a recognized need for built-in flexibility based on clinical populations served. For example, if there is a need for a wireless video otoscope, only a few models are currently available. Similarly, if there is a need for an otoscope that operates on either rechargeable or alkaline batteries, the product search will involve the few otoscopes offering this level of flexibility and functionality.
Alkaline battery powered otoscopes cost less than rechargeable otoscopes mainly because the former involves a disposable battery source while the later factors the rechargeable battery technology into the upfront cost of the product. The overall cost of the rechargeable otoscope will vary depending on the type of rechargeable battery technology used. There are three general types of rechargeable batteries: Nickel Cadmium (NiCad), Nickel Metal Hydride (NiMH), and Lithium Ion (Li-ion). The main differences between the three are evident when assessing battery capacity and influence of memory effect.
Capacity
Capacity refers to the amount of power the battery contains. This translates to how long the battery will last per charge. Both NiMH and Li-ion batteries maintain higher capacities than NiCad batteries, resulting in increased run time. In other words, otoscopes utilizing NiMH or Li-ion batteries will last about 30–50% longer before recharging is necessary.1 The benefit of increased capacity is not accompanied by additional bulk with both weighing about one-third as much as the NiCad rechargeable battery.2 Furthermore, Li-ion batteries have the slowest discharge rate and will not only retain a charge about twice as long as the NiCad or NiMH, but will maintain most of their charge even if when idle for several months. In contrast, the Ni-Cad and NiMH lose anywhere from 1 to 5% of their charge per day respectively even if the battery is not actually being used.
Memory Effect
Memory effect refers to the inability for a rechargeable battery to remember how much reserve capacity is left immediately prior to recharging. In other words, initiating the recharging process prior to the battery being fully depleted can cause the battery to only remember the shortened cycle. As such, the battery will not last as long between charging cycles. NiCad batteries are prone to this memory effect whereas the other two batteries are not. It is for this and previously mentioned drawbacks that otoscope components utilizing NiCad batteries will be significantly less expensive than similar components using Li-ion battery technology.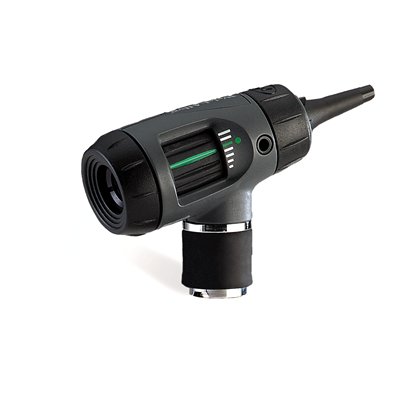 Question Three: How Should Things Shine?
The light source of an otoscope is a bulb usually one of several types including halogen, xenon, and LED.1 Incandescent bulbs are rarely encountered as they are only found in older otoscope models. Bulbs will differ across several key parameters including illumination and colour, as well as the manner in which the illumination provided by the bulb is delivered by the otoscope.
Illumination and Colour
Illumination refers to how bright of a light the bulb will generate. Across the spectrum of increasing illumination, halogen bulbs provide the least amount of illumination while the LED offers the highest degree of illumination. The brightness of the xenon bulb falls somewhere between the halogen and LED bulbs. In terms of the colour, halogen bulbs emit more of a bluish white light whereas xenon and LED deliver brighter and whiter light.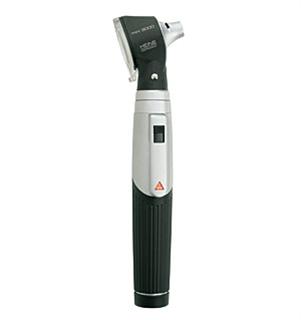 Bulb illumination and colour properties will influence the quality of features inspected during a standard otoscopic examination. For example, brighter and whiter bulbs (e.g., xenon, LED) may be more helpful in accurately identifying a monomeric tympanic membrane from a perforation which may be harder to do with duller light (e.g., halogen).3 Conversely, brighter and whiter bulbs have a lower colour rendering index (CRI) which makes it more difficult to observe more subtle detail of tympanic membrane and/or middle ear landmarks during otoscopy as compared to halogen light. An ENT may prefer a halogen bulb during otoscopy to assess subtle structures more closely for purposes of differential diagnosis whereas an audiologist may prefer an LED light to make it easier to see more general landmarks. Which bulb to choose depends on the main purpose of the otoscopic examination and will differ from individual to individual.
Non-fiber Optic versus Fiber Optic Illumination Technology
The manner in which the light is directed by the otosocope will involve either non-fiber optic or fiber optic technology. Non-fiber optic technology positions the bulb on the floor of the otoscope's head such that the light emitted by the bulb can be directed from the otoscope head into the ear canal. As such, the bulb is visually observable through the otoscope's eyepiece and, to some degree, obscures line of sight during otoscopic examinations. In contrast, fiber optic illumination technology streams the light through the otoscope head via a bundle of fiber optic cables around the perimeter of the speculum attachment. Fiber optic technology delivers light in a more concentrated and direct path, resulting in negligible loss of light intensity. This translates into the provision of an extremely enhanced quality of light and improved visibility and clarity of the external auditory canal and tympanic membrane. Non-fiber optic otoscopes will cost less than fiber optic otoscopes.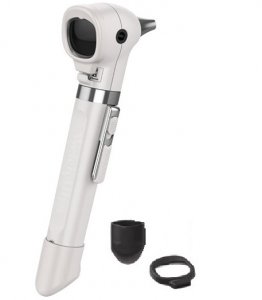 In Search of Answers
As outlined above, by asking yourself and answering three basic questions, potential otoscope options can be narrowed down to a much more manageable level where the necessary due diligence can be effectively executed in order to make the most informed decision for your individual needs. While it is beyond the scope of this article to review every available otoscope, the following lists the most popular or feature rich otoscopes of interest.
Wireless Otoscope That Captures Images
Firefly DE550 Wireless Digital Video Otoscope
JedMed Horus+ Digital Video Otoscope
CellScope
NOAH Compatible Otoscopes
Firefly DE550 Wireless Digital Video Otoscope
Firefly DE500 Digital Video Otoscope
Welch Allyn Digital Macroview Video Otoscope
Dino-Lite Digital Video Otoscope – Model AM311HT
MedRx Video Companion LED
MedRx Video Companion SLS
Otoscope with Manual Focus Adjustment
Welch Allyn Digital Macroview Video Otoscope
Welch Allyn 3.5V Halogen Macroview Otoscope Head
Video Otoscope Less Than $500 US
Firefly DE550 Wireless Digital Video Otoscope
Firefly DE500 Digital Video Otoscope
Dino-Lite Digital Video Otoscope – Model AM311HT
For a comparison chart with more video otoscope options, see Video Otoscope Options on the Oaktree Products, Inc. website
Otoscope powered by rechargeable as well as Alkaline Batteries
Welch Allyn 3.5V Convertible Handle (handle only; head sold separately)
Most Popular Pocket Otoscopes
Heine Mini 3000 Non-Fiber Optic Otoscope
Heine Mini 3000 LED Fiber Optic Otoscope
Heine Mini 3000 Fiber Optic Otoscope
Welch Allyn Pocket Plus LED Otoscope
For a comparison chart with more pocket otoscope options, see Pocket Otoscope Options on the Oaktree Products, Inc. website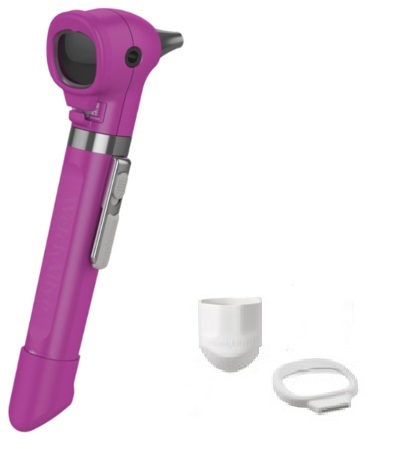 Otoscopes with Different Colour Options
Heine Mini 3000 Non-Fiber Optic Otoscope (blue)
Heine Mini 3000 Fiber Optic Otoscope (blue)
Welch Allyn Pocket Plus LED Otoscope (blue)
Welch Allyn Pocket Plus LED Otoscope (white)
Welch Allyn Pocket Plus LED Otoscope (purple/plum)
A.U.'s Personal Favourites
Firefly DE550 Wireless Digital Video Otoscope
Welch Allyn 3.5V Halogen Macroview Otoscope Head
Welch Allyn Pocket Plus LED Otoscope (white)
Heine Mini 3000 LED Fiber Optic Otoscope
Additional Resources
References
Bankaitis AU. 2011. Otoscopes. AudiologyOnline 2011; Available at: http://www.audiologyonline.com/articles/otoscopes-833.
Diffen. Li-ion vs. NiCad. Available at: http://www.diffen.com/difference/Li-ion_vs_NiCad.
Battista R. Otoscopy for audiologists. AudiologyOnline. Available at: http://www.audiologyonline.com/audiology-ceus/course/otoscopy-for-audiologists-2103