900 Words: Siblings and Hearing Loss
Reprinted with permission from: http://hearinghealthmatters.org/betterhearingconsumer/2018/900-words-siblings-hearing-loss/ Jan. 23, 2018
Wondering why the shop assistant's words were buried by the hum of a frozen foods freezer started my 20-year journey into Auditory Processing Disorder (APD) and peripheral hearing loss from which there was to be no return. However, thankfully, accommodations made with hearing aids and using remote microphones, then known as FM microphones, partially assisted to normalize my language processing.
However, these 900 (or so) words are not about hearing loss rehabilitation though I could wax lyrical on the pros and cons of different products. Instead, I am going to write about the impact of my hearing loss on my sibling relationships.
I come from a Catholic family of 10 children which a good friend recently told me was like one of the Irish families where singing and auditory prowess were upheld. As children, we were a constant mess of rough and tumbling bodies all over the place and yes, we made our own netball team and loved playing bullrush (a game similar to Red Rover) with remarkably few broken bones.
But behind the day to day of physical existence, my observation of sibling relationships in such a large family was that they are often power-based, with the place of each sibling determined by how they are ranked in the eyes of the primary carers which, in my case, was our mother. I find this is often, though not always, linked to the sequential order that they are born in. But, as a child, this was of no consequence as challenges such as eating properly with a knife and fork and dressing oneself were skills that took priority and had to be mastered.
Chaos was narrowly avoided in such a large family by the primary care giver implementing hierarchical behaviours and using the more popular siblings to reinforce her controlling behavioural requirements. Thus, she maintained the power structure and set the norm for family status quo.
This all seems entirely reasonable especially when you consider the task of controlling the chaos of 10 children. To add to the complexity, there were three sets of twins and four singletons, eight girls and two boys. My twin and I were the third set of twins, born only 10 ½ months after the second set. If the Pope knew about us, he would have loved us!
At positions seven and eight, my twin and I were very low on the family hierarchy. We were accepted provided that if we could sing we did so at the family sing-alongs. Because I did not sound like a song bird it was perceived that I did not offer much of value to the family and, as I was shy, being invisible was ok by me.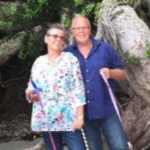 The downside of being invisible meant that when I was confirmed by audiological screening as having an Auditory Processing Disorder at the age of 39, not one of my siblings was sufficiently interested to learn about APD and how to effectively communicate with me. But my husband learned basic sign language and when all verbal processing attempts failed he would sign to me. Good man.
Since developing APD I have completed a Graduate Diploma, Master's Degree and then PhD; I am about to publish an academic book and I have recently retired from a senior executive role in the disability sector.
I accommodated my APD by becoming visual in my mode of learning and communicating, which of course is outside the communication range of a family that placed high ranking on having auditory prowess and singing ability. Effectively, I was invisible prior to my APD occurring and afterwards I was forced to become visible to communicate effectively. Accordingly, I became displaced from my place in the family hierarchy.
I can never be invisible again though I can choose to be absent, which I choose to do very often. I now accept my APD-ness and hearing loss as being an integral part of who I am. I have a cool eye for photography, love being an expressive communicator and laughing loudly, enjoy life far more now than when I had to comply within the power structure of a verbally superior singing family and I look forward to many visual life opportunities in my retirement.
My advice for parents and siblings of people who have hearing loss is:
Remove the boundaries within your family placements and treat all family members equally
Identify if your family is visual or verbal dominant
If it is verbal dominant accept that you will need to upgrade your visual communication skills such as facial expressions to ensure equal integration of the person with hearing loss in your family
Ensure fun is the driving goal in your family, not control and power
If your older family members are "invisible", "marginalized" "absent from family events" etc., then lead the change in the family communication style and bring them home again
Doing all this is worth far more than 900 words.