CAA News – March 2020

CAA Membership Renewal – March 1st
The CAA universal membership renewal date is March 1st. Current members would have received emails with steps to renew their membership.
By renewing your membership, you are supporting the only association in Canada that provides an exclusive voice for audiologists.
CAA Membership Benefits Also Include:
Audiology Advocacy
The CAA Board of Directors and committees strive to advocate for audiologists all over Canada by providing a unified perspective on issues related to the professional of Audiology.
For example, CAA:
Is working with the Canadian Society of Otolaryngology and Head and Neck Surgery to implement direct referral of patients to ENTs in all provinces to improve patient outcomes.
Contributes significantly to the advocacy work of the Canadian Infant Hearing Task Force (CIHTF). Progress: National government and media announcements, 2 Canadian Paediatrics Society conferences and more planned, CAA conference, and planning a meeting with Federal Minister of Health.
Participates in joint initiatives with federal health funding agencies to optimize funding of hearing health services and efficient processing of claims for consumers.
CAA is working towards a National Hearing Strategy and implementation with the Hearing Health Alliance of Canada including professional, industry, consumer and charitable organizations in hearing health across Canada. Planning a major event in May 2020 with Federal government. Progress to last year: we met with over 150 senators, MPs and MPPs and presented an invited talk to a House of Commons Standing Committee.
Participated in activities leading to Bill C-81, the Federal Accessibility Act. Continuing to support implementation of recommendations.
The Canadian Adult Coalition will be presenting at a Family Practise conference this year.
Public Awareness and Marketing Support
Find an Audiologist Tool
Discounted Conference fees: 23rd CAA Conference and Exhibition
Professional Liability Rates and Options to Purchase Privacy Breach Insurance
Members now have the option to purchase an additional $1,000,000 in coverage which increases the annual aggregate policy limit to $6,000,000. The new option offers $5,000,000 per Claim and $6,000,000 in the Aggregate per policy year.
CAA Webinars
Access to the Canadian Audiologist Online Journal
Visit here to find many more benefits to renewing your membership with CAA, including low liability insurance rates with improved coverage, support for students, recognition of outstanding achievements, promotion of audiology to other health professionals and consumers, an active job board and more.
To renew your membership please either locate your email from CAA and follow the steps to renew, or visit here. For new members, or members that expired more then a year ago, please visit here to join CAA.
---
CAA Conference and Exhibition 2020
Save the Date: Wed Oct 14 - Sat Oct 17, 2020
CAA 2020 is Canada's largest annual live event dedicated to the science and practice of audiology. We have an exciting line up of speakers from across the World on a broad range of topics to meet the needs of audiologists across the scope of practice and employment disciplines. Learn from world-class scientists and clinicians, engage with industry representatives in our exhibition hall and discuss hot topics with colleagues, mentors and new friends.
The next CAA Conference and Exhibition will be held at the Delta Hotels Ottawa City Centre, in Ottawa, ON.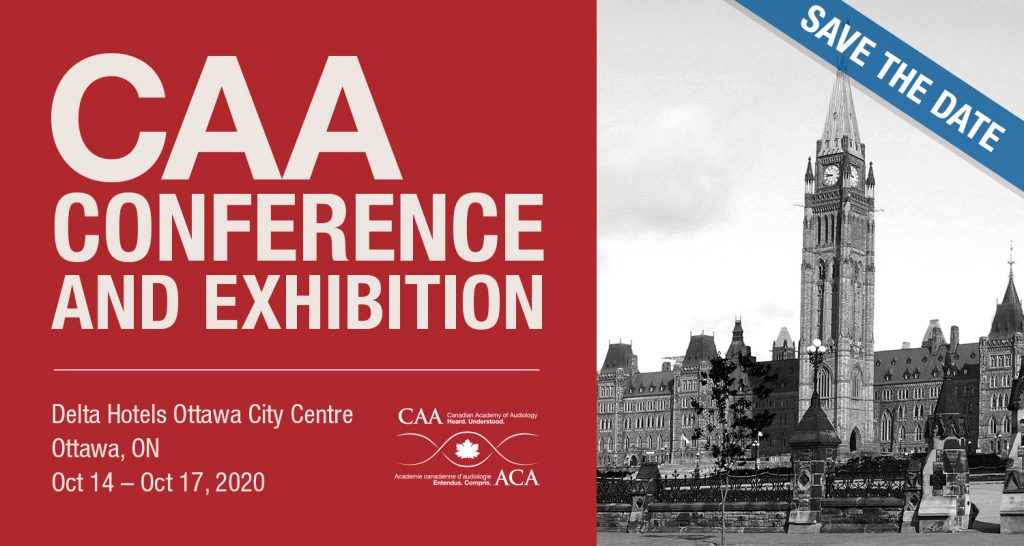 ---
CAA Webinars on Demand
CAA members can watch our archived webinars for free. Visit here to watch these webinars and more.
The Importance of Vestibular Assessment in Sport-Related Concussions with Jamie M. Bogle
Speech Understanding in Complex Environments by Children Who Are Hard of Hearing with Dawna Lewis
What the Auditory Cortex Does Before and After Hearing Loss with Stephen G. Lomber
Hearing Healthcare for Infants and Children in Canada: Status of EHDI Programs with Marlene Bagatto, Sheila Moodie
Stay tuned for more webinars from CAA, and other organizations!