Industry News

GN Hearing in Canada: New Faces, New Place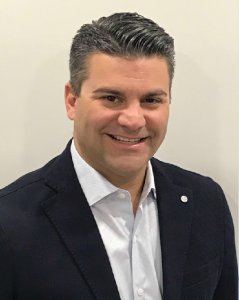 It's been a busy first year for David Molella since joining GN Hearing as the company's first Managing Director of Canada.
In February 2019, he joined GN Hearing to drive expansion and excellence in all GN products, services, and technology, overseeing the company's Beltone and ReSound hearing aid brands in Canada. He also serves on GN Hearing's North America leadership team. Molella came to GN Hearing with 14 years of experience in the hearing aid industry.
GN Hearing, the Danish company with Canadian headquarters in the Toronto area, has experienced impressive worldwide growth in recent years, fueled by exciting technologies now available in Canada.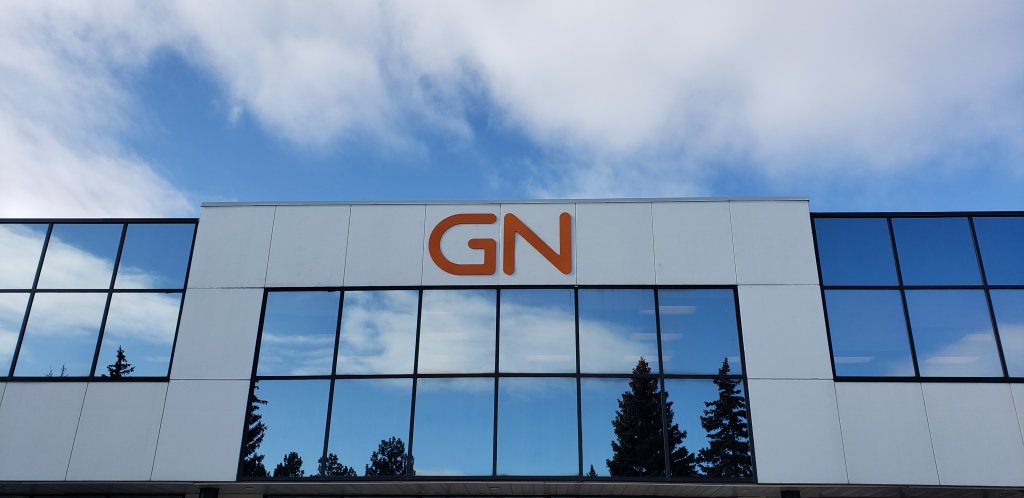 In David's first year, GN Hearing:
Announced a partnership with Google that resulted with first-in-market technology allowing Android mobile devices to stream to ReSound and Beltone hearing aids using Bluetooth Low Energy to maximize battery life.
Expanded the popular ReSound LiNX and Beltone Amaze lines to offer BTE, custom and high-power hearing aids that include the same groundbreaking technology as the original models.
Moved into a new 14,000-foot facility in Richmond Hill, Ontario that allows the team to better host, train and support customers.
Added several new faces to the team, including industry veterans Karyne Steele as Vice President of Sales, Katherine Gross, AuD, Director Of Training and Michael Ioannidis, Director Of Marketing.
Ramped up field sales and training teams, increasing staff by more than 25 percent.
To learn more about GN Hearing's ReSound and Beltone technologies, please reach out to David at dmolella@gnhearing.com.
---
The 31st Seminars on Audition: Assessment and Management of the Tinnitus Patient
Seminars on Audition is a one-day conference relevant to audiologists, hearing instrument practitioners, researchers, engineers and students. On February 22, 2020 the 31st Seminars on Audition: Assessment and Management of the Tinnitus Patient was held in Toronto, co-chaired by Western University's Dr. Susan Scollie, Director of the National Centre of Audiology, and Dr. Sarah Hayes, Postdoctoral Associate in the Department of Anatomy and Cell Biology. The goal of this year's Seminar was to encourage hearing healthcare professionals to incorporate tinnitus assessment and management within their daily practice, and to provide additional guidance for clinicians looking to better serve their tinnitus patients. The seminar included a series of formal talks by internationally-recognized researchers and clinicians in the tinnitus field on the prevalence of tinnitus in the Canadian population, the neurophysiological mechanisms underlying tinnitus, tinnitus that can occur in the absence of hearing loss, as well as approaches and strategies for the assessment and management of tinnitus in the clinic.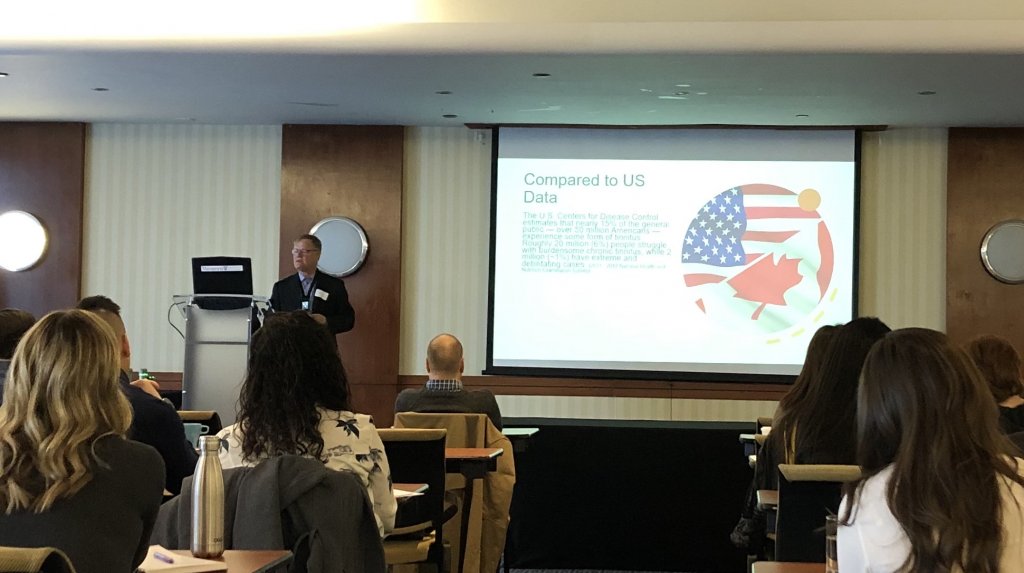 Rex Banks, Au.D., Director of Hearing Healthcare & Quality at the Canadian Hearing Services provided a talk on his recent publication with Statistics Canada highlighting the prevalence of tinnitus in the Canadian population. Strikingly, 37% of adult Canadians report experiencing tinnitus in the past year, with 7% of individuals experiencing bothersome tinnitus. These statistics highlight the importance of incorporating tinnitus programs in the clinic in order to provide services for the large population of tinnitus sufferers across Canada.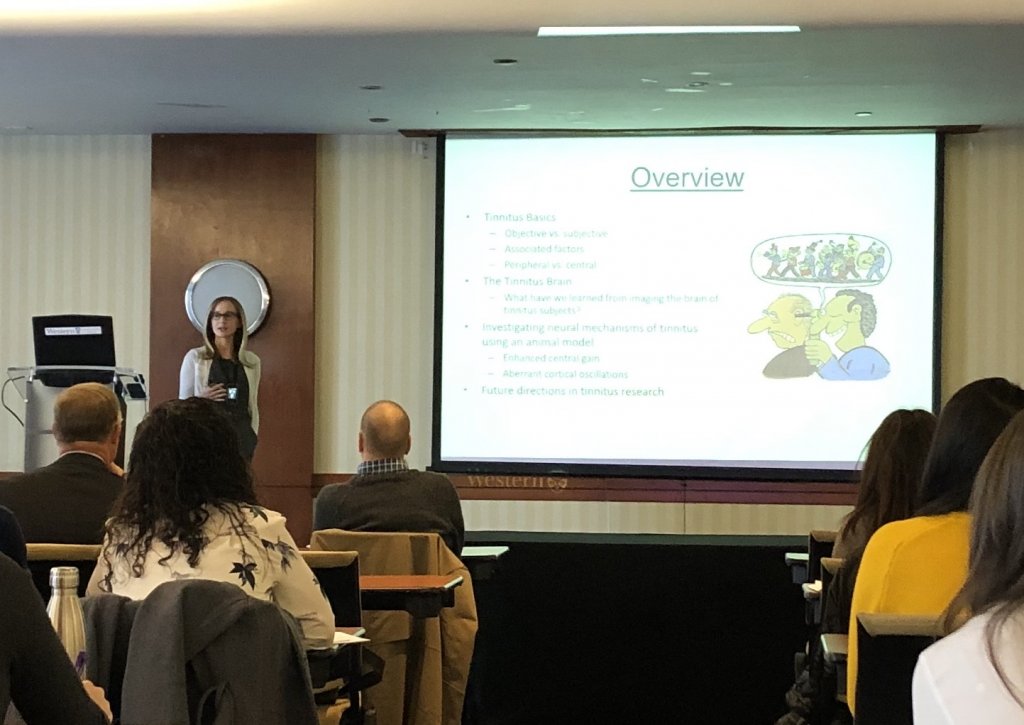 How and where tinnitus is generated within the brain has been the focus of many years of auditory neuroscience research. Dr. Sarah Hayes provided a talk on what is known about the neurophysiological mechanisms of tinnitus, and the current research being conducted at Western University to identify how the phantom auditory perception arises from brain plasticity following hearing loss. While the majority of individuals with tinnitus have a measurable hearing loss, some tinnitus patients present with normal audiometric thresholds. As Dr. Brandon Paul, Postdoctoral Fellow at Sunnybrook Research Institute in Toronto, discussed in his presentation, tinnitus patients with a normal audiogram may have damage to the inner ear that is left undetected by traditional audiometry; or, so called "hidden hearing loss". Current research is underway to develop electrophysiological and audiometric approaches to detect hidden hearing loss in clinical populations.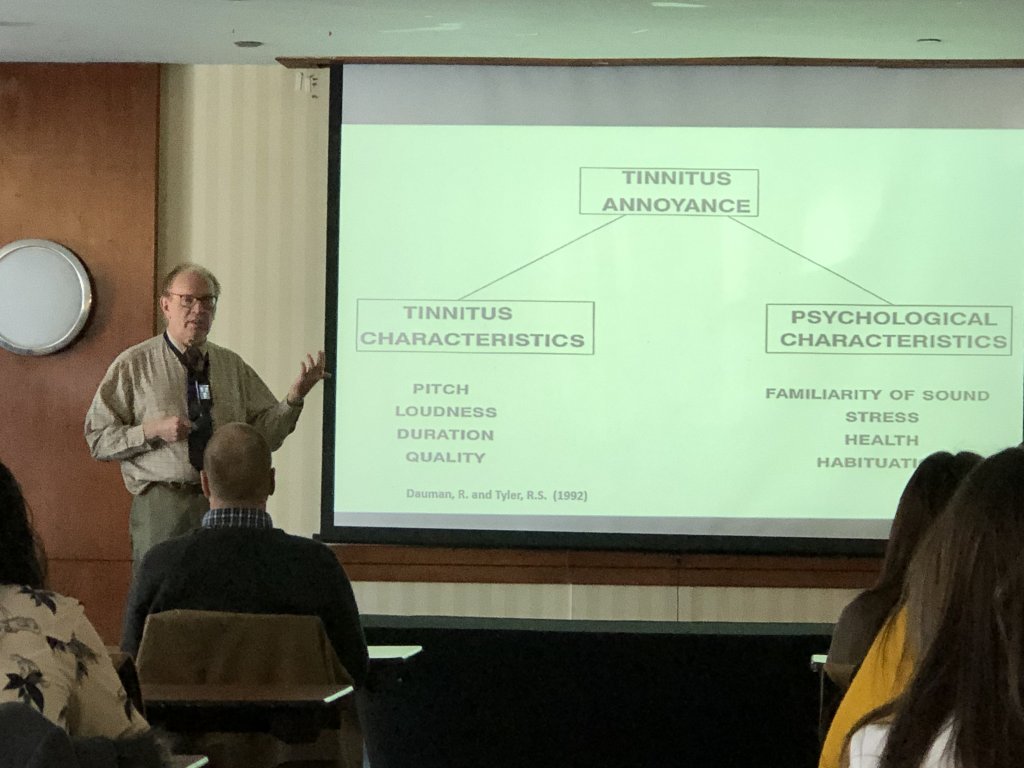 The highlight of this year's seminar was a presentation on the clinical assessment and management of tinnitus by Dr. Richard Tyler, Professor in Otolaryngology and Communication Sciences and Disorders at the University of Iowa. Dr. Tyler is an alumni of Western University where he earned his undergraduate degree in Communication Disorders and his Master's degree in Audiology, before pursuing his Ph.D. in Psychoacoustics at the University of Iowa. He has been recognized worldwide for his clinical and research efforts in the tinnitus field, and has edited numerous books on tinnitus including 'The Consumer Handbook on Tinnitus', 'Tinnitus Handbook', and 'Tinnitus Treatments'. During his presentation, he shared his protocols for tinnitus assessment and management strategies for treating tinnitus in the clinic; important information for hearing healthcare professionals looking to incorporate tinnitus services in their practice.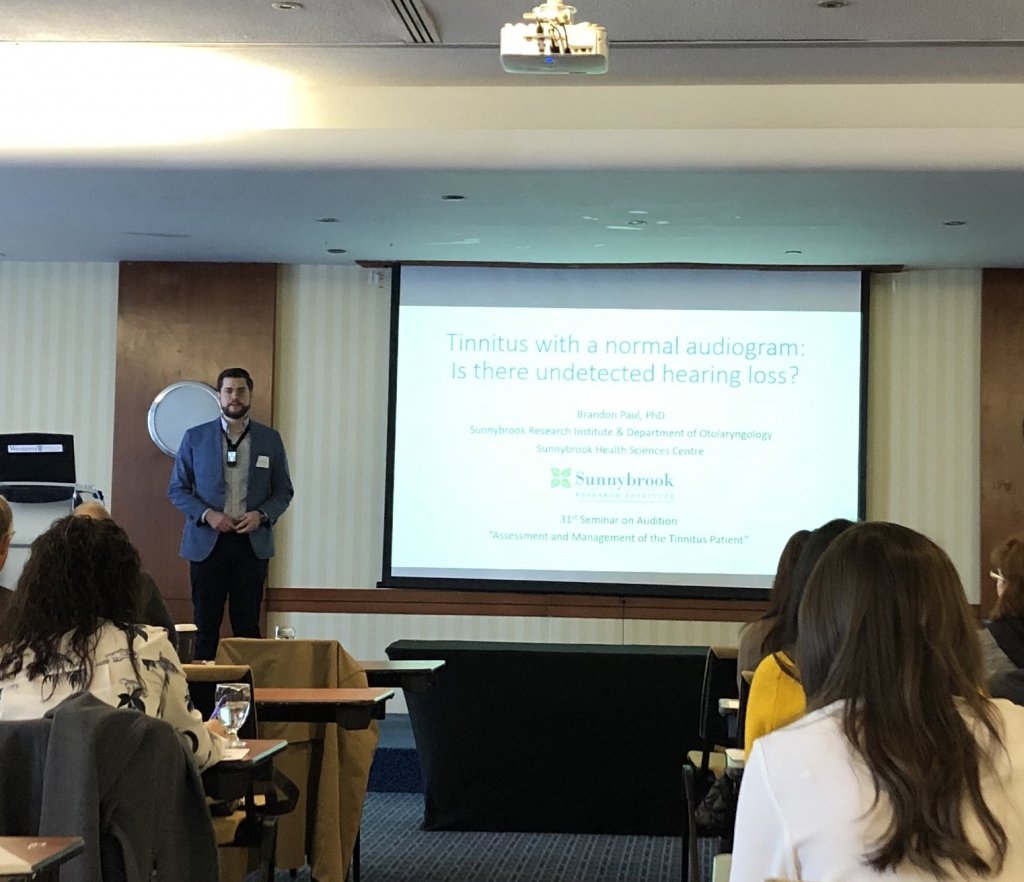 Thank you to all of the speakers and attendees who helped make this year's Seminar on Audition, focused on improving tinnitus care, such a success!