Book Review
Taylor, B. Relationship-Centered Consultation Skills for Audiologists: Remote and In-person Care, 2022. pp. 303 (softcover). ISBN13: 978-1-63550-335-7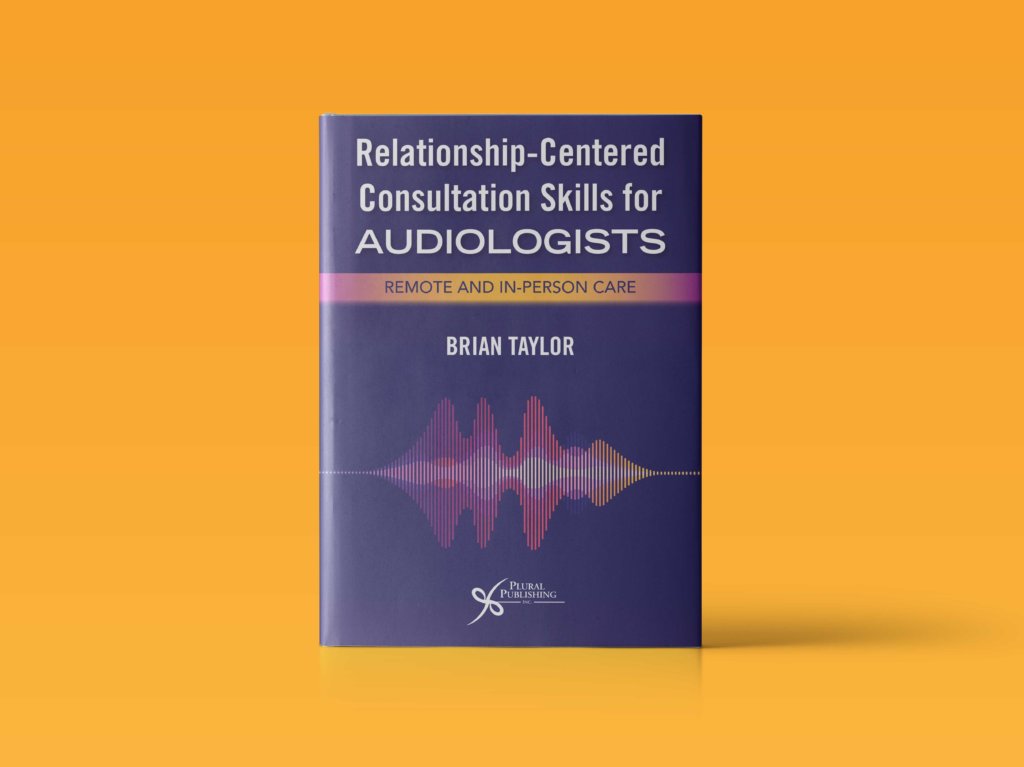 Reviewed by Danielle Glista
This book complements the multiple titles published by Dr. Brian Taylor, reframing the topic of consultation skills for audiologists to align with the current digital health era. In addition, it presents a hearing care model focused on hearing professionals' "well-honed" communication skills as the cornerstone of relationship-centered care, offering practical guidance around holistic communication.
Dr. Taylor is the Director of Audiology at Signia, with more than 30 years of experience spanning clinical, academic, industry, and publishing domains of audiology. His expertise in the hearing industry positions him well to help professionals navigate hearing loss and the growing number of treatment options in a market flooded with digital transformation. His focus on communication skills is especially relevant in today's buying market, where persons with hearing loss are presented with a plethora of choices when it comes to seeking help, spending money, and engaging in the hearing care journey. This is especially apparent as we realize the emergence of self-fitting hearing aids and automated online hearing assessment options. The preface reminds us that the road to improved communication can be highly complex when it comes to hearing loss. This calls for clinical expertise to extend beyond what can be achieved with technological skill, including empathetic care. I echo the idea that interactive, collaborative, and dynamic hearing care will assist audiologists in refocusing services to reflect individual care needs and preferences as part of holistic communication methods.
Themes presented throughout the book focus on describing, applying, practising, and monetizing relationship-centred care within a blended care model. Each chapter is introduced with a clinical case scenario, engaging the reader and effectively transitioning from topic to topic. The "points to ponder" sections help highlight important themes and provide practical guidance. The beginning highlights the cornerstones of relationship-centred communication, including a shift from a patient-centred perspective to one that involves equal information sharing. Common terms used when describing persons with hearing loss are covered up-front and before directing professionals towards a more inclusive, bias-free method of communication: relationship-centered communication (RCC). RCC is the central discussion point in this chapter for a good reason. This method focuses on authenticity, equal participation, information gathering, and empathy, all facets that are truly important when delivering care to anyone. Further, Dr. Taylor provides a toolbox of suggestions for integrating RCC into a professional's workflow, with items like shared decision making and decision aids for various interventions, and outlines steps to make all clinical interactions relationship-centric. While highly informative, this first chapter is effective for not guilting the professional for how they may have been communicating with persons with hearing loss and guides them towards a focus on RCC.
Covered in the applications section of the book is a comprehensive review of historical and current principles of person-centered care. Starting with the eight dimensions of patient-centered care, the reader is reminded that this is not a new concept. Delivery of services and patient outcomes remain multi-faceted and require careful consideration of factors related to access preferences and effective integration of care. Lessons are presented from varying perspectives, covering key models/frameworks throughout the stages of change when assessing readiness, self-assessment in help-seeking, and health belief and behaviour change to guide treatment and ongoing follow-up. Knowledge is presented in an easily digested form, meant to help professionals break down the complexities of human behavior in clinical practice. The reader is then orientated to RCC to achieve trust and rapport building, information gathering, and goal setting & treatment planning. Finally, the important topic of patient triaging is touched on, warranting further research and discussion as applied to blended models of care.
The book transitions to equip the reader with RCC in the context of tele-audiology, focusing on the various aspects of remote care, how to integrate RCC into this newer form of the care process, and how to include RCC into a blended care model: "the best of both worlds," where services are provided in-person and through remote tele-audiology. The patient milestones highlight the stages along the patient journey in which RCC can be incorporated, from first impressions to long-term care. Relevant models are re-visited within this section to help guide RCC in tele-audiology and self-fitting. Candidacy for blended care is also discussed, outlining the types of people with hearing loss encountered, including their attitudes and barriers; further discussion will help inform these facets of tele-focused care for additional applications. Finally, this section pulls together RCC, candidacy, and blended care across the patient journey, highlighting some critical factors when considering each component.
Finally, concepts around self-directed/managed care, and market segmentation are introduced, comparing common business models used in clinical practice to monetize RCC. The reader is provided with a helpful RCC checklist for each clinical encounter and is reminded to focus on the monetization of time, rather than product. The reader is left with the final important thought that "technology, business practices, and market demands change with time, but the ability to practice RCC is unwavering." The reader is provided with concrete guidance to assist them in navigating the complex and ever-changing landscape of digital health in audiology. Overall, this book was an interesting and inspiring read, restoring focus on care fundamentals as we learn to embrace technological evolution and its many benefits in hearing care.