Phonak Supports the Well-Hearing and Well-Being of Your Clients

Phonak recognizes the importance of overall well-being to living a life without limits. We believe Hearing Healthcare Professionals are uniquely positioned to initiate discussions on well-being in their interactions with their clients and we strive to support that conversation.
Well-being is not simply the absence of illness or disease, but reflects a state of physical, cognitive and social-emotional health that is difficult to objectively characterize. For any given person, the specifics of well-being will vary, but it amounts to the ability to be comfortable and capable of accessing the things we value in life. As a person moves through their lifetime, their definition of well-being will shift, as their priorities change.
Hearing loss, as any hearing healthcare professional knows, affects more than just hearing. The effects of hearing loss on communication impact all dimensions of well-being:

At Phonak, we strive to change the nature of the conversation between healthcare professionals and their patients. Instead of focusing solely on hearing loss and its management we believe the discussion should take a more holistic approach and recognize the impact of hearing loss on the overall human experience and the potential improvements that management can offer to all facets of well-being.
We do this with products and services that support the clinician, the client and their families in their hearing loss journey. The latest product offering from Phonak is, perhaps, the most tangible embodiment of the Well-Hearing is Well-Being principles. This spring, Audéo Life, Audéo Fit, Virto Paradise, and Phonak Slim bring Well-Hearing is Well-Being to life in new and exciting ways.
Audéo Life
Phonak Audéo Life is the world's first rechargeable, waterproof* hearing aid. A new housing design which includes a pin-less receiver, parylene-coated electronics, extra mic protection and silicone sealing gives Audéo Life users the confidence to wear their hearing aids in any situation.
*up to depths of 50 cm
What does this have to do with Well-Being?
Water is everywhere. At the beach or the pool; on a hot, humid day or a cold, snowy one; sweating during strenuous sports or even light activity – water is impossible to avoid. Hearing healthcare professionals know this all too well, as moisture is one of the leading causes of hearing aid breakdown.
Being active is important for overall physical health, especially as we age. But it is also important for social and mental health. Physical activities are often a source of social interaction – a fitness class, a walk with a friend, or a family hike. Hearing loss may make it too difficult to engage in the social component of those activities, and may cause a person to forego the activity all together. Hearing aids can help, but for many hearing aid wearers, the risk of moisture poses a dilemma. Do I wear my hearing aids during an activity where they may be exposed to moisture and risk a repair? Or do I leave them safe in their case and miss out on hearing the sounds, speech and interactions around me? Or do I skip the activity altogether? In fact, 52% of hearing aid wearers report feeling anxious about wearing hearing aids during water-based activities.7
With Audéo Life, hearing aid wearers can confidently choose to wear their devices on a bike ride, while gardening, running, or even at the beach and not have to worry about the consequences of moisture.
How is Audéo Life different?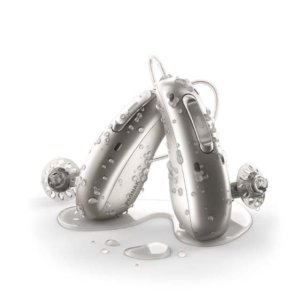 Most hearing aids available today have an IP68 rating, identifying them as water-resistant and dust-resistant products. But not all devices with an IP68 rating are made the same.
To obtain the "8" in IP68, a hearing device needs to be functional after being submerged in 1m of fresh water for at least 60 minutes. And "functional" means that it need to pass the feedback test --- hold the device in a cupped hand, and it squeals.
Is this enough to mimic the type of moisture hearing aids are subjected to on a regular basis? Real life water exposure is unlikely to be fresh water – whether its pool water, the salty ocean, or simply sweat, hearing aids are more likely to be exposed to water with impurities. And this exposure is not a one-off occurrence – regular physical activity means moisture exposure again and again and again.
In order to give confidence to hearing aid users that their hearing aids can withstand real-life water exposure, we put Audéo Life through two additional tests:
Immersion test: Simulates 2 swims or immersions/week for 5 years. The devices were submerged with 50 mbar of pressure for 5 minutes, then subjected to 10 minutes of high humidity. This cycle was repeated 520 times.
Sweat test: Simulates 2 workouts/week for 5 years. The devices were placed in a warm, humid chamber and sprayed with a synthetic sweat mixture and allowed to dry and then rest in a high-humidity environment for 19 hours. This cycle was repeated 20 times.
Furthermore, at the end of the testing, Audéo Life was given a full acoustic check, to ensure they were functioning adequately.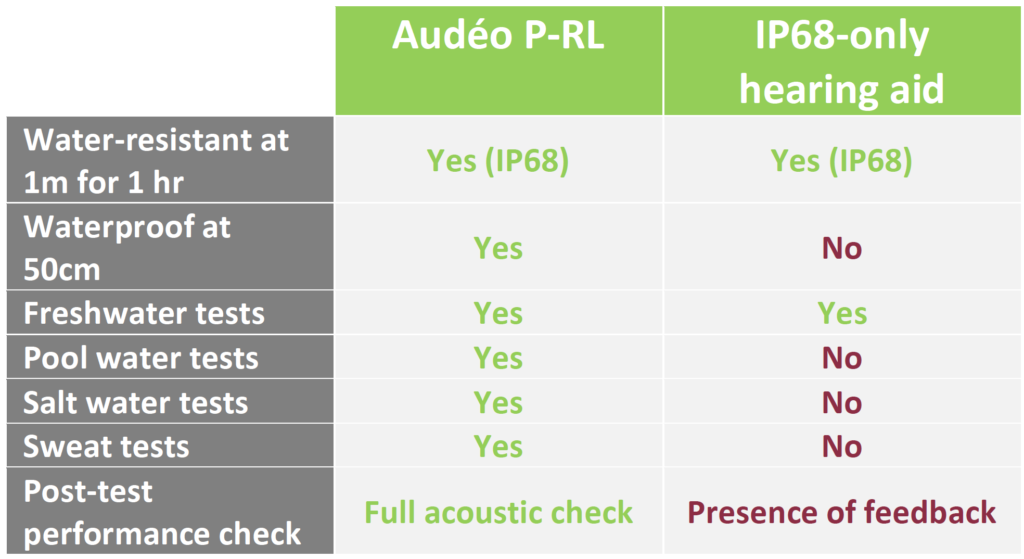 Rain or shine, light walk or marathon, swimming or splashing, Audéo Life is designed to withstand the water every-day life can throw at it and give peace of mind to users that there is no need to sacrifice their hearing, or withdraw from their favorite activities, to save their devices from moisture.
Audéo Fit
Any conversation about healthy aging should include both a discussion on hearing and communication strategies, as well as how to maintain an active lifestyle. Regular physical fitness has many benefits; it is associated with lower rates of depression, anxiety, and can help prevent and manage heart disease, type-2 diabetes, and cancer8.
What does this have to do with hearing aids?
Research tells us that individuals with hearing loss move less than their peers with normal hearing1. Treating hearing loss can help improve physical health, and now, a new hearing aid can support physical health in a more tangible way.
Combined with the newly redesigned myPhonak 6.0 app, Phonak Audéo Fit engages users with their physical health. It tracks health data such as steps, distance walk or run, and, in a world's first innovation, it tracks three heart rate measurements (resting, live graph, daily). It gives the user the option to set goals related to hearing aid wearing time, and steps taken or distance walked/run.
The ear is an ideal, non-invasive location to access both step tracking and heart rate measures9. Compared to wrist-worn step trackers, the head is a more accurate place to measure true steps taken, not confounded by as many movement artefacts. Heart rate measurements can be accessed comfortably and accurately, and as the ear is close to the internal carotid artery and jugular vein, it delivers a good perfusion, even at cold temperatures.
A single device, anchored comfortably and discreetly in the ear, can provide not only invaluable communication benefits, but also health data tracking for personal fitness goals as well as data sharing with other health professionals. Market research predicts that over 105 million step tracking devices will be sold by 202210. As many consumers move into the demographic that requires hearing assistance, they would prefer to not wear many different devices. Wearable activity monitoring devices can help increase physical activity when combined with goal-setting strategies11. Audéo Fit is the solution that promotes both healthy living through physical activity, as well as hearing health to support physical, cognitive and social-emotional well-being.
And finally…
Phonak Slim & Virto Paradise
The third pillar of Well-Hearing is Well-Being is social-emotional well-being. While there are many factors that contribute to social-emotional health -- treating hearing loss is certainly a good one! -- Hearing Healthcare Professionals can further contribute to emotional well-being by ensuring that hearing aid wearers feel good about their devices. Unfortunately, physical characteristics of a hearing aid, such as size and visibility, are still associated with reluctance to use them and can cause delays in seeking treatment12. Breaking down barriers and removing the stigma associated with hearing aids is an ongoing battle. Creating stylish, unexpected designs and discrete options are just another way Phonak supports hearing health and overall well-being.
Hearing aid users are unique individuals with a variety of priorities, goals and desires when it comes to what they are looking for from a hearing device. While sound quality and speech understanding are important drivers for choosing a hearing aid, the user also needs to feel comfortable with the overall look and feel of their new devices and feel confident in navigating their world with them.
The sound performance of Paradise has had immense success since the launch of Audéo products in August 2020. Since then, the portfolio has expanded to bring this exceptional sound quality to a broader range of form factors, to meet all client needs.
Virto Paradise brings the third generation of the world's only titanium hearing aid. The benefits of titanium are a shell that is 15x stronger than acrylic, and 50% thinner, allowing for smaller, more discrete devices.
Virto 312 Wireless has the convenience of hands-free calling and direct connectivity to up to 8 different devices, and the performance of Paradise in a modern design which resembles an ear bud more than a hearing aid.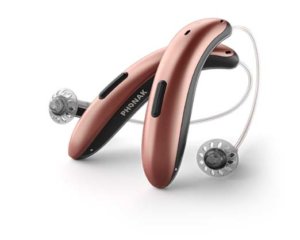 And finally, Phonak is proud to introduce Phonak Slim. A pair of stylish hearing devices, with unique 7o angled designs to fit the left and right sides of the head seamlessly. Paired with a new easy-to-use charger that resembles a jewellery case more than a hearing aid charger, Phonak Slim elevates the hearing aid experience and shatters expectations of hearing aid appearances.
Supporting hearing health and overall well-being is a multi-faceted goal and highly personalized to the individual. Hearing healthcare professionals should be equipped with the skills, knowledge, and confidence to support their clients in improving their overall wellness.
Having the right hearing solution means that not only is an individuals' hearing needs met, but that they also feel confident to engage in the physical and social activities that they enjoy. They are not anxious about risking moisture damage to their hearing aids; they feel supported and engaged in their physical well-being; they are confident and comfortable with their hearing solution; and their overall quality of life is improved by the treatment of their hearing loss.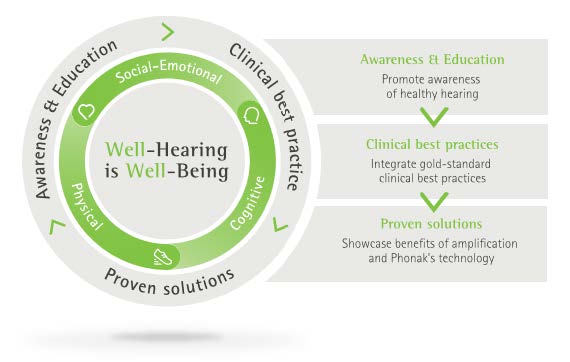 Key Take-Aways:
Well-Hearing is Well-Being is at the foundation of Phonak innovation
Phonak strives to demonstrate WHWB through services, products, and educational opportunities for hearing healthcare professionals
This spring, four new hearing devices bring WHWB to life in tangible ways
Audéo Life is the world's first rechargeable, waterproof hearing aid
Audéo Fit tracks three heart-rate measures, as well as steps walked or run and distance traveled
Phonak Slim and Virto P provide discreet, stylish option for hearing devices that break down barriers and make hearing aid users feel good about their devices
Audéo Life and Virto P are available now. Phonak Slim will be available on May 31st, 2022. Audéo Fit will be available June 22nd, 2022.
---
References
Wells, T. S., Nickels, L. D., Rush, S. R., Musich, S. A., Wu, L., Bhattarai, G. R., & Yeh, C. S. (2020). Characteristics and Health Outcomes Associated With Hearing Loss and Hearing Aid Use Among Older Adults. J Aging Health, 32(7-8), 724-734. https://doi.org/10.1177/0898264319848866
Amieva H, Ouvrard C, Meillon C, Rullier L, Dartigues JF. Death, Depression, Disability, and Dementia Associated With Self-reported Hearing Problems: A 25-Year Study. J Gerontol Ser A Biol Sci Med Sci. 2018;73(10):1383-1389.
Loughrey DG, Kelly ME, Kelley GA, Brennan S, Lawlor BA. Association of Age-Related Hearing Loss With Cognitive Function, Cognitive Impairment, and Dementia. JAMA Otolaryngol Neck Surg. 2018;144(2):115-126.
Nachtegaal, J., Smit, J.H., Smits, C., Bezemer, P.D., van Beek, J.H.M., Festen, J.M., & Kramer, S.E. (2009). The Association Between Hearing Status and Psychosocial Health Before the Age of 70 Years: Results from an internet-based National Survey on Hearing. Ear and Hearing, 30(3), 302–312.
Keidser, G., & Seeto, M. (2017). The Influence of Social Interaction and Physical Health on the Association Between Hearing and Depression With Age and Gender. Trends in Hearing, 21, 1-15.
Ciorba, A., Bianchini, C., Pelucchi, S., & Pastore, A. (2012). The impact of hearing loss on the quality of life of elderly adults. Clinical Interventions in Aging, 7, 159–163.
Taphuntsang, D. (2020). Market research ID 4398. Please contact marketinsight@phonak.com if you are interested in further information
WHO guidelines on physical activity and sedentary behaviour. Geneva: World Health Organization; 2020. Licence: CC BY-NC-SA 3.0 IGO
David Da He, Eric S. Winokur, Thomas Heldt, and Charles G. Sodini, «The ear as a location for wearable vital signs monitoring.» IEEE, 2010. 6389-6392. Web. 3 Feb. 2012.)
Department, S.R. Fitness tracker Device Shipments Worldwide 2016–2022. Available online: https://www.statista.com/ statistics/610390/wearable-healthcare-device-shipments-worldwide/(accessed on 12 February 2020).
2018 Physical Activity Guidelines Advisory Committee Scientific Report. Washington, DC: U.S. Department of Health and Human Services, 2018.
David, D., & Werner, P. (2016). Stigma regarding hearing loss and hearing aids: A scoping review. Stigma and Health, 1(2), 59–71. https://doi.org/10.1037/sah0000022