Mike Valente—The Perfect Man
"…the energy of wanting things to be great is a perfectionist energy."
Reese Witherspoon
A phone call from Andria Seils, medical editor for Thieme Medical Publishers, Inc. in New York, began our long-term, collaborative journey with Mike Valente. Andrea's proposal was quite ambitious. Thieme is a German-based publisher and was interested in entering the US speech and hearing market; her request was that the three of us prepare the ultimate textbook for audiology—the content of which would cover all aspects of the field from the diagnostic process to the rehabilitation aspects in a variety of practice settings.
We will never forget our first meeting with Mike and Andrea! St Louis was chosen as the venue, because it was central and logistically convenient and the meeting was scheduled for early December. Little did we know that temperatures would drop below zero, well below the temperatures familiar to those of us who live in the Southwest and a challenge to our wardrobes and packing skills. By contrast, and unfortunately, Mike was raised in New York, was now living well above the Mason Dixon line, and hadn't spent much time in the sunbelt in warm weather. Consequently, as we walked to different locations for meals, due to Mike's impervious cold nature made him blithely unaware of how cold it was while we were literally freezing. Mike acted like it was mid-summer in Manhattan, going so far as to suggest that we sit outside for one of our meals. We did; the advantage was that we needed no ice in our water, but needless to say the thought of a cold beer wasn't even a consideration. It was a memorable occasion.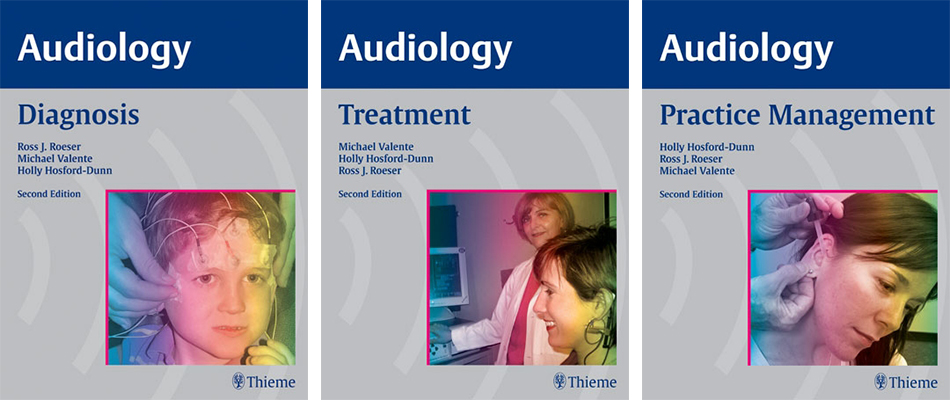 That first meeting and the subsequent two others over the next year ended up being the most productive discussions and planning events that either of us have ever had, and most likely will never be topped. Each day began early in the morning and at the end of the day, which seemed like no more than 30 minutes later (time flies when you're having fun), we had conceptualized a three-volume set of textbooks that became known as the "Trilogy in a Box," with the titles of "Audiology: Diagnosis," "Audiology, Treatment" and "Audiology: Practice Management." The box part was due to the idea that our publisher wanted to include a container for the three books for those who wanted all three volumes.
Why Mike Valente is the Perfect Man
After talking about Mike over a cup of coffee during the annual meeting of the American Auditory Society, and reliving the multiple sessions and discussions we had in preparing our textbook, we chose to describe Mike Valente as the "Perfect Man." Perfect not in the pejorative sense that he has the characteristic of always trying to strive for perfection, but perfect as defined by having all the desirable qualities or characteristics that make you want to hang out with someone you know like Mike; as good as it is possible to be. Not personally knowing a famous person like Billy Graham, or any other such notable individuals with the highest level of attributes or characteristics, Mike is truly as perfect a human being as we can imagine.
We sat and listed just a few things that came to mind when we thought of for Mike Valente as the perfect man:
He is the perfect educator: When Mike talks about his students and his teaching activities, he lights up and you can see excitement and energy in his eyed-the energy of a perfect man.
He is the perfect researcher: Mike's research is relevant, translational, well conducted, and exquisitely presented.
He is the perfect writer: Mike writes the right stuff, which is clinically and intellectually valuable, and unique.
He is the perfect editor: Mike is the most detailed editor we know—he even checks each citation in the text to make sure the reference is in the bibliography. He meets his deadlines and is always on time.
He is the perfect collaborator: Mike listens more than he talks, which is an attribute we wish we had. But, when he does talk people listen because what he says is important and meaningful.
He is the perfect husband: Mike and Maureen are the quintessential soul mates, sharing professional careers in a way that no other couple can or has done. What an accomplishment,
He is the perfect dad: Mike adores his daughters who have become accomplished in their own professional careers.
Mike is tenacious: Mike seems to have no bounds that constrain him. For example, he told us he's a daily jogger, logging in a couple of miles during the week and sometimes longer runs on weekends. However, amazingly (just like in the movie Forest Gump) he said that on one Sunday morning he decided he wanted to do an extra-long run, a marathon, so he started running and before the day was over he had run 26.2 miles. Of course, that did result in a week-long period of misery and pain, but he did run a marathon.
We also decided that it's really hard to have funny memories of Mike Valente, because he's the perfect man. When someone is as perfect as Mike, they're always perfect with no glitches – a smooth surface with no blemishes. We feel that our lives have been truly enhanced and blessed by the opportunity to work together as a team in producing the "Trilogy in a Box" with Mike Valente as the perfect partner and dear friend.