Other People's Ideas
Calvin Staples, MSc, will be selecting some of the more interesting blogs from HearingHealthMatters.org which now has almost a half a million hits each month. This blog is the most well read and best respected in the hearing health care industry and Calvin will make a regular selection of some of the best entries for his column, Other People's Ideas.
The wearables are coming, the wearables are coming! Over the past several years we have continued to hear, read, and fear the notion that inexpensive or less expensive, consumer-driven, accessible and  wearable amplification devices will be regularly available for our patients. The potential to access devices without an hearing care provider could be a concern and be in direct competition with the services we provide. Is there reason for concern, I am not certain, but over recent weeks Starkey has completed the purchase of a hearable company, Apple's entered into the discussion, and Doppler has connected with the Coachella festival.
Originally posted at HHTM On February 9, 2016. Reprinted with permission.
On the heels of Starkey's announcement of their industry-first partnership with the upstart hearable company, Bragi, more news of other products entering into the ear-level amplification space are emerging. As early as February 21st, hearing care professionals just might get a peek at a new hearing aid option for their patients.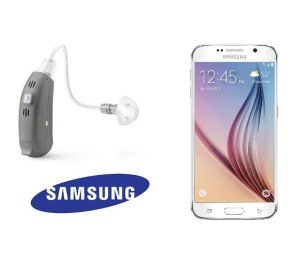 In a report from April 2015, Samsung was said to be preparing to bring a Bluetooth-capable hearing aid to market, to launch alongside the release of their new flagship Galaxy smartphone. Adding legitimacy to the claims that Samsung was indeed serious about getting into the hearing aid industry was a report from BusinessKorea, stating that the company had placed an order for $14 million dollars worth of amplifiers–a necessary component in the manufacture of hearing aids.
Galaxy S7 Launch Date Rumors Confirmed
We had previously speculated, based upon a number of industry sources, that Samsung would be launching its new Galaxy S7 smartphone at this year's Mobile World Congress on February 21st in Barcelona. HHTM has now received confirmation from Samsung that, indeed, the S7 will be released at the upcoming Mobile World Congress event.
The confirmation of the S7 release date does emphasize the product will utilize virtual reality (VR) but there is no mention of a hearing aid as part of its launch. However, if we take Samsung at their word from last April, they may be planning to release a hearing aid to coincide with the new S7:
"…Samsung's hearing aid project was strongly influenced by Lee Jae-yong, the company's vice-chairman. Samsung views expansion into the hearing aid market, which chalked up an impressive growth rate in the U.S. of over 11% in the first quarter of 2015, as a potential source of long-term growth for the company." –Samsung May Soon Enter Hearing Aid Arena, May 5, 2015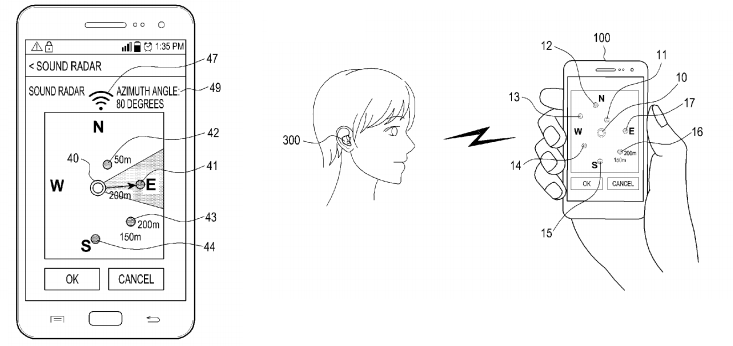 We now know, according to a December 21st report by Michel Groenheijde at Sam Mobile, that Samsung has applied for registration of a trademark for the term Earcle in South Korea, using multiple references to hearing aids in its related products description. In addition, a model number of SM-R790 was also recently registered at the Bluetooth Special Interest Group's (SIG) database, using a description of Samsung Bluetooth Hearing Aid.
Hearing Industry Disruptions Abound
At the recently concluded Elite Hearing Network meeting in Cancun, an executive panel of the leading hearing aid manufacturers and retailers was posed questions about upstart companies entering their market space.
Executives on the panel generally welcomed the competition; however, they did cite examples of other newcomers failing in their attempts to successfully launch a new hearing aid.
One specific example of recent failed attempts to gain traction in the hearing aid industry, mentioned by a panelist, was Panasonic.
New market entries, beyond traditional hearing aids, have also been making news. A recent TechCrunch report indicates the much anticipated Augmented Reality (AR) device from Doppler Labs, has begun shipments of their new product to Kickstarter backers.
These devices are being shipped under the name Here Active Listening and are marketed as "audio tuners that let you tune and tweak your own hearing experience."  Unlike traditional ear buds, the Doppler AR devices allow the end-user to customize the gain and frequency response of the incoming audio signal. The Here Active listening system also comes with its own recharging station that doubles as a carrying case.

The Doppler Labs press release also mentions the use of programming software, available through the "Here" app, that appears to allow the end-user to control frequency response, noise reduction and gain. It would seem the Doppler Labs product is another example of the continued metamorphosis of hearing aids and off-the-shelf listening buds.
Originally posted at HHTM On January 20, 2016. Reprinted with permission.
LAS VEGAS, NEVADA — As Starkey Hearing Technologies kicks off their 2016 Hearing Innovation Expo today in Las Vegas, one of the largest events for independent hearing care professionals in the US, a strategic partnership has been announced between the company and German startup Bragi, creators of The Dash, touted as "the world's first truly wireless hearable".
Chris McCormick, senior vice-president of marketing and chief marketing officer at Starkey, will introduce Starkey's strategic partnership during this year's expo. This year's conference will be headlined by former presidents, George W. Bush and Bill Clinton, as well as other well known celebrities, such as Ben Affleck, Earvin "Magic" Johnson, and many others.
"As hearing pioneers and tech design innovators, Starkey is thrilled to be working with Bragi to revolutionize the hearing aid industry and bring new technology and consumers to our hearing professionals" —Chris McCormick, Starkey Chief Marketing Officer

Partnership: A Hearing Industry First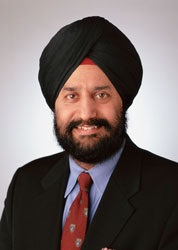 In addition to the partnership with Bragi, it will also be announced that Satjiv S. Chahil has joined Starkey  as a global marketing and innovations advisor. Chahil, a well known Silicon Valley-based marketing pioneer, has held leadership positions at Apple, Palm and HP, and has advised brands including BMW, Sony and Beats by Dre. According to the company's press release, he will work with Starkey to develop strategies to expand the organization as a "global leader in hearable and wearable technology".
According to Bragi founder, Nicolaj Hviid, "the partnership between the two companies creates immense value for our respective customers. Bragi's advanced integration of sensorics provides tremendous value to hearing aid consumers, while Starkey's invaluable knowledge of advanced audio processing and psychoacoustics expands Bragi's potential to enable people to utilize contextual computing audible interfaces."
"Starkey and Bragi have a shared vision that hearing aids and hearables can empower people to communicate and enhance their abilities." –Nicolaj Hviid, Bragi founder
Industry: Poised for Further Change?
While hearables have been garnering a great deal of attention over the past year or more among hearing professionals and the industry, as has been documented by a number of articles at HHTM, it's been primarily out of a fascination as to whether or not these devices dubbed "hearables" could truly make inroads among those (with hearing loss) who have not yet adopted hearing aids– a segment where PSAPs and other devices have had limited success.
To date, there has been no other traditional hearing aid manufacturer publicly supporting or partnering with a company like Bragi.
While Starkey is currently the exception, don't be surprised in the coming months and years, as threats to the status quo continue, that other major players make similar moves to try and capture a portion of the potentially-lucrative hearable segment within the growing wearables market.
According to some analysts, the hearable market will hold an estimated value of $5 Billion by 2018.
Originally posted at HHTM On January 19, 2016. Reprinted with permission.
SAN LEANDRO, CALIFORNIA — Over the past year, there has been growing interest in the morphing of consumer electronics and medical devices. New product categories are being created and the hearing care industry seems to be on the brink of some significant changes, especially in light of the recent non-binding PCAST recommendations to re-regulate the hearing aid marketplace.
A recent press release from iHear Medical of San Leandro, California, indicates that these disruptive forces are not confined to consumer devices, as the company announced on January 4th it has obtained FDA clearance for the iHearTest™. It is being billed as the world's first hearing screener approved for over-the-counter (OTC) sales.
 
Targeting Those Reluctant to Seek Professional Help
According to the press release, the iHearTest is a hearing screener for profiling hearing ability based on the World Health Organization (WHO) guidelines, targeting adults who suspect they have hearing loss, or those reluctant to seek professional evaluation for a basic hearing assessment.
The iHearTest and other hearing solutions developed by iHear Medical seem to be in-line with PCAST recommendations, calling for more affordable and accessible services with age-related, progressive, mild-to-moderate hearing loss.
 
"The iHearTest is a disruptive new technology and cost saving method that can expand hearing care significantly. Less than 1/3 of physicians include hearing screening for their patients and millions in the mild to moderate hearing loss range go untreated, which increases their risk of dementia along with losing friendships, jobs and careers. iHear's breakthrough home hearing test is a game-changer for millions of consumers seeking affordable and accessible hearing solutions" stated Randy Pozos, PhD, president and healthcare technology analyst with Advanced Knowledge Resources, Inc
 
The iHear Medical press release goes on to say that the FDA approval of the iHearTest was based on extensive technological development and clinical research to demonstrate safety and efficacy, as an Institutional Review Board (IRB)-approved clinical study was conducted on 96 subjects with iHearTest results compared to WHO grading of hearing impairment using standard practice audiometry.
The clinical study results showed 96.4% agreement with the WHO method using standard practice audiometry for the assessment of disabling hearing impairment. For the ordinal assessment of hearing ability, the iHearTest showed 85.9% level-by-level agreement and 100% agreement within ±1 level with respect to WHO grading using standard practice instruments.
 

Touted for its Ease of Use and Secured Access
The iHearTest kit includes a handheld USB device for connection to a personal computer and factory-calibrated earphones. The iHearTest software application is downloaded online and provides step-by-step instructions on how to administer the iHearTest. The iHearTest kit requires a standard personal computer running Microsoft Windows or Mac OS X.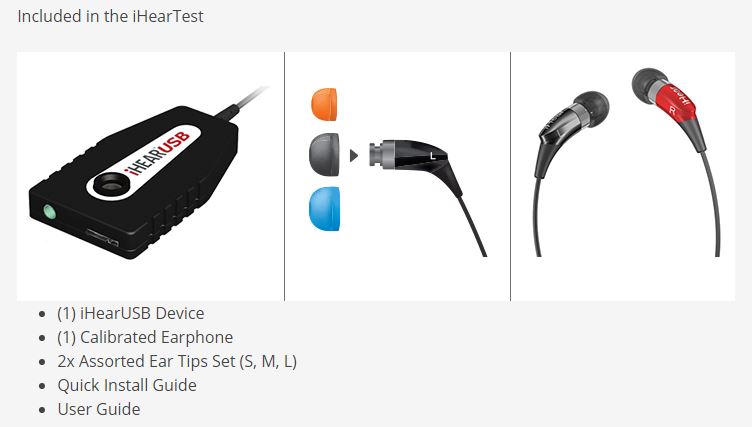 Test results are stored on a remote HIPAA-compliant server for review any time by the consumer using secure online access. The iHearTest system also conducts periodic checks of earphone calibration to ensure continued test signal accuracy. The iHearTest is not intended as a diagnostic test to evaluate hearing health or treat ear disease. The test advises consumers to seek professional evaluation for any symptoms that may indicate a health issue.
As many hearing care professional can attest, the delay in basic assessment of hearing loss presents challenges for the hearing health system, which often deals with hearing loss at the severe stages, rather than early on during the mild and moderate stages. Further, psychological and other barriers prevent many from seeking professional evaluation early on, resulting in untreated loss and communication barriers.
 
The lack of solutions available directly to consumers or through their primary care providers results in a delay in basic hearing assessment and treatment of about 6-9 years according to industry reports.
 
Future Pricing and Plans
iHear Medical plans to retail the iHearTest kit for $49 USD which includes testing for two family members. The iHearTest is protected by four U.S. and international patent applications. Readers can learn more by visiting the iHearTest site.
iHear Medical plans to offer a range of innovative web-based hearing solutions directly to consumers and through partnerships with leading insurance and professional distribution channels. Recently, the company announced partnerships with Ameritas, a major U.S. insurance provider, and AIER
Originally posted at HHTM On January 19, 2016. Reprinted with permission.
The following post was originally published on February 5 and updated on February 6.
By David H. Kirkwood
ROCKVILLE, MD –Three more organizations concerned with hearing submitted comments to the U.S. Food and Drug Administration (FDA) this week on the agency's submitted comments to the U.S. Food and Drug Administration (FDA) this week on the agency's proposed guidance document, which would tighten existing restrictions on the marketing of personal sound amplification products (PSAPs).
The International Hearing Society (IHS) and the Academy of Doctors of Audiology (ADA) sent responses to the agency just before the February 5 deadline, strongly supporting FDA's efforts to further distinguish PSAPs from hearing aids. However, the Hearing Loss Association of America (HLAA) raised concerns about the agency's document, which it said contained "confusing language" and was "unhelpful," and it urged FDA to seek more input to come up with a better guidance document.
As reported by this blog earlier, FDA's proposed document holds that PSAPs, which are not regulated devices, must not be marketed as a treatment for hearing loss. That, says the agency, differentiates them from hearing aids, which are FDA-regulated medical devices that are intended for people with hearing loss.
In embracing FDA's revision of its earlier (2009) document on PSAPs, IHS and ADA joined the Hearing Industries Association (HIA), whose comment to the agency was reported here last month. Their position statements fit into an overall pattern: Organizations whose members manufacture or dispense hearing aids want FDA to prevent PSAPs from being sold as an alternative to hearing aids. On the other hand, PSAP makers and other advocates, such as RightToHear.Org, want FDA to loosen or eliminate restrictions on the marketing of PSAPs.
 

"A STRONG STEP IN THE RIGHT DIRECTION"
In her letter to the FDA, Kathleen Mennillo, executive director of IHS, called the agency's proposal "a strong step in the right direction" and applauded its efforts "to ensure that consumers are best protected."
Noting an "influx of new personal sound amplifier retailers in the marketplace," Mennillo wrote that "it is clear that many (if not most) of these retailers are marketing their devices to hearing-impaired consumers." She added, "This creates a very real health risk for the public, who may unknowingly forgo recommended medical  intervention."
IHS's letter went on to suggest some changes to "strengthen the guidance." One is that FDA should consider restricting PSAP marketing that, even if it is not explicitly directed at people with hearing loss, implies that PSAPs will address hearing loss.
Mennillo also recommended that PSAP labeling be required to "clearly state that the device is a personal sound amplifier, not a hearing aid, and that it is not meant to be used by people with hearing loss."
 
SUPPORT FROM ADA
In his letter to the FDA, Brian Urban, AuD, president of ADA, stated that his organization "strongly supports the 2013 Draft Guidance and recommends that the FDA finalize the guidance as soon as feasible. Based on our observation, the PSAP market continues to expand, as do PSAP marketing claims that they can be used to treat hearing loss."
Urban also addressed the issue of enforcement, writing, "According to FDA, when PSAPs are marketed for the treatment of hearing loss, they become hearing aids by virtue of their intended use. Once that line is crossed, we presume that these de facto hearing aids are held to the same regulatory standards as all hearing aids. As such, ADA encourages swift and consistent enforcement of existing hearing aid regulations as it applies to these devices."
The ADA president's letter also had two other recommendations for the agency.
One asked it to consider requiring PSAP manufacturers to add labels warning that their products "are not intended for use in treating…hearing loss and that doing so could pose serious health and safety risks."
The other was to send letters to companies that are illegally marketing PSAPs advising them that they are violating FDA regulations.
 
HLAA CALLS GUIDANCE  "VAGUE AND UNCLEAR"
Writing for HLAA, an advocacy organization of and for people with hearing loss, Executive Director Anna Gilmore Hall found fault with FDA's attempt to differentiate  hearing aids from PSAPs based on their intended use.
Hall wrote, "Attempting to draw a distinction based upon 'listening situations' provides vague and unclear guidance to consumers. FDA's examples create confusion by depicting situations where amplification of sounds would benefit both individuals with and without hearing loss. Yet FDA's draft guidance would require PSAP manufacturers to use language in their advertising that might deter consumers with hearing loss from using their products."
She continued, "Many people with hearing loss do not obtain hearing aids for reasons of cost or fear of being stigmatized. While HLAA is working to overcome these barriers, we believe that, under current circumstances, some of these individuals could benefit from PSAPs, and there is no reason to erect a barrier to preclude this from happening."
In concluding, the HLAA leader said, "Too much of  the new language [in the draft guidance] is confusing, resulting in an overall unhelpful change to the 2009 guidance. We respectfully request that the FDA seek input from a broad range of stakeholders to work together to craft a document that is helpful to industry, providers, and consumers alike and provide for greater education of consumers."
 

MORE RESPONSES TO COME
 
The American Academy of Audiology and the American Speech-Language-Hearing Association were also expected to submit comments on the PSAP issue to FDA, but they were not available before this post was published.
 
A SECOND CITIZEN PETITION FILED
On a related note, Mead Killion, PhD, founder and chief technology officer of Etymotic Research, submitted a citizen petition with the FDA on January 28 asking that it "refrain from taking any actions that interfere with the free and unfettered availability of an unregulated consumer product that the agency refers to as 'Personal Sound Amplification Products' or 'PSAPs.'"
In his 22-page petition, Killion said that the "over-riding argument is that the current FDA regulations governing hearing aids are outmoded, ineffective, and excessively burdensome, and do nothing more than unduly and unnecessarily restrict the availability of hearing aids through labeling requirements and arcane conditions of sale. FDA's regulations severely limit competition, and they make no meaningful contribution to protecting public health."
Killion's submission follows a citizen petition sent to the FDA on January 16 by Gail Gudmundsen, AuD, managing director of the audiology division of Etymotic, asking the FDA commissioner to instruct the Center for Devices and Radiological Health (CDRH) to withdraw its draft PSAP guidance document.
Killion and Gudmundsen have a long history of petitioning FDA to make amplification products more easily accessible to consumers. In August 2003, the two audiologists sent separate petitions to the agency. Killion asked for the creation of a separate category of non-custom hearing aids with a peak output of 115 dB that could be sold to consumers over the counter. Gudmundsen's petition asked FDA to eliminate the requirement that adults get a medical evaluation (or sign a waiver in lieu of an evaluation) before purchasing a hearing aid.
The FDA rejected their requests in February 2004.
Originally posted at HHTM On August 18, 2015. Reprinted with permission.
This is first in the Device Disruptions series edited by Richard Einhorn.
Editor's Note:  In the 70s, Mead Killion, PhD, ScD (hon), urged high sound quality for hearing aids when hardly anyone else cared, let alone understood, its crucial importance. He is the inventor of the legendary K-Amp, the Digi-K, the QuickSin, some of the best earphones and Bluetooth headsets ever made, and recently, the gorgeous-sounding Etymotic Bean Quality Sound Amplifier. He is an indisputable genius with a sense of whimsy that rivals Lewis Carroll's, a terrific musician. Really, Dr. Mead Killion needs no introduction, but readers will find his bio at the end of this post. 
On a personal level, Mead has been a great friend and inspiration.  His articles are always a joy to read and, because he writes like a musician – that is, always from the standpoint of sound – I have found even the most technical of them models of clarity.
In the following remarks to the IOM on FDA regulations and other topics, his knowledge, scholarship, experience, and profound understanding of the multiple complex technical and social issues that swirl around hearing and hearing loss are on full display. Dr. Killion's remarks challenge us to look at the entire subject of hearing loss in a completely different fashion, not so much as a medical problem as a normative function of aging. The implications of such a paradigm shift run very deep.
Comments on the Boundary Areas between PSAPs and Hearing Aids: Definitions and Regulations
Mead Killion, Ph.D.  Presented at the June 30 IOM meeting regarding hearing aid availability.
Background
For 53 years, I have been designing things and sharing my opinions with others. I hold some 88 US patents, have published 80 papers and 20 book chapters, and for the last 32 years have taught the advanced Hearing Aid Electroacoustics course at Northwestern University.
My comments were prepared with the help of Gail Gudmundsen, who fitted some 10,000 hearing aids before joining Etymotic Research. She had an extremely low return for credit rate during the 25-year period she dispensed hearing aids, but she became increasingly concerned that a large number of people could no longer afford hearing aids as the prices went from $300, to $500, to $1500 and up. Hoping to help bring about low-cost hearing aids, starting in 2001 Gail Gudmundsen and I provided FDA with a total of more than 25,000 words of advice and counsel, in the form of letters, Citizen Petitions, and 510K applications[1]. You will be relieved to know that I will only add 2000 words to the that total this afternoon.
A wide range of persons cannot afford today's hearing aids. Even in 1934, my father was a well- educated preacher who was assigned to build up a small and struggling Free Methodist church in Indiana. He and my mother lived on $4.00 per week. He picked up coal along the railroad tracks to keep the parsonage warm, and the church members brought them food. $4.00 a week in 1934 is equivalent to $71 a week now. He had a full time job, and he was making the world a better place, but he could not have afforded hearing aids had he needed them.
Eighty years later, many Americans still cannot afford FDA regulated hearing aids at any current price. Nicole Marrone recently reported that only 4% of the Hispanic population in Arizona obtains hearing aids[2].
I will briefly consider four topics:
The concealed cost of current regulation
The cost of imprecision in language: Definitions of hearing aids and PSAPs
The myth that professionally-fitted hearing aids are best for everyone
Recommendations and expectations for improving affordability and accessibility of hearing health care
1. The concealed cost of unneeded regulation
FDA classification of hearing aids as medical devices, in combination with the laws in 50 states requiring that hearing aids be purchased from a licensed professional, restrict access to low-cost, high-quality amplification. In England and Denmark 40 to 50% of those who could benefit from hearing aids obtain them; in the US it is half that number (roughly 20 to 25%), 14% of hearing aids that are dispensed are returned for credit, and another 12% have been reported relegated to a dresser drawer[3]. Those numbers held reasonably steady for 20 years of MarkeTrak data[4]. Lower numbers were reported in a recent survey that queried only high-speed internet users.
When Dr. Gudmundsen and I were invited in October of 2008 to address the FDA Working Group on hearing aids, one of our requests was "Tell us what you don't regulate." At the 2009 annual meeting of the Hearing Industries Association, we were pleased to hear that FDA had recognized a new category of unregulated products; "Personal Sound Amplification Products, or PSAPs." FDA's Dr. Eric Mann said "We are drawing a bright white line between hearing aids and PSAPs. "A hearing aid is a medical device… which we regulate. A PSAP is a consumer product, which we do not regulate." The distinction is important, because it meant that PSAPs are not under FDA's authority[5].
Although PSAPs are not under FDA's authority[6],  when Dr. Mann addressed the Institute of Medicine in January last year, he made it clear that personal sound amplifiers should be advertised as intended only for people with normal hearing. This is despite that fact that most PSAP purchasers have not had a hearing test and thus do not know whether they have "normal hearing" or not. FDA's restriction on PSAP advertising impinges on First Amendment rights to disseminate accurate information to consumers. To my understanding, FDA has authority to restrict free speech on regulated products, but not on unregulated product.
It seems ironic that FDA grants freer access to many drugs than it does to hearing aids; allowing a large number of previously prescription-only medicines to be available over the counter. With drugs, FDA has followed the principle that over-the-counter status is justified when lay users can read instructions and achieve satisfactory results with little harm. Even if indirect harm — such as an undetected brain tumor — might result from someone purchasing aspirin for a headache, that was not considered sufficient reason to withhold over-the-counter status for aspirin. We are all better off from the careful balancing of risks normally performed by FDA.
In contrast to the reasonable position on OTC medications, FDA enforces an unreasonable "indirect harm" justification for regulating hearing aids. While there is no direct evidence that hearing aids have ever harmed anyone, access to hearing aids is more limited than access to FDA regulated cigarettes, which according to CDC kill 480,000 Americans each year.
The often cited indirect harm of an undetected brain tumor from purchasing a hearing aid without seeing a doctor is vanishingly small — especially because people seldom seek medical advice for a gradual-onset unilateral hearing loss, but typically wait until the tumor causes them to stumble on the tennis court.
A gradual hearing loss can go unnoticed even by professional musicians who live by their hearing: Charlie Geyer, fourth trumpet for the Chicago Symphony Orchestra for 12 years, sitting next to the percussion section, told me (with permission to tell his story): "It happens so slowly you don't notice it happening until you realize you can't carry on a conversation with the telephone on one ear."
2. The cost of imprecision in language: Definitions of hearing aids and PSAPs
My first observation regarding definitions is that it is not design or technology that differentiates hearing aids from personal sound amplifiers, but "intended use."
The FDA definition of a hearing aid is: "…a wearable sound-amplifying device that is intended to compensate for impaired hearing" (21 CFR 874.3300)[7]. Similarly, the FDA Consumer Health Information bulletin quoted Dr. Mann as saying "…the products are different in that only hearing aids are intended to make up for impaired hearing."  In other words, the difference is in the labeling and otherwise the products may be identical.
Ironically, in 2007 Etymotic Research submitted a pair of 510K applications for two identical devices, one labeled a hearing aid and the other labeled a Sound Amplifier. To our astonishment, FDA responded that despite the different intended use, they were both hearing aids. While FDA's position has shifted, the agency still maintains that it is inappropriate for manufacturers to publicly acknowledge that PSAPs may be purchased by individuals with impaired hearing.
My second observation regarding definitions is obvious to any company that has developed low- cost, high-performance personal sound amplifiers: It is essentially dishonest to pretend that they were developed for those who don't need them. That is so important that I will repeat it. It is essentially dishonest to pretend that we develop personal sound amplifiers for those who don't need them. Moreover, it is a disservice to consumers to withhold important information on the basis of which they could make an informed decision.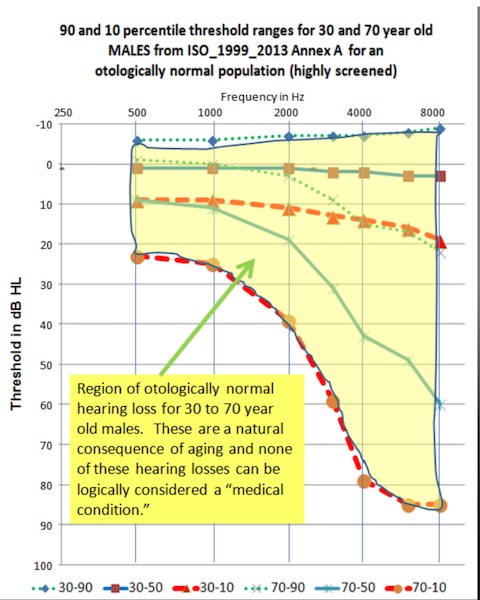 My third observation is that "hearing impairment" can be defined in different ways. If we consider age-related hearing levels, the definition of "impairment" is relative, as it is in real life. It makes much more sense to focus on those with age-related hearing loss, many of whom might want low-cost amplification.
The shaded region on the audiogram of Figure 1 shows the 10-to-90%tile range of normal hearing for males in the 30-year and 70-year age brackets, taken from the international ISO-1999 Annex A standard, re-affirmed in 2013. Note that these hearing levels correspond to otologically normal persons, who have been highly screened to exclude those with a history of noise exposure. In other words these have normal hearing for their age. The FDA position that hearing loss is a medical condition appears to ignore the natural aging process.
A personal example may be useful. Until about 8 years ago, each year I ran a 26 mile marathon; for a total of 32 marathons. At age 76, I am content with shorter distances. At one time I could run a 10K (6.2 miles) in 39 minutes, clicking off each mile in under 6 1/2 minutes. At 76, I am much slower, but my loss of speed is not a result of a medical condition, it is typical for my age. My doctor says I am quite healthy.
Similarly, the vast majority of those with hearing loss do not have a medical condition, they have normal hearing for their age and enough good judgment to decide for themselves whether they want a hearing aid or a personal sound amplifier. The only problem is that accurate information about PSAPs is being withheld from them by an organization that states it does not regulate PSAPs.
Part II, to be presented in next week's post will continue with discussions on (a) The myth that professionally-fitted hearing aids are best for everyone, and (b) Recommendations and expectations for improving affordability and accessibility of hearing health care.
Mead C. Killion, Ph.D., Sc.D.(hon)
Mead Killion is the founder and CTO of  Etymotic Research, Inc.  He has been Adjunct Professor of Audiology at Northwestern University for 33 years, and is a trustee of Vandercook College of Music. He enjoys sharing his thoughts with others.  He has published 88 papers and 20 book chapters, has lectured by invitation in 19 countries and holds 90 U.S. patents. Aside from his work, Dr. Killion has been a dedicated choir director for 32 years, a violinist, an amateur jazz pianist, has run 32 marathons, and has recently taken up flying.
Feature image courtesy of eugenio pirri
Footnotes
Killion, MC.(2014): Citizen Petition (2014-P-0159) dated January 28, 2014 in Figure 3
Marrone, N. (2015) Community-based Participatory Research on Hearing Loss in a Border/Low-Resource Community, presented at American Auditory Society meeting, Scottsdale, AZ   March 7
Testimony of Arlinger (Sweden), and of  Bisgaard (Denmark), and of Fabry (U.S.) before NIDCD Working Group on Accessible and Affordable Hearing Health Care for Adults with Mild to Moderate Hearing Loss, chaired by Drs. Judy Dubno, Lucille Beck, and Amy Donahue, August 25-27, (2009), Bethesda, MD
Abrams, H. and Kihm, J. (2015). An introduction to MarkeTrak 9 – A new baseline for the hearing aid market.  Hearing Review, June
Mann, E. (2009) Talk given at the 2009 Hearing Industries Association Annual Meeting, February 26-27, under the theme "Consumer Connections", Scottsdale, AZ
FDA Consumer Health Information (2009). Hearing aids and personal sound amplifiers: Know the difference
Regulatory definition of a class I hearing aid, 21 CFR 874.3300, Hearing Aid