Striking the Right Balance
Book Review
Michael Vekasi, AuD, R.Aud, Aud(C), FAAA and Erica Zaia, MSc, RAUD are coordinating the "Striking the Right Balance," feature which will cover the latest information on 'all things vestibular.'
If you would like to be more involved in all things vestibular, please sign-up for the Vestibular Special Interest Group. Sign-up by simply emailing CAAvestibular@gmail.com to let us know you want to be a part. Also, check out our Facebook page for a free list of online vestibular resources at the CAA National Vestibular Special Interest Group page.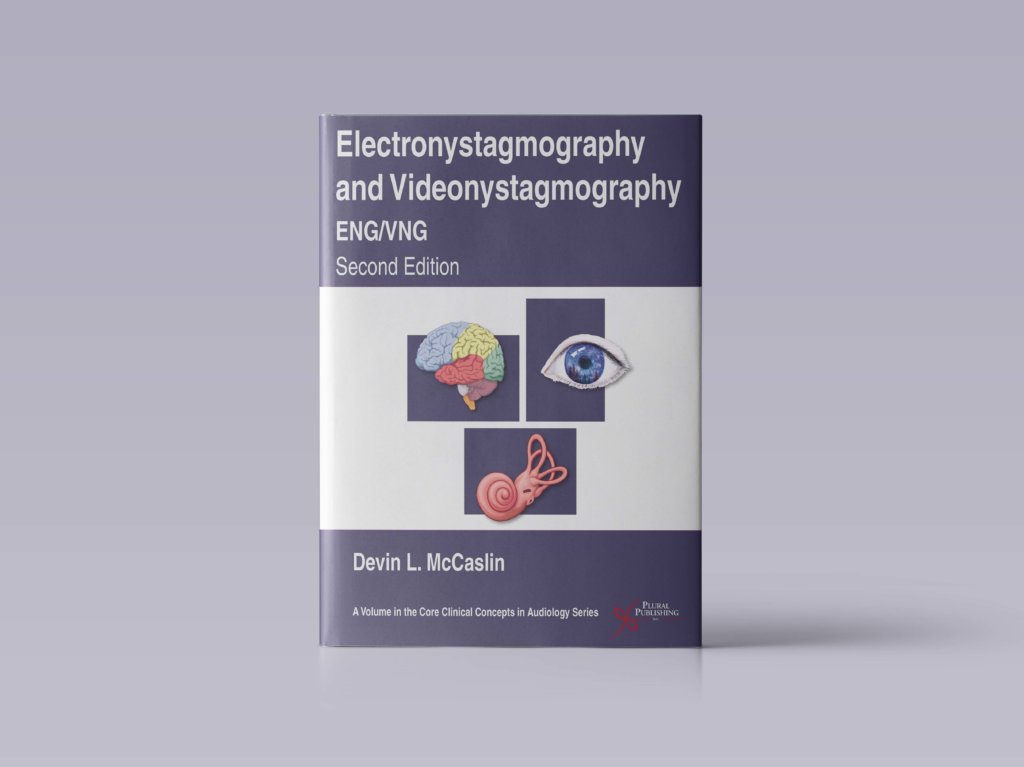 Electronystagmography and Videonystagmography:
ENG/VNG, 2nd Edition by Devin L. McCaslin
Plural Publishing, Inc., 2020, ISBN 978-1-63550-081-3
Reviewed by Michael Vekasi, AuD, R.Aud, Aud(C), FAAA
---
The second edition of this book by Devin L. McCaslin is an excellent resource to add to one's personal (or professional) library, whether a student, novice audiologist, or experienced audiologist. This book is written concisely yet still can dive deeper into important topics (such as some of the more technical aspects of performing a VNG/ENG).
As a newer instructor of doctoral-level students for vestibular assessment and management, I enjoy using this book for the material in my lectures and as a resource for the students. In addition, compared to some of the other great vestibular books, this book has the most significant number of images, diagrams, and tables for succinctly summarizing information – something that I know students (and instructors) find valuable.
The first edition of this book was approximately 200 pages, and the second edition is nearly 300 pages, so a good amount of new or updated information has been added to the second edition. In addition to incorporating new references throughout, this edition has more illustrations, a chapter dedicated to common vestibular disorders, and a companion website from the publisher with 10 cases (including 17 videos to help support learning).
If someone in the field of Audiology was looking to add videonystagmography (VNG) or electronystagmography (ENG) to their clinical practice, this is one of the best books available to walk you through most of what you need to know for these vestibular assessments.
The only thing missing from my copy of this book is a signed message from the author (I had a nerdy fandom moment at an audiology conference where I met Dr. McCaslin and had my copy of the first edition with me, so naturally I could not resist asking him to sign it).
Book chapters include:
Neural Control of Eye Movements
Anatomy and Physiology of the Vestibular System
Pretest Procedures for VNG
Eye Movement Examination
Positional and Positioning Testing
The Caloric Test
Common Vestibular Disorders: Clinical Presentation
Appendices that cover:

Pediatric Literature for Vestibular Testing

Example Alerting Tasks for Vestibular Testing

Reliability and Localizing Value of VNG Findings
Supplementary videos included on the publisher's companion website:
Case 1 – Downbeat Gaze Nystagmus
Case 2 – Bidirectional Gaze-Evoked Nystagmus
Case 3 – Hypermetric Saccades
Case 4 – Infantile Nystagmus
Case 5 – Ocular Flutter
Case 6 – Slow Saccades
Case 7 – Spontaneous Vestibular Nystagmus
Case 8 – Posterior Canal Benign Paroxysmal Positional Vertigo
Case 9 – Square Wave Jerks
Case 10 – Geotropic Horizontal Canal Benign Paroxysmal Positional Vertigo