Thinking Outside the Booth: Wavefront Centre for Communication Accessibility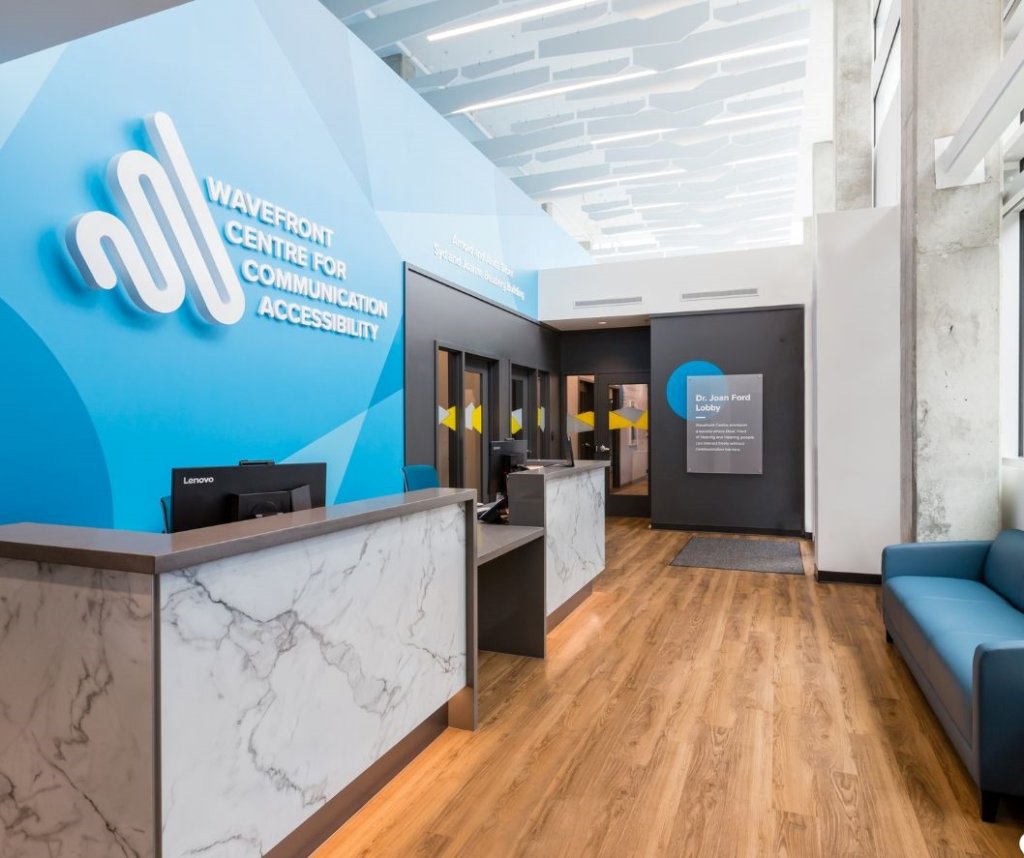 In this issue Miron Gazda, a client of the Wavefront Centre for Communication Accessibility, is interviewed. Miron shares with us his many experiences with the range of an agency providing, not only hearing clinical services, but also a full array of programs and services that break down barriers to communication accessibility.
Folllowing the interview is a summary about Wavefront Centre prepared by Dr. Ruth Warick.
Interviewer: Dr. Ruth P. Warick, PhD
Tell us about yourself and your hearing loss
I lost my hearing in my right ear and became severely hard of hearing in my left ear due to a bout with meningitis as a toddler. This also affected my vision. I grew up in Czechoslovakia, Belgium, and Germany, immigrating to Canada, specifically to Vancouver, in 1977 at the age of 23.
I got my first hearing aid when I was 14, just one for my left ear. After that, I went to regular schools where I struggled to hear. The only accommodation I had in school was to sit at the front of the class.
How did you become acquainted with Wavefront Centre for Communication Accessibility?
I became a client of Wavefront Centre in the early 1980s. I learned about it from other hard-of-hearing persons through the Canadian Hard of Hearing Association, Vancouver Branch meetings. I have continued as a client since then. Depending on the situation, I use a BICROS aid, which amplifies sound from both sides and feeds it into the ear with better hearing. In addition to a t-coil, a Near-field Communication (NFC) loop can plug into an iPad or laptop. I also use Bluetooth technology as appropriate. I find these solutions to be particularly useful.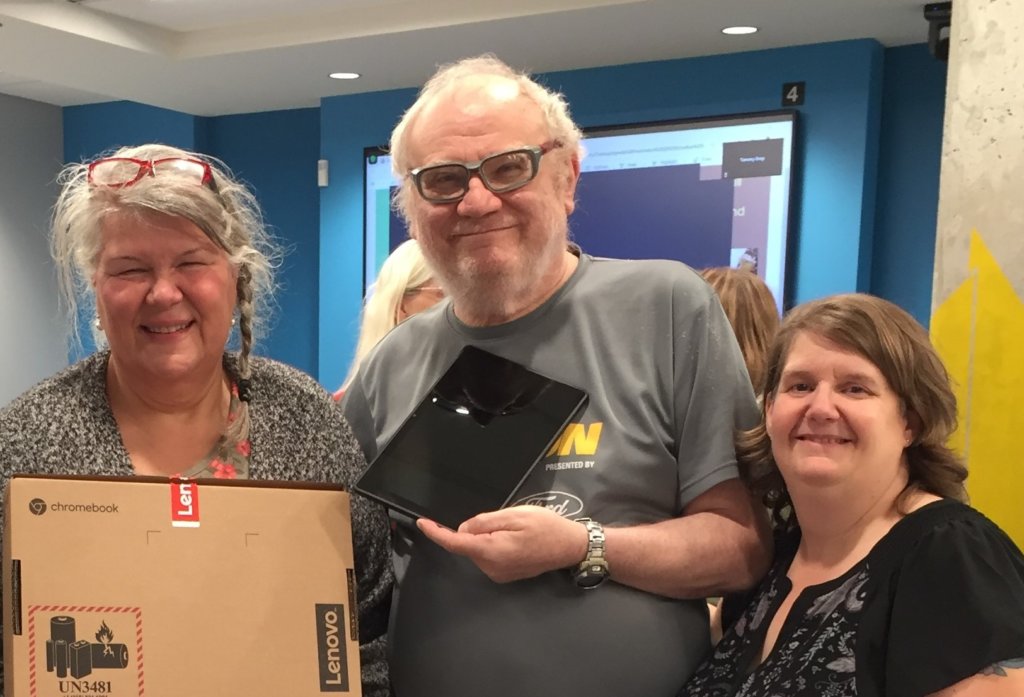 What other services have you used from Wavefront Centre for Communication Accessibility?
Most of them over the years.
Better at Home Program
I recently had a hip replacement. While convalescing at home, the Better at Home for Seniors Program provided assistance with grocery shopping. It meant I did not have to depend on busy friends as I had no family in the area but could still live independently.
Employment Services
In 2020, I retired from over 40 years with Air Canada and its predecessor airline companies (e.g., Pacific Western Airlines which was merged into AC). I had not updated a resume in all of that time so my skills in doing so were rusty; my writing skills were affected by being both hard of hearing and being a person for whom English is a second language. I found the help of the Employment Services Department valuable.
I was also given job interview and job search tips and pursued a few interviews for part-time work opportunities. To function in the workplace, I was also provided updated hearing aids through a partner agency of Wavefront Centre. It helped me to feel more confident in seeking employment although an actual job did not materialize.
Communication Devices Program
I acquainted myself with the devices available through the Communication Devices Program, including the Pocket Talker amplification device, flashing light alert systems and vibrating alert devices. I found it a precious overview and purchased a Shaker alarm clock since I cannot rely on hearing to wake me up. Like most people, I do not sleep with my hearing aids on.
Digital Technology Program
The reliance on the Internet for communication increased by leaps and bounds during the pandemic, and my skills were rusty in some areas so I found it helpful to have a refresher course about the Internet and various hardware and software options. Once the pandemic was over, courses were held in person, and I enjoyed the social interactions as well as the technical aspects of the course.
It can be socially isolating as a hard-of-hearing person because hearing affects communication, and often other people are not as patient and understanding as one would like. That's why I enjoy networking with others who have hearing loss and with staff who are sensitive to our needs. I have also found that many of the staff at Wavefront Centre in the Community Outreach and Accessible Communications department themselves have hearing loss.
Community Research Project
I was involved with a project in which Wavefront Centre partnered with the Ontario College of Art & Design University about the Future of Work: Equitable Digital Systems. Through a series of fully accessible sessions during the course of a year, we discussed barriers and enablers to digital systems in the workplace. I got to know myself better through participating in the project and enjoyed learning from others about their experiences.
Accessible Communications
I have benefitted from the captioning services offered by Accessible Communications which has enabled my participation in educational events for various projects, board and committee meetings, and online webinars such as World Hearing Day which is annually recognized by Wavefront Centre and its partners on March 3. I like keeping up with the latest trends and developments and being mentally stimulated. In addition, I enjoy learning new things.
You served on the Board of Directors for Wavefront Centre in the 2010 decade? What was your experience as a board member like?
I enjoyed the opportunity to participate on the board and contribute to the organization's governance and planning side. In addition, I was involved when the board made the necessary decision to pursue new facilities as existing facilities were no longer viable. It was a substantial time commitment, but worth it. Besides personal benefits, it is about giving back to the community.
What does Wavefront Centre mean to you?
There is more to Wavefront Centre than just audiology – as important as audiology is. It is so much more. It has a range of services and programs that respond to community needs and is much needed.
What would you like to share with prospective clients about Wavefront Centre?
I would encourage them to avail themselves of the services of Wavefront Centre. As a social agency, I feel that there is less pressure on me as a client and more product options than would otherwise be the case. In addition, I find that the staff understands what it means to have a hearing loss.
What would you like to share with the health professionals?
Always start from the consumer's perspective. Do not view hearing loss as something to be hidden and kept invisible. As well, consider that there may be additional disabilities impacting a person such as impaired dexterity, which affects inserting/removing batteries, and inserting/removing the hearing aid itself.
Ensure that you explain the benefits of the t-coil and Bluetooth in hearing aids to new clients – personally it is essential for my better hearing.
Is there one thing you wish to share with the public?
Be patient and understanding and do not make assumptions about the person with a hearing loss. We are each individual and different in our communication needs. Don't hesitate to ask us what they are – can't go wrong in doing so.
---
WAVEFRONT CENTRE FOR COMMUNICATION ACCESSIBILITY
Established in 1956 and trusted for over 67 years, Wavefront Centre for Communication Accessibility is a BC-based, charitable not-for-profit organization operating as a social enterprise. Wavefront Centre serves Deaf, Deaf-Blind and Hard of Hearing individuals, their families and the community by delivering innovative programs, products and solutions to achieve full communication accessibility.
Hearing Services
Each person's hearing health care needs are unique. Our philosophy is to work closely with each individual to develop a program that best fits their individual hearing loss, needs, lifestyle, and support network. We carry a wide range of hearing aid brands and styles to best match individual needs. We believe in an educated and impartial approach in our recommendations. We operate a Lend-An-Ear Program where hearing aids are provided at a nominal fee for those who could not otherwise afford them. Our hearing clinics are staffed by experienced clinicians who are Registered Audiologists (RAUD) and/or Hearing Instrument Practitioners (RHIP) with the College of Speech and Hearing Professionals of B.C.
Accessible Communication Services
Accessible Communication Services supports the communication needs of our communities and clients in many different ways including American Sign Language (ASL) Interpreting, Captioning, ASL Translation, Plain Language and Audio Description services. Our Registered Sign Language Interpreters and Captioners work in medical, business, educational, legal, government and community settings. ASL Translation involves translating English texts or spoken language into ASL. Described video service (also known as "audio description") provides the content of a video in an accessible format for people who are low-vision or blind.
Community Outreach Services
Through Community Outreach, we offer outreach and employment services as well as workshops on such topics as digitization. We provide Better at Home services, matching volunteers to provide social companionship as well as assisting Deaf, DeafBlind and Hard of Hearing seniors with everyday needs. Our employment services include individual counselling, placement and supports as well as workplace assessments and interventions. We also offer intervenor services by matching DeafBlind individuals' needs and communication preferences with trained intervenors.
Communication Devices
Our website and Communication Devices Showroom displays a variety of assistive listening and alerting devices that assist in communication at home and in educational, vocational, and social environments. We are a one-stop source for quality products and one-on-one guidance. To further support our clients, we also make house calls to assist with the installation or use of a device. Additionally, we often meet with clients and/or therapists to ensure the safety and communication needs of those with hearing loss are met.
Community Research Program
Our goal is to foster community-based research with a focus on communication accessibility. Projects include a national survey about the impact of the COVID-19 pandemic and a review of the transit experiences of persons with hearing loss. A current project focuses on primary care providers as they play a significant role in promoting and referring patients for hearing health care. Another project is about the transit experience of persons who are Deaf, DeafBlind or Hard of Hearing.
Wavefront Centre Facility
Wavefront Centre has the distinction of achieving the highest national accessibility rating under the Rick Hansen Foundation Accessibility Certification™ (RHFAC) program for its facility at 2005 Quebec Street.