Headphones: They have Come a Long Way, Baby!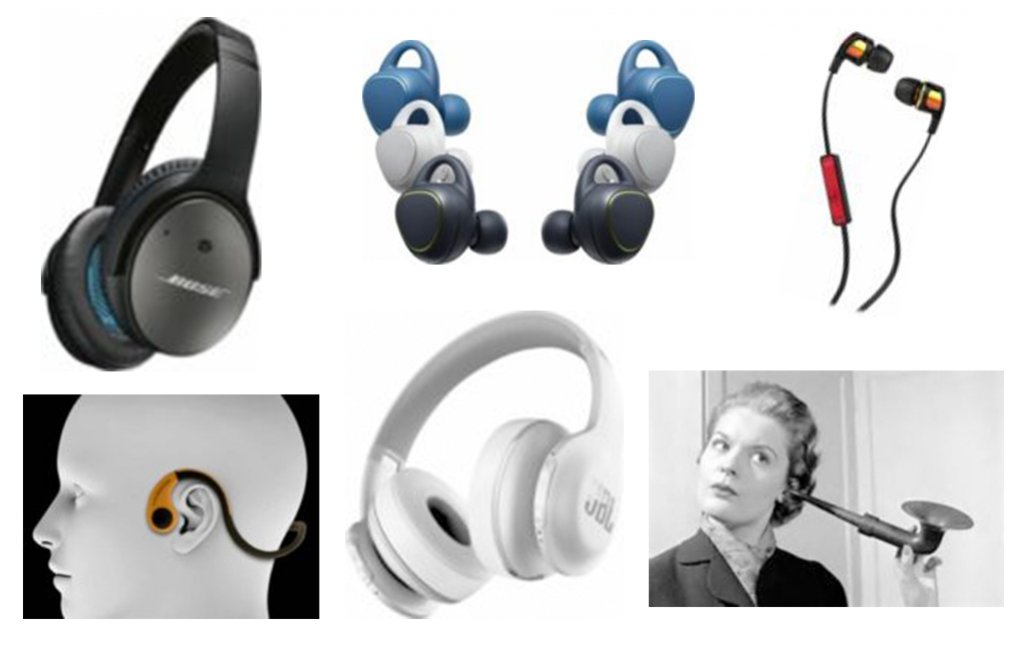 While reading this on a computer, there is an excellent chance that you are wearing, or have within reach, a pair of headphones or earbuds.  In the US and some other western cultures, there seems to be a movement to have and use some kind of "ear wear".  Probably not the ear trumpet from the 1950s pictured here, but something cool, chic, or electronically ingenious.  These devices could be over the ear, on the ear, in the ear, Bluetooth ear buds, or a non-occluding bone conduction contraption, but these days there seems to always be something in the ear. While this tends to reduce the stigma of hearing aids, it raises other questions.
Up to half of younger workers listen to music on their headphones and the vast majority thinks it makes us better at our jobs. In survey after survey, we report with confidence that music makes us happier, better at concentrating, and more productive. The research does not agree and suggests that listening to music hurts our ability to recall other stimuli, and any pop song, loud or soft, reduces overall performance for both extroverts and introverts. A Taiwanese study linked music with lyrics to lower scores on concentration tests for college students, and other research has demonstrated that music with words scrambles our brains' verbal-processing skills. Since we use headphones routinely, this week's Hearing International asks... Where did these things come from?  How did we get here? and where are we going with them?
Headphone History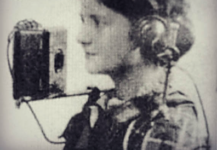 Back in the 1880s, the first headphones (or at least their early ancestors) were used by telephone operators. They were single earpieces that rested on the user's shoulder and weighed over 10 pounds (kind of like placing a boombox on your shoulder). Headphones were originally invented in Britain in 1890.  The Electrophone, in 1895, allowed customers to dial into a number and listen to the symphony through a new invention, two speakers wired together and connected with a band.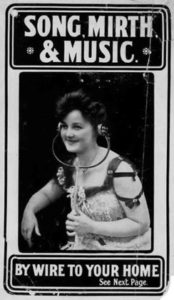 The first successful set of headphones were developed in 1910 by Nathaniel Baldwin, a Utah inventor, who made headphones by hand in his kitchen. He sold them to the United States Navy which used them to send and receive coded signals.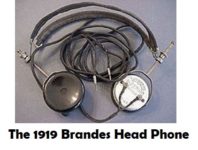 By 1919, sensitive headphones were made by Brandes and commonly used for work in the radio industry. In these early headphones, moving iron drivers were used, with either single ended or balanced armatures but the sound quality was crude. Early models lacked padding, and often produced excessive clamping forces on the wearer's head. In early powered radios, the method of connection for the headphones meant that there were bare electrical connections and users could be shocked if they touched the bare headphone connections while adjusting an uncomfortable headset.  Later, more sophisticated versions were used in World War II and even became the audiology standard – the TDH-39 headphone that was used for audiologic testing until the middle 1990s.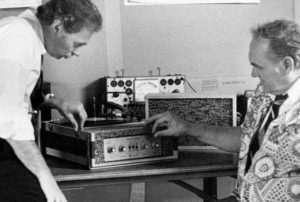 While the hearing impaired were wearing frustrating, stigmatizing body aids, hearing aid glasses, and large behind the ear hearing aids, the first stereo headphones were invented in 1958 by John C. Koss, a Milwaukee-based jazz musician and audiophile. Before his time, headphones were used only in industry by telephone operators and the like. Koss's original idea consisted of a total stereo package: a small portable phonograph with attached speakers and his new headphones, designed with an audio engineer. Click here or on the picture of Koss and his engineer (left) and find out the video story of the invention of the stereo headphone.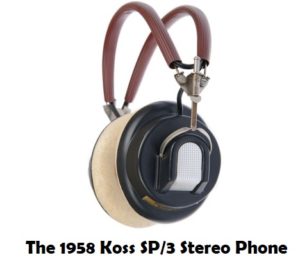 Koss sought to replicate the excitement of a live musical performance and his SP/3 stereo phone allowed listeners to experience sound as they never had before, bringing them closer to the music they loved. Since the original Koss SP/3s, the product has been continuously updated until today it is right there with best of them. The Koss stereo headphones were so popular that they were fitted to Air Force One in 1969 and used by most of the popular entertainers of the 60s, 70s, and 80s, including Tony Bennett, Doc Severinson of the Tonight Show, Mel Torme, Pete Fountain, and many others.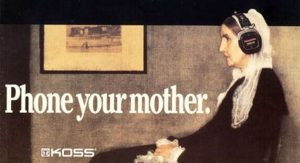 Koss had come up with something purely for music and he helped fuel a revolution in how people listened to it. His timing couldn't have been better, coinciding with the invention of the baby boomer teenager and a small thing called Rock 'n' Roll. Some of the ad campaigns were ingenious such as "Lettuce Entertain You", "Rebel with a Koss" and, a personal favorite, "Phone your Mother". Today, the Koss company makes just about every style headphone available and is world renown for the quality and innovation. 
Noise Cancellation Headsets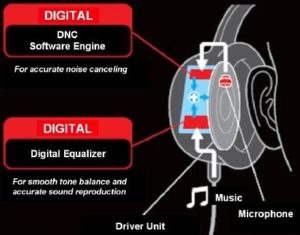 Another major breakthrough, the brainchild of Dr. Amar Bose, was the noise cancelling headset. The story goes that in 1978, Dr. Bose, a sound engineer and MIT professor was flying from Zurich, Switzerland to the USA when he was offered headphones by the airplane staff to listen to music on flight. But, with the constant drone of the airplane engines, he could not enjoy the music. In fact, Bose could barely hear it. He began scribbling calculations on a paper napkin to see if it was possible to design headphones that could remove this noise. The Bose company claims that the mathematical calculations that began in that flight, thousands of feet above the Atlantic Ocean, gave birth to a new era in the science of noise reduction and cancellation. Excited by his early calculations, as soon as Dr. Bose returned from his trip to Europe, he formed the Noise Reduction Technology Group to work on this technology specifically. 
Although he had initially identified the noise problem when travelling as an airline passenger, there was early recognition that noise reduction technology could have an important application in the cockpit. Thus, the Bose first generation noise cancelling headset debuted in 1986 for the pilots of Voyager "around the world flight". It was the result of substantial research and specifically designed to reduce background noise. After a couple of other prototypes, noise cancelling became practical in the year 1989, and the rest is history!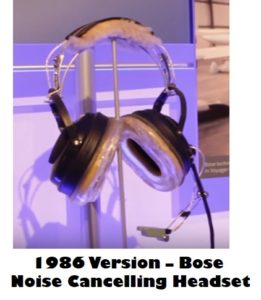 If you think that Bose was first with noise cancellation, think again. A British mathematical physicist and engineer by the name of Thomson was using two Bell telephones to experiment with noise-cancellation in 1878. He was one of the first to conclude that it was possible to cancel sound with sound. This was a tremendous achievement for the science of the time when wave phenomena weren't properly understood and electromagnetic waves were yet to be discovered, but not a single technical realization of sound cancellation came for 60-70 years.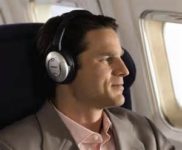 In 1934 a patent was issued to Paul Lueg for the cancellation of noise by cancelling sinusoidal tones in ducts by phase advancing the wave and cancelling arbitrary sound in the region around a loudspeaker by inverting the polarity. Lawrence Fogel created headphones to cancel the noise in aircraft and helicopter cockpits in 1950.  By 1957, Williard Meeker had developed a paper design and a working model of active noise control applied to circumaural earmuff that had an active attenuation bandwidth of approximately 50-500 Hz and a maximum attenuation of about 20 dB.  Bose simply took these concepts and put them together and designed his noise cancelling headsets that were eventually used by aviators and many others. Click here or on the 1986 Version of the Bose Noise Cancelling Headset picture for a video of how they were developed.
Today, you cannot board an airplane anywhere in the US and other western countries without seeing many passengers retreating to the concert hall with their Bose (and now other makes) noise cancellation headphones.  It's the cool thing to do, put on your headphones, get out your iPhone and set up the tunes for the flight.
Wow... Where Do We Go From Here?
The next step in the headphone saga will undoubtedly be Hearables. A complete discussion of Hearables and their benefits and limitations was presented a few weeks ago in the Hearing Economics section of Hearing Health and Technology Matters. There are at least eight manufacturers of Hearables, each with various features and benefits. Regarding Hearables, Noah Kraft of Doppler Labs, suggests that there is one human sense that has been screaming for an overhaul... and that is hearing. Mr. Kraft further states, "It's time to have computers in your ears and the Hearable ear buds can be modified depending upon the setting, jet planes, office space as well as layers of other media such as a baseball for football game. These Hearable ear buds can be what you want them to be... " Just as smart phones connect to hearing aids and the hearing instruments become headphones, the Hearables can do the same thing for those with normal hearing. Typical functions of the Hearable devices allow them to:
Adjust real-world volume, tune into what you want, and tune out the noise
Stream music and audio content wirelessly
Take bluetooth-enabled, hands-free phone calls
Selectively filter out an airplane engine, office chatter, a siren, and more
Amplify speech to tune into every word at a crowded restaurant or party
Transform live experiences with volume control, EQ, and sound effects
There are various configurations of these instruments but rather than simple headphones, the Hearable is the next generation of  cool, chic, and electronically ingenious earwear.
 

References
Bose Corporation (2016). Explore our headphones. Retrieved December 6, 2016.
della Cava, M. (2016).  What? These earbuds are tiny computers?  Fort Collins Coloradoan.  November 27, 2016. 
Doppler Labs (2016).  HereOne Product Website. Retrieved December 6, 2016.
Drell, L.  (2011).  How Bose headphones sparked a noise cancellation revolution. Mashable.  Retrieved December 6, 2016.
Koss Company (2016). Koss History.  Retrieved December 6, 2016.
Newman, M. (2016).  The History of Headphones.  Cool Material.  Retrieved December 6, 2016.
Parikh, M. (2012).  Invention Story: Noise Cancelling Headphones.  Engineers Garage.  Retrieved December 6, 2016.
Rifkin, G. (2013). Amar G. Bose, Acoustic Engineer and Inventor, Dies at 83. New York Times, July, 13, 2013.  Retrieved December 6, 2016.
Images
Doppler Labs (2016).  HereOne Product Website.  Retrieved December 6, 2016.

Videos
Allevarac (2014).  The birth of the stereo headphone.  John Koss.  youtube.com Retrieved December 6, 2016.
Digital Trends (2014).  From pilot to passenger: History of the Bose noise-cancelling headphone.  YouTube.com  Retrieved December 6, 2016. 
 
From: http://hearinghealthmatters.org/hearinginternational/2016/headphones-they-have-come-a-long-way-baby/