Striking the Right Balance
Introducing Balance and Dizziness Canada
Erica Zaia, MSc, RAUD, Certified in Vestibular Assessment and Management
In this edition of "Striking the Right Balance," Erica Zaia, President of Balance and Dizziness Canada, gives us an overview of the Society and highlights resources for the general public and opportunities for Vestibular Audiologists to participate in this important nationwide initiative.
Michael Vekasi, AuD, R.Aud, Aud(C), FAAA and Erica Zaia, MSc, RAUD are coordinating the "Striking the Right Balance," feature which will cover the latest information on 'all things vestibular.'
If you would like to be more involved in all things vestibular, please sign-up for the Vestibular Special Interest Group. Sign-up by simply emailing CAAvestibular@gmail.com to let us know you want to be a part. Also, check out our Facebook page for a free list of online vestibular resources at the CAA National Vestibular Special Interest Group page.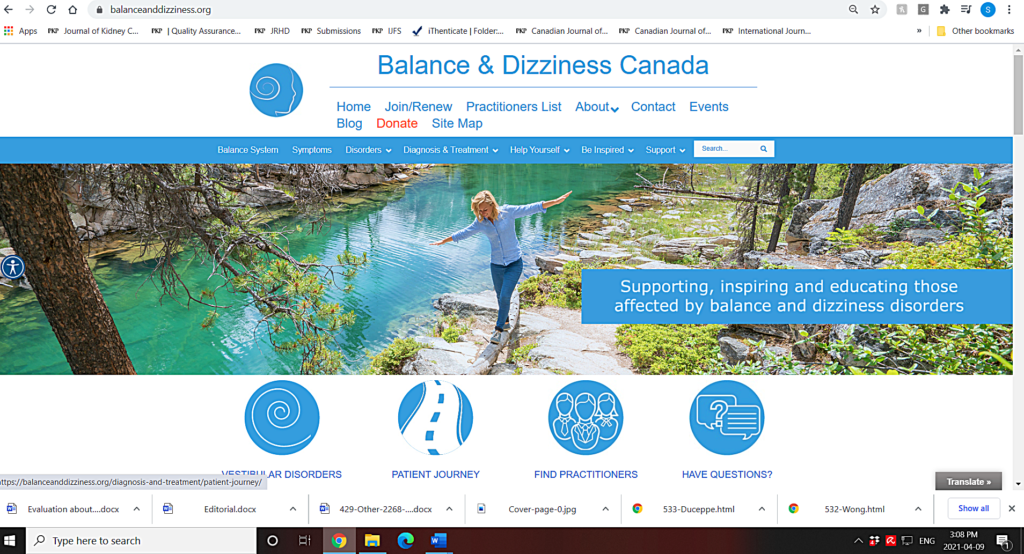 Balance & Dizziness Canada is the nation's first and only society dedicated to supporting, inspiring, and educating those affected by balance and dizziness disorders. Since its founding in Vancouver in 1999, people from across Canada have come to us for information and answers to questions about balance and dizziness disorders. We continue to be entirely funded through memberships and donations.
Balance & Dizziness Canada is proud to serve as the best source of independent, ad-free, up-to-date, evidence-based information about balance and dizziness disorders. All information on our website is written from a Canadian perspective with the intent of helping people gain clear understandings of their conditions and encouraging them to advocate for themselves within the healthcare system.
We recently reorganized and enhanced the content on our website. Now, people with dizziness can easily navigate through various sections, including how the balance system works, symptoms of balance and dizziness disorders, what conditions cause these symptoms, the journey from diagnosis to treatment, and how to build a wellness toolkit.
At the heart of our website is a set of articles profiling 27 different vestibular disorders. Written in plain language by one of Canada's leading medical writers, the information is accessible to the general public. Readers have greeted these articles with great enthusiasm, with comments ranging from, "Finally, someone has put their finger on what is going on with my brain!" and, "Thank you for your article shedding some light on my disease," to "I would not have understood my illness without reading the Balance & Dizziness Canada article."
The series of articles on vestibular disorders can also be downloaded as "Let's Talk About …" printer-friendly patient handouts. Balance & Dizziness Canada works with vestibular professionals in Quebec on a volunteer project to translate the handouts into French. We are committed to updating the articles on an ongoing basis to reflect new findings and research.
As it is challenging for the public to locate highly qualified health professionals with experience assessing and managing vestibular disorders, we maintain a Practitioner Directory of professional members of the Society. The professional membership fee is $50 a year for administration expenses. Canadians from across the country, frustrated by the long wait time for vestibular assessment through the public system, often turn to the directory to find private vestibular testing facilities. If you are in private practice and have advanced competency in assessing and treating vestibular disorders, we strongly encourage you to apply for professional membership by visiting https://balanceanddizziness.org/membership/#pro.
We were excited to launch its first webinar series, Expert Hour Live, in April. There are at least four sessions planned for this year. Healthcare professionals present all Expert Hour Live sessions. The sessions allow people to gain knowledge on balance- and dizziness-related topics from the comfort of their own homes. Each session lasts about an hour, with time for Q&A at the end.
Expert Hour Live was designed to serve a broad audience. The online format lets the Society reach Canadians from all across our vast country. Talks are equally accessible to people living in remote or rural communities and those who may not be well enough to get out and about. For those who cannot attend a live event, closed-captioned recordings and Q&A is made available on-demand afterward for future viewing through the Balance & Dizziness Canada website.
As president of Balance & Dizziness Canada– and an audiologist – I was delighted to present the first webinar, "Help! I'm Dizzy: Navigating the Healthcare System", on April 15th. All audiologists with a particular interest in vestibular disorders are encouraged to step forward to present future sessions of Expert Hour Live. As well as being a way to share your expertise, it is also a valuable opportunity to showcase your services and reach potential clients for those in private practice. If you are interested in presenting a webinar, please email info@balanceanddizziness.org.
We are also working on a longer-term project to create short animated videos that explain complex concepts related to the vestibular system in a clear and straightforward format that any viewer may easily interpret. The first animation will focus on BPPV. An advantage of using animation is it can be widely accessible over the Internet, and the voiceover and captions may be translated into different languages.
I encourage you to show your support and commitment to growing and sustaining Balance & Dizziness Canada by joining other audiologists who already donate to and/or are members of the Society, either at the standard or professional level. Every single donation helps dizzy Canadians on their journey toward regaining balance. I am counting on your support! Find us at http://balanceanddizziness.org.