May is Speech and Hearing Month in Canada
It may be common knowledge among hearing health professionals in Canada that the month of May is Speech and Hearing month. However, I am quite certain that this is not top of mind for the general public. So, I challenge each of you to take time this month to reflect and ask yourself 'What am I doing to raise awareness for Hearing Health in Canada?'
Fortunately, the CAA has already done a lot of the hard work for you.  We have developed numerous tools and marketing resources that can assist those with hearing loss and which contribute to raising the awareness of all Canadians of the importance of hearing health for themselves and their loved ones. Not surprisingly, this year we have had more requests for help with managing communication by those with hearing loss using phones and video communications.  With the leadership of Janine Verge and her team (Eli Lubell, Lauren Peters, and Melanie Santhikumar) we have created a 3-piece campaign we are sharing with any person, family or health professional who can benefit. 
Please take time to review all of the links below. You will find the resources to be extremely informative and practical. I am confident that you will want to use and share them this May month and throughout the year ahead.
CAMPAIGN ONE: ACCESSIBILITY
Part 1: The Poster – 12 phone and video calling solutions for people with hearing loss
Click on the poster to go to the CAA website for the downloadable file you can print and post in your clinic, workplace or wherever you know people will benefit. The poster has a QR code and link for people to easily find the downloadable booklet with large collection of in-depth solutions.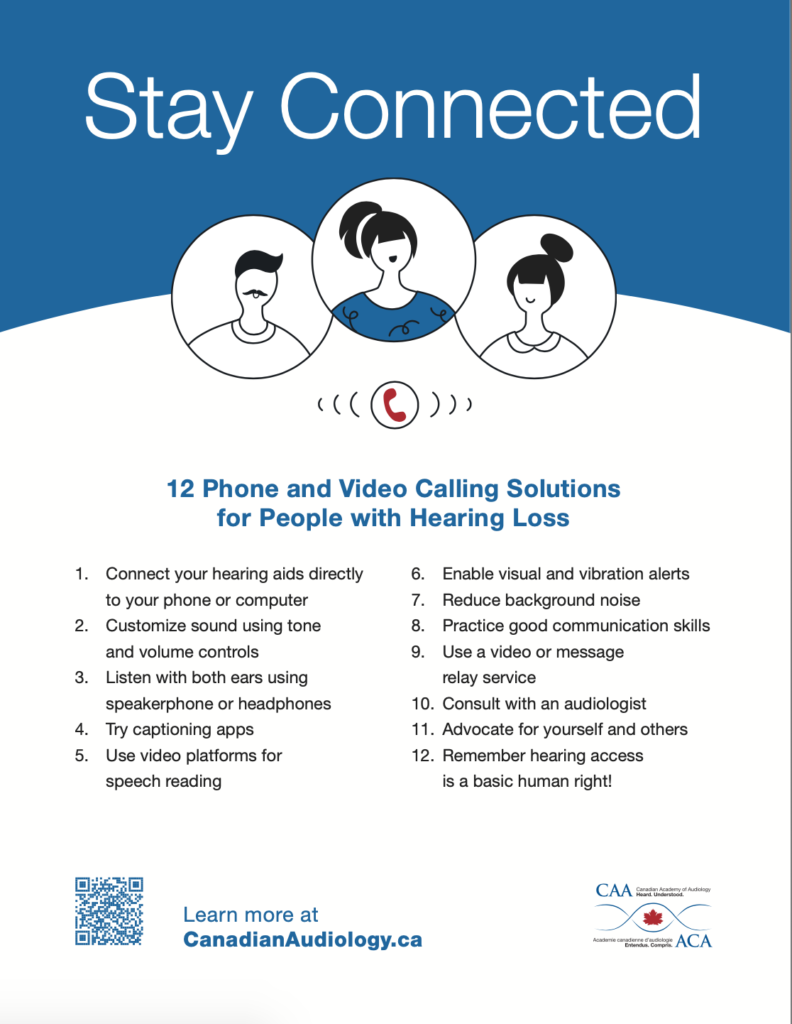 Part 2: The animated video-graphic of 12 phone and video calling solutions for those with hearing loss
The link will take you to a video-graphic which gives animation to the concepts in the poster. You can share it on your social media, in your clinics or other public places. Links are embedded to take the viewer to the website for all downloadable parts of the campaign.
Part 3: The phone and video calling solutions BOOKLET
Those who have or know someone who has difficulty hearing with a phone and video call will relate to the challenges outlined in the preamble.  The long list of solutions provides advice and links to resources on a broad range of challenges that might be supported for those with hearing loss.  This wonderful guide was researched by experienced Audiologists with special interest in enhancing accessibility.  Thanks to Janine Verge for leading the author team.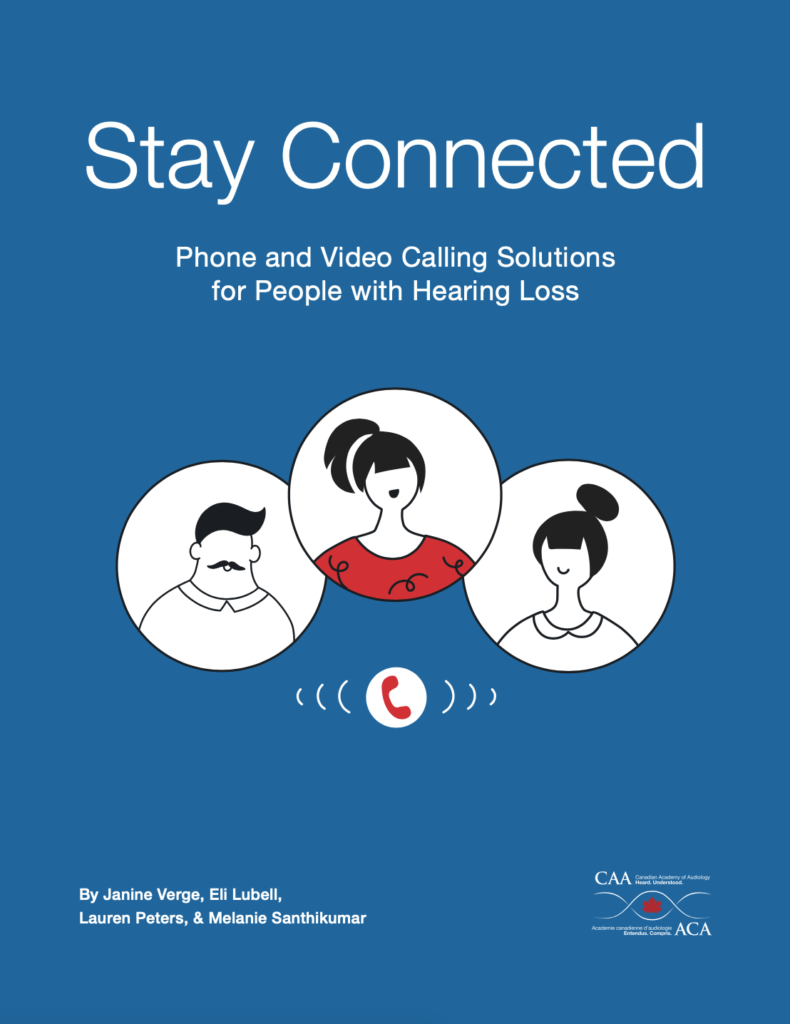 PLEASE SHARE ALL OF THE PARTS OF THIS CAMPAIGN with anyone who cares about supporting accessibility for those with hearing loss.
---
CAMPAIGN TWO: INCREASE AWARENESS OF THE IMPACT OF HEARING LOSS AT MANY STAGES OF LIFE
This campaign consists of 4 sets of 2 public awareness ad frames. WXYZ. These ads are downloadable for any member of the Canadian Academy of Audiology for educating across many possible sites. Click on the photos below to go to the website to download and use the communication ads.
Adult Animated GIF
CAA members please click on this link for similar animated ads for Infants, Teens and Seniors
More resources on the CAA website:
As usual we continue to provide high level education and marketing support tools. Our April webinar and upcoming June webinars are valuable resources. Please follow the links to view our library of recorded webinars and marketing tools.