The National Centre for Audiology and a conversation with Dr. Susan Scollie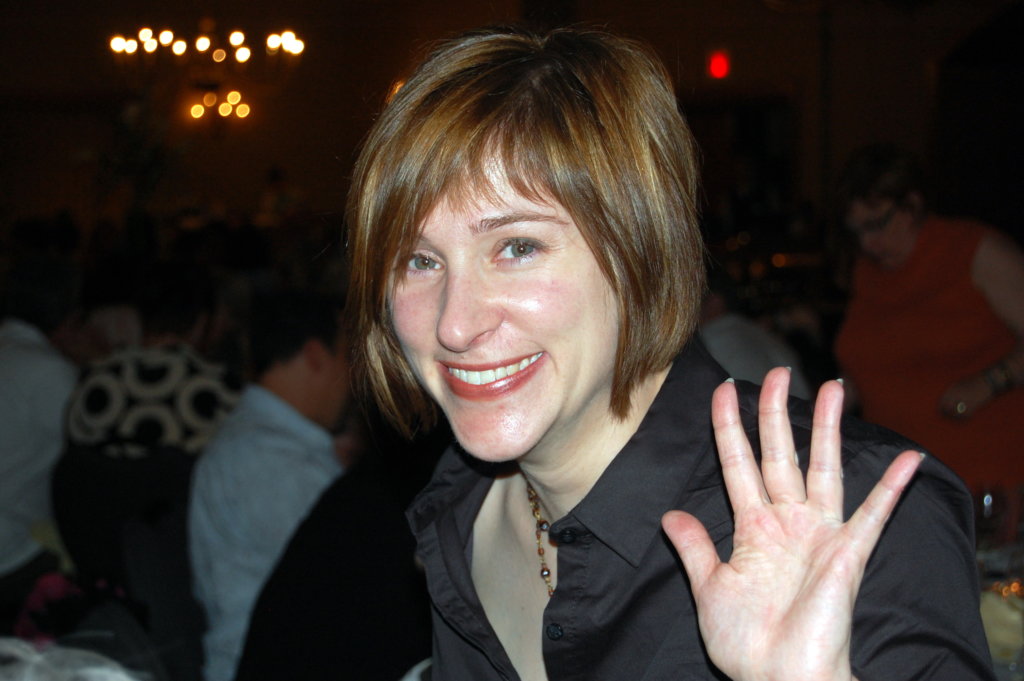 Q: The initial start-up of the National Centre for Audiology (NCA) must have had numerous obstacles to overcome. Can you provide a bit of a "fly on the wall" perspective about some of these issues?
The research Centre itself was started up from the former Hearing Healthcare Research Unit with a $1.2M research infrastructure grant from the Canada Foundation for Innovation (CFI). This allowed a small group of hearing researchers, including Don Jamieson, Richard Seewald, Prudence Allen, and Meg Cheesman, to more than double the number of labs, add some specialized facilities such as our anechoic chamber, and really set us up to recruit some new, motivated young faculty members. I was a Ph.D. student when this was all happening – we opened in 2001, and I graduated in 2003 so it really was a "fly on the wall" view at the time. This project also received significant support from donors, including companies, clinics, and individuals. It also allowed us to become a Senate-approved Research Centre at Western. These starting places for the Centre then grew further under the leadership of Dr. Prudence Allen, who branched out our membership into auditory neurosciences, otology, and biomedical physics, and who successfully obtained significant additional CFI support in 2007 and again in 2013 to expand and improve our laboratories with state-of-the-science equipment. These initiatives allow us to have a wide range of excellent hearing research labs, including special facilities such as our anechoic and reverberant chambers, and dedicated labs for auditory neuroscience, test development, and advanced hearing aid verification facilities.
Q: What is the relationship between the NCA and the Western University School of Communication Sciences and Disorders?
The two are separate entities but are friendly neighbours who work together. We are both parts of the Faculty of Health Sciences at Western. NCA faculty members have academic appointments in Schools or Departments at Western but maintain an additional research affiliation with the Centre. Many of the NCA's investigators are also professors and clinical faculty in the school of CSD, so we have a close collaborative relationship. The NCA is home to the laboratories of all CSD audiology faculty members, so our graduate students mostly do their research within the NCA, especially if they require lab equipment and professional research support. Our non-CSD investigators are from a wide range of other departments and programs and have labs outside of CSD, including neuroscience, otolaryngology, psychology, and anatomy/cell biology. Research students are enrolled in a wide range of programs at Western, including Health and Rehabilitation Sciences especially in the Hearing Sciences field, Neuroscience, and Engineering, and may be student members of the NCA. The NCA does not grant degrees, but we are a home base to investigators and their students using NCA lab facilities.
Q: Are students routed into an already existing program of research at NCA, or can they come up with their own ideas?
When applying to any of Western's research-based master's programs or Ph.D. programs, research students must identify a supervisor and a topic of study. Then, when planning meetings, the student and supervisor can explore ideas and find an area of mutual interest. Videoconferencing software has made it easier to have great exploratory conversations with prospective students, regardless of location. We're open to students' ideas, but we also bear in mind that most research requires support, expertise, and time, so there needs to be a fit between student and supervisor interests and resources. Sometimes, if the supervisor has funding targeted at a specific topic, they may encourage the student to work in that area because the supervisor's grant can provide the necessary resources for a successful set of projects. Other times, the student may have a strong interest in a given topic and may wish to take it on and find their own funding through scholarship applications. These plans get worked out on a case-by-case basis. Ultimately, the student is applying to a program, so the admission decision is actually up to the program.
Q: Do you have a sense of the number of research studies that the NCA has undertaken, and roughly what percentage of this work has been translated into clinical protocols and knowledge applications.
We organize our research themes into three clusters: Hearing Science and Assessment, Hearing (re)Habilitation, and Implementation. Our last Centre report was in 2019 and at that time we had collectively produced 810 papers, 85% were devoted to hearing, hearing impairment, ear disorders, structure/function/imaging/surgery of the ear, training simulations for use in audiology or otology, hearing aids, aural rehabilitation, speech recognition, noise, hearing loss prevention, and clinical procedures related to audiology and otology. The vast majority of our papers are co-authored, typically across multiple NCA members, which speaks to the highly collaborative nature of our Centre and its members. We also saw that after the NCA opened in 2001, our rate of publication increased, with jumps of 17% between 2006-2010 and 47% between 2011-2015, thanks in part to growth in the number of new faculty members and their hard work establishing new labs.
Regarding translating this work into clinical protocols and knowledge applications, our Implementation Cluster researchers aim to achieve this whenever feasible. Certainly, our research citations are high, placing us in the top five most-cited institutions in North America, but impact is more than that. We develop Ontario's Infant Hearing Program (IHP) protocols, which Marlene Bagatto has made publicly-available through our open-access channel on Scholarship at Western (https://ir.lib.uwo.ca/nca/). These protocols are downloaded worldwide and provide information on screening, risk factors, surveillance, pediatric hearing assessment, pediatric hearing aid fitting, and outcome measures. One recent and interesting protocol provides procedures and norms for hearing screenings for older babies who missed their universal newborn hearing screening due to early Covid-19 lockdowns. As you know, we need different protocols with an older infant, but our collaborations with the IHP, the Children's Hospital of Eastern Ontario, and Humber River Hospital, helped us to pull these together quickly for use in Ontario when that was needed. Thanks to the support provided by Ontario's IHP for the services, and to an army of community clinicians who normally work outside of the IHP and stepped up to help get those kids tested quickly, we were able to apply our knowledge during a critical time for Ontario children.
A wide range of other clinical resources have also been developed and posted to the NCA website. These include outcome measures for adults (Mary Beth Jennings' SESMQ, which assesses situational self-efficacy) and for kids, such as Marlene Bagatto's PedAMP protocol and the CD version of the Ling6(HL) test, developed and normed (Glista et al., 2014) by the Child Amplification Lab, as well as specific supports in fitting frequency lowering hearing aids. Sheila Moodie and Dave Sindrey have shared their HearON video series that provides informational support to parents of children who use hearing aids (Sindrey et al., 2020). Danielle Glista and the team at the H.A. Leeper Speech and Hearing Clinic have shared guidelines for Virtual Hearing Aid Care, based in part on ongoing work to define professional practices in connected and remote care (Glista et al., 2021). If you are interested in updates on NCA research, I'll invite you to join our LinkedIn group or follow us on Twitter (@WesternuNCA) (Figure 1).
Q: Any large research institution such as the NCA not only has audiologists, but also a wealth of other contributing professions. Can you provide an overview of the current professional make-up of the NCA such as engineers, researchers, and clinicians?
We are currently working on expanded membership categories to better reflect the reality of our work, our collaborators, and our alumni. Currently, we have 18 principal investigators, and five associate members who are onsite clinical partners, five full-time staff members and many students. Our members include Audiology faculty that many of your readers know. Our other members are folks from Engineering including Vijay Parsa and Hanif Ladak, and Audiology faculty-who-have-engineering-backgrounds Ewan Macpherson and David Purcell, who together bring us their expert knowledge of signal processing and sound quality, cochlear imaging, spatial hearing, and auditory electrophysiology.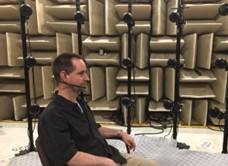 Speech-Language Pathology member Janis Oram Cardy studies auditory cortical processing in language development and disorders (Kwok et al., 2018a,b; 2019), and works with Ontario's Infant Hearing Program to develop evidence-based protocols for spoken language services (Daub & Oram Cardy, 2021). We also have a wide range of members across Western who are interested in hearing from the perspectives of disciplines other than Audiology. This includes Brian Allman and Sarah Hayes, in Anatomy and Cell Biology, who have studied the neural mechanisms of both tinnitus and hyperacusis (Hayes et al., 2021). Our colleagues in Neuroscience include Ingrid Johnsrude and Blake Butler, who study complex sound perception and determine how sound is processed in the brain and its affects on how we perceive sound. Our colleagues in Otolaryngology and Medical Biophysics include Hanif Ladak and Sumit Agrawal, who develop novel implantable strategies using imaging (Helpard et al., 2021), develop and test simulators for use in education, and who apply machine learning techniques to solve clinical problems such as response detection for ABR (Wimalarathna et al., 2021). As a result, many of our research students and postdoctoral scholars at the NCA have had an interdisciplinary flavour to their training, either formally or informally, due to our rich interdisciplinary environment. Some are engineers, others are audiologists, and still others are basic scientists. Our common thread is trying to understand hearing and the impact of hearing disorders and hearing services.
Q: We can't talk about the NCA without also talking about Dr. Richard Seewald. What kind of legacy has Richard left for the NCA, and for Western University?
I think that Richard's commitment was really to the profession and to the children whom we serve. This led him to put in a lot of effort to get new results out the door, so he was doing what we now call "knowledge translation" and "tech transfer" before there were really terms or methods for those, or much administrative support for it either. Sheila Moodie's significant efforts to assist him in this mission, for DSL specifically, wound up spurring her interest in Implementation Science and use of the CIHR Integrated Knowledge Translation framework. She's applied these in many NCA projects and in an international collaboration group called KIPA. These perspectives were game-changers for us in understanding how to more effectively try to reach those goals, partner with wonderful clinical colleagues, and work together to solve problems and develop useful tools. Richard was a great mentor for being kind to yourself through the challenges that research brings, and for his commitment to Early Hearing Detection and Intervention (EHDI) program development in Canada. I see this work being carried on in many ways now, including the ongoing efforts of the Canadian Infant Hearing Task Force which is chaired by Marlene Bagatto and has representation from across the country, and the tireless efforts by the many EHDI program coordinators, managers, and clinicians across Canada. Our recent collaborations with Alberta's EHDI program of dedicated leaders and wonderful clinicians has reminded me of Canadian audiologists' ongoing efforts to implement EHDI across our country.
Q: Dr. Seewald's research forte (and understandably yours) is research with the pediatric population. Has this continued at the NCA or are the researchers there equally as interested in the adult population?
We definitely continue to have many researchers interested in pediatrics, including much of the work that I've already mentioned above. Prudy Allen and Chris Allan collaborate to develop app-based testing for APD evaluation: they continue to work with colleagues Vijay Parsa and Sheila Moodie on this interesting upcoming testing tool (Soares et al, 2021). David Purcell and I are working with alumnus Viji Easwar and colleague Steve Aiken to develop and validate an aided evoked potential measurement that provides frequency-specific responses to speech sounds – likely this would be of interest for infants (Easwar et al., 2021). However, we have many researchers who work with the adult population. Our collaborative Hearing Aid Technologies and Outcomes lab is shared between myself, Paula Folkeard, Ewan Macpherson, and Vijay Parsa, and evaluates novel technologies for adults who use hearing aids. Recently, work in this lab was successful in completing trials of the Earlens device (Folkeard et al., 2021; Lucas et al., 2022; Vaisberg et al., 2021), explored step counting and falls detection in hearing aids (Rahme et al., 2021) and measuring factors underlying preferences for technology levels in hearing aids (Saleh et al., 2021). We've also co-developed a vent-model option for coupler-based verification of open fittings with Audioscan (Pumford et al., 2021). Ewan Macpherson's work to better understand the human spatial hearing system is adult-focused (Macpherson & Ransom, 2018). Susan Stanton's collaborations with Terry-Lynn Young at Memorial University of Newfoundland (MUN) on discovering the genetic underpinnings of hearing loss is family-based and spans a wide range of ages – several novel hearing loss genes and mutations have been identified causing different types of sensorineural, progressive loss (Pater et al., 2022; Pater et al., 2017; Stanton et al., 2014) Their recent groundbreaking discovery of the first known gene causing otosclerosis is a very exciting breakthrough that comes from many years of collaboration (Abdelfatah et al., 2021). In auditory neuroscience, Ingrid Johnsrude's work on familiar voices and context-rich listening is aimed at unpacking how adults perform these tasks in real-world complex environments (Holmes & Johnsrude, 2021; Irsik et al., 2021), while Blake Butler investigates interactions between neuroplasticity and hearing disorders (Herrmann & Butler, 2021).
Q: Can you describe any recent work on the DSL fitting formulae that have been developed at the NCA?
Certainly. Now that hearing aids provide an extended band of aided sound, we noticed that we can fit to those formerly-impossible DSL targets a lot better than we could, say 10 to 15 years ago. We've recently normed the goodness of fit to targets (Dao et al., 2021) in terms of aided SII values and error from target for the DSL v5-adult prescription, which complements similar norms (Bagatto, 2016; Moodie et al., 2017) that have been available for kids for some time and that continue to be used in clinical research (Amri et al., 2021). Both the adult and pediatric normative data are now implemented into the Audioscan Verifit2 system. We've also been trying to understand how speech recognition, loudness, and preference interact with each other when we actually provide broadband hearing aid fittings to both adults and children (Van Eeckhoutte et al., 2020a, 2020b). There is an improvement of recognition of high-frequency speech sounds with today's hearing aids compared to a fitting that stops at about 4500 Hz: we can provide more than that, and help people have accurate recognition of sounds that are difficult to hear without high-frequency audibility. Most kids prefer extended bandwidth, and adults either prefer it or don't really have a preference (even though they do better) with few individual exceptions. However, the benefit of extended high frequency audibility comes at a loudness cost: soft and mid-level speech are both okay, but loud speech gets a bump up in loudness with extended bandwidth. Applying the DSL prescription for use in quiet, paired with a good automatic noise program (Scollie, et al., 2016) is probably a way to overcome this. Some early evidence to support this idea was recently gathered in a real-world study of kids using the DSLv5-noise prescription, showing that kids prefer to have a noise management program with less gain in high-level, high-noise environments (Glista et al., 2021), in agreement with previous work comparing DSL and NAL in kids.
Q: Your work has always been focused on translational issues with direct relevance to clinical practice. What hurdles, if any, have you had to overcome to translate your work to the clinic?
I've certainly found that pediatric audiologists and the hearing industry are keen to make changes if it means better hearing care for kids. This has always been inspiring, and has led to rapid implementation of things like our nHL to eHL concept and corrections (Bagatto et al., 2016), DSLv5 for infants and young children, our stimuli for verification of frequency lowering (Scollie, Glista, et al., 2016), and targets for bone-anchored hearing aids (Hodgetts & Scollie, 2017). Software-based implementations of DSL have gotten a lot better and provide good consistency (Folkeard et al., 2020). I hope that some of the newer tools mentioned above will also be seen as useful and adoptable, and that our current work to build better solutions for headband-worn bone conduction devices will develop new and better protocols, with support from colleagues in the Pediatric Bone Conduction working group (Bagatto et al., 2021) (Figure 3).
In contrast, it seems like the DSLv5-adult prescription remains a best-kept secret worldwide. I know many Canadians who use it routinely, but elsewhere it isn't the norm. The thing that I find interesting about that is that speech quality and music perception can benefit from broadband amplification (Folkeard et al., 2021; Vaisberg et al., 2021; Van Eeckhoutte et al., 2020a,b), so I sometimes wonder what adult-focused hearing aid outcomes would look like if more fittings used audibility to its fullest potential. A likely hurdle for this, probably, is our current lack of targets for new users, so I think we do need to improve upon that with a lower-gain target for newer users, especially in the high frequencies. Anecdotally, this may mean that under-fitting a new user and applying gain adaptation may be one option, but that's a topic for another day.
Q: As Director of the NCA, you lead an excellent group of scientists. What do you love most about what you do? Can you tell me about some of the future work being planned at the NCA?
So many things. First and foremost, I love seeing our students grow and develop. I love collaborating with our clinical and industry partners, because they are the ones who make real changes happen. Our contract-based Translational Research Unit is thriving and has provided ethical, arm's length product evaluation studies for more than 15 companies since inception. I love seeing future possibilities in innovations that we need to adopt, adapt, and implement to make them available for use in hearing clinics. Sometimes, our centre lets us learn about a new technology that isn't being used yet for hearing, but could be. My favourite current example of that is the CARL manikin from AHead Simulations. Years ago, Hanif Ladak presented to our group on his training simulators for ear surgeons. We pointed out to Hanif that we also have training needs in Audiology, and he promised to work with us on that when he found the right student. Some months later he got back in touch, and a collaboration with then-student, now-company-president Rob Koch was founded, and developed a validated simulator for use in teaching probe-tube placement (Koch et al., 2018, 2020), winning a Governor-General's gold medal to boot. I love using CARL for teaching more than just probe tube placement (Scollie & Koch, 2019). We have recently normed CARL's ear canal acoustics for 3 different anatomies (Folkeard et al., 2022). Next, we plan finish testing a new version of CARL that can simulate hearing loss and "hear" during audiometry (Figure 3), which has been under development with AHead simulations and Vijay Parsa's lab for several years. Looking to the future, we are excited to really return to in-person research. We have a series of exciting collaborations planned that involve numerous NCA researchers and students in hearing aid signal processing, remote technologies, machine learning, test development, family-centred care, policy and programs, and basic science in perception of sound. These are in early stages, so stay tuned for more!
---
References
Abdelfatah, N., Mostafa, A. A., French, C. R., Doucette, L. P., Penney, C., Lucas, M. B., Griffin, A., Booth, V., Rowley, C., Besaw, J. E., Tranebjærg, L., Rendtorff, N. D., Hodgkinson, K. A., Little, L. A., Agrawal, S., Parnes, L., Batten, T., Moore, S., Hu, P., … Young, T.-L. (2021). A pathogenic deletion in Forkhead Box L1 (FOXL1) identifies the first otosclerosis (OTSC) gene. Human Genetics. https://doi.org/10.1007/s00439-021-02381-1
Amri, N. A., Quar, T. K., Chong, F. Y., & Bagatto, M. (2021). Optimising hearing aid output to paediatric prescriptive targets improves outcomes in children. International Journal of Audiology, 1–8. https://doi.org/10.1080/14992027.2021.2005832
Bagatto, M. (2016). Providing Hearing Aids to Infants and Young Children. Journal of the American Academy of Audiology, 27(03), 164–165. https://doi.org/10.3766/jaaa.27.3.1
Bagatto, M., Gordey, D., Brewster, L., Brown, C., Comeau, M., Douglas, C., El-Naji, R., Fortier, S., Gascon, A., Godovin, J., Ittner, C., Magathan Haluschak, M., Mauro, L., Morgenstein, K., Peterson, J., Scollie, S., Scott, M., & Wollet, A. (2021). Clinical consensus document for fitting non-surgical transcutaneous bone conduction hearing devices to children. International Journal of Audiology, 1–8. https://doi.org/10.1080/14992027.2021.1939449
Bagatto, M., Moodie, S., Brown, C., Malandrino, A., Richert, F., Clench, D., & Scollie, S. (2016). Prescribing and Verifying Hearing Aids Applying the American Academy of Audiology Pediatric Amplification Guideline: Protocols and Outcomes from the Ontario Infant Hearing Program. Journal of the American Academy of Audiology, 27(03), 188–203. https://doi.org/10.3766/jaaa.15051
Dao, A., Folkeard, P., Baker, S., Pumford, J., & Scollie, S. (2021). Fit-to-Targets and Aided Speech Intelligibility Index Values for Hearing Aids Fitted to the DSL v5-Adult Prescription. Journal of the American Academy of Audiology, 32(02), 090–098. https://doi.org/10.1055/s-0040-1718707
Easwar, V., Scollie, S., Lasarev, M., Urichuk, M., Aiken, S. J., & Purcell, D. W. (2021). Characteristics of Speech-Evoked Envelope Following Responses in Infancy. Trends in Hearing, 25, 233121652110043. https://doi.org/10.1177/23312165211004331
Folkeard, P., Alam, M., Koch, R., Abbasalipour, P., Scollie, S., (2022). An evaluation of the CARL manikin for use in "patient-free" real ear measurement: consistency and comparison to normative data. International Journal of Audiology, (accepted for publication doi: 10.1080/14992027.2022.2048104).
Folkeard, P., Bagatto, M., & Scollie, S. (2020). Evaluation of Hearing Aid Manufacturers' Software-Derived Fittings to DSL v5.0 Pediatric Targets. Journal of the American Academy of Audiology, 31(5), 354–362. https://doi.org/10.3766/jaaa.19057
Folkeard, P., Eeckhoutte, M. V., Levy, S., Dundas, D., Abbasalipour, P., Glista, D., Agrawal, S., & Scollie, S. (2021). Detection, Speech Recognition, Loudness, and Preference Outcomes With a Direct Drive Hearing Aid: Effects of Bandwidth. Trends in Hearing, 25, 233121652199913. https://doi.org/10.1177/2331216521999139
Glista, D., O'Hagan, R., Van Eeckhoutte, M., Lai, Y., & Scollie, S. (2021). The use of ecological momentary assessment to evaluate real-world aided outcomes with children. International Journal of Audiology, 60(sup1), S68–S78. https://doi.org/10.1080/14992027.2021.1881629
Glista, D., Scollie, S., Moodie, S., Easwar, V., & The Network of Pediatric Audiologists of Canada. (2014). The Ling 6(HL) Test: Typical Pediatric Performance Data and Clinical Use Evaluation. Journal of the American Academy of Audiology, 25(10), 1008–1021. https://doi.org/10.3766/jaaa.25.10.9
Hayes, S. H., Schormans, A. L., Sigel, G., Beh, K., Herrmann, B., & Allman, B. L. (2021). Uncovering the contribution of enhanced central gain and altered cortical oscillations to tinnitus generation. Progress in Neurobiology, 196, 101893. https://doi.org/10.1016/j.pneurobio.2020.101893
Helpard, L., Li, H., Rohani, S. A., Zhu, N., Rask-Andersen, H., Agrawal, S., & Ladak, H. M. (2021). An Approach for Individualized Cochlear Frequency Mapping Determined From 3D Synchrotron Radiation Phase-Contrast Imaging. IEEE Transactions on Biomedical Engineering, 68(12), 3602–3611. https://doi.org/10.1109/TBME.2021.3080116
Herrmann, B., & Butler, B. E. (2021). Hearing loss and brain plasticity: The hyperactivity phenomenon. Brain Structure and Function, 226(7), 2019–2039. https://doi.org/10.1007/s00429-021-02313-9
Hodgetts, W. E., & Scollie, S. D. (2017). DSL prescriptive targets for bone conduction devices: Adaptation and comparison to clinical fittings. International Journal of Audiology, 56(7), 521–530. https://doi.org/10.1080/14992027.2017.1302605
Holmes, E., & Johnsrude, I. S. (2021). Speech-evoked brain activity is more robust to competing speech when it is spoken by someone familiar. NeuroImage, 237, 118107. https://doi.org/10.1016/j.neuroimage.2021.118107
Irsik, V. C., Johnsrude, I. S., & Herrmann, B. (2021). Neural activity during story listening is synchronized across individuals despite acoustic masking [Preprint]. Neuroscience. https://doi.org/10.1101/2021.03.25.437022
Koch, R. W., Moodie, S., Folkeard, P., Scollie, S., Janeteas, C., Agrawal, S. K., & Ladak, H. M. (2018). Face and Content Validity of a Probe Tube Placement Training Simulator. Journal of the American Academy of Audiology. https://doi.org/10.3766/jaaa.17114
Koch, R. W., Saleh, H., Folkeard, P., Moodie, S., Janeteas, C., Agrawal, S. K., Ladak, H. M., & Scollie, S. (2020). Skill Transference of a Probe-Tube Placement Training Simulator. Journal of the American Academy of Audiology, 31(01), 040–049. https://doi.org/10.3766/jaaa.18054
Lucas, M., Folkeard, P., Levy, S., Dundas, D., Scollie, S., & Agrawal, S. (2022). Effects of earlens lens placement on sound field thresholds, tympanometric measurements and wideband acoustic immittance. International Journal of Audiology, 1–9. https://doi.org/10.1080/14992027.2021.1978566
Macpherson, E.A., Ransom, S. (2018). Effects of vision, listener head movement, and target location on spatial selective auditory attention. The Journal of the Acoustical Society of America 143(3), 1813-1813. https://doi.org/10.1121/1.5035945
Moodie, S. T. F., The Network of Pediatric Audiologists of Canada, Scollie, S. D., Bagatto, M. P., & Keene, K. (2017). Fit-to-Targets for the Desired Sensation Level Version 5.0a Hearing Aid Prescription Method for Children. American Journal of Audiology, 26(3), 251–258. https://doi.org/10.1044/2017_AJA-16-0054
Pater, J.A., Penney, C., O'Rielly, D.D., Griffin, A., Kamal, L., Brownstein, Z., Vona, B., Vinkler, C., Shohat, M., Barel, O. , French, C.R., Singh, S, Salem Werdyani, S, Burt, T, Abdelfatah, N, Houston, J., Lance P. Doucette, LP, Squires, J, Glaser, F, Roslin, NM, Vincent,D, Marquis, P, Woodland, G, Benoukraf,T Hawkey-Noble, A, Avraham,KB, Stanton SG, & Young TL. (2022). Autosomal dominant non-syndromic hearing loss maps to DFNA33 (13q34) and co-segregates with splice and frameshift variants in ATP11A, a phospholipid flippase gene. Human Genetics, pp.1-14 https://doi.org/10.1007/s00439-022-02444-x
Pater, J.A., Benteau, T., Griffin, A., Penney, C., Stanton, S.G., Predham, S., Kielley, B., Squires, J., Zhou, J., Li, Q. and Abdelfatah, N. (2017). A common variant in CLDN14 causes precipitous, prelingual sensorineural hearing loss in multiple families due to founder effect. Human Genetics, 136(1), pp.107-118. doi: 10.1007/s00439-016-1746-7
Pumford, J., Scollie, S., Folkeard, P., Pietrobon, J., & Abbasalipour, P. (2021). Vent Corrections for Simulated Real-Ear Measurements of Hearing Aid Fittings in the Test Box. AudiologyOnline. https://www.audiologyonline.com/articles/audioscan-vent-corrections-27884
Rahme, M., Folkeard, P., & Scollie, S. (2021). Evaluating the Accuracy of Step Tracking and Fall Detection in the Starkey Livio Artificial Intelligence Hearing Aids: A Pilot Study. American Journal of Audiology, 30(1): 182-189. https://doi.org/10.1044/2020_AJA-20-00105
Saleh, H. K., Folkeard, P., Van Eeckhoutte, M., & Scollie, S. (2021). Premium versus entry-level hearing aids: Using group concept mapping to investigate the drivers of preference. International Journal of Audiology, 1–15. https://doi.org/10.1080/14992027.2021.2009923
Scollie, S., Glista, D., Seto, J., Dunn, A., Schuett, B., Hawkins, M., Pourmand, N., & Parsa, V. (2016). Fitting Frequency-Lowering Signal Processing Applying the American Academy of Audiology Pediatric Amplification Guideline: Updates and Protocols. Journal of the American Academy of Audiology, 27(03), 219–236. https://doi.org/10.3766/jaaa.15059
Scollie, S., & Koch, R. (2019). Learning Amplification with CARL: A New Patient Simulator. 15.
Scollie, S., Levy, C., Pourmand, N., Abbasalipour, P., Bagatto, M., Richert, F., Moodie, S., Crukley, J., & Parsa, V. (2016). Fitting Noise Management Signal Processing Applying the American Academy of Audiology Pediatric Amplification Guideline: Verification Protocols. Journal of the American Academy of Audiology, 27(03), 237–251. https://doi.org/10.3766/jaaa.15060
Stanton, Susan G., Anne Griffin, Tracy L. Stockley, Christine Brown, Terry-Lynn Young, Tammy Benteau, and Nelly Abdelfatah. (2014). X-linked hearing loss: two gene mutation examples provide generalizable implications for clinical care. American Journal of Audiology 23(2): 190-200.
Vaisberg, J., Folkeard, P., Levy, S., Dundas, D., Agrawal, S., & Scollie, S. (2021). Sound Quality Ratings of Amplified Speech and Music Using a Direct Drive Hearing Aid: Effects of Bandwidth. Otology & Neurotology, 42(2), 227–234. https://doi.org/10.1097/MAO.0000000000002915
Vaisberg, J. M., Beaulac, S., Glista, D., Macpherson, E. A., & Scollie, S. D. (2021). Perceived Sound Quality Dimensions Influencing Frequency-Gain Shaping Preferences for Hearing Aid-Amplified Speech and Music. Trends in Hearing, 25, 233121652198990. https://doi.org/10.1177/2331216521989900
Van Eeckhoutte, M., Folkeard, P., Glista, D., & Scollie, S. (2020a). Speech recognition, loudness, and preference with extended bandwidth hearing aids for adult hearing aid users. International Journal of Audiology, 1–12. https://doi.org/10.1080/14992027.2020.1750718
Van Eeckhoutte, M., Scollie, S., O'Hagan, R., & Danielle Glista. (2020b). Perceptual Benefits of Extended Bandwidth Hearing Aids With Children: A Within-Subject Design Using Clinically Available Hearing Aids. Journal of Speech, Language, and Hearing Research, 63(11), 3834–3846. https://doi.org/10.1044/2020_JSLHR-20-00271
Wimalarathna, H., Ankmnal-Veeranna, S., Allan, C., Agrawal, S. K., Allen, P., Samarabandu, J., & Ladak, H. M. (2021). Comparison of machine learning models to classify Auditory Brainstem Responses recorded from children with Auditory Processing Disorder. Computer Methods and Programs in Biomedicine, 200, 105942. https://doi.org/10.1016/j.cmpb.2021.105942