Back to School During a Pandemic (still): Lessons Learned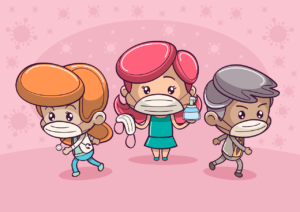 In a previous article from Audiology in the Classrooms, "June Tired": Back to school during a pandemic, I talked about challenges and issues that educational audiologists and teachers of the deaf and hard of hearing anticipated during the 2020-2021 school year, based on a few months' experience in the spring of 2020 at the beginning of the pandemic. We have now all survived a full year of school during a pandemic – what have we learned? What lessons can we take forward into the next year of uncertainty, given that Ministries of Education across Canada have released back-to-school plans which assume in-person learning?
Challenges with Online Learning
Access to online learning for students with hearing loss has proven to be every bit as challenging as expected. Masks have made hearing and speechreading difficult, online video platforms have had inconsistent audio and video quality, participants frequently have their video turned off, screen fatigue is a real thing, sign language interpretation has unique challenges for an online platform, automated captioning is not nearly as accurate as people think, and engaging students and monitoring comprehension and learning has been difficult.1–5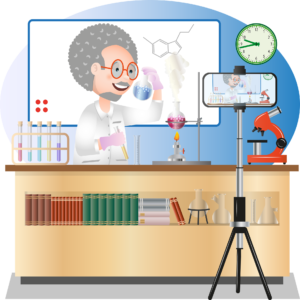 However, we have learned new ways of communicating with parents, teachers, and students, which will likely carry over to a post-pandemic world. While troubleshooting equipment often requires onsite, we have had a great deal of success in solving basic or common equipment problems via video platforms. In the future, it may not always be necessary to drive an hour or so to a school to solve an equipment problem. An initial video "triage" may indicate both the source of the problem and an easy fix, saving everyone time and money. In addition, we may be able to make the kinds of "hearing awareness workshops" that are helpful for classroom teachers who are new to teaching a deaf or hard of hearing student much more accessible via video platforms, perhaps increasing attendance by decreasing the need for supply teacher coverage.
Need for In-School Learning
The potential impact of full-time online learning on student mental health was at the forefront for teachers, but possibly not for the rest of us. Preliminary Canadian research indicates that full-time online learning during the pandemic has had an adverse effect on student mental health, including depression and anxiety. Recent research by The Hospital for Sick Children in Toronto concluded, "kids need school, friends, and fun." Indeed they do.
There continue to be many questions about how the return to school will work, including concerns about adequate ventilation and questions about mandatory vaccination (particularly in postsecondary education, where colleges and universities have uneven vaccination policies). However, it appears that masking for students and teachers will continue and that we will face continued challenges with access to auditory and visual information for students with hearing loss.
Benefits of Sound Field/CAD Systems Highlighted
Requests for sound field systems for teachers in their physical classrooms skyrocketed, as students found it difficult to hear each other due to masks and physical barriers, and teachers suffered from vocal problems due to the need to speak more loudly to be heard. I have heard many reports of regular classroom teachers scouring Amazon to purchase their sound field systems to help students save their voices. Therefore, this seems an opportune moment to make a case to administrators and policymakers to install sound field/ CAD systems as a universal design strategy for regular classrooms.
The usefulness of Assistive Devices Not Typically Used in Education
In Ontario, students left for March break in 2020, expecting to return to their classrooms a week later. AS USUAL, School FM systems were all left charging in classrooms, waiting to be picked up again in 7 days. Instead, educational audiologists and teachers of the deaf and hard of hearing scrambled to sort out each student's requirements for accessibility for online learning, including (in some cases) finding ways to pick up systems from class and deliver them to students' homes. However, what worked surprisingly well for many students were technologies typically designed for home or community use and not for classrooms. In a previous article, "Can streaming technologies replace personal FM systems in the classroom?", I argued that they could not, that in-class learning requires a variety of features and options that are not available in technologies such as hearing aid streamers or remote microphones. I would continue to argue that streaming technologies are not generally appropriate for in-class learning, but they have proven to be very successful for many online learning activities. If a student simply requires an excellent audio connection to listen to a recorded lesson or participate in a virtual class, a Bluetooth remote mic connected to an iPad or tablet is as practical and straightforward as a wired connection from a personal FM system transmitter patched in and transmitting to wireless receivers. The lesson learned is the importance of students and families being knowledgeable about the range of assistive technologies available to them for a wide variety of activities outside of the classroom. Students who use streaming technology to, for example, listen to music on their cellphone while walking to school every day may be more receptive to using similar technology in the classroom.
Need for Parent Support
Dr. Bonnie Stelmach from the University of Alberta conducted teacher and parent surveys and interviews in the summer of 2020 on the impact of the pandemic on parent-teacher relationships (the report is entitled "It Takes a Virus"). She found that the pandemic "both strained and strengthened parent-teacher relations." Positive outcomes included opportunities to communicate more via virtual platforms (rather than just through report cards or scheduled interview nights) and an increased understanding and appreciation of the work of parents and teachers. Teachers of the deaf and hard of hearing and educational audiologists often do have more frequent and direct contact with parents than regular classroom teachers because learning issues are sometimes complex and because often students are seen by the same professionals over the years. However, many of us found virtual platforms to sometimes provide even better connections, since scheduling a virtual call with parents was often far easier than scheduling an in-person meeting at the school, when parents may have needed to arrange time off from work or childcare. In addition, it was often possible to include more stakeholders in a virtual meeting, again due to convenience, leading to more fulsome discussions. For example, on several occasions, I included a student, parents, and a classroom teacher on a Zoom call to demonstrate different types of FM system choices for a new purchase. Everyone was able to see what the equipment looked like and how it would work and contribute their thoughts to make a collaborative decision. It is much more difficult to include parents in these demonstrations and decision-making processes when a meeting must be scheduled during school hours.
However, the "It Takes a Virus" report clarifies that no one navigated the "parent as a teacher" very effectively. Too often, parents were confused, overwhelmed, and stressed, students were unmotivated and resistant, and parent-child relationships became strained. Thus, the importance of teachers of the deaf and hard of hearing and educational audiologists as learning facilitators and parent supports during the pandemic cannot be overstated.
Perhaps the last words belong to the students, such as Hannah from Nashville, who remarked, "If you had told me a few months ago that I would be praying to go to school, I would have laughed and called you crazy, but I would do anything to go back to my school." Me too, Hannah.
References
Alshawabkeh AA, Woolsey ML, and Kharbat FF. Using online information technology for deaf students during COVID-19: A closer look from experience. Heliyon 2021;7(5):e06915.
Lynn MA, Templeton DC, Ross AD, et al. Successes and challenges in teaching chemistry to deaf and hard-of-hearing students in the time of COVID-19. Journal of Chemical Education 2020;97(9):3322–26.
Millett P. Accuracy of speech-to-text captioning for students who are Deaf or Hard of Hearing. Journal of Educational, Pediatric & (Re) Habilitative Audiology 2018;25:1-13.
Millett P. Accuracy and Usability of Automated Captioning During Synchronous Online Classes Through Zoom, Google Meet and Microsoft Teams. Educational Audiology Association Virtual Conference 2021.
Schafer EC, Dunn A, and Lavi A. Educational challenges during the pandemic for students who have hearing loss. Language, Speech, and Hearing Services in Schools 2021;52(3):889-898.