Focus on Research at Western University
An Interview With Dr. Susan Scollie


At the recent Canadian Academy of Audiology Annual Conference Oct. 18-20, 2018 in Niagara Falls, Ontario, Dr. Susan Scollie, PhD, was presented with a well-deserved award. Here is one letter of support from one of the nominees which says much: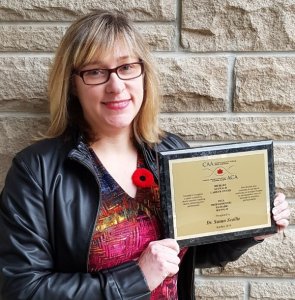 "Due to her track record of successfully collaborating with researchers, clinicians, industry, and government, she is sought after to serve on advisory boards for a variety of partners. As a key opinion leader, her innovative thinking is highly valued. Students in Dr. Scollie's classroom experience a professor who is knowledgeable, fair, and engaged. Her pursuit of excellent clinical practice is evident in all of her career activities ranging from well-designed research, knowledge translation, and effective mentorship. As an outcome of Susan's careful approach to leadership, I am pleased to nominate her for the Richard Seewald Career Award. Her achievements have resulted in significant contributions to hearing aid technology, clinical practice, and those who strive to lead clinical investigations. She emulates what Dr. Seewald modeled and is therefore a most worthy recipient of the award named for him."
---
1. I understand that you have just been appointed as the new head of the National Centre for Audiology (NCA) at Western University.  What are your roles and responsibilities?
The Directorship of the NCA is an elected position, and the role is there so that someone can manage the centre as a whole, and represent our group to our faculty and our University. Internally, the Director keeps our group's ship afloat by overseeing any shared budget, coordinating staff, and facilities, and promoting the NCA's activities and accomplishments. Externally, the Director can advocate for the centre's health and growth, with a major focus on planning and coordinate group-level research grants. Right now, we have a team grant from the Ontario Ministry of Innovation that includes many of our members and several industry partners. This supports many of our staff and students. Managing the successful execution of this large set of projects is a major component of my week these days: I coordinate project meetings, help oversee contracts with our industry partners, and manage documentation and reporting of our work, including annual reports. All of these research administration tasks sound pretty dry… but are important to facilitate the wonderful work of all of my colleagues. If the centre runs smoothly, they can focus on their research and teaching more effectively. The more I can achieve that, the better.
2. How does the NCA relate to the Communication Disorders program at Western?
That's a great question. The School of Communication Sciences and Disorders (CSD) is the home department for our programs in audiology and Speech-Language Pathology. Any students enrolled in audiology, for example, are enrolled in CSD, and any faculty members who teach in audiology have CSD as their home school. A lot of folks confuse the NCA with CSD, mainly because there are a lot of NCA members who are audiology faculty within CSD. However, the NCA is a research centre only: we don't grant degrees, we don't enrol students (although we may be the home of the students' lab), and we have many members who are not housed within CSD. We have researchers from engineering, otology, anatomy and cell biology, medical biophysics, and professional research staff who are part of the NCA itself. The NCA is an interdisciplinary group of researchers who have come together out of a common interest in hearing and/or balance assessment, disorders of the ear, and interventions or technologies related to these, regardless of their home school or department or faculty.
3. Can people do research there from outside of the NCA?
Certainly. We have many collaborations within and outside of the NCA. In terms of people visiting the NCA to do research at our facilities or with our investigators, we actually do that quite a lot. We've given access to our anechoic chamber, for example, for everything from studies of echolocation abilities in the blind, to an art exhibit, to a Cheetos commercial. More frequently, we open the facilities and expertise of our centre to members of the hearing industry or government who require a collaboration to answer their questions. Much of this is done through the Translational Research Unit (TRU) which maintains a large database of adult research participants and a calibrated facility for performing a wide range of assessments and interventions relevant to hearing studies. The TRU has completed hearing aid field trials, normative studies for novel hearing assessment systems, and even a study of on-ear attenuation properties of snowmobile helmets to help a government agency assess worker safety. Our collaborations with industry and government also cover the pediatric side of practice, with contracts to develop and support protocols for Early Hearing Detection and Intervention Programs, and laboratory studies of technologies intended for use in pediatric audiology. So yes, people outside of the NCA can do research here, most often in collaboration with NCA researchers.
4. In general, what are some current topics of research at the NCA?
We typically organized ourselves around two theme tracks: Assessment and Intervention. Our researchers who work in hearing assessment study a wide range of topics including the mechanisms of hearing and hearing impairments. They develop and evaluate new objective and behavioural methods for assessing hearing, and have software-based solutions under evaluation for advanced assessments that go beyond the audiogram. Our researchers who work on the intervention side are developing novel signal processors, prescriptive methods, and are evaluating the efficacy and effectiveness of new hearing aid systems and service delivery methods including tele-audiology. Our audiology and engineering colleagues in both of these theme tracks seek new clinical solutions that can be used in practice. We have field trials ongoing to test out new hearing technologies for both adults and children. Our basic science colleagues seek to understand the core mechanisms of hearing and hearing-related behaviours by determining the role of specific brain regions, by understanding the impact of cognition on listening, and by developing valid animal models that are appropriate for use in studying the human hearing condition. I think that the articles in this issue highlight some (but not all) of the studies going on in our centre. I would encourage any interested Audiologist to follow us on social media to see notifications of papers and new projects as they unfold – there is always something new going on.
5. Your background is from "within" the study of audiology.  How do you see the various strengths and perhaps challenges of this as opposed to being from the "outside" such as engineering?
That's true: my background is in clinical audiology, and this certainly helps me to relate our centre's activities to the clinical practice of audiology. That said, I have been fortunate to have many wonderful collaborations with folks from outside our profession, especially engineers, both within the NCA and within the hearing industry. I've learned that there is significant merit in having engineers and audiologists working closely together in both research and product development. As audiologists, we benefit from interdisciplinary work with engineers because we gain a deeper level of insight into the underpinnings of a system – this help us really understand the limitations and possibilities. In turn, the audiologists can help engineers weigh the pros and cons of different solutions from an implementation perspective. This is one of our strengths at the NCA: it's not really about within versus outside, but more about interdisciplinary collaboration. We talk to each other.
6. When one hears the name "Dr. Susan Scollie" one immediately thinks about pediatric amplification and habilitation.  Are there other areas that you have worked in?  Are there elements of your work in pediatric amplification and habilitation that have found footing and importance in other populations?
Pediatric audiology has been the cornerstone of my research for many years. A big change happened when we opened the TRU, which focuses mainly on evaluation of new technologies in the adult population. I've been able to transfer my knowledge on interfacing with industry partners, detailed calibration, research ethics, and hearing aid outcome measurement to this new unit. From a technology perspective, we have been able to apply our methods for prescribing using DSL, and for verifying and fine tuning frequency lowering, both of which were originally developed for use with children, to adult participants in studies. It's been a good opportunity to see a broader range of application of these technologies and learn about hearing aid outcomes in adults.
7. One of your roles as a professor is to mentor PhD candidates. What do you look for in a potential student and how has this expanded your own area(s) of interest?
It's really hard to generalize, because every student brings his or her own strengths and interests. I think a PhD goes best when the student is really and truly interested in finding the answer to the question, and for our program, a sincere interest in learning something that will eventually help provide better services for people who have hearing impairment. Honestly, a strong dose of curiosity really helps you get through the difficult parts of a PhD, which for most of us are recruitment of enough participants and writing it up at the end. In terms of areas of interest, it really changes over time as we face new technologies and new research questions. I've enjoyed working with students on many topics ranging from outcomes with hearing aids for children (lots of these) to developing novel speech-based systems (two of these) for measuring aided evoked potentials. More recently we have had interest in hearing aid signal processing for music, and ways to measure and predict sound quality, loudness, and speech intelligibility.
8. Is it true that you have a dog named Richard Seewald?
Ha! That's a good one to add to my list of frequently and sometimes weird questions I've been asked about Richard. These include: Do you know him? (yes); Is he dead? (no); How is he enjoying retirement (He's good); and Are you guys married? (Definitely not). To answer your question though, I do have a dog but his name is not Richard or Seewald or Richard Seewald – we adopted him when he was two or three (nobody knows exactly) and he already had a name. Otherwise I would have called him Malleus!