Telepractice in Audiology: Supporting Clinical Implementation through Research

This overview article introduces the topic of telepractice in audiology, discusses key practice considerations for beginner providers and outlines current research efforts at the National Centre for Audiology related to pediatric-focused clinical implementation.
Background
The field of audiology is experiencing a rapid integration of telecommunication technologies allowing for hearing healthcare service provision at a distance and outside of the traditional "face-to-face" service delivery model. This is largely in response to factors including innovation/growth in telecommunication technology, the changing health needs/societal contexts and the resulting need for a dynamic model of service provision. Service provision can now include remote delivery models that are synchronous (real-time), asynchronous (store and forward), and most commonly, a hybrid. Hybrid models combine traditional face-to-face services with remote services and/or a combination of asynchronous and synchronous models. Common umbrella terms describing the provision of distance services include telemedicine, telehealth and more recently, e-Health, telerehabilitation, connected health and telepractice (Figure 1). The evolution of terminology relates to the widespread application of remote services to specific healthcare fields, such as audiology. Telepractice within audiology is often referred to as tele-audiology or eAudiology. Professional bodies in the field of audiology endorse telepractice in audiology as a means of delivering services at a distance and when the quality of care delivered is comparable to that provided through face-to-face services (College of Audiologists and Speech-Language Pathologists of Ontario, 2014).1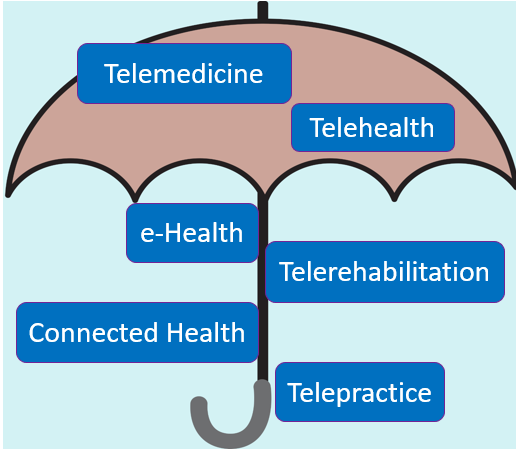 Key Practice Considerations
This shift towards technologically connected healthcare is described to relate closely to the modern patient/client landscape in a recent consensus paper entitled "eAudiology: Shifting from Theory to Practice."2 This landscape is described as increasingly tech-savvy (especially when it comes to smartphones), assertive, health conscious and engaged. Research also indicates that hearing health care providers, including audiologists, generally have a positive attitude towards telepractice in audiology and feel it will have a positive effect on access to hearing health care.3,4 Willingness to use telepractice in audiology has been shown to relate to the combination of the clinical tasks to be performed and the patient populations to be served; willingness is reported to increase when performing tasks less reliant on touch and with adult populations.4
Hearing health care providers have many factors to consider prior to implementing new technologies or adopting new service delivery models specific to telepractice in the field of audiology. 10 key practice considerations are displayed in Figure 2 and summarized below.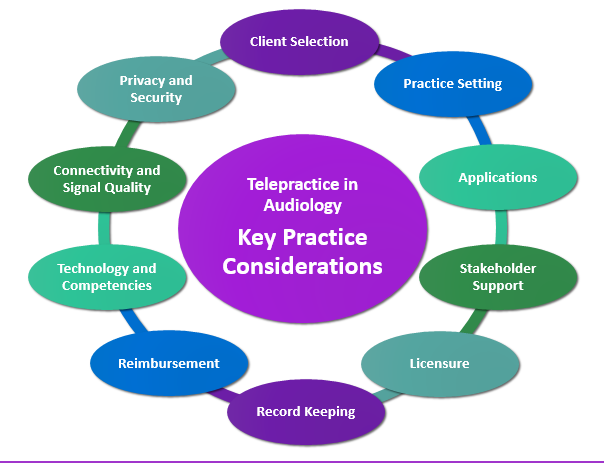 Client selection: What delivery model/modality is best for your patient/client? Consider access to and comfort with technology(s), patient/client age and related factors (e.g., parental/caregiver support, manual dexterity), and presence of a hearing/vision impairment.
Practice setting: Whether your practice setting includes a school, hospital, clinic, university, home or care facility, each setting will present unique technology set-up/maintenance needs and require knowledge and compliance with the regulations and policies specific to the setting.
Applications: There are many applications of telepractice. It is important to make sure that the application of interest (e.g., remote hearing aid fitting/CI programming, aural rehabilitation, etc.) aligns with your skill-set, technology requirements, and the needs of the patient/client.
Stakeholder support: Do you have the support of all involved stakeholders? Consider planning, advocacy and/or training efforts to reach clinicians, administrators, organizational leaders, sponsors, patients/clients and their family members, for example.
Licensure/Certification: What are the regulatory requirements specific to your practice location and to the location in which the patient/client will be receiving services? Prior to starting service delivery, verify licensure/liability insurance requirements according to the governing regulatory body.
Record keeping: Ensure compliance with all regulations regarding record keeping, including documentation of informed consent to service delivered via telepractice.
Reimbursement: Make sure you have up-to-date knowledge regarding reimbursement for remote services according to applicable payers/sponsors. Knowledge in this area will ensure that you are collecting and documenting the required information and can influence your billing structure.
Technology and competencies: Are you confident with your knowledge and technical abilities to provide telepractice in the chosen area of interest? This may present an opportunity to seek out training and/or the availability of an IT support person to assist you.
Connectivity and signal quality: Are you able to provide a good quality audio and/or video signal? Requirements specific to the internet connection and bandwidth may vary depending the practice context, the application of interest and/or the communication needs.
Privacy and security: Ensure you are compliant with confidentiality, privacy and security of information regulations. Services including electronic transition of information may require you to modify your practices (e.g. data encryption, removal of patient/client identifiers).
Current Research Efforts
Current literature suggests that telepractice services are clinically feasible and can be useful in the management of both adult and pediatric populations; however, significant clinical implementation barriers remain.5–7 Considering these encouraging research reports and the generally positive attitudes toward telepractice in audiology, few audiologists (15%) report having direct experience.3 In an effort to better understand the many factors related to clinical implementation/uptake of telepractice in audiology, current research efforts at the National Centre for Audiology are focused on an increasing popular clinical application: Remote hearing aid fitting support. This application often involves synchronous delivery models and various types of technologies (e.g., videoconferencing, smartphone apps, fitting software) to facilitate remote communication/programming between the hearing instrument fitter and the patient/client wearing the hearing aid(s). A two-part study, including practising audiologists in Ontario, Canada (pediatric- and adult-focused) and parents of children who wear hearing aids, has incorporated concept mapping methodologies to generate a conceptual framework related to the underlying clinical implementation factors. Emerging key concepts reveal important barriers and facilitators to clinical implementation that differ according to the population of interest being serviced.8 This research aims to engage and involve the stakeholders at all levels of knowledge development. Findings will help guide the planning and development of tools to assist future implementation efforts related to telepractice within the field of audiology.
Selected References
College of Audiologists and Speech-Language Pathologists of Ontario. Use of Telepractice Approaches in Providing Services to Patients/Clients, 2–5; 2014. Retrieved from http://www.caslpo.com/sites/default/uploads/files/PS_EN_Use_of_Telepractice_Approaches_in_Providing_Services_to_Patients_or_Clients.pdf
Montano BJ, Angley G, Ryan-bane C, et al. eAudiology : Shifting from theory to practice patient care | A consensus statement on recommendations for telehealth practices in hearing healthcare. Hearing Review 2018; (September), 1–8. Retrieved from http://www.hearingreview.com/2018/08/eaudiology-shifting-theory-practice/
Eikelboom RH and Swanepoel DW. International survey of audiologists' attitudes toward telehealth. Am J Audiol 2016;25(3S):295–98. Available at: https://doi.org/doi:10.1044/2016_AJA-16-0004
Singh G, Pichora-Fuller MK, Malkowski M, et al. A survey of the attitudes of practitioners toward teleaudiology. Int J Audiol 2014;53(12):850–60. Available at: https://doi.org/10.3109/14992027.2014.921736
Bush ML, Thompson R, Irungu C, and Ayugi J. The role of telemedicine in auditory rehabilitation: A systematic review. Otol Neurotol 2016;37(10):1466–74. https://doi.org/10.1097/MAO.0000000000001236
Gladden C, Beck L, and Chandler D. Tele-audiology: Expanding Access to Hearing Care and Enhancing Patient Connectivity. J Am Acad Audiol 2015;26(9):792–99. Available at: https://doi.org/10.3766/jaaa.14107
Govender SM and Mars M. The use of telehealth services to facilitate audiological management for children: A scoping review and content analysis. J Telemed Telecare 2017;23(3):392–401. Available at: https://doi.org/10.1177/1357633X16645728
Glista D, Moodie S, and Scollie S. Factors that Influence Clinician Adoption of Remote Hearing Aid Fitting Support. Conference presentation. Hearing Across the Lifespan. Cernobbio, Lake Como, Italy; 2018.