Wired for Sound: Auditory Perception in Songbirds

Have you ever marvelled during an early morning walk in the woods at the symphony of birdsong that surrounds you? Over 100 species of songbirds (or oscines, of the order Passeriformes), each with their own distinct repertoire of vocalizations, can be found regularly in Canada's Maritime provinces.
1
Songbirds are particularly interesting as they, like humans, must learn species-specific vocalizations from adult models. However, songbirds are not just virtuosos when it comes to vocal production: they are also perceptual pros. Both male and female songbirds need to perceive, interpret, and respond (or withhold response) to the signals in their complex acoustic environment.
Depending on the species, songbirds produce several types of vocalizations that may be identified as "songs" or "calls." Although vocalization types vary in acoustic complexity, the function is a more definitive identifier of type: the song is generally an aggressive or sexual signal, used to maintain territorial boundaries between males or to advertise to females during periods of breeding. Conversely, anything other than song may be considered a call.2 Each species may have multiple call types, used in a variety of contexts by males, females, and juveniles. Examples include begging calls from offspring to parents,3 contact calls among conspecifics to maintain cohesion between mates or flock members,4 or alarm calls used by both conspecific and heterospecifics alike to warn of predators.5 In North American species, seasonality also plays a role: the song is heard more often in spring when birds produce behaviours associated with breeding compared to other times of year.6
Given the importance of vocal communication to songbirds, it is perhaps not surprising that there is a considerable amount of "neural real estate" in the songbird brain dedicated to production, perception, and learning. This 'song system' is made up of three interconnected pathways in the avian brain7: the ascending auditory pathway (primarily for listening to and processing acoustic information), the descending motor pathway (primarily for vocal production) and the auditory forebrain pathway (an indirect motor pathway critical for song learning).
Similarities between birdsong and human speech have been thoroughly explored and are well-documented. The key comparison relates to the development of learned vocalizations: humans and songbirds are two of the few species that do not produce all species-typical vocalizations innately, and instead must learn by imitating adult models. Young songbirds reared without an adult model do not learn to vocalize properly.8 Birdsong and human speech are also similar in terms of bioacoustics, from the smallest units of sound (song notes and phonemes) to rules for how those sounds are combined (song syntax and grammar) and even prosody.9 There are even molecular parallels: both songbirds and humans express FoxP2, a member of the Forkhead box (Fox) protein family.10 When FoxP2 levels in the basal ganglia (Area X) of zebra finches (Taeniopygia guttata) were knocked-down11 or over-expressed,12 song acquisition was impaired and showed fewer similarities to the tutor song.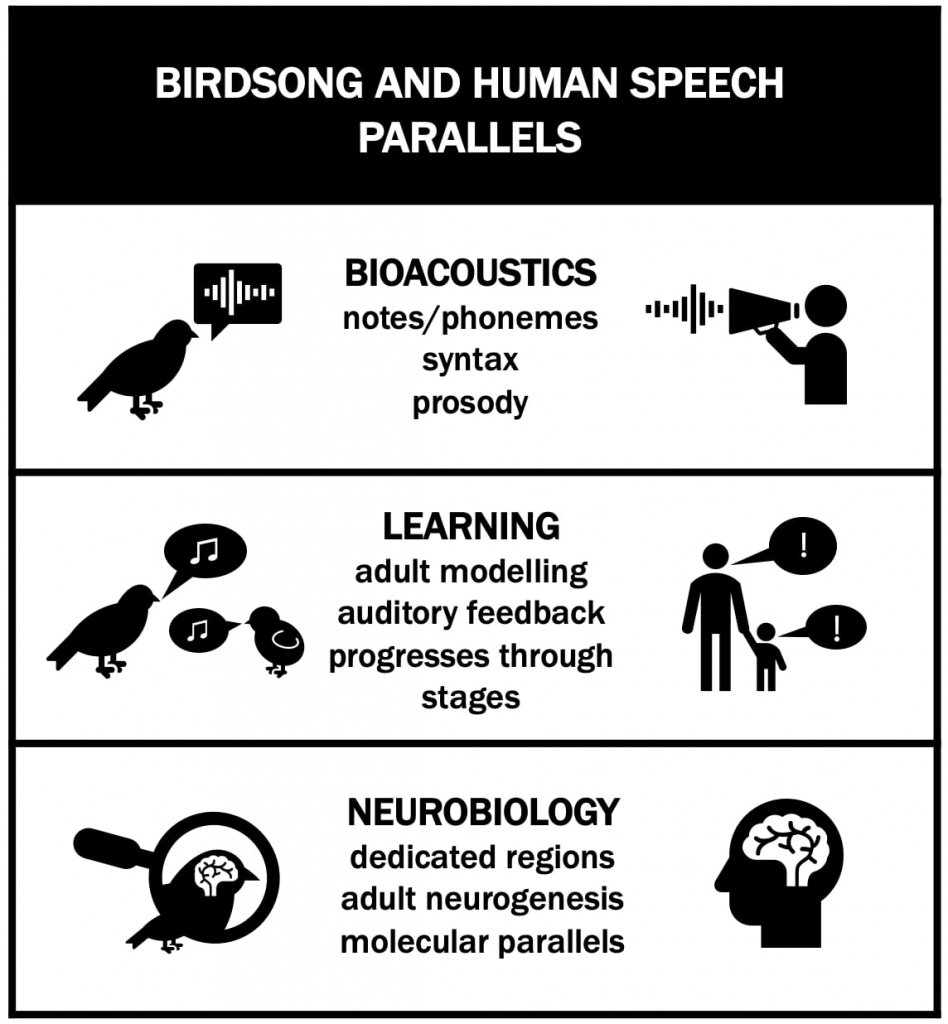 There are also parallels between auditory perception in songbirds and humans. For example, during the song learning process, young songbirds, like humans, require auditory feedback for accurate vocal production13 and deafened birds are unable to learn or maintain learned song.14 While human and avian auditory systems also share the same basic structure and general transduction mechanism, birds are unique in that they possess the remarkable ability to completely regenerate inner ear hair cells within weeks of acoustic trauma or ototoxic damage. Birds, therefore, offer a unique model for auditory researchers hoping to discover the molecular or genetic mechanisms responsible for hair cell regeneration.15 This could potentially lead to the creation of methods aimed at regenerating hair cells (and by extension, restoring functional hearing) in humans.
In our lab, we study auditory perception in songbirds using operant conditioning methods. Birds live and work in chambers where they can initiate trials throughout the entire day, earning food when they respond correctly. Using this setup we can present virtually any acoustic stimuli, including typical and altered songs, pure tones, and even human speech, and ask birds to discriminate between multiple categories of stimuli simultaneously. We can then determine whether birds can detect particular features of conspecific and heterospecific vocalizations. We can also compare performance between males and females and test if different conditions (e.g., the time of year) promote or interfere with their ability to discriminate. Below we describe two ways we have used this technique to study auditory perception.
In one of our recent studies,16 we looked at whether songbirds could perceive alterations of species-typical pitch ratios in song. Black-capped chickadees (Poecile atricapillus) sing a two-note fee-bee song that covers a large range in absolute pitch but does not change in terms of relative pitch: the pitch ratios between the beginning and the end of the fee note (the "glissando") and between the end of the fee note and beginning of the bee note (the "internote interval") are maintained regardless of absolute pitch17 and are conserved across the species' breeding range.18 Using the operant chamber setup, we compared the ability of male and female chickadees to discriminate stimuli with one or both of the species-typical ratios of the fee-bee song removed (see Figure 1). Chickadees can detect the removal of the internote interval with ease; however, songs missing only the glissando were much more difficult to discriminate. There were also sex differences present: our results showed that females are slightly better at learning the operant discrimination task. These results complemented previous field and lab studies that could not directly compare male and female perception and produced mixed results.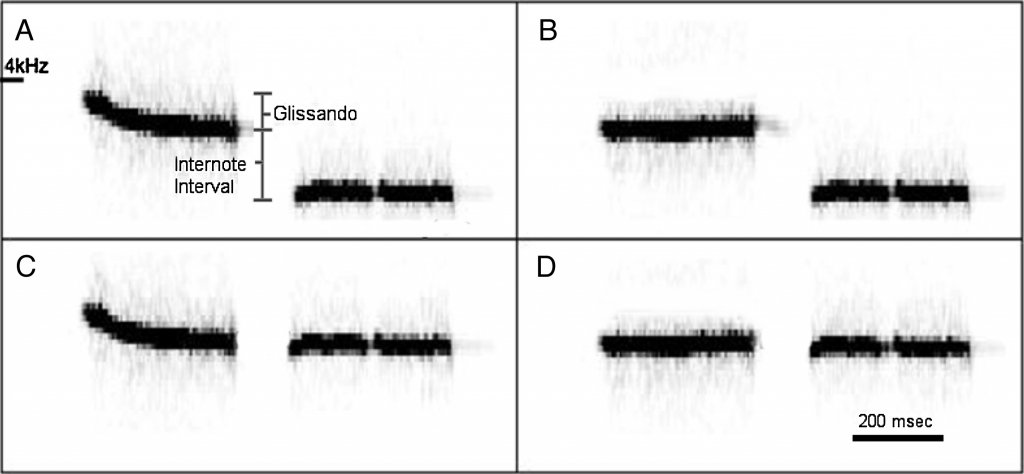 In another recent study,20 we asked whether a different species of songbird, the zebra finch (Taeniopygia guttata), could discriminate between two types of heterospecific vocalizations: human infant-directed song and infant-directed speech, in both English and Russian. English-speaking infants tested in an attentional head-turn task with these stimuli looked longer at a speaker playing song than speech, but surprisingly also seemed to prefer Russian to English. A major limitation of the infant paradigm is that it is impossible to separate preference and discrimination. However, because songbirds do not produce the languages they are discriminating, nor are they learning those languages, we could use them as unbiased and expert judges of the discriminability of acoustic stimuli, likely discriminating stimuli simply on the basis of acoustic characteristics, as opposed to possible innate language mechanisms or processes that may be at play in infant listeners. We found that zebra finches could discriminate infant-directed song from infant-directed speech stimuli equally well in both languages. These results suggest that for these unbiased, non-human listeners, infant-directed song and speech are discriminable as categories, and that song and speech are equally discriminable in English and Russian.
Given this perceptual expertise, songbirds are an interesting parallel to humans in the field of auditory research. Studying songbirds allows researchers to address specific limitations present when using human subjects, and answer questions using a comparable, but different, vocal communication system. Ultimately, songbirds not only complement your early morning walk in the woods, but may provide insight into broader research questions about auditory perception, acoustic features used for discrimination, and the underlying neural mechanisms important for auditory processing.
Acknowledgements
Support for this research was provided by the Natural Sciences and Engineering Research Council.
References