Happenings
Jim Selinger: August 26, 1950 - July 29, 2019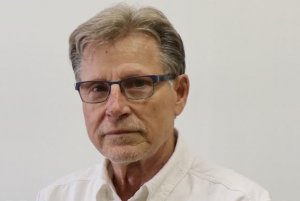 Jim Selinger, Audiologist at Winnipeg Hearing Centres, passed away on July 29, 2019 following a five-month struggle with brain cancer. He had successfully overcome a first occurrence of lymphoma in 2008 and was in complete remission for over ten years. He led a varied career in both clinical and administrative work in various regions of the country over his 68 years.
Following his graduation from Minot State University he worked briefly as the Audiologist at the Manitoba School for the Deaf. He was soon recruited by the late Earl McKenzie to establish the Westman Regional Hearing Centre in Brandon. He and Earl became fast friends and maintained that bond until Earl's death in 2018. Jim worked for the Department of Health in Brandon for ten years. During that time he was active with the Kinsmen Club and enjoyed playing on their hockey team in various tournaments. He served as President of the Brandon Kinsmen Club in 1986.
When Earl left the position of Director of the Office of Hearing Conservation around 1988, Jim assumed the reins. He relocated his young family to Elie, a small community near Winnipeg so that he could maintain a rural lifestyle with lots of room for his beloved Golden Retrievers. Always an early riser, he was often at the office in Winnipeg by 7:00 am or heading out on the road to visit one of the rural clinics.
In August 1989 he decided to venture further afield and relocated with his family to Yellowknife to work for the Stanton Territorial Hospital. He was the sole charge audiologist and travelled extensively to many remote communities in the NWT. Jim was responsible for securing many private donations to the hospital, many from the local Elks club, which facilitated upgrades and enhanced services in his department.
Jim moved to Edmonton in 1999 where he was employed as a Program Consultant/Audiology with the Aids to Daily Living hearing aid program. He was cited by Premier Ralph Klein for his work as a member of the Premier's Award of Excellence 2003 Leadership Team. He soon missed the clinical field and decided to return to Winnipeg to work for Winnipeg Hearing Centres from 2004 until his passing.
Jim loved all sports and was an avid supporter of the Winnipeg Blue Bombers. He also was the key organizer of an annual fishing trip hosted by Rick Stokes at Lake of the Prairies; these jaunts cemented many lasting friendships with Dale Kotowsky, Jim Ryan, Mark Peterson, Earl McKenzie, Tang Chow and Alan Moore. An exceptional cook, he often prepared gourmet meals for the group.
After recovery from his first brush with cancer, Jim became a team captain in Dragon Boating and was often a top fundraiser in the competitions. He raised considerable funds for the Canadian Cancer Society in this endeavour. In addition, he ran half marathons in Victoria, Las Vegas, Montreal and Yellowknife to raise funds for cancer research. On June 24, 2019 Jim joined family and friends in a 2.5 Km walkathon to raise funds for the Brain Tumour Foundation. This was characteristic of the grit he displayed throughout his illness.
Jim travelled as often as he could to Calgary to visit his two daughters, Tara and grandchildren Kenzie and Maddox, as well as Mindy and her children Holt and Elin.
He will be sorely missed by many friends, family, clients, colleagues and his many fishing buddies.
---
In Memoriam: Dr. John Epley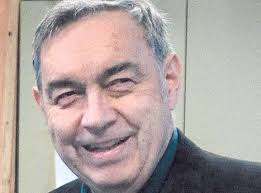 www.dizziness-and-balance.com
It is with great sadness we announce Dr. John Epley, an Otolaryngologist from Portland, Oregon passed away on July 30th, 2019. Dr. Epley is well known for discovering a treatment for the common vestibular disorder, Benign Paroxysmal Positional Vertigo (BPPV). A primary complaint of dizziness accounts for an estimated 5.6 million clinic visits in the United States per year and between 17 and 42 percent of patients with vertigo will receive a diagnosis of BPPV (American Academy of Otolaryngology - Head and Neck Surgery, 2017). The successful treatment, now called the 'Epley maneuver,' has been a significant scientific discovery reducing unnecessary surgeries and helping to improve the quality of life of millions of people suffering from vertigo worldwide.
Dr. Epley was not only a physician and surgeon, he was an inventor, with huge contributions to the field of otology and neuro-otology. In addition to discovering the Epley maneuver, he also invented the Omnimax chair for computerized auto-rotation treatment of benign paroxysmal positional vertigo. A possibly less known but interesting contribution to audiology was Dr. Epley's involvement in the development of early cochlear implant technology while he was completing his surgical residency (Rojas-Burke, 2006).
Although 'the Epley' is now a clinical standard, Dr. Epley faced many hurdles for others to accept his theories along the way, including colleagues that ridiculed and criticized his discovery, questioned his ability to practice medicine, and even stopped sending referrals to him (Rojas-Burke, 2006). Despite these hurdles, Dr. Epley never gave up. His ultimate success is a model for all of us on the importance of persevering through adversity and the need to reduce barriers for others so scientific innovation can flourish.
Thank you Dr. John Epley for your many and significant contributions to our field.
You will be greatly missed.
References
American Academy of Otolaryngology - Head and Neck Surgery. (2017). Clinical practice guideline: Benign paroxysmal positional vertigo (BPPV) [Website resource]. Retrieved from https://www.entnet.org/content/clinical-practice-guideline-benign-paroxysmal-positional-vertigo-bppv
Rojas-Burke. (2006, December 31). Doctor and invention outlast jeers and threats. The Sunday Oregonian. Retrieved from https://www.dizziness-and-balance.com/disorders/bppv/epley/
epley%20article%202006.pdf
---
Dr. Larry Evan Roberts 1938-2019
Professor Emeritus Department of Psychology, Neuroscience and Behaviour McMaster University Hamilton, Ontario
Dr. Larry E. Roberts, devoted husband, father and grandfather, and a leading scientist, professor, and researcher, passed away in his 81st year in Kingston, Ontario after a brief and sudden illness. Larry is survived by his wife, Marion Roberts-Wright, with whom he shared his love of family, and an enduring passion for science, opera, the arts and sailing. Beloved father of Deborah Leigh Fraser-Roberts, her husband Duncan Armstrong Fraser and their four children, Mackenzie (Max), Lucas, Sam and Clara (Ottawa), and Martha Claire Roberts, her partner Aiyanas Ormond and their children Sophia, William and James (Vancouver). Loved greatly by his stepchildren, Rachel Fabich, her husband Josh Greenberg and their children Leah, Toby and Charlie (Ottawa), and Stefan Fabich and his wife Bhashini Fabich and their children Logan, Scarlett and Ben (Pickering). Larry is survived by his older brother Philip Roberts (Hayward, CA) and twin sister Linda Rosene (Minneola, TX). Larry had a lifelong love of music and played a key role in the founding and development of Opera Hamilton in the 1980s.
This contributed to his research on neuroplasticity in the auditory cortex, mechanisms of tinnitus and the effects of musical training on brain development. His children and grandchildren all benefitted from Larry's knowledge and passion for music, which remains a central part of their lives. An international expert in the study of auditory neuroscience, Larry travelled extensively and spoke at numerous scientific conferences and symposia throughout his career and well past retirement. He remained an active researcher and continued to publish and present his work in scholarly and professional fora. His research on tinnitus was widely cited and reported in international media, such as The New York Times, Washington Post, CTV News and Consumer Affairs. Larry's colleagues in Canada and around the world, especially Germany, Australia, and the USA, and the many undergraduate students, graduate students and postdoctoral fellows he taught and supervised over his lengthy career, are mourning the loss of their confrere, teacher, mentor and dear friend. Larry's family was a source of never-ending love and pride. He often attended scientific meetings with his partner, Marion. He was a champion of her work in mental health and addictions, and shared with her a strong professional and intellectual commitment to translational neuroscience.
Larry was especially proud of his two daughters Leigh, a paediatrician in Ottawa, and Martha, a midwife in Vancouver, for their ongoing clinical practice, advocacy and service to others. His thirteen grandchildren were central to his life. He showed a deep and genuine interest in each of them and their pursuits, passions and adventures. The celebration of his wonderful life will be held on the McMaster University campus at the LIVElab, in the Psychology, Neuroscience and Behaviour building, 1280 Main Street West, Hamilton at 4:30 p.m. on Thursday, July 25th. Expressions of sympathy and memorial donations will be received by the LIVElab, the Institute for Music and the Mind, McMaster University, Hamilton, Ontario, where Larry was a senior researcher. Interment at St. John's Cemetery on the Humber, Toronto (private family event) will take place on Wednesday, July 24th. www.jamesreidfuneralhome.com
---
Dr. Larry Evan Roberts, PhD. 1938 – 2019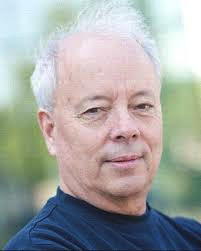 I am deeply saddened to report the passing of Dr. Larry Evan Roberts this past July of 2019. Larry was a renowned auditory researcher, professor, and mentor. He enjoyed a long, successful career as faculty in the Department of Psychology at McMaster University in Hamilton, Ontario over 50 years.
Larry was an internationally-recognized expert on auditory neuroscience, neural plasticity, and physiology. His scholarly work tackled diverse questions ranging from operant conditioning of nervous system function, to neural plasticity as a result of musical training or auditory experience. His work over the last 15 years on the neuroscience of tinnitus (the phantom "ringing in the ears") firmly cemented him as a world-leading expert on the topic. Crowning this research was a series of highly-cited, sweeping review articles[1-5] in which Larry became the "voice that tied it all together." He masterfully synthesized human psychology and neuroscience studies, cellular and molecular insights from animal models, and computational modelling into a comprehensive picture of what the neural correlates of tinnitus are, and how they might arise following hearing damage. Larry's influence on the contemporary study of tinnitus and hearing disorders culminated in organizing and editing a recent special issue in the journal Neuroscience[6] on Hearing Loss, Tinnitus, Hyperacusis, Central Gain, alongside Dr. Richard Salvi. This material was the focus of a highly-successful 4th International Hearing Loss Conference this past May of 2019 in Niagara-on-the-Lake, Ontario, at which Larry gave a keynote address. His research has been highlighted in The New York Times, The Washington Post, CTV News, and Consumer Affairs. Larry was nothing short of a pillar in the tinnitus research community.
Larry was a brilliant mentor who always had the best interest of his students in mind. He was patient, quick to make himself available, and exceedingly generous with resources to help students travel and grow as scholars. He encouraged a constructive and careful method of doing research, and showed students how to spend time thinking critically about results so that their meaning came into focus. He had an enviable gift of writing and conveying thoughts. A simple conversation about a research topic was often delivered as an eloquent narrative, and was proof of his enthusiasm for science and learning. The research opportunities I was given by Larry, guidance on research and a career in science, and personal time spent with him, are invaluable memories and experiences for which I will forever be thankful.
Larry's family was a source of never-ending love and pride. Together with his wife, Marion Roberts-Wright, they showed a deep and genuine interest in each of their 13 grandchildren following their pursuits, passions and adventures with true family love and commitment.
To know Larry was to know kind-heartedness, endless curiosity, and a love of travel. His commitment to students and trainees, strong ties to the global research community, and most of all, his outspoken love for his family, were evidence of his underlying compassion. This spirit was shared in kind with the tinnitus community. In my time as his student, Larry did not once miss a chance to personally visit, call, or correspond with a tinnitus sufferer that reached out to his laboratory for help. Larry himself was not a clinician, but by simply sharing the research and science behind tinnitus, those who suffered were left with an ear that would listen, hope that something was being done, and an opportunity to contribute. Larry showed that research in itself can have a direct and positive impact on the lives of those affected by tinnitus and hearing loss.
Larry's commitment to the community also intersected with his strong passion for music. In 1980, Larry was instrumental in the formation of Opera Hamilton, bringing scores of world-class performances to Hamilton, Ontario and surrounding area for over 30 years. Larry knew the importance of the gift of music, and to enjoy it, knew that the gift of hearing was indispensable.
Thank you Larry for all you have done for research, science, and the community. We will miss you.
Selected Reading
Eggermont JJ, Roberts LE. The neuroscience of tinnitus. Trends in neurosciences. 2004 Nov 1;27(11):676-82.
Roberts, L. E., Eggermont, J. J., Caspary, D. M., Shore, S. E., Melcher, J. R., & Kaltenbach, J. A. (2010). Ringing ears: the neuroscience of tinnitus. Journal of Neuroscience, 30(45), 14972-14979.
Eggermont JJ, Roberts LE. The neuroscience of tinnitus: understanding abnormal and normal auditory perception. Frontiers in systems neuroscience. 2012 Jul 11;6:53.
Eggermont JJ, Roberts LE. Tinnitus: animal models and findings in humans. Cell and tissue research. 2015 Jul 1;361(1):311-36.
Shore SE, Roberts LE, Langguth B. Maladaptive plasticity in tinnitus—triggers, mechanisms and treatment. Nature Reviews Neurology. 2016 Mar;12(3):150.
Roberts, L. E., & Salvi, R. (2019). Overview: Hearing loss, tinnitus, hyperacusis, and the role of central gain. Neuroscience, 407, 1.
I would like to thank Marion Roberts-Wright for providing helpful additions regarding Larry's family.
---
WID... WIDHH... Wavefront Centre
"What's in a name? A rose by any other name would smell as sweet?"
Shakespeare's Juliet had a point, but when it comes to business, be it profit or non-profit, the name matters a great deal. Our charity was founded in 1956, and was named the Society for the Advancement of the Deaf and Hard of Hearing at that time. Later in 1965, the name was changed to Western Institute for the Deaf, and in 1989, it was changed again to Western Institute for the Deaf and Hard of Hearing (WIDHH) to better reflect the scope of the population we served.
Over the years, WIDHH grew to become a trusted name in our Deaf and Hard of Hearing community circles, but beyond this, WIDHH had limited public recognition.  The word "Institute" in our name was deemed "dated" by many in our community, and it no longer represented the strength and breadth of our current services. Furthermore, the labels of "Deaf and Hard of Hearing" no longer reflected the entire community we now served, which included the Deaf, the DeafBlind, the Late Deafened, the Oral Deaf, the Hard of Hearing, and the Hearing.
With these realizations, the Board took the initiative to embark on a rebranding process. It was time for a fresh brand for WIDHH.
In the Fall of 2018, Harc Creative was hired to help WIDHH develop a new name and identity. Through his highly creative and approachable style, studio principal Parker McLean consulted with members from the WIDHH board, staff and community to learn more about what WIDHH meant to us and to our community. Based on his detailed research of our past, present and our plans for our future, and with the help of key members from our WIDHH board, staff and community, Harc developed a new name that would better represent WIDHH. Many public and private consultations took place since September 2018 to further refine the new name and logo. Our long and detailed journey has lovingly paid off in the birth of our new name and identity, launched on July 23, 2019.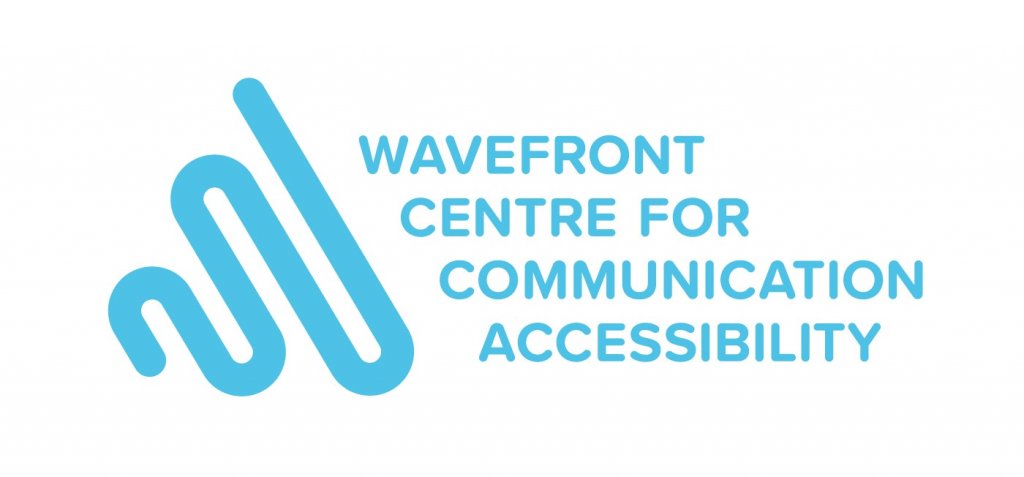 We are very proud of our new name as it respects our history and at the same time, reflects our vision and our outlook for the future in communication accessibility. The timing of our rebranded name aligns well with the recent passing of Bill C-81, the Accessible Canada Act, and provincial legislation on accessibility that is under development. These federal and provincial initiatives will commit to actions and strategies that will address barriers to persons with disabilities, including those who face communication barriers. Wavefront Centre will be at the forefront at providing consultations, services and programs to help Deaf, Hard of Hearing and Hearing interact freely with one another, and achieve full communication accessibility everywhere.
This infographic below best describes the innovative and excellent fit of our new name.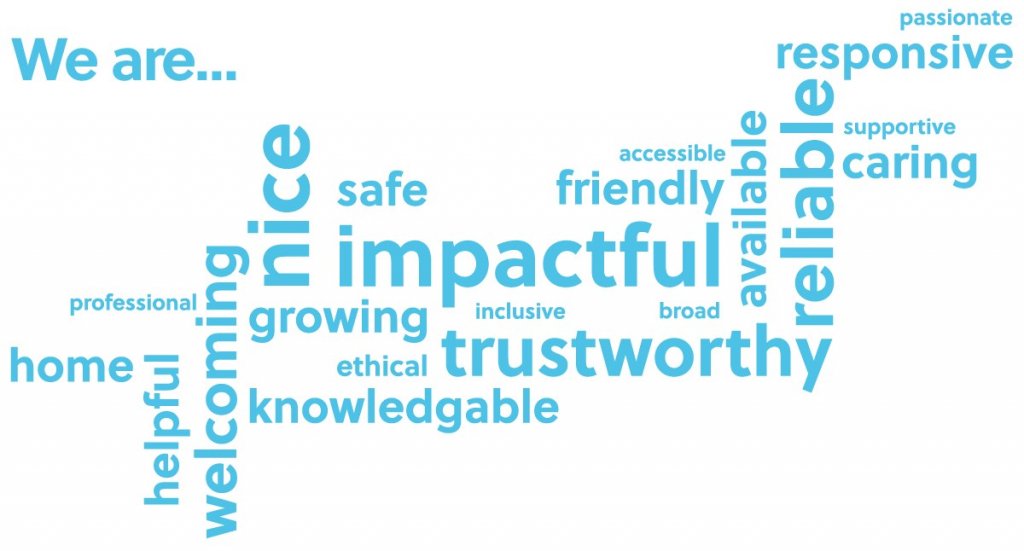 Wavefront Centre exists to help everyone achieve communication accessibility, not just those who experience hearing loss and deafness, but for those hearing families, colleagues, and friends who interact with the Deaf and Hard of Hearing everyday. And even normal hearing people face communication barriers too. With the aging population, many seniors are experiencing hearing difficulties for the first time, and while their hearing may be considered normal in quiet situations, a growing number report demonstrating increased difficulty hearing in noise, particularly in restaurants, family gatherings and public venues. Communication barriers affect everyone, and Wavefront Centre has become a trusted leader in helping to break down these barriers for everyone.
Our new name represents what we do now, and what we will continue to do for the future. It's all in the name:
Wavefront Centre for Communication Accessibility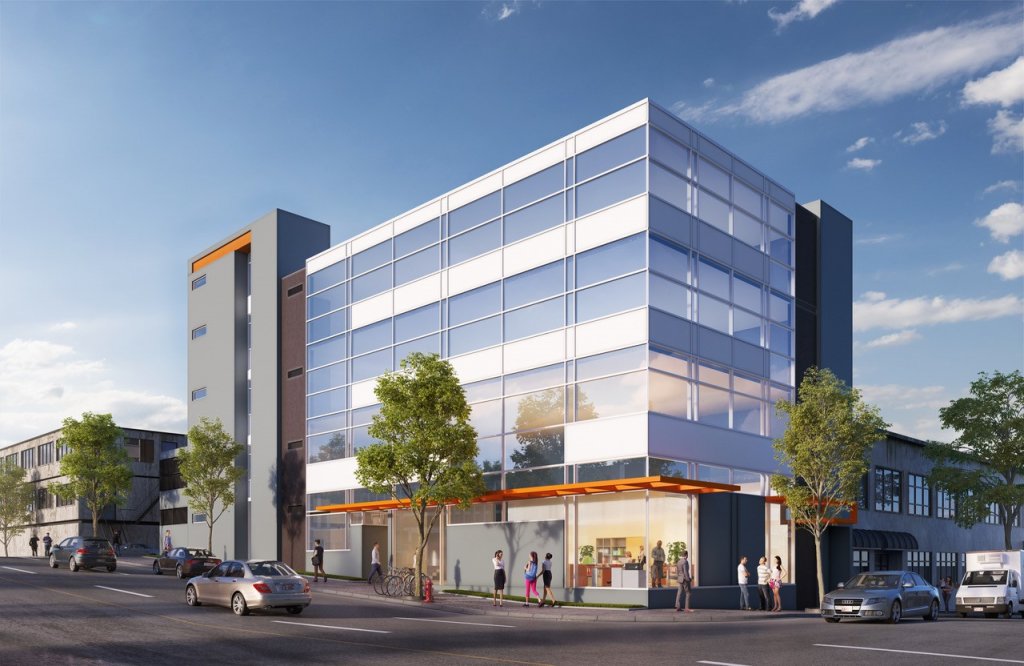 ---
The LIVELab in Conjunction with the Hamilton Philharmonic Orchestra
The LIVELab is located within the McMaster Institute for Music & the Mind (MIMM), and is a 106 seat research-based performance theatre and testing centre. The LIVELab is committed to developing a world class facility for the scientific study of music, sound, and movement and their importance in human development and human health. Laurel Trainer, PhD, is the Director of the LIVELab. More information can be found at https://livelab.mcmaster.ca/.
Recently a group of researchers associated with the LIVELab conducted an experiment with the Hamilton Philharmonic Orchestra during a live performance of Mahler's fifth with 47 hard of hearing subjects. In conjunction with technical and financial support from Sonova, 30 subjects were fitting with either Unitron or Phonak hearing aids (as well as a control group of 17 who wore their own hearing aids).
The goal was to continue the work of the LIVELab on helping to design and assess various hearing aid algorithms and assistive listening technologies that can enhance a hard of hearing listener's enjoyment of live music.
Sound was routed from on-stage microphones via a dedicated sound mixing board to the listeners' hearing aids either through their telecoil or a TVConnector streamer in addition to listening through the hearing aid microphone. The orchestra had microphones on-stage and 4 different mixes of the microphone audio were created, which switched every 5 minutes during the performance (also a no feed condition, listening just through HA microphone). The sound engineer was able to listen through a KEMAR manikin wearing t-coil HAs in order to design these different mixes during a rehearsal of this musical piece. Throughout the 75-minute performance of Mahler's fifth, the participants rated sound quality and loudness for the previous 5 minutes (as the feed switched).
The goal with the data is to see if there is a feed mix that the participants preferred, or if there are factors such as self-reported HA benefit and music sophistication that might affect their preferences. A main outcome of this study was that the subjects gave sound quality ratings primarily in the 3/5 – 4/5 range, despite the fact that the t-coil and TVconnector assistive listening technologies were not originally designed for live orchestral music performances. The use of KEMAR by the sound engineer in designing the different mixes was crucial in creating a high-quality feed to send to the hearing aids. Preliminary analysis of the results suggest that the musical experience of the listeners influenced their sound quality rating, with "expert listeners" being more critical of the overall sound quality but benefiting more from the assistive listening feeds.
---
New Regulator for Audiologists, Speech-Language Pathologists
A new Nova Scotia College of Audiologists and Speech-Language Pathologists will start regulating Audiologists and Speech-Language Pathologists on Nov.5, 2019. The request to be designated self-regulating professions came from the Speech and Hearing Association of Nova Scotia.
"Establishing a college will give these health-care providers the ability to control and regulate their profession, and it will help ensure Nova Scotians are getting appropriate care," said Minister of Community Services Kelly Regan on behalf of Minister of Health and Wellness Randy Delorey.
"The Speech and Hearing Association of Nova Scotia is very pleased to see the creation of the Nova Scotia College of Audiologists and Speech-Language Pathologists," said Patricia Cleave, association president. "Licensing of the professions will help ensure the safety of the public and the effectiveness of services provided by audiologists and speech-language pathologists by the setting of appropriate standards of conduct and competence.
\"The two professions will benefit from interprovincial recognition of licences, professional recognition and opportunities for collaboration."
The new college will have the authority to set standards of practise and professional conduct, investigate complaints and discipline members under the Audiologists and Speech-Language Pathologists Act.
For more information go to https://www.shans.ca/faq-provincial-licensure-of-nova-scotian-audiologists-and-speech-language-pathologists/.
---
UBC's School of Audiology and Speech Sciences Celebrates 50 Years
This year UBC's School of Audiology and Speech Sciences (SASS) is celebrating its 50th anniversary as a leader in educating audiologists and speech-language pathologists, as well as research in communication and related disorders. The only program in BC to educate audiologists and speech-language pathologists, the School offers two degrees: the Master of Science and the Doctor of Philosophy. The School is known for its strong theoretical component, its thorough community-based clinical education, and its stunning location on UBC's Point Grey campus in Vancouver.
What Have the Past 50 Years Looked Like?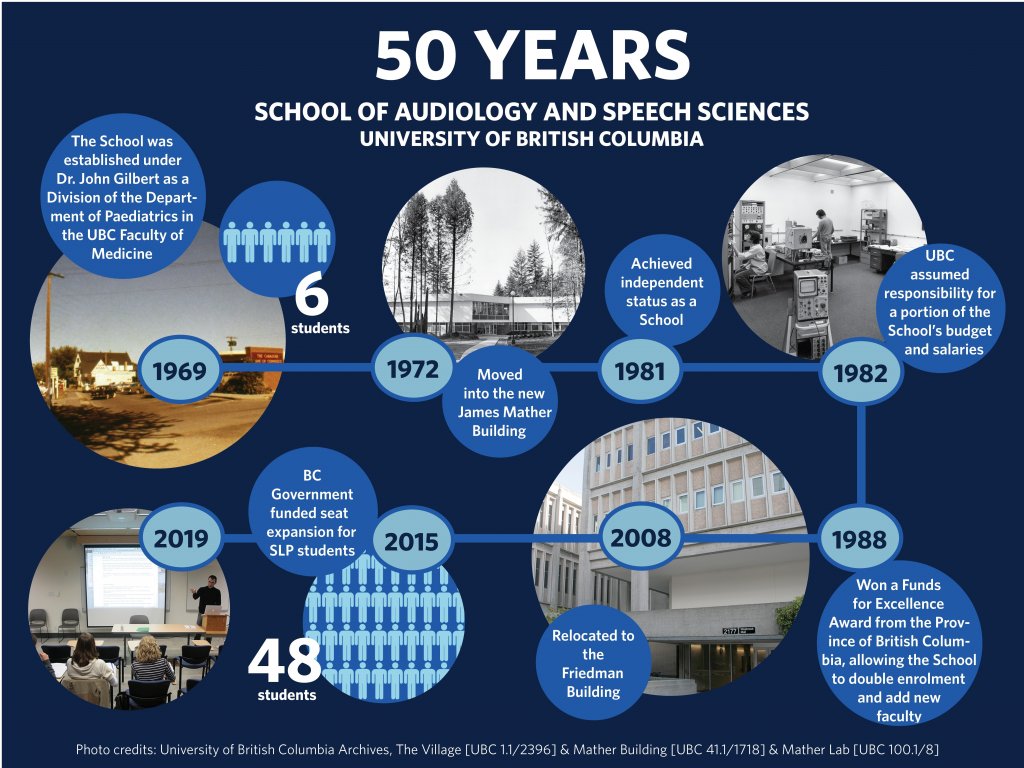 In 1969 the School was established under the leadership of Dr. John Gilbert as a Division of the Department of Paediatrics in the UBC Faculty of Medicine. Until the School moved into the new James Mather Building in 1972, its office and lab were in two rooms on the second floor of a commercial building in University Village, accommodating four faculty members and, in the first year, six students.
The Division achieved independent status as a School in 1981, but remained small; over its first 20 years, the School's size slowly grew to six faculty members and an average class size of 12. For 13 years, the program was funded by private donations and research grants alone, but in 1982 UBC assumed responsibility for a portion of the budget and salaries. Six years later, SASS won a Funds for Excellence Award from the Province of British Columbia, which allowed the School to double enrolment and add new faculty members.
Over the subsequent years, SASS experienced modest growth until the 2015–2016 BC Government-funded seat expansion for speech-language pathology students. With this expansion, the School now enrolls 48 students each year in the two-year MSc program, which is supported by 18 University-based full- and part-time faculty and over 500 clinical faculty in the community. Beyond the MSc program, the School has a cohort of PhD students, postdoctoral fellows and visiting scholars.
Following decades of being situated in extremely limited space in the now-demolished James Mather Building (with the later addition of two portable classrooms), the School relocated in 2008 to the renovated teaching and research spaces in the Friedman Building. Dr. Jeff Small currently serves as Director of the School.
Come and Join Us on September 13, 2019!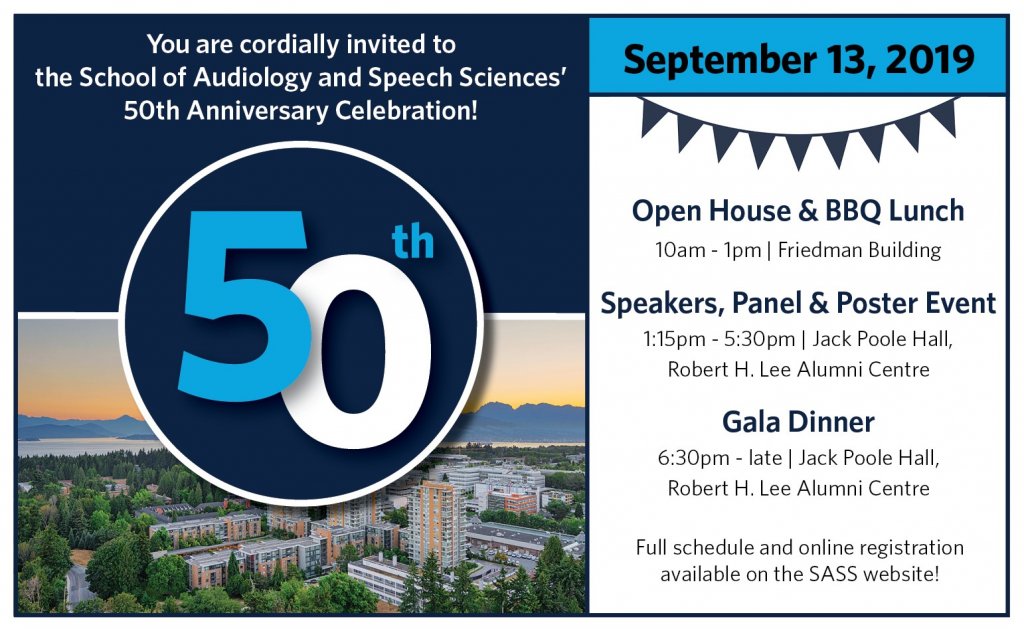 The School's community will gather on the second Friday of September to celebrate the 50th anniversary with a day of events, which will include an open house at the Friedman Building, where guests will be able to tour the upgraded facilities and spend time meeting with faculty and reuniting with alumni and practitioners. Later in the day we will host discipline-related lectures by eminent scholars, including Dr. Carol Stoel Gammon (SLP) and Dr. Jean-Pierre Gagné (Audiology), a poster session, and a gala dinner with entertainment at UBC's new Robert H Lee
Alumni Centre. School founder John Gilbert will be in attendance and give a brief history of the School. All alumni, faculty, clinical faculty, students, and staff, as well as partners, are welcome.
Those at the School look forward to this opportunity to remember and celebrate what SASS has achieved over the years, and to imagine what opportunities and advances the next 50 years could bring.
For the full schedule and to register your attendance, visit: https://audiospeech.ubc.ca/about/50th-anniversary-celebration/
---
October is National Audiology Awareness Month
October is National Audiology Awareness month and the Canadian Academy of Audiology (CAA) is here to help Audiologists promote hearing health to all. Whether the topic is hearing protection in the workplace, the psychosocial effects of hearing loss, the danger of extended use of earbuds, or understanding appropriate treatment for chronic balance issues; Audiologists are uniquely positioned to provide much needed information Whether you are a diagnostic audiologist or an implant specialist or own a private practice, your input and expertise have a tremendous impact on the individuals you serve.
This October, consider lending that expertise to your community! You may educate and inform those who might benefit from your services. Over the past year, CAA has listened to members and their suggestions for marketing materials.
Below, is a list of materials that CAA has created. We encourage you to use them as needed to help spread the word on healthy hearing and hearing loss prevention:
As well as these tools for CAA Members
CAA presentation to Family Practitioners on hearing loss and the role of Audiologists
Call to Action Hearing Loss Poster #1
Call to Action Hearing Loss Poster #2
Have a great National Audiology Month!
---
CAA's Annual General Meeting
The Canadian Academy of Audiology (CAA) Annual General Meeting (AGM) will be held virtually by webinar on Tuesday, October 1st at 9 pm Eastern Daylight Time.
CAA Members please register now (CAA Members log into the CAA website first and then select the link to register)
CAA is legally required to hold an AGM. This meeting is brief and will help you to understand how the organization has delivered benefits to you as a full Audiologist member. At this meeting we will ask members to vote on the motions including the role of President Elect. We encourage you to attend this brief meeting as we must have a quorum of members. If you are unable to attend the virtual webinar at that time, you will have the opportunity to fill out an Instrument of Proxy to give your proxy vote to the President of CAA via email.
The Annual Report and Audited Financial Report for consideration will be sent to members in early September.
The goals of the AGM are to:
Receive the annual report, including financial statements for fiscal year ending May 31, 2019,
Elect President-Elect for 2019-2020,
Appoint auditors and authorize the Board of Directors to fix the auditors' remuneration,
Hear a brief summary and receive the written annual report of the activities of CAA during the previous fiscal year, and
Transact such other business as may properly come before the meeting or any adjournment thereof.
Why Should You Attend the AGM, or vote by Proxy?
To Hold the Board Accountable
The Board of Directors provides stewardship for the activities of CAA and confirms the operating budget for each fiscal year. Your presence at the AGM provides you with the opportunity to hear how the Board of Directors has been responsible in providing benefits and representation on your behalf.
To Stay Up-to-Date
Attending the AGM will provide you with insight into the performance and direction of CAA.
To Support the Canadian Academy of Audiology
Attending the AGM shows your support of CAA to continue their work and to contribute to the organization's legal requirement to hold an AGM.
According to the CAA bylaws, students, international members, associate members and retired members do not have a vote at the AGM.
To renew your membership, please visit the CAA Website.