Message from the Editor-in-Chief
Since the advent of COVID-19, like many of us, I have developed several skills and (almost) caught up on my reading.  I can boast that I am now a pretty good yo-yo player and am known wide and far- actually just around my block, … and just on the north side of the street … as the man who carries this bright red yo-yo when he jogs around the neighbourhood … actually I am just walking quickly but dream that I am jogging.  I have been through 3 sets of yo-yo strings since the beginning of COVID-19 (see picture with latest worn out string).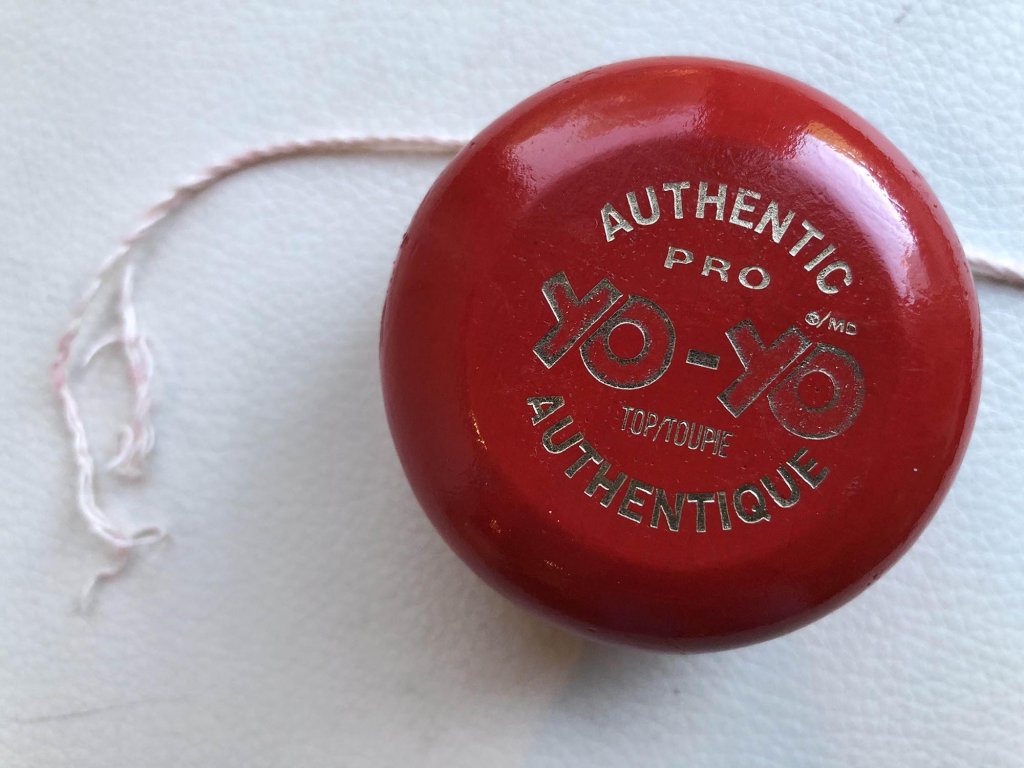 And I am almost caught up on all my reading and can also boast that I am now up to 2008!  This year marks the publication of the fifth and final article in a series that begins in 1999 by Michael Stone and Brian Moore.  Roughly every other year in Ear and Hearing, an article about digital delay appears by these two, and later joined in by a few others.  Everything we know about digital delay in modern hearing aids can be found in this series of five articles.
In my short vacation this year I will have my kayak paddle under one arm and my laptop under my other and read virtually everything else by Brian Moore spanning topics from compression settings in multi-band compression hearing aids, bandwidth and music preference, and of course, cochlear dead regions. It will be unrealistic to read everything that Brian Moore has been associated with because we are getting close to 700 published articles- that should take me at least until 2025. And I won't try to read all of Brian Moore's 19 books… that may take me another decade or two.
If you haven't figured it out yet, this issue of CanadianAudiologist.ca is dedicated to the life's work of Dr. Brian Moore. Like all audiologists studying amplification, I had read many of the salient articles in the literature, and Brian Moore was a common author. Reading some of the ten short articles in this issue about Brain Moore one gets the sense that his typical work day is 37 hours, and he has no life outside of the lab. Nothing can be further from the truth. If Brian Moore were a surgeon I would have no problems with him operating on me. There are no wasted motions and everything is done very efficiently. There are rumours abound that Brian Moore conceives of an experiment in the morning, runs the data and subjects in the afternoon, and writes up the paper in the evening. This of course is hyperbole but it does attest to his clear thinking and efficient method, yet quite human way, of running his lab at Cambridge in the United Kingdom. His students and colleagues think the world of him. I have only met him on two occasions; once in Cardiff, Wales, and the other time in Nottingham, England, and I agree totally. Brian Moore is one of the most friendly and congenial people I have ever met.
Most of the articles in this issue of CanadianAudiologist.ca are from his ex-PhD students, and now colleagues who have gone on and carved out their own paths. The tenth article is by Neil Hockley (an ex-pat Canadian) who provides us with a wonderful overview of his research and its relevance to the field of audiology. It would be worthwhile for anyone to re-read the articles mentioned in his reference section- a great way to spend a summer vacation… I think I already said this, but it is so true.
I have to thank Dr. David Baguley and Dr. Steve Aiken who guest co-edited this issue of CanadianAudiologist.ca along with me. David Baguley is of course well-known to us when we read about hyperacusis, you know me, and … well, everyone knows Steve Aiken, our long-time associate editor and previous president of the Canadian Academy of Audiology.
I wish everyone continued health during this time of Covid19, and to wear a hat when outside! The Canadian Academy of Audiology (CanadianAudiology.ca) has a wealth of information about maintaining our current good health, webinars about re-opening audiology clinics, labour relation issues, and much more. Be sure to take some time to check out the "members-only" section of the website where these are located. Also consider joining the CAA if you are not already a member- there are great benefits including the Editor's Corner where Steve Aiken and I have selected a number of stellar articles from the archives of CanadianAudiologist.ca.