Striking the Right Balance – Attention all Vestibular and Pediatric Audiologists: This is Your Next Must Read!
In this edition of "Striking the Right Balance," Janine Verge, AuD reviews a new edition of a clinical textbook that focuses on pediatric vestibular and balance disorders.
Michael Vekasi, AuD, R.Aud, Aud(C), FAAA and Erica Zaia, MSc, RAUD are coordinating the "Striking the Right Balance," feature which will cover the latest information on 'all things vestibular.'
If you would like to be more involved in all things vestibular, please sign-up for the Vestibular Special Interest Group. Sign-up by simply emailing CAAvestibular@gmail.com to let us know you want to be a part. Also, check out our Facebook page for a free list of online vestibular resources at the CAA National Vestibular Special Interest Group page.
We've Got a Problem. Up to 70% of children presenting with sensorineural hearing loss (SNHL) have impairment of their vestibular system with 20–40% having severe bilateral vestibular loss.1-4 Central and peripheral vestibular impairments can lead to poor balance, increased fall risk, delays in motor development, decreased reading acuity, learning delays, gaze instability, and symptoms of dizziness or vertigo. 5 Despite this, many children go undiagnosed and untreated because children don't usually complain about their symptoms, vocabulary to describe feelings or sense of vertigo is limited, and family may think symptoms are related to clumsiness, being uncoordinated, or having a behavioural abnormality.
What's the Fix?
All pediatric and vestibular audiologists in Canada need to learn more about our role in identifying, screening, monitoring, assessing, and managing pediatric vestibular and balance disorders.
The Good News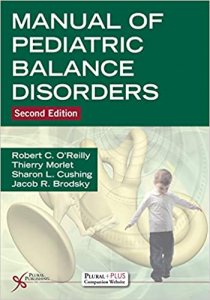 The second edition of the Manual of Pediatric Balance Disorders by Robert C. O'Reilly, Thierry Morlet, Jacob R. Brodsky, and Sharon L. Cushing has recently been published. It is an essential read to help us understand our role with contributors from 45 experts across many different disciplines including otolaryngology, audiology, neurology, and physical therapy.
As someone who has a dog-eared first edition, I was excited to see five new chapters in the new second edition including:
Chapter Seven: Video Head Impulse Testing (vHIT)
Chapter Twelve: New Horizons for the Evaluation of Functional Balance, Self-Motion Perception, Navigation, and Mobility
Chapter Thirteen: Genetics and Metabolism in Pediatric Vestibular Disorders
Chapter Fifteen: Benign Paroxysmal Positional Vertigo (BPPV)
Chapter Twenty-Four: Vertigo, Dizziness, and Mental Health
There have also been updates throughout including testing set-up and norms for VEMP testing, fully rewritten chapters on migraine and concussion, and updated references throughout.
Instructors, students, and clinicians are given extra supportive materials to understand the content through self-assessment questions and access to a PluralPlus companion website with excellent videos and figures. This is an improvement from the first edition which used a CD for these materials.
Small Investment for a Big Payoff
We all need to do our part to help identify and manage underdiagnosed vestibular and balance disorders in pediatric patients. To help, I would highly recommend investing in the second edition of the Manual of Pediatric Balance Disorders to all pediatric and vestibular audiologists.
References
Cushing SL, Gordon KA, Rutka JA, James AL, Papsin BC. Vestibular end-organ dysfunction in children with sensorineural hearing loss and cochlear implants: an expanded cohort and etiologic assessment. Otol Neurotol 2013;34:422–28.
Cushing SL, Papsin BC, Rutka JA, James AL, Gordon KA. Evidence of vestibular and balance dysfunction in children with profound sensorineural hearing loss using cochlear implants. Laryngoscope 2008;118:1814–23.
Cushing SL CR, James AL, Papsin BC, Gordon KA The Vestibular Olympics: a test of dynamic balance function in children with cochlear implants. Arch Otorhinolaryngol 2007;134:34–38.
Buchman CA, Joy J, Hodges A, Telischi FF, Balkany TJ. Vestibular effects of cochlear implantation. Laryngoscope 2004;114:1–22.
Braswell J, Rine RM. Preliminary evidence of improved gaze stability following exercise in two children with vestibular hypofunction. Int J Pediatr Otorhinolaryngol 2006;70(11):1967–73.