An Innovative Clinical Placement in a First Nations Community
Hearing is critical to the development of spoken language and education. Access to hearing services is however not universal, especially in remote areas. Many First Nations communities are located in rural remote regions in Northern Ontario,1 and have limited access to hearing care compared to non-Indigenous Canadians.
Rurality and remoteness are correlated with poorer health outcomes.2 For example, prevalence rates for otitis media in Indigenous children are particularly high,3,4 but access to hearing care is limited to the services provided by on-site nursing stations in many cases. Access to services appears as one of the biggest barriers to good hearing health management for many Indigenous children living in remote areas.
Audiologists can play an important role in supporting First Nations communities in securing equitable access to hearing health services.5 For example, they can work collaboratively with the communities in the development of culturally and linguistically appropriate services. Knowledge of cultural humility and cultural safety is, however, critical when developing services that specifically target the needs of the First Nation communities.5,6 Cultural safety entails that health care professionals adopt a humble, self-reflective clinical practice that positions them as respectful and curious partners when providing care.6 Being involved in First Nations communities' initiatives are key elements for developing cultural humility and sensitivity.
This article describes a hearing screening pilot project carried out in November-December 2019 within the context of a six-week clinical placement for five audiology students from the University of Ottawa. This novel initiative was developed in partnership with the Eenchokay Birchstick School (EBS) located in the Pikangikum First Nations Reserve (Ontario). The main objectives of the project were to (1) increase community awareness of hearing loss and promote ear and hearing care, and (2) provide audiology students an enriching opportunity to learn about cultural humility and safety.
Jordan's Principle is a child-first and needs-based principle used in Canada to ensure that First Nations children living on and off reserves have equitable access to all government-funded public services, including hearing health services. In this project, funds from the Jordan's Principle initiative were used to purchase equipment (screening audiometer and tympanometer) as well as to cover the transportation costs of the Audiology team.
Pikangikum Hearing Screening Pilot Project
Upon arrival in Pikangikum on November 4th 2019, the audiology team, five students, and Professor Josée Lagacé, set-up a temporary audiology clinic in an unoccupied room of the EBS school. In collaboration with the administration team and school nurse, a letter was prepared and sent to the parents or guardians of all children enrolled in the school, inviting them to take part in the Hearing Screening Project. Families were informed their child would be seen at the school, during the school hours, but only with their consent. The testing was also offered to adult members of the community (e.g., residents, school staff) after school hours. Ads were also posted on the Pikangikum community Facebook page and were shared with all school staff via internal email.
A two-step approach was undertaken to screen a total of 427 children. The first step involved bilateral otoscopy, tympanometry, and audiometry screening. The latter consisted of presenting pure tones across the speech spectrum (500, 1000, 2000, and 4000 Hz) and obtaining a response at 20 dB HL, the upper limit of normal hearing for children. Normal results on all three screening measures resulted in no further action and a brief note explaining the result was sent to the parents (n = 350). Abnormal results obtained in the first step (n = 77) resulted in a more comprehensive evaluation, which included the measurement of audiometric hearing thresholds (air and bone conduction at frequencies from 0.25 to 8 kHz, bilaterally), acoustic reflexes and word identification at a comfortable level (no competing noise), when possible, taking into consideration age and language proficiency.
Children showing audiometric results indicative of a middle ear problem (n=45) were referred to the community nursing station for medical follow-up. Most completed an antibiotic treatment or cerumen management and were reassessed during the clinical placement. The parents of children identified with a suspected sensorineural hearing loss (n=21) were notified and advised to seek further services offered at the closest audiology clinic in Sioux Lookout. Sioux Lookout is about 90 minutes by plane from Pikangikum.
As part of other clinical activities taking place during the placement, the audiology students also conducted verifications of the schools' FM systems and offered training on their use and management to interested teachers To ensure the continuity of hearing services to EBS students, training on pure-tone audiometry and tympanometry screening measures was provided to the school nurse. The students also set up an information kiosk during a parent/teacher night.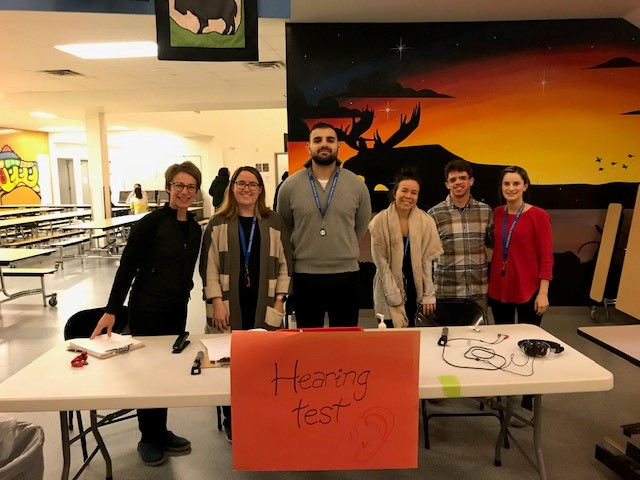 The clinical placement provided a rich and diversified learning experience for the audiology students and the accompanying professor, both professionally and personally. They were exposed to the needs and challenges associated with the provision of hearing services in an underserved rural area. They were also fortunate enough to live in the community, which allowed a deeper understanding of the culture and needs of this specific First Nations community. Throughout their stay in Pikangikum, they took part in different community events organized by residents and school staff, including ice fishing, archery, pickleball, and movie nights in the school gymnasium. These social events offered the audiology students an amazing opportunity to mingle with families and learn from them and about them.
Discussion
It is hoped this project contributed to raising awareness of hearing loss and its impact and to promoting ear and hearing care not only in the Pikangikum community but for school staff as well. It is also wished that this experience fostered a desire in those audiology students to provide services in underserved and remote areas, particularly to Indigenous peoples and communities. Even greater success would be to have sparked an interest in some students at the EBS to become an audiologist!
Similar projects involving health care professionals and students can only lead to a better understanding of the unique hearing-related needs of Indigenous peoples and how services (prevention, evaluation, treatment, and management) can be implemented progressively, in collaboration with and while respecting the voice of First Nation communities. When health care professionals engage with First Nation peoples from a place of cultural humility, they create a safer health care environment where individuals and families experience respect.6First Nations people are thereafter more likely to access care when needed, which is beneficial to their wellness, but also respectful of their beliefs, goals, and needs.
Acknowledgements
We would like to express our deepest gratitude to the EBS and the entire Pikangikum community for opening their doors and their hearts to us during this most amazing and enlightening journey.
Financial assistance (travel costs for the students and the professor, equipment purchases, and other materials such as speculums, ear tips, disinfecting wipes and hand sanitizer) was made possible under Jordan's Principle, which is funded through Indigenous Services Canada (ISC). Other equipment was also provided by the University of Ottawa.
References
OECD. Linking Indigenous Communities with Regional Development in Canada. 2020.
OECD. OECD Regional Outlook 2016.
Fitzpatrick EM, McCurdy L, Whittingham J, Rourke R, Nassrallah F, Grandpierre V, et al. Hearing loss prevalence and hearing health among school-aged children in the Canadian Arctic. Internat J Audiol 2020:1–11.
Langan LA, Sockalingam R, Caissie R, Corsten G. Occurrence of otitis media and hearing loss among First Nations elementary school children. Can J Speech-Lang Pathol Audiol 2007;31(4):178–85.
SAC. Speech-Language Pathology and Audiology Services for First Nations Position Statement. Ottawa (Canada); 2018.
Authority FNH. Cultural Safety and Humility in Health Services Delivery for First Nations and Aboriginal Peoples. In: (FNHA) FNHA, editor. Vancouver, BC (ND).