The Year of New Learning, Simulation, and CARL
The pandemic has emphasized the need for a new type of learning. While in the past learning clinical skills or trying clinic equipment on a classmate or a volunteer has been accepted as 'the way training and learning has always been done', this was physically not an option this year. Online learning platforms and virtual experiences have grown to be immensely popular in the past year to account for the lack of in-person events and experiences. Unfortunately, in such a hands-on field as hearing healthcare, these 'touchless' experiences can only go so far.
For so many products, skills, and experiences, you must experience and learn it by rolling up your sleeves and doing it or trying it yourself. You can pass a course, pass an examination, or pass the certification, but when you are in a clinical scenario and implement your learning, will you be able to do it effectively and confidently?
CARL — The Advocate for Learn by Doing
CARL works long hours, late in the night helping students cram before a practical exam, assisting researchers to complete their last batch of measurements, and helping clinicians complete their regular equipment checks. Wherever you need a stand-in patient, CARL is there.
CARL was previously featured in Canadian Audiologist in 2018 as the "Manikin-Based Probe-tube Placement Training Simulator."1 What started as a student project at Western University and the National Centre for Audiology (NCA) in Canada has turned into a leading universal hearing care patient simulator. Validation studies from the NCA found that trainees who used CARL objectively performed better real-ear measurements than students who did not use CARL. CARL has been advocating for better training and "learn by doing" for three years.2,3 While probe tube placement and real ear measurement were the focus in 2018 due to poor confidence seen as one reason for low compliance,4–7 and CARL uses have expanded exponentially.
CARL is a patient simulator solely for hearing healthcare. CARL consists of a head model, realistic ear models developed directly from CT scans, and a camera system to display in-canal procedures and provide feedback for objects' locations within CARL's ear canals. CARL's key utility comes from the anatomically and acoustically correct ears with in-canal object tracking. Whether for real ear measurements, earmold impressions, or cerumen management, you can get as close as possible to practicing on an actual patient while receiving in-canal feedback. And don't forget about pediatrics – there's a baby-CARL as well!
With a big challenge of simulation being the time and work required to implement it, there are also valuable lesson plans, curriculum, and use cases available with CARL to streamline its usage and expand where you can use simulation in your environment.
Who is Using CARL?
CARL is in use in over half of the hearing healthcare training institutions in North America and dozens of different countries. CARL is used in licensing boards to assess participants' hands-on skills, equipment training for hearing equipment manufacturers, continuing education and evaluation in hearing clinics, and even at research institutes for removing the need for volunteers/research participants.
Since CARL's introduction in 2018, users of CARL have found various uses beyond probe tube placement. Most notably, use cases have included several real-ear measurements for hearing aid fitting, cerumen management training, earmold impressions training, and any other equipment training. See a full table of uses in Table 1.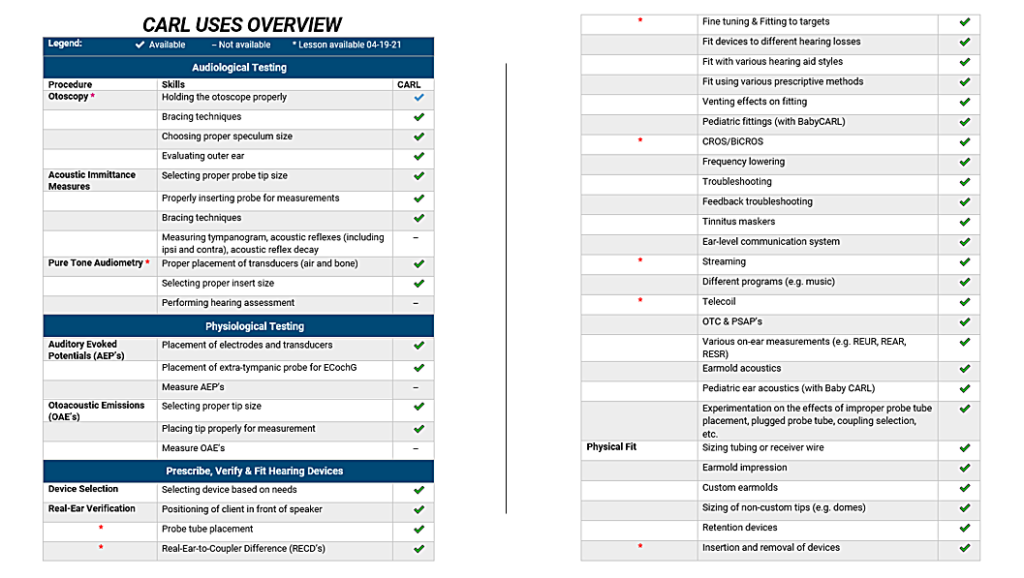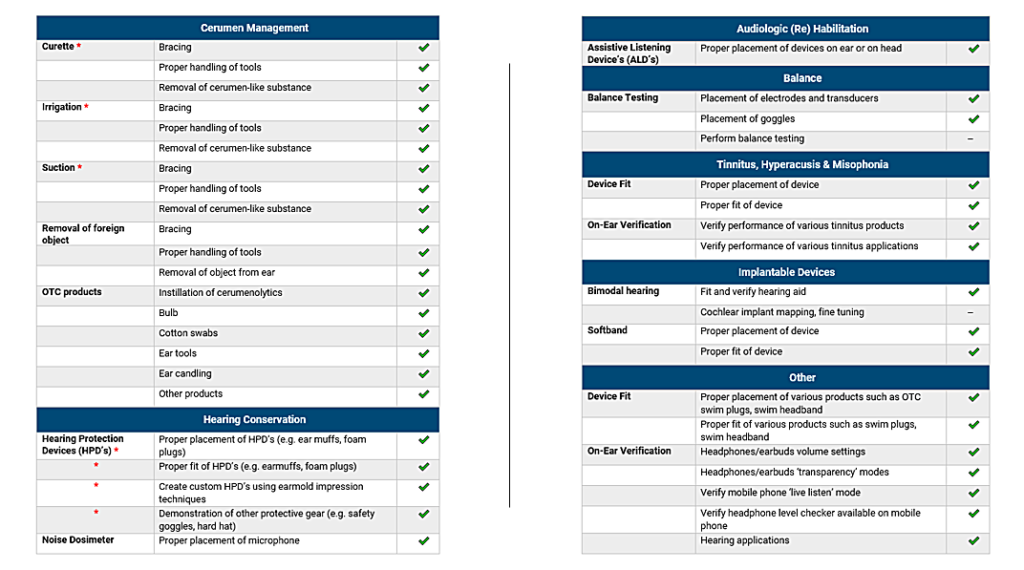 The Ultimate Advocate for Simulation
Being unable to train and practice on other classmates, coworkers, or volunteers because of social distancing measures has emphasized the importance of simulation.
While the benefits of simulation and CARL in a pre-COVID era included reducing the risk of harm to volunteers/patients, standardized test scenarios, self-learning without a supervisor/volunteer, simulating extreme cases to expand the breadth of experience, and more,8 the pandemic has emphasized several more advantages such as:
Enhanced infection control by simulating others instead of having to directly contact others.
Remote learning opportunities where simulation can be on one or both sides of video calls.
Providing an outlet for receiving clinical hours if no clinical practice/work is available.
In general, the ability for private usage of your personal assistant CARL allows for independent learning, practicing, testing, and experimenting, apart from others - even if infection control and social distancing measures were not in place. And at the end of the day, does the teacher of a first-year clinical course in hearing healthcare really want 30 students sticking things into one another's ears?
What is Next for Simulation in Hearing Healthcare and CARL?
In the coming years, the hearing healthcare landscape will change. While the need for hearing healthcare is growing exponentially, new technology and new business models are challenging how things are currently done. One thing is for sure - education and training in the field must be top-notch to ensure clinicians and clinical organizations are providing superior value and care to their clients when they will soon have a variety of technologies and therapies available to them.
If there is one thing to think about with simulation, it is to continue questioning the "way it's always been done."
Is there a particular lesson/training in which learners are being put at risk?
Is there a particular lesson/training that learners are having difficulty understanding and implementing?
Is there a particular lesson/training that is always difficult for trainers to teach effectively?
While CARL is not the only simulation technology in hearing healthcare,9 it has been developed to be as universal as possible to cover as broad a range of applications and equipment as possible. When it comes to simulation, every little bit of usage helps make lessons and events more engaging and help learners learn hands-on. At some point of the learning process - whether they are a student or have been in the field for 30 years - everyone needs to roll up their sleeves and learn by doing.
Disclosure
There is a conflict of interest due to Robert's ownership stake in AHead Simulations.
---
References
Koch R, Moodie S. Development and Validation of a Manikin-Based Probe-Tube Placement Training Simulator [Internet]. Canadian Audiologist. 2018. Available from: https://canadianaudiologist.ca/issue/volume-5-issue-6-2018/manikin-based-probe-tube-feature/
Koch R, Moodie S, Folkeard P, Scollie S, Janeteas C, Agrawal SK, et al. Face and Content Validity of a Probe Tube Placement Training Simulator. J Am Acad Audiol. 2019;30(3):227–34.
Koch R, Saleh H, Folkeard P, Moodie S, Janeteas C, Agrawal SK, et al. Skill Transference of a Probe-Tube Placement Training Simulator. J Am Acad Audiol. 2020;31(01):40–9.
Mueller HG, Picou E. Survey examines popularity of real-ear probe-microphone measures. Hear J. 2010;63(5):27–32.
Mueller HG. 20Q: Real-Ear Probe-Microphone Measures - 30 Years of progress? [Internet]. Audiology Online. 2014. Available from: http://www.audiologyonline.com/articles/20q-probe-mic-measures-12410
Jorgensen LE. Verification and validation of hearing aids: Opportunity not an obstacle. J Otol. 2016;11(2):57–62.
7. Moodie S, Pietrobon J, Rall E, Lindley G, Eiten L, Gordey D, et al. Using the Real-Ear-to-Coupler Difference within the American Academy of Audiology Pediatric Amplification Guideline: Protocols for Applying and Predicting Earmold RECDs. J Am Acad Audiol. 2016;27(3):264–75.
Gaba DM. The future vision of simulation in health care. Qual Saf Heal Care [Internet]. 2004 [cited 2018 May 28];13:2–10. Available from: http://qualitysafety.bmj.com/content/qhc/13/suppl_1/i2.full.pdf
Brown DK. Simulation Before Clinical Practice: The Educational Advantages. Audiology Today. 2017;16–24.