The Consummate Collaborator
Richard Salvi has collaborated with researchers world-wide on scientific studies investigating mechanisms of tinnitus. I am one of many researchers who has benefited from the breadth and depth of his knowledge, his collegiality, and his research accomplishments. In an early stage of our research Dick participated in an international workshop on the Neuroscience of Tinnitus held in Vancouver with the support of the New Emerging Team program of the Canadian Institutes of Health Research and the TransCoop Programme of the Humboldt Foundation (Germany). This photograph shows Dick responding to questions from an audience of about 275 Vancouverites who attended a public forum held as part of the workshop. Public engagement and leadership in support of tinnitus research is another other aspect of his distinguished contribution over the years, as is his generous counsel extended to individuals suffering from tinnitus.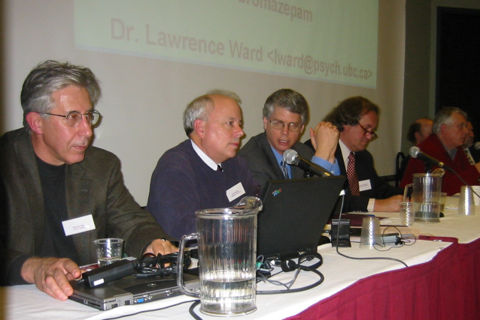 My personal reminisces include a bit of Dick's history. I believe he lived in Fargo North Dakota as a teenager, which (although I did not live there) I had the experience of visiting a few times in my youth. I believe he earned his PhD in Experimental Psychology. I first became aware of Dick's research through his pioneering functional imaging studies on tinnitus modulated by somatosensory maneuvers and eye movements in the late 1990s. Re-reading those studies reminds me of their freshness even 20 years later. These were the first experiments to reveal activation of limbic structures in tinnitus including the hippocampus which has since been confirmed by many studies. A striking feature of Dick's research has been his eagerness to engage new domains and techniques ranging from animal models to molecular studies when they hold promise for understanding tinnitus. This range is vividly evident not only in his published papers but also in his role as a commentator in conferences on tinnitus (a role for which he is frequently sought).